SEE MORE OF TAIWAN or chinese taipei it's just Tai-riffic
Taiwan is a fantastic, friendly travel destination. Its turbulent history and distance away from the mainland has forced Taiwan to create a unique identity on the world stage. Easy to get to, easy to navigate, Taiwan has to be one of the best surprises on our East Asian travels. Epicurean delights range from the succulent xiao long bao ( a pork dumpling with a small amount of broth inside) to the most modern fusion of East meets West. Western food is well imitated in Taiwan. We had some terrific pasta dishes in Taipei. Eat in a night market or an upscale restaurant, Taiwan has something to suit everyone.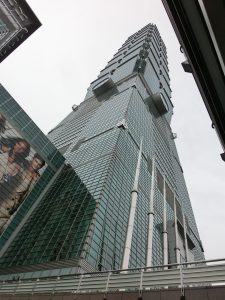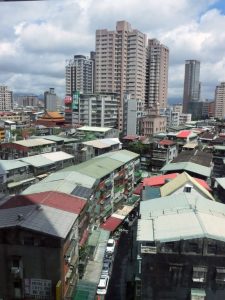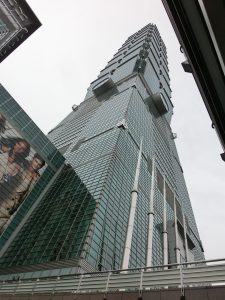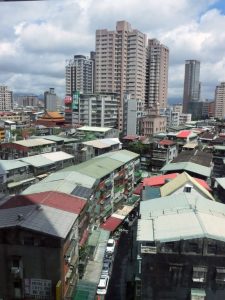 Taipei city
Taipei is like many other modern Asian cities. Glamorous and grotty at the same time. Soaring high above the skyline is the iconic Taipei 101 building. No prizes for guessing why it is named that. Yes, it's the number of floors. Holding the title for tallest building in the world for 3 years, Taipei 101 consists mainly of a huge shopping mall, offices and indoor and outdoor observatories.

cooler up in the maokong tea growing hill area
Heading up the mountanside to MaoKong, you will see more of Taiwan as you sip tea in the cool (as in temperature) tea growing area. Take the gondola or cable car carriage, whichever you want to call it and grab a table in the late afternoon to sip on cocktails (some made with tea of course!) as you watch the sun set over Taipei.

hot springs heaven
In need of some rest and rejuvenation with lush vegetation views? Then head to Beitou and Wulai districts. Within an hour you'll be soothed by the somewhat smelly sulphorous waters, but leave feeling relaxed and refreshed. There are dozens of spas, private rooms and a public bathing pool to choose from. Accessible by the country's easy to use MRT system. Only1invillage stayed 2 nights in Wulai to wake up to fresh mountain air and discovered an amazing waterfall .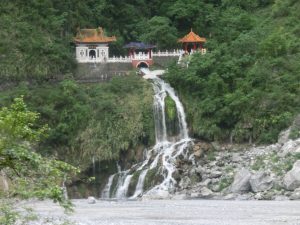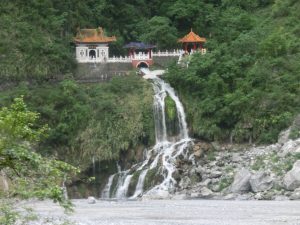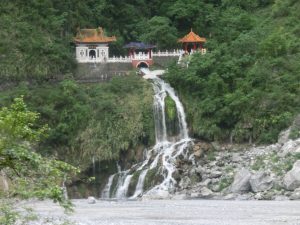 Eternal Spring Shrine in taroko national park.
a monument to human endeavour against the elements
Heading further afield, see even more of Taiwan through verdant green padi fields (no pun intended!) as you scan the countryside from your comfortable high speed train seat, head to Hualien, the nation's trekking and adventure zone. Taroko National Park provides lush green mountainous landscapes for trekking and gentle walks. Beware, however, that what is graded as a "medium" level of difficulty is actually very difficult. One of the walks Only1invillage attempted had us on our hands and knees on 45 degree gradients. There are also no water fountains/taps so come prepared as the high humidity will quickly zap you of all your strength. The Eternal Spring Shrine is not to be missed when you want to discover more Taiwan than Taipei.
Below is a photo essay from Taipei, the Fort San Domingo, Tamsui, high tea country in the hills of Taipei after taking the Maokong Gondola, Wulai, Beitou for the hot therapeutic spring waters and Hualien with its waterfalls, mountains and shrines.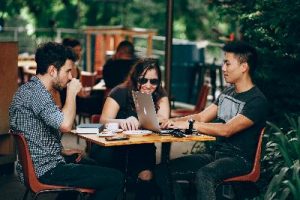 Learn Mandarin
If you're travelling to Taiwan or mainland China you should learn Mandarin. It will open up a world of opportunities to really experience the culture as well as business opportunities.