Portugal
Knowing Spanish won't help!
Where is Portugal, you ask yourself?
Portugal, long popular with British tourists seeking sun and a retirement home on the Algarve coast. You will be forgiven for not being able to pinpoint Portugal on a map.
Located on the eastern tip of the Iberian peninsula, Portugal is small in area but is an exciting and and vibrant nation with rich history and a unique culture.
Portugal isn't similar to Spain at all, and speaking Spanish won't get you more easily understood than speaking English. OK, ordering 2 beers is pretty similar, but saying thank you isn't! (Obrigado in Portuguese and Gracias in Spanish)
Easily accessible by plane, train, and car. Portugal is so easy to navigate. Personally, we would use the plane and train combination. It's less stressful in our opinion. Many of the cities have narrow roads in the old parts, making parking quite difficult.
Resplendent architecture and its own cuisine, Portugal should definitely be on your bucket list of European destinations. A coastline facing the Atlantic Ocean, mountains, villages, cathedrals and beaches too. In addition, Portugal is still a relatively value for money destination. By European standards, Portugal ranks as 'cheap' in our books!
Only1invillage travelled to Lisbon, Porto, Belem and Sintra.
Don't miss an update. Subscribe to our newsletter!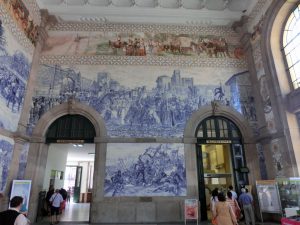 The distinctive blue mural walls of Sao Bento train station in Porto.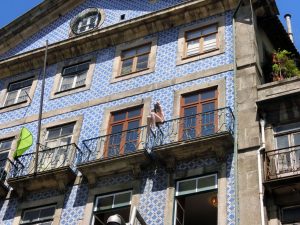 Blue tiles are a decorative feature both inside and out in Porto. You'll see them everywhere in Portugal.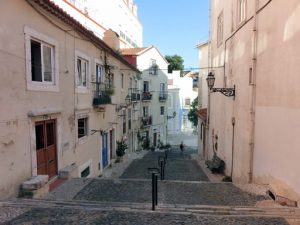 Pulsating with vigour and energy, Lisbon, Portugal's capital will probably be your first port of call. Lisbon is steeped in history with a treasure trove of architectural wonders. An unending choice of shops, restaurants and bars. Add to this its port side location and castle perched high above the city, you're never short of sights in Lisbon.
Base yourself in the funky Bairro Alto district for cosy cafes and colourful houses.
Stay in Baixa, if you want a central location and plenty of action, both day and night.
Alfama is your coastal base for beautiful views of the Atlantic Ocean. Narrow, winding streets can be reached on the famous number 28 tram.

Colourful, crazy and carefully carved. This is the palace and park complex area of Sintra. Don't miss this out when in Lisbon. Now a UNESCO world heritage site, Sintra is an easy day trip from Lisbon. Unfortunately, you won't be the only1invillage! Catch the train for 40 minutes from Lisbon's Rossio station. In Sintra, head to where the Portuguese royalty made their palatial residences and manicured gardens. You will notice it's a bit cooler in the hills. Past kings and queens came to Sintra to escape the heat of Lisbon.
You'll need to get up early to try and beat the crowds. Luckily, the area is huge, so even on the busiest days, you can find a quiet corner or two. Leave at least a day in your Portugal itinerary for Sintra. You won't be sorry!

Home to the famous custard egg tarts, Only1invillage went in search of this mythical sweet treat and found more than we bargained for.
A mere tram ride away from Lisbon. Catch the number 15 or 127 from Figueira Square ("Praça da Figueira" in Portuguese) or Comercio Square ("Praça do Comércio" in Portuguese) and get off as soon as you pass Jeronimos Monastery.
Don't forget to buy your Lisboa card which gives you free transport on Lisbon's trams, metro, trains and buses.
Top tip – Don't go on a Monday. Most attraction in Belem are closed.

LEARN PORTUGUESE
If you're travelling to Portugal (or Brazil) you should learn Portuguese. It will open up a world of opportunities to really experience the culture and connect with the people.