porto
Porto Portugal as the name suggests this is the place where the fortified wine, port, is made! Along the banks of the Drouro river, port is still made here. Vines have existed since Roman times. These distinctive style boats are called barcos rabelos and are the symbol of wine in the Porto region.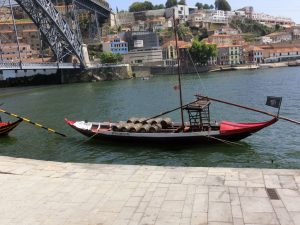 port tasting
Stroll along the many lane ways of Porto and you're sure to find a little cellar to to do some port tastings. Port can only be designated port if it comes from Porto in Portugal. Since gaining independence in 1174, Porto has been exporting its fortified wine to the world.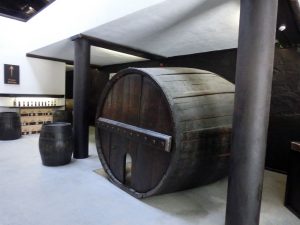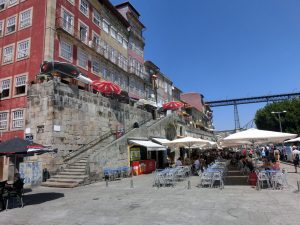 Welcomed by the locals
Portuguese people are genuinely pleased to see you. The service in restaurants is friendly and unhurried. Porto is great for three hour lunches, lazily people watching and sipping a glass of port, of course!
Try the local bacalhau, a salted preserved cod served up in a variety ways. A speciality of the region is kale soup. Not a recent addition to the clean whole food craze!

bridges and views of porto
Climb the steps to reach the many bridges of Porto and be rewarded with spectacular city views.
The people of Porto are proud of their bridges and each bridge has its own story and is a landmark in its own right. When you see the Don Luis I bridge and learn that it was created by a disciple of Gustave Eiffel, you'll have your "aha" moment.
There's more than just Port and lazy lunches in Portugal's second largest city. Most nights we found live music and dancing spilling out onto the streets from restaurants and bars. The atmosphere is very relaxed, friendly and safe at night in Porto. During the day, you can spend hours admiring the decorative blue tiles which decorate the exteriors of many buildings, both private and public. Climb church towers to see panoramic city views and then descend to see the adjoining glistening interiors of churches.

LEARN PORTUGUESE
If you're travelling to Portugal (or Brazil) you should learn Portuguese. It will open up a world of opportunities to really experience the culture and connect with the people.