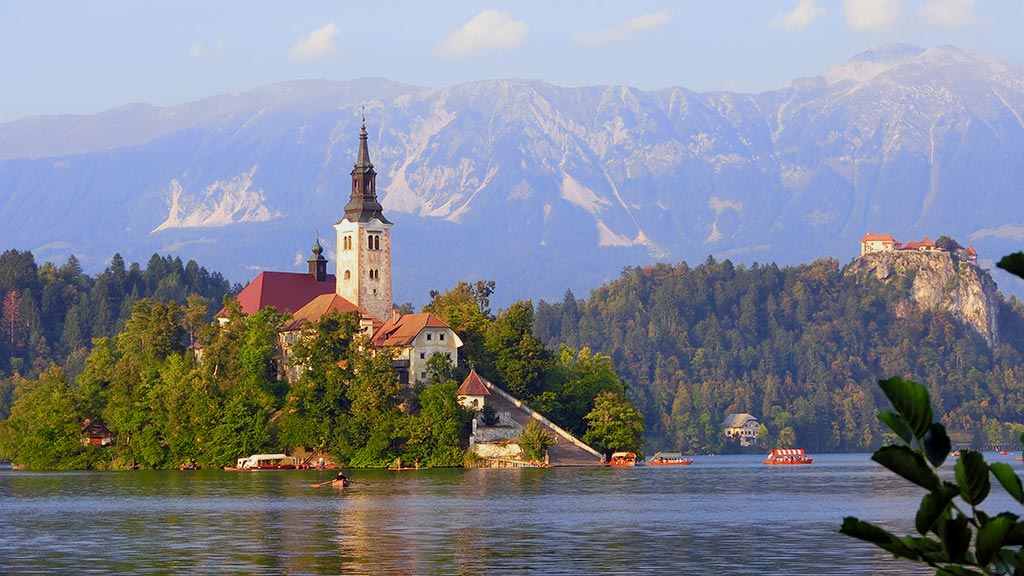 Lake Bled Slovenia the Ultimate Fairytale Destination
Lake Bled is one of the most beautiful lakes in Europe. Boasting postcard views from every angle of the stunning lake complete with a central island with a church and a clifftop castle. Definitely a must see when visiting Slovenia.
Quick Index
WHERE IS LAKE BLED
Situated in the NW of Slovenia. Lake Bled is the most visited area in Slovenia. Slovenia itself has borders with Italy, Austria, Hungary and Croatia and has a small coastal strip, closest to Italy called the Slovene Riveria. You can call Slovenia central Europe. It really is in the middle.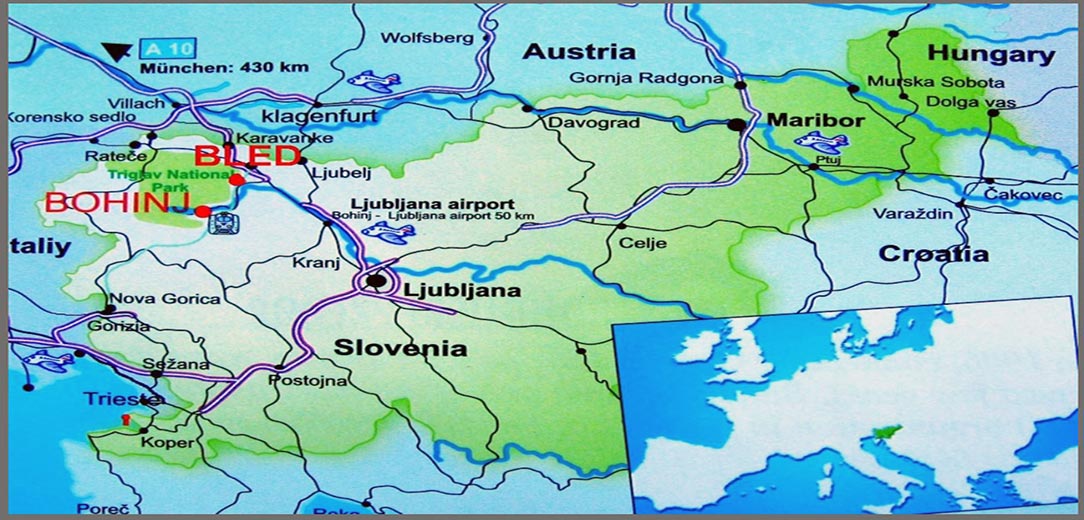 Lake Bled is in Slovenia, a country bordered by Croatia, Italy, Hungary and Austria (map courtesy of hikenow.net)
WHEN to go to lake bled
All the time! Magical in Winter and divine in Summer but most crowded and higher prices. Summer is particularly crowded for traffic and there's only one road in and one road out! Slovenia has a typical temperate 4 season climate. A distinctive Spring, Summer, Autumn and Winter. If you dress correctly, Winter is a great time to visit and of course, if you're a skier, there's no better time to plan a trip to Slovenia.
Recent Summer weather has been a bit unpredictable like much of Europe, with August heatwaves and flash storms. For the least tourists and lowest prices, go in the so called shoulder seasons, that is, late Spring to early Summer and early Autumn. These times will have plenty of sunshine, so important for those unforgettable Lake Bled photographs.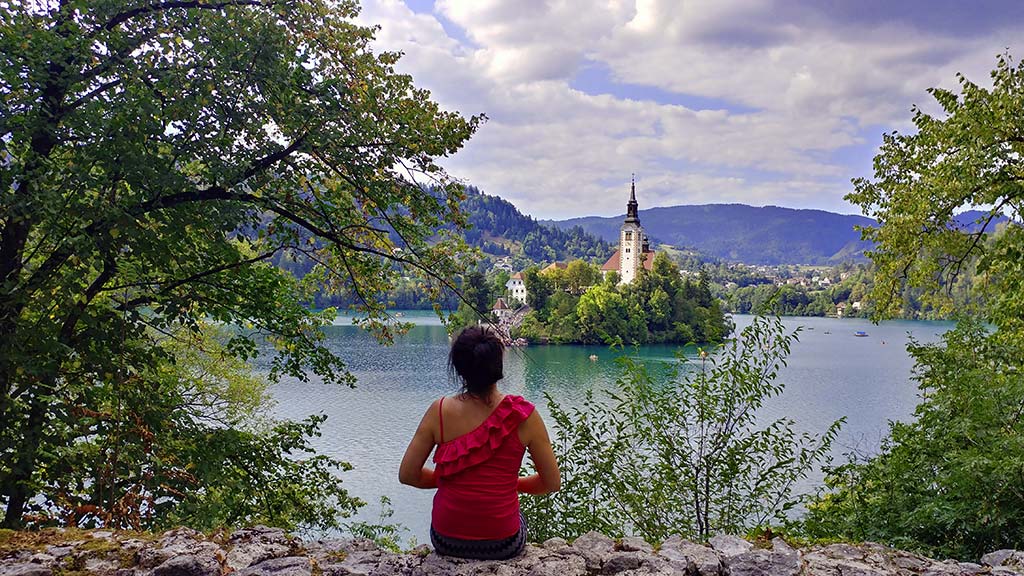 WHY GO to lake bled
Lake Bled and the immediate vicinity has history, hills, lakes, gorgeous gorges, monumental mountains, gushing canyons and rivers, yummy food, friendly locals and picture postcard views from every direction. Visitor numbers show that Slovenia is largely Europe's best kept secret. So make Lake Bled your next holiday destination, before it becomes likes Venice! For many people, the only thing they might know about Slovenia is that Melania Trump hails from this ex- Yugoslavian country.
There are so many things to do in and around Lake Bled. It is indeed beautiful and picturesque, with plenty of opportunities for being active, both, in and out of the glittering green water. Furthermore, if you just want to laze around with spectacular vistas in every direction, you can do this too. Of course, it has its own magnificent castle high up in the hills, which you can see easily from the lake. Prices are still a bit cheaper than France, Germany, Austria and Italy, but not as cheap as Hungary, the Czech Republic and Poland.
Once you go to Lake Bled and Slovenia in general, you'll be thinking of even more reasons to go back!

Lake Bled is the epitome of beautiful, especially in Spring and Summer.
HOW TO GET to Lake Bled
Flying into Ljubljana Airport
The nearest airport to Lake Bled is Ljubljana. Direct flights from London with Easyjet, a low cost carrier. Wizz Air flies direct to Ljubljana from Budapest. London, Frankfurt, Zurich, Paris, Vienna and Rome will be your international connection hubs from Asia, Australasia and the Americas. The number of flights fluctuates dramatically for the Summer and Winter timetable. Many people do a day trip from the capital, Ljubljana. The distance from Ljubljana to the town of Lake Bled is only 35kms from the Joze Pucnik airport.
Drive
We lease a car from Paris and drive! Of course, this is because Lake Bled is on our grand European tour, but you will rent a car from the airport. You will need a sticker that you attach to the windscreen to allow you to drive on Slovenian roads. This is NOT included in your car hire. Current prices for the vignette is 15, 30 and 110 Euros for weekly, monthly and annually.
Rail
By train there are connections on the international routes (From Munich in the West and Athens in the East) where you change at Ljubljana and then get a local train. The train stations are either 4kms or 1.5kms from the centre of Lake Bled. It depends which train you take in Ljubljana.
Bus
Private buses and local buses will drop you at the main station, a 3 minute walk from Lake Bled. The hard core can cycle the 50kms from Ljubljana! We don't recommend it though!
Taxi
Taxis are not cheap, but, depends on your itinerary and budget. This may be the option for you.
GETTING AROUND Lake Bled
When you arrive at the fabulous Lake Bled we recommend you get on your bike or walk. Car parking is severely limited in the centre and even on the outskirts, you will need to get there early to park in one of the car parks. Don't even think about trying to use the supermarket car parks, they're onto you!
12 THINGS TO DO IN LAKE BLED
Lake Bled is an half hour to 45 minutes drive, from the capital Ljubljana. You can cover the lake itself in a day trip, but there is plenty to do in the surrounds of Lake Bled, if you want to base yourself in Bled. For example, Lake Bohinj, Vintgar Gorge and the mountain treks of Trivglav National Park are perfectly accessible from Bled.
12. Explore and discover Lake Bled castle
You can see the fabulous Lake Bled Castle from the lake. What a position! Yes, we know a good castle is always built on a hill top, but, come on, this castle tops the charts for being part of an amazing landscape too. In addition, when it is lit up at night, you appreciate it even more. If you follow us on Instagram, you'll know that if there's a castle, we'll go and see it! It is one of the best places to get spectacular shots of Lake Bled below, the island and the Karavanke mountains, plus the Julian Alps.

We think you'll agree that Lake Bled Castle is both majestic and romantic.
Rich in history, Lake Bled Castle is Slovenia's oldest castle. First written records of it date to the 11th century. The castle is open all year round. There's so much to see, you need to make at least a half day trip to see and experience everything. Moreover, you'll want to stay for a bite to eat, as the food is scrumptious at the Lake Bled Castle restaurants.
There is plenty to do, once you reach Lake Bled Castle. You might even want to get married there! It has to be the ultimate fairytale venue! To keep you busy there is the castle museum, wine cellar, forge (where you can make your own money!) printing works, the knights' hall, the castle chapel and the well. If you're lucky, you might see some traditional dancing, where staff dress in resplendent costumes and move to the beat of times gone by.

Watch a performance of traditional dancing at Lake Bled Castle, a must for history and fashion lovers.
11. Swimming in Lake Bled
The lake itself is beautifully clean and provides a refreshing dip on those hot balmy days. There are various 'beaches' dotted around the lake, some of which are private (Guests of the Grand Hotel Toplice don't need to worry though). You can also pay to use slides and a cordoned off area of the lake, weather permitting of course! Swimming is one of the best things to do in Lake Bled because it's free!

Swimming in clean Lake Bled is a must in Summer. The temperature is a comfortable 22 degrees centigrade.
The ducks think it is a great idea too.

Lake Bled water is very clean for humans and ducks to go swimming!
10. Stand up paddle boarding
This craze that took off in Hawaii, of course has now infiltrated itself into water sports. Lake Bled is wonderfully calm, so good for beginners who are new to SUP. Supping is becoming one of the more popular things to do in Lake Bled. Prices start from 10 Euros an hour.

See the picturesque Lake Bled by hiring a stand up paddle board for an hour or two.
9. Rowing or Kayaking
If you want to row yourself, you can easily hire a small boat for 2 for an hour, from 10 euro. Rowing is one of the more energetic things to do in Lake Bled, depending on how seriously you take it! While less frequently for hire kayaking is also available around the lake.

Tour Lake Bled in a little rowing boat. So much better if someone else rows!
The little island in the middle is a working community. There's the famous Mother of God, 16th century church to visit, a tiny museum and cute shops. If you're very lucky as you row up to the 99 stone steps up to the church, a wedding may be happening! The little Bled Island is so romantic.

The Lake Bled natural island is home to a medieval church, museum and artisan shops.
8. Boat cruises around Lake Bled
For the less active, boat cruises depart at various points from around the lake. These boats are known as Pletna. They are traditional, flat bottomed boats powered only by oars. Maximum seating capacity is 20. They all have colourful awnings to protect you from the sun and rain as you glide across the peaceful lake. Frequency varies in high and low season. Sometimes you have to wait until a boat is full before the cruise can begin.

The traditional pletna boats of Lake Bled provide an alternative mode of taking in the magnificent scenery.
7. Sunbathing opportunities

Wherever you lay your towel, around the edges of Lake Bled you can sunbathe. When it all gets a bit too hot, jump into the clean, refreshing lake. Pack a picnic or position yourself opposite the small supermarket, so you can nip in for those essential refreshments, whilst enjoying the beautiful Lake Bled scenery.
6. Tobogganing
You don't need snow to go tobogganing in Lake Bled! It is so much fun for big and small kids.

No snow necessary to go tobogganing in Lake Bled! Summer fun by the lake.
Catch a ski lift up the hill and as you wait, take some silly photos in the giant wooden frame, which gets you and Lake Bled in the background!

Strike a pose in the giant photo frame above Lake Bled as you wait for your ride down on the toboggan!
The ride down in the one person toboggan is exhilarating. If you have a small child, he or she can ride in the front. The best thing about it, is you can go in Summer.

An exhilarating ride down the slope in Summer is a must do activity in Lake Bled!
5. Walking

At the top of the tobogganing site you get great views looking down on Lake Bled. There's even outdoor gym equipment if you're feeling energetic! Of course the lake itself, is a flat, gentle walk which most people can manage easily in 3 hours, with stops for photos and food!
4. Hiking around Lake Bled
The hiking opportunities in and around Lake Bled and its hills are a must. Just getting to the castle is a bit of a hike! But, the reward is fabulous Lake Bled views! Luckily, you can also get fed at the castle on certain days too! Lake Bled is at the bottom of the Triglav National Park where you can do guided or non guided walks, depending on your level of experience and fitness.

Hiking up to the castle walls at Lake Bled is a big achievement!
3. Get on your bike
People often ask if you can cycle around Lake Bled. Of course you can! Once you have done a few circuits of the lake, head to Vintgar Gorge. As you cycle through cute little villages, the friendly Slovene people will wave and point the way to Vintgar Gorge, if you get lost. Head towards Podhom and look out for the small signs for Vintgar Gorge as you cycle along. It's not all paved road, at some spots you will have to get off your bike and push it over gravel paths.

Biking is very popular in and around Lake Bled. Plenty of bikes to hire by the hour or per day.
Closed from December to May, Vintgar Gorge is an easy bike ride away. When you get there, your reward is spectacular rock formations with refreshing clear water flowing over boulders and rock pools. It is all pretty flat. The hues of calming green are all around you, from the plants clinging to the rocks to the changing water below you.

Mesmerising Vintgar Gorge is just a mere bike ride away from Lake Bled. Go and see it!
2. White water rafting, ziplining or canyoning
If you need a bit more of adrenaline style action then book a day trip. Book online or in Bled itself. If action and adventure are on your list of things to do, areas very near to Lake Bled will fulfill your requirements. You will be taken to sites near Bled and Bohinj by experienced guides. The health and safety requirements for these activities meet European standards. You are provided with helmets, wetsuits, life jackets, harnesses and ropes.
1. Eat Bled cream cake
You know the old saying, you can have your cake and eat it? Yes, eating this cake is one of the things you have to do when you come to Bled! Decide which eatery is best! This is more like a custard slice than a cake. When you look at a Bled cream cake, it is similar to a millefeuille without the layers, topped with whipped cream. There is a story behind this cake, which some say is best sampled at the Park Hotel.
Make your own choice and don't just try one! Apparently, everything is prepared under the guidance of the lucky number seven. The puff pastry is folded seven times and then left to rest overnight before baking and cooling again. The egg custard is cooked for seven minutes. Cooled, coated in a delicately sweetened layer of whipped cream, and dusted with powdered sugar, each cake is then cut into a perfect seven-by-seven centimetre square.

The famous Lake Bled cream cake! Got to try one or two when you come to Lake Bled!
WHERE TO EAT iN LAKE BLED
Lake Bled and its surrounds are full of restaurants, cafes and snack bars. The food served in Lake Bled is first class and quite international. Prices are rising, due to its popularity, but Lake Bled is still cheaper than London or Melbourne as an overall destination for foodies. Deciding where to eat in Lake Bled is a difficult decision! We will help you decide with a selection of our favourite restaurants.
FAVE RESTAURANTS IN BLED
Pizzeria Rustika
A pizza and pasta restaurant with an open air roof top or cozy indoor dining. Service is great and friendly. This is our favourite hangout, when deciding where to eat Italian food. Specialty pizzas have buffalo mozzarella, C's favourite pizza topping. Yes, you can have better and she has lived in Milan, home of the best pizzas after Napoli, so C is a pretty good judge. Generous toppings and they don't cook the proscuitto or rucola. Not such a cheap eat anymore. Two speciality pizzas, one dessert, half a litre of wine, a juice and a cappuccino, cost 45 euros.

Fabulous speciality pizzas with buffalo mozzarella at Pizzeria Rustika, Lake Bled.
Penzion Berc fine food

This place is a bed and breakfast with an attached restaurant. You don't need to decide where to eat if you're staying here, as the breakfast is superb! The food is very fresh and uses local ingredients and the servings are generous. Not cheap, because it is very popular. One road behind the main road off the lake. The service is friendly and the suggestions are not just the most expensive items on the menu. Book a table in advance to avoid disappointment. The outside dining area is very attractive too!
The restaurant at Vila Bled
Used to do a fabulous 7 course degustation for 65 euros. Just thought we would throw that in there to make you guys jealous, since we have been to Lake Bled three times! Again, due to Bled's rising popularity, prices are now more expensive and unfortunately the degustation menu is off the books. A la carte though is still fine food, Slovenian style.
Portions are on the smaller side, more akin to the current trend of charging a lot for a little. So, eat the bread that comes gratis! Make sure you get an outside table with a view of the castle as the lights switch on, every night. Very romantic. The car park driveway is also pretty impressive, as you feel like a visiting dignitary when you pull in.

Gourmet food and great presentation at the restaurant at Vila Bled.
Lake Bled Castle restaurant
Struggling to decide where to eat, to get stunning views and delicious food? Need a special place to impress a date? Always imagined yourself dining like a king or queen in your own castle? Head on up to the castle restaurant. Check which days and the opening times as you don't want to be turned away. The trek up is worth it, just to get a view of Lake Bled below. There's an entrance fee of 11 Euros, but this gets struck off, if you book a table at the restaurant. The food is not cheap, but, top notch! A four course tasting menu will set you back 50 Euros. We recommend you book in advance.

Here we are having a pre -dinner drink in the castle whilst waiting for a fabulous gourmet dinner at the castle restaurant.
Bonus place to get a great picture whilst sipping on a latte or licking an ice cream is Café Belvedere. Also good for trying the famous Lake Bled cream cake. Google it! Come on we're not giving you everything on a plate!

Cafe Belvedere is a great place to take pictures of the iconic Lake Bled!
WHERE TO STAY iN LAKE BLED
LUXURY:
For the ultimate in location and luxury, right on the lake with private sunbeds and bathing, you can't go past Grand Hotel Toplice if your budget stretches that far!
MID RANGE:
The family run excellently located Penzion Kaps receives consistently great reviews. The breakfast is a particular delight.
BUDGET:
The friendly Central Hostel Bled is a great budget backpackers' choice for those with limited funds.

Still not convinced?
We challenge you, not to fall in love with Lake Bled. Our first time was in 2012! Two subsequent visits later in 2016 and 2018 and we still rank it as one of our best central European destinations. Love it like we do? Do you intend to go? Planning a trip? Do you agree? We want to hear your comments below.
Popular Posts

VILLAGE NEWS!
Subscribe to our newsletter to hear about unique travel destinations, when to go, what to see and other top travel tips!