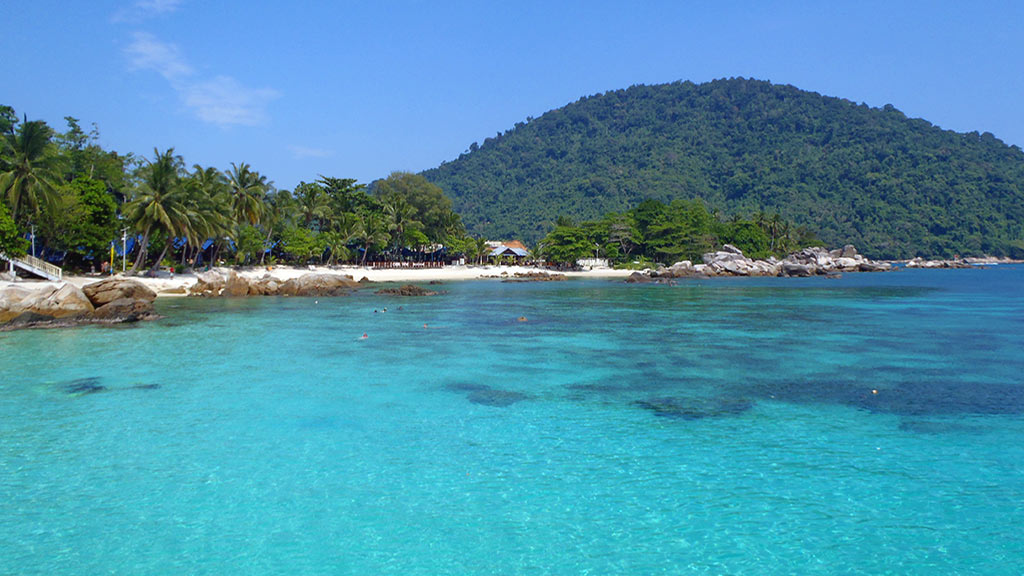 Only1invillage shares our dream destination the Perhentian Islands
Here, we reveal how the Perhentian Islands is just like the Maldives and why it should be your number 1 dream destination! We are regular visitors and this is our 5th trip to these amazing hidden gems. You'll be kicking yourself in the nether regions, thinking "How come I've never heard of this place?!" Forget Thailand and Bali for beaches and sunshine, hello Malaysia! Malaysia is the new Maldives. Keep reading and start planning your first visit to the Perhentian Islands! You know you want to 🙂
Quick Index Perhentian Islands
Ask yourself these questions about a beach holiday destination.
Do you love to walking and lying on powder white soft sand?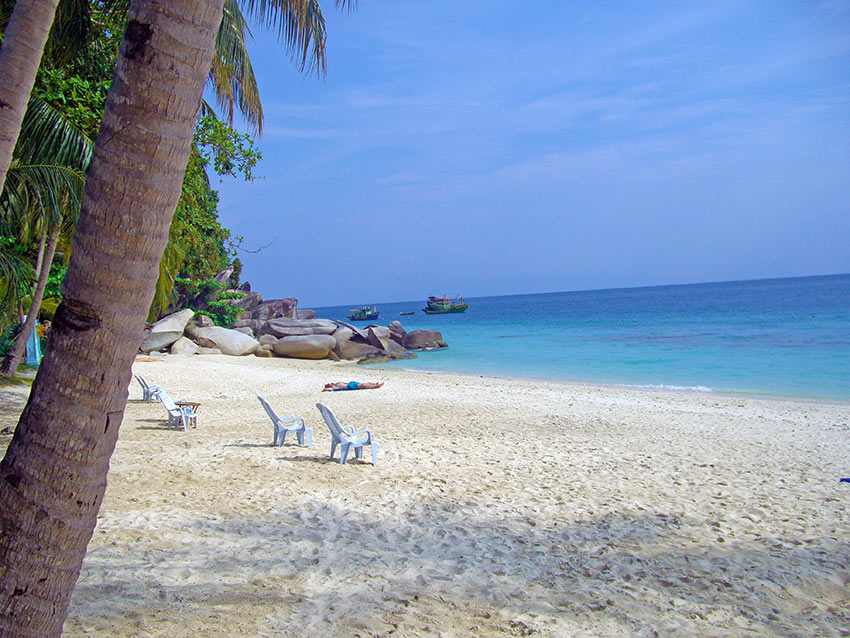 Do you love watching spectacular sunsets and sun rises?
Are turtles, clown fish and reef tip sharks your favourite ocean animals?

Do you love days of clear blue skies and no rain?

Do you love swimming in crystal clear, warm water?

Do you love gorging yourself on fresh seafood and local delights?
Do you enjoy island hopping?
Is snorkelling in pristine coral reefs high on your agenda?

Are friendly locals an important part of your holiday?

Do you like to gain some cultural knowledge of the place you're visiting as a tourist?
Do you love getting a bargain on holiday?
Have you answered yes to all the above questions? Well, who wouldn't? Maybe some of us don't care too much about the last question, but, overall you say yes to the questions. That's why the Perhentian Islands is your next dream destination.

Where are the Perhentian Islands?
The Perhentian Islands are in Malaysia, south east Asia. They are on the Eastern side of the Malaysian peninsula. The Perhentian islands are south of the Thai border. Penang is on the western side, directly opposite the Perhentian islands, when looking at a map. From Kuala Lumpur in the south, the Perhentians are located in the North East.

How many Perhentian Islands are There?
They are two islands which on a clear day, you can see across the South China Sea. In Bahasa Malay, they are known as 'pulau Perhentian'. Pulau means islands. Furthermore, Pulau Perhentian Kecil means 'small Perhentian island' and Pulau Perhentian Besar, means, 'big Perhentian Island. It's important to not that there is an island off the coast of Melaka, called Pulau Besar, so don't confuse the two!

How do I get to the Perhentian Islands?
To get to the Perhentian Islands you have to get a boat from Kuala Besut. Before you get to Kuala Besut, you have to get to Kota Bharu. International visitors will fly into Kuala Lumpur. From Kuala Lumpur, an internal flight is necessary. Air Asia, Firefly, Malindo Air and Malaysia Airways fly to Kota Bahru, one hour away. Air Asia offers the best number of flights per day. From KL, you can choose from 10 flights per day on Air Asia. The cost is usually about $US20, $GBP15, $AUD30, EUR18 one way before luggage and taxes. Air Asia is a budget airline. But for an hour's flight who cares?


From Kota Bharu, you get a taxi to the jetty point of a little town called Kuala Besut. You can either get your resort to arrange a taxi, use your GRAB app (UBER for SE Asia) or get a pre -paid ticket at the taxi counter at Kota Bharu airport.

There is a public ferry, but we never take it. Time is of the essence when you need to get to paradise!


We always hitch a ride with the Tuna Express, run by the Tuna Bay resort. They also arrange a driver from Kota Bharu airport and drop you off at their office on the mainland. The operation is seamless.

They guide you to the departure point where you pay MYR30 per adult for the marine park fee and then onto their own boat. The boat ride is 45 minutes to Perhentian Besar.

What's the best time to go to the Perhentian Islands?
The tropical islands of Perhentian Besar and Perhentian Kecil experience the dry season from April to August. Peak season is June and July. To escape southern hemisphere Winter, the Perhentian Islands are perfect for that dream destination getaway. Long days of sunshine make for perfect snorkelling and diving in June and July. On the cusp of dry season, March and September are months still worth going, as the rain is generally at night.
What's there to do on the perhentian islands?
Like the old saying goes, there's 4 things to do on a tropical island. It's sun, sea, sand and serious sandcastle building! Actually the snorkelling and scuba diving is pretty amazing. Crystal clear waters an abundance of sea life from turtles, reef sharks, sting rays, clown fish, parrot fish and plenty more make it an adventure every time you go in to the water! Jungle hiking and kayaking are also popular activities. Most resorts do not have a television which suits us just fine.

Jungle trekking on Big Island
The path is well signed for this short, but very sweaty little hike. Take mosquito repellent!
You actually start the walk from the beach after Cocohut Chalets. See picture below.








Oh there's snorkelling too and high quality snorkelling at that.

To recap the Perhentian Islands activities are sunbathing, swimming, snorkelling, diving, sand castle building (unlike on Boracay, this has not been banned!) jungle trekking, walking, reading and island hopping.


Throw in eating and sleeping and then press repeat. Yup, it's a serious beach vacation on the Perhentian Islands.


How do I pay for items and services on the perhentian islands?
There are no cash machines on the islands! We repeat, you cannot get cash out! You need to bring a combination of Malaysian Ringitt and credit cards. Bigger establishments will accept credit cards. The water taxi boats accept cash only. The small shops on both islands accept cash only. If you like collecting foreign currency banknotes, some Malaysian notes are plastic. This means that even if you drop your money in the crystal clear waters of the Perhentian Islands, you can still use it!

Is there WI-FI?
The most important question! It's an island in the middle of the South China Sea. Yes, WI-FI is available. Of course it can be unreliable in times of bad weather. If you need an uninterrupted connection it is better to buy your own SIM card at the airport. There are three outlets at KLIA2 and a few stands at KLIA. Tune Talk seems to be reliable and DIGI also sell good plans.

Prices are very cheap. MYR40 buys you 15 days and 25GB. Beware that if you don't activate a top up message half way through your plan, your plan will stop in 12 days. You can buy Tune Talk before you go and pick it up at your arrival airport in Malaysia. For DIGI you have to go to the shop.

Is the food halal?
Malaysia is a Muslim country. There's no pork available on the Perhentian Islands. There are several places on Perhentian Besar that serve halal food. These will be the Malaysian run places. If the restaurant or cafe is Chinese Malaysian owned, the food will not be halal. This is a generalisation. It is best to check before you order just to be on the safe side.

What are the food options like on the Perhentian Islands?
Western and Asian food is widely available on both islands. Vegetarians always need to check if the food contains small bits of meat. Also oyster sauce and fish sauce are widely used. So, if you're a strict vegetarian you must make sure you say so. Salad leaves are rare but cooked vegetables are plentiful. Malaysian style curries are fabulous. The roti bread on the Perhentian Islands is something else! Flaky and buttery, one is never enough!

Check out the size of those prawns. The fork is there for illustration purposes. Cocohut Chalet on Perhentian Besar provides the best value for huge prawns on their nightly barbecue. Size does matter in this case!

For the best in Western cuisine we like Bubu's on the small island. From Tuna Bay on Big Island it's only MYR15 per person in a boat taxi.

Can you get alcohol on the Perhentian Islands?
You can get beer, wine and spirits on both of the Perhentian Islands. There are a few places that do not serve alcohol, such as Abdul Chalets on Perhentian Besar. Beer is available to purchase from the small shops on both islands. The most popular beers are Tiger and Heineken.
How do I get around?
There are two options – your legs and boats. There are no cars or mopeds on both islands. Water taxis clearly display their prices for both islands and various snorkelling trips. There is no haggling as prices are very reasonable.

The Beaches of Perhentian Besar
Tuna Bay Beach

This is the best all round beach for sand, coral and fish life.

Here we see puffer fish, parrot fish, needle fish, titan triggerfish and wrasse. There is also something very special here. One bright neon pink anemone is in the crystal clear shallow waters. If you're very lucky the resident turtle will make an appearance. If you're really lucky, bumphead parrot fish will make an appearance. On our 6th visit here we see one! This is the beach that has the best coral. It's just in front of the resort called Tuna Bay. There are some naughty small fish that like to take a nibble if you stand still in the shallow water.

The reef begins literally 1 metre from the sand. Please don't wear fins when snorkelling. There is a sign that says fins are not allowed, but, this is unfortunately, largely ignored. There is some bleaching happening, but, overall, for snorkelling it's pretty good!

On our latest trip, we discovered a neon pink anemone! This is something we haven't seen before on our previous 5 trips. There's always something different to see. There is also some conservation work going on underwater. The marine park has sunk some frames, to encourage coral growth. Some of them are quite successful. The sand here has small bits of coral in it, right in front of the restaurant, but head further along and it's powder soft.
Abdul Chalets Beach

Powder soft sand. It's a continuation from Tuna Bay and on the other side of the pier. A couple of large granite rocks provide some snorkelling opportunities, but, not as good as outside the front of Tuna Bay. Better for swimming. This beach has no umbrellas and is generally used by the guests staying at Abdul Chalets. The water is of course crystal clear. It's better for swimming at this beach.
The Barat Beach
When you jungle trek accross the pathway shown in the map above, you reach this part of Perhentian Besar. This isn't really the name of the beach.

When you get water taxis around you will notice the destinations are the accommodation names.

Here you will also find Mama's Place, Water Colour, The Reef and Coral View resorts. From here you get a view of the mosque on Kecil.

The beach here is made of small stones and fine sand. More a beach for sunbathing and getting your feet wet. No coral here.

Perhentian Island Resort Beach

Perhentian Island Resort pretty much has a sheltered bay and granite rocks at one end. This beach is a 50 minute walk through the jungle or a MYR10 ride in a water taxi from Tuna Bay. This stretch of white sand has the colourful pier on one side and ends with huge granite boulders on the other side. It is a lovely curved bay.

Before you get here, there is a massage place on top of the hill offering spectacular views of this beach.

Reef tip sharks love to swim near the pier in knee deep water!

Powder soft sand with some coral the closer you get to the water. Chairs and umbrellas are reserved for guests only. There is however, some natural shade under the coconut trees. This beach has easy entry into the water along the sand. At low tide you might have to go 20 metres before you can't swim. You can swim out to these floating square buoys for a break in between swimming.

Perfectly calm without waves, it is great for children.

This is clown fish heaven. The little cuties are everywhere! You will also see different species of clown fish, not just the orange and white ones. This is the best beach for clown fish spotting. There are hundreds of the little orange and white cuties fiercely defending their territory. The anemone here is also pale white, pale green and the more common green colour.

KK Beach and Teluk KK snorkelling point
This is a very, very quiet beach.

Water taxis can drop you off or you can walk from Tuna Bay or Abdul Chalets. Warning, there is some broken jungle path along the way and a kind of bridge made from plastic pipes! There is one lady selling snacks here.

The sand is powder soft, but the beach is narrow. It's good to swim out to Teluk KK which is where snorkelling trips drop you off for half an hour. Due to its remoteness we saw some western girls go topless on this beach. Please don't do this in a Muslim country. It is quite disrespectful.
Turtle Beach
Guess what you can see on Turtle Beach? Erm…..yes you're turtle-y correct. It's a flippin marvellous sight to behold! The sand is lovely and soft here too. Granite boulders enclose this small crescent shaped beautiful beach. To be the only 1 in the village, you have to get there early before the boat loads of tour groups. Please, please don't touch the turtles, it stresses them out. Of course the aquamarine clear water makes this beach a dream destination. What more do you need? White sand, tick, clear water, tick, turtles just offshore, tick and for an hour or so by yourself! Dream destination status secured in our humble opinion!
Quiet Beach
Although it's often called Quite Beach, it's really is supposed to be QUIET. Not many people come here as its name suggests. Reachable by water taxi.
The beaches of Perhentian Kecil
Long Beach
Long Beach is the main attraction.

Many restaurants and cafes have put their chairs onto the sand, making the beach look a bit like Thailand. We guess due to rising popularity, the vendors don't want to miss out. The sand is powder white and soft here. There isn't any coral or fish to see here.

Coral Bay
Coral bay is on the other side of Long Beach on Kecil. You can get there by a well maintained path starting from the glamping tents or just before Bu Bu Villas. Look out for the signs! It is a bit of an uphill walk, but you can do it in about 25 minutes. The beach here is curved. It's mostly yellow sand with a few patches of large grainy sand. It's not the prettiest view with many boats tied up in the water. The water is clear once you get out past the boats.

Romantic Beach
If romance is on your mind, head to the aptly named Romantic Beach! You'll be left alone! Ask your water taxi driver to come back for you!
There are more beaches which we will share next time! This should be enough to get you planning a trip to the Perhentian Islands. Remember the best time to go is between April and September. A perfect getaway from the Southern hemisphere Winter!
Walking from Long Beach to Coral Bay on Perhentian Kecil
If water taxis are too easy for you and you want to get your cardio exercise for the day, we suggest you do this little hike!
It will take about 25 minutes, going at a reasonable pace.
On Long Beach look for the Aina Garden Chalets or Long Beach tents.





Accommodation Options on the Perhentians
We always stay on Perhentian Besar. It is slightly more upmarket than Perhentian Kecil, which is mainly for backpackers.
We are loyal customers to Tuna Bay Resort because they offer a really convenient transfer service from the airport to the jetty and then the island. They use their own private boat which runs three times a day. Most of their rooms could do with a make over, but they have the best restaurant on Perhentian Besar. After years of lying on the hard wooden sunbeds, they have finally added padding to their sun loungers! Tuna Bay are not on any of the hotel websites, you have to book with them directly.


Warning, there are not any 5 star establishments like in Thailand or Bali. It is altogether a more rustic kind of paradise.


There are exceptions on Kecil such as BuBu Resort and a newly built hotel, MIMPI on Long Beach. The reason we stay on Besar, is also for the snorkelling. It is non existent on Kecil, it's more for the sun part of your holiday.
Kecil caters more for budget travellers. There are tents and shacks with fans only. If you want air conditioning, you will have to pay a bit more.

There is also free accommodation! If you do a diving course with some diving centres, they'll throw in the accommodation for free. We have not inspected a room being offered, so we can't comment on this offer.

Well done for reading (or scrolling through!) our very long article on your next holiday destination in Asia. What are you waiting for? Paradise waits for no one. Get packing, Perhentian paradise is waiting for you! You too will be dreaming about this destination. Like us, you'll be returning visitors. We even have another little Malaysian Maldives up our sleeves. Redang Island our favourite tropical paradise

Popular Posts

VILLAGE NEWS!
Subscribe to our newsletter to hear about unique travel destinations, when to go, what to see and other top travel tips!