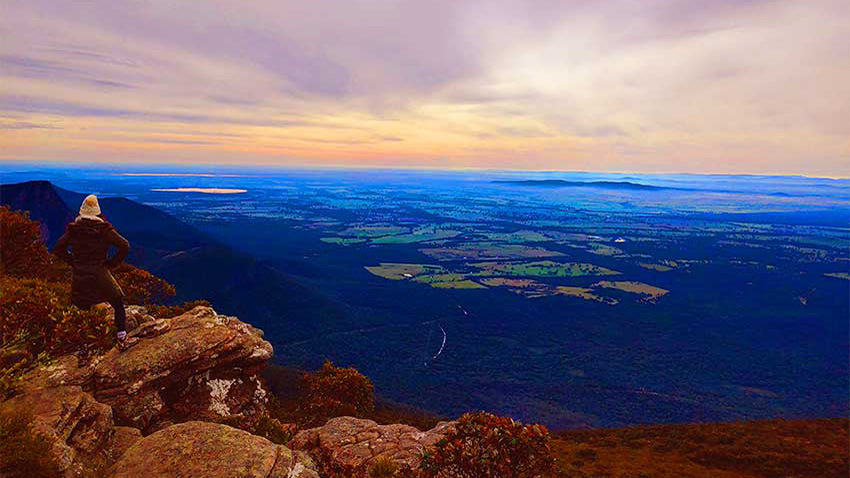 The Grampians 7 days of wonderful walks
Recently we returned to the Grampians National Park for a week of hiking, fresh air and nature sight seeing. It's always a beautiful experience with a mix of dry eucalyptus forests, scrubby bushes, waterfalls, lakes and rainforests set amongst sandstone and granite rocks. There is an abundance of native wildlife. You will see many kangaroos and may see koalas, emus and vast range of marsupial and native animals. Below we share some of our favourite walks and photos as well as essential tips and advice, enjoy!
Quick Index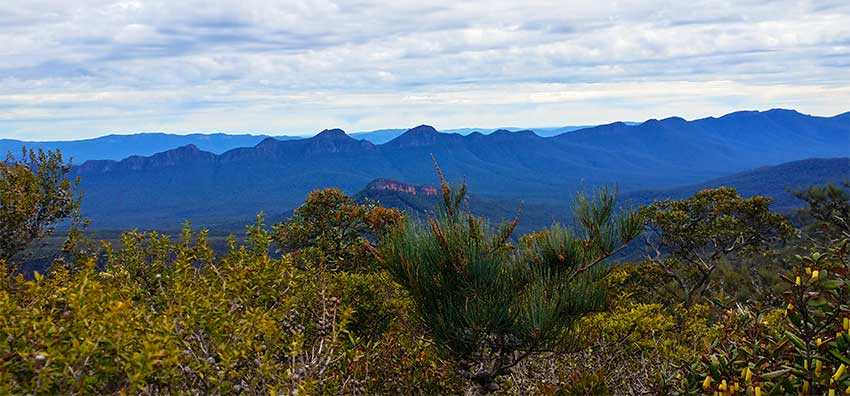 The Grampians national Park is a mountainous region in the state of Victoria. Fresh air, rivers, waterfalls, grey kangaroos at your door and stunning rock formations await.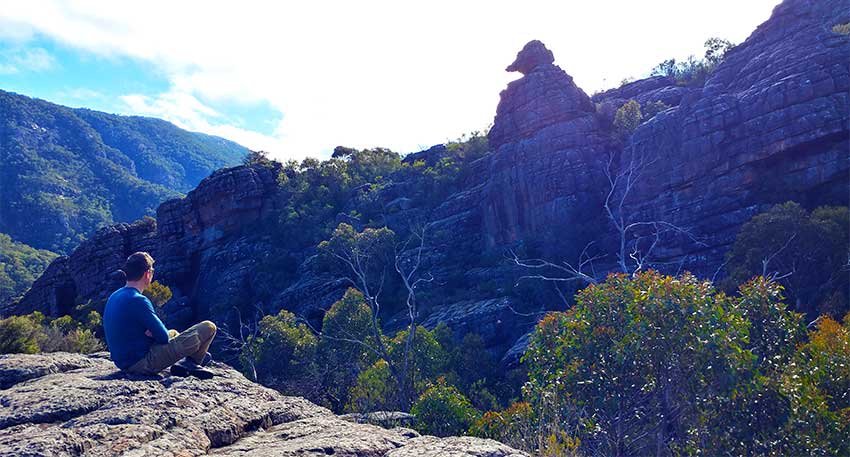 Not only for outdoor adventures, such as rock climbing, the Grampians offers gourmet food and wine with a genuine friendly welcome. Gariwerd is the traditional name used by the indigenous peoples of the area. Gariwerd can be divided into North, South, East and West for hiking and tourist purposes.

Where are the Grampians?
The Grampians area is a national park area under 3 hours west from Melbourne. It is situated between Stawell and Horsham on the Western Highway and Dunkeld on the Glenelg Highway.
What's there to see and do in the Grampians?

There are numerous peaks, hikes and waterfalls to conquer! It is the place to see kangaroos and wallabies and emus. We even saw some deer, which was a bit of a surprise. It has its own Grand Canyon! A growing foodie destination for wine. The Grampians region has the best indigenous rock art in Victoria.
Best Time to go to the Grampians

We went in Winter and we have to say, it was really good! Apart from the chilly starts, when the sun is shining and it's not raining, Winter is a good time to go. Less tourists, often there were only about 5 other people on some of the more challenging hikes, such as Mount Rosea. Even the most popular Pinnacle walk wasn't too bad in terms of foot traffic. You could even get a photo with no one else in the background along Silent Street. That won't be happening in peak season! We don't recommend going hiking in Summer, as there is no shelter as you clamber over ancient rocks. Plus you will have to carry a lot of water!

Here are the seasons in the Grampians area:
Spring – September, October, November
Summer – December, January, February
Autumn – March, April, May
Winter – June, July, August
Day 1 wonderful walks of the Grampians
We arrive on a Saturday afternoon at Halls Gap, after a fabulous lunch at a tiny town called Great Western, just 40 minutes from Halls Gap. The food was sensational and very much unexpected. Never judge a town by its cover!

We learn that the indigenous peoples of the area call it Budja Budja. There's only time to do a quick walk after checking in at the Gariwerd Motel. This will be our base for the 7 days of great Grampians walks.
Venus Baths via Stony Creek Loop Walk
We choose the Halls Gap Botanical Gardens, the Venus Baths and the Clematis Falls Walk. It is Winter so we have to get back to paved road by 5.30pm.

Every walk is very well marked. The first port of call is Venus Baths. An easy walk for all ages. This is a loop walk.

You can get the 2.3kms done easily in half an hour each way, at the most leisurely of paces.

You can also come back via a different track on the opposite side of Stony Creek.

On the way back from Venus Baths, we stop to wander around the Botanic Gardens.

Day 2 of our Grampians walks adventures
Our first full day of walks of the day of walks for those National Geographic moments, starts with the Bullaces Glen and Chatauqua Peak walk. Don't forget to cross the road carefully to get to Bullaces Glen. A medium grade walk with some rock scrambling. Hiking shoes recommended for grip. You can do it in running shoes/sneakers, but we find the ankle support of hiking boots much more comfortable.
After a lunch break we take on Splitters Falls. This walk involves a bit of rock scrambling. You can do it the easy way or the hard way.
Bullaces Glen – official time and distance depends on where you start – medium grade 1 hourish return
How to get there – Start at Halls Gap Road and follow the now familiar green signs. This is a pretty circular walk through a green fern covered glade that also has a small waterfall.


Clematis Falls – Official distance and time – 2.4 kms- 40 minutes to1 Hour easy grade walk
An easy walk from Halls Gap, that you can access from the recreation reserve. You may see emus or kangaroos along the way. The waterfall is best after a rainfall and a good place for a refreshing shower in the hotter months.


Chatauqua Peak – 5.6kms circuit medium grade Official time 2.5 hours.
This is one of the lesser known and less popular walks in the Grampians. Make the effort to go though as you get sweeping valley views near the peak. Don't be fooled by Google Maps. If you put in Halls Gap to Chatauqua Peak, it says 29 minutes on foot! If it was flat, that is achievable but it is a steep climb up.

Where to start: This peak walk can be accessed after the Venus Baths or the Oval Car Park in Halls Gap. You can also take in Clematis Falls on the way up or on the way down.
There are some very difficult parts right near the peak, but, we agree with the official listing as medium.



Splitters Falls medium grade 2.7kms one way 1.5 hours each way
You guessed it named because the falls split! Getting there is quite the adventure, scrambling over rocks and walking through damp forest. At some points it looks as if you're going to drop off the mountain, but don't worry, you won't.
Official grading – easy if you start from the Wonderland Car Park. It's only 700 metres.
2.7kms one way – moderate grade which means medium.

Where to start: At the bottom of the Venus Baths there are some steps. Take these. If you want to cheat you can drive to the Wonderland car park, where it is then only a 700 metre stroll. Nah, we don't do that, we have legs, they're not painted on. Besides we have calories to burn.

It's not as easy as the official website makes out. It isn't difficult, but it isn't a flat stroll through a, park! So take the steps up and you will arrive here (picture of J below).


At times you can't really see if the rocks will take you to Splitters Falls. There wasn't anyone else coming back either to ask. We just keep going!

Surely this trickle of water means we are not lost? Splitters Falls here we come!

It takes us about an hour and a half one way. We're finally here, yay! Time for some photographs.

Day 3 exploring the Grampians on foot
Boronia Peak – officially graded medium – 2.5hrs return
A fabulous walk with magnificent views at the very top. A bit of vertigo for us! Very windy and suddenly cold at the top. Requires rock scrambling to the last part of the jagged peak. Breathtaking! (2.5 hours 6.6kms return official time) This was a medium grade track with some very steep parts. It took us about 3 hours, including time for photographs.
Where to start: You start the Boronia Peak Walk at Tandara Road. Just park on the street.

All the signs are one way. Make sure you factor this into your day. When going up to a peak, also remember that the change of terrain and altitude will increase your average walking speed, that you can do on a pavement/ sidewalk. We average 4-5 kms an hour in cities but on this walk there were parts where we averaged only 1km per hour, due to rock scrambling.
The path starts out as an easy pleasant stroll…. Don't let that fool you for the hard work ahead!


The path gets increasingly more difficult as you ascend.

It's onwards and upwards from this point. By now, you should be a bit sweaty!

We have walked about an hour and a half, scrambled over rocks and squeezed ourselves through 'rock stairs' walls. At times it might not look obvious where to go, but, as long as you're still heading up hill, you know you're on the right path!


Time for the panoramic view that everyone says is well worth the trek up.

Needless to say the way down, was much easier, with gravity helping us out. We complete the walk in about 3 hours. The official time is 2 hours 30 mins.

After a break for lunch, it was time for an easier afternoon drive and stroll to Mackenzie Falls.
Mackenzie Falls Walk 2kms return medium grade due to steep steps – 1.5 hours return

One of the most popular and accessible walks in the Grampians. Well developed with wheelchair access to 2 viewing points.

How to get there – By car from Halls Gap Road you drive up the winding roads to the Mackenzie Falls Car park. From there it's an easy stroll to the viewing point which is wheelchair accessible. To get to the actual waterfall, you descend steep steps. This will take you about half an hour.
Day 4 of hiking the Grampians
The Pinnacle Lookout Walk – From the Wonderland Car Park – 2.1 kms official time 1.5 hrs one way
This walk is a steep medium to hard grade walk but with so much varied terrain. Possibly the most famous walk of all. Taking in 4 other Google maps sights, this has to be the walk to do, if you can only do one. On our walk we saw plenty of children, so it's a good family hike. There are plenty of opportunities to take rests and the most popular parts have had stairs built into the rocks. This walk takes in 4 popular sites and if you can only do one walk, we recommend you do this one.

Grand Canyon
When you start this walk from the Wonderland Car Park, you immediately get the impressive Grand Canyon. This is Australia's answer to the famous North American Grand Canyon. Since we haven't been to the American Grand Canyon, this will do for now. It's pretty cool, we think you'll agree, for a smaller scale offering. Obviously, if you've been to the American Grand Canyon, you're going to be a bit underwhelmed. But, for us, we think it's fantastic.

Cool Chamber
This is a rock overhang that is easy to miss. About 30 minutes into the walk. It makes really good echoes. Watch your head if you're tall. That ancient rock is hard!

Bridal Veil Falls
Best viewed after rain, to get the best effect. Just after the Cool Chamber, Bridal Veil Falls is refreshing on a hot day! You can stand under it to wash off the sweat in Summer. If you go in Summer to the Grampians, you can stand at the back, to get some much needed shade from the relentless Australian sun.

Silent Street




After Silent Street you're almost at the peak. This is where you start to hear voices of other hikers coming down. It is still up hill, but the promise of a great view keeps you going.

Then you see it and hear it, the Pinnacles!!!

Before you leave there is a huge area to explore at the top of the Pinnacles Lookout. Grab a flat rock and have some lunch or do a balance walk that has now been discouraged for safety reasons.

Here is a closer look at The Needle nerves test. You don't want to do this if it's wet!

Before you leave for the trek back down, grab a bite to eat or get eaten by a rock!

Boroka Lookout 6kms one way on foot hard grade about 2 hours each way or 90metres from the car park
This picture of what you should see is from Quincy Lee (Qlee679) we contacted him for his permission from Flickr. It has been taken from the viewing platform. We think you'll agree it is awesome!


You will definitely need your goat trekking legs for this walk. From the Venus Baths area it's 6kms of tough going. The first 3kms seem "easy" but, don't be fooled. As you climb, the terrain gets more and more difficult. On our walk it was misty and foggy the whole way, hence the lack of pictures. We could barely see our own hands at some points of the scramble.
Luckily this walk can be approached the easy way too. Drive to a car park and walk 90 metres.

The lookout area is fenced off, but it hasn't deterred those Instagram people from taking selfies and getting others to take pictures of them on the dangerous ledge. The day we went was misty and foggy and we couldn't see a thing!

If you look carefully at our Chataqua Peak walk pictures, you will see a very similar view. Bellfield Lake and the valley below.
The Balconies 2kms one way from A car park easy walk
Easy half hour walk (2kms one way) through flat forest and gigantic rocks from the Reed Lookout car park.

The Balconies used to be called the Jaws of Death. Either because they look like the jaws of a giant dinosaur, or, because people have actually died here. Whichever story you want to believe, it is a dramatic rock formation, which can be viewed safely from a viewing platform.

You can drive up Mount WIlliam Road and see the Jaws of Death from a viewing platform. You used to be able to go on there and take pictures, but, not anymore. If you see shots of this on Instagram, it's because of illegal activity, old pictures or clever photography.

Before you get to the Balconies, there is a lovely flat walk across some very interesting terrain and really good views towards Lake Wartook. Park your car at the Reed Lookout car park and look for the signs. to The Balconies.

Silverband Falls 0.8km one way flat gravel path
This is an easy walk from the car park. In fact, this is the easiest walk we did. It was completely flat! Sing hallelujah!


Day 5 of our wonderful walks of the Grampians
Lake Bellfield Tunnel Walk – medium grade
A surprisingly beautiful walk with water views. From the name we thought you could go through some tunnels for the walk, but, no. You can see and hear a tunnel for water, but, you won't be walking through it.
The walk starts near Pomonal, from the imaginatively named Tunnel Walk car park.

This is where you can start the walk. There are other alternatives if you want to go on further.


OK, head on up the steps and it is a gentle uphill walk for about 20 minutes.

As this walk is not very popular and we are out of season, we only see 5 other people. For most of the walk, we are on our own and free to imitate the bird noises and make silly echo sounds. We don't expect this walk to be as beautiful as it is. The lake itself is on par with some of the best New Zealand lakes in terms of beauty. At this point the scenery looks very much like Magnetic Island, in the far north of Queensland. This is an island where we have also covered every major walk.








Heatherlie Quarry

A fascinating glimpse into quarry life with rusting machinery and some original sandstone houses for the workers. We learn a lot about stone splitting and marvel how anyone could have lived out here in the wilderness. Ah, the good old days.

As you walk around the area you start to appreciate the hard work that goes into making your kitchen bench top!

There is even a little village, where the workers used to stay in "the bush".

The walls are very thick sandstone. Wonder why they weren't made of granite? Many of Melbourne City's greatest buildings we discover have been made from granite from this quarry. Well fancy that, you live and learn!


There are information boards everywhere, painting a detailed picture of the working quarry.

Day 6 sore but soldiering on for our Grampians guide
Mount Rosea Official time 2 hours each way
Mount Rosea is 4.6 kms one way. It is medium to hard grade with a lot of rock scrambling and hard to see markers in places. The cardio workout of our dreams and totally worth it!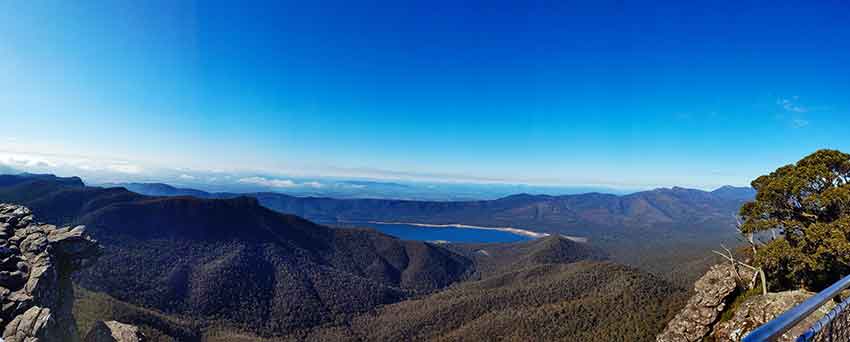 This walk is challengingly beautiful. Make sure you tell your accommodation or someone you're doing this. People have had to be rescued on this walk.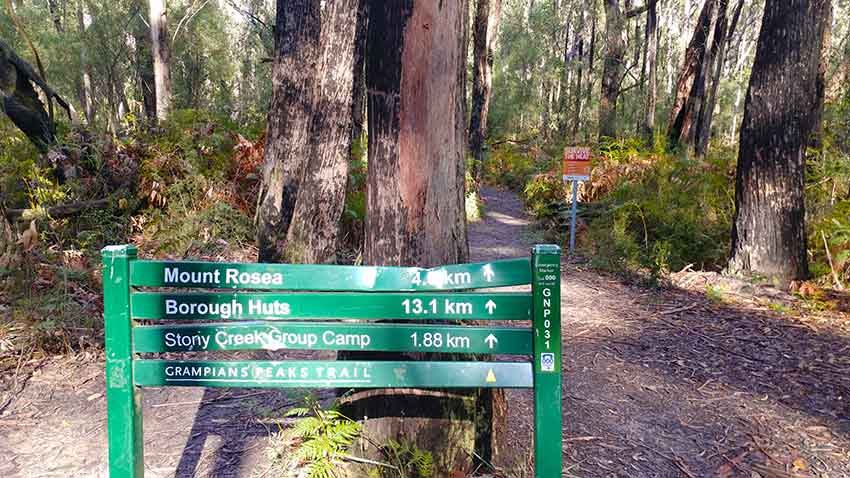 Don't be fooled by the gently sloping first 1.6kms through lush forest and ferns.


This took us 5 hours return and there is plenty of rock scrambling. It was by far the most challenging walk. We wish we had done this walk first, so all the other walks, would have seemed much easier.
After the beautiful messmate forest, you're on a gradual ascent. 40 minutes later the terrain changes to sand! By now you have covered 1.3kms.


Well that doesn't seem so bad. A good start. and the sun is shining. We still haven't seen anyone else. There's about 20 minutes of this type of terrain (see below) and then things start to change. Even though it's fairly flat you still have to look out for these yellow markers. They will be invaluable as all rocks start to look the same!

20 minutes later the going gets tough, but still smiling.


Now the real rock scrambling begins and some of the rocks are like climbing apparatus in the gym! If ever you think hiking isn't a good workout, come and do this walk. Our hearts are racing, our legs are aching and now we have to use our hands too!


At the 1 hour and 40 minutes minute mark we decide to stop for lunch. The lunch stop is a great time to marvel at the absolutely jaw dropping scenery enveloping us.


As you rest, it's good to look out for natural markers. As you're ascending it's easy to think you'll remember your route on the way down, but, those rocks, will all start blending in to each other! Take the time to photograph some natural markers and look at the time stamp.


Rested and rejuvenated, we hear some people coming up behind us! Hurrah, we are not alone! We like to look at their faces and see if they are panting and sweating too. Come on, you know you do that too, when you pass fellow hikers!

At the 2 hour point we almost give up. It's been really hard and the rock scrambling is some of the toughest for a continuous 45 minute period.


We feel the oxygen deprivation and not seeing many people come down is not very uplifting. Finally we see 2 other hikers who tell us we're nearly there about half an hour and the view is worth it. It had better be!




We remember our accommodation manager telling us to look out for the bridge and don't look down, if you're scared of heights. Well it's a bit late now! We are glad to see the bridge because it means we're on the right path.

J is brave and stops to take some scenery shots on the bridge.



Apparently we're so close……

Apparently we're really close!

It's been an epic 2 and a half hours but we make it! We're 1009 metres up and above the cloud line!
Like we said earlier, we wish we had done this walk first because it's hard and it is the 6th day of non- stop hiking for us. It's really windy at the top. For video footage of the views at the summit, go to our Instagram page.

Is it worth it? Hell yeah! Are we tired? Hell yeah! Doing another hike tomorrow? Hell yeah! All we have to do now is find our way back down before it gets dark! See you at the bottom.
Day 7 We are victorious in Gariwerd- Grampians National Park
Mount William
1.8kms one way uphill, quite steep. It should take 45 minutes to one hour each way.

To get to Mount William you need to drive to a car park called…..OK you got it, Mount WIlliam Car Park.


From here the road is fully paved but you cannot drive to the summit. It is quite a steep ascent and you should be at the top in 45 minutes. This walk offers splendid views of the mountain ranges from various angles.




Right where to next? We decide to drive one hour south and head to a famous bakery that apparently has the best sourdough bread. Well let's see shall we?
After a very pleasant lunch with very good sourdough, a pie, some salad and some good coffee it's time for another walk! We decide on a short one called un-politically correctly, The Picaninny. We're not here to judge the names of the walks, we're just there to walk them.
The Picaninny 2.4kms return 1 to 1.5 hours easy to medium grade

There's no car park for this walk, you have to look out for the sign. Actually, later we discover there is a car park, but it is up a very steep hill and we don't have an all terrain vehicle. We park at the bottom.


As you walk in the southern Grampians, you will see Mount Sturgeon towering above you, to your right. We'll have to save that walk for a return visit. It looks pretty high up!




Fyans Creek Loop Walk 2.5kms easy grade
This walk starts where the Boronia Peak Walk starts as is effortlessly flat! This is the best place to see emu, wallabies and kangaroos. Not same same. Wallabies are like smaller kangaroos, so, OK, kind of similar!



That's the end of our guide to some of the fantastic walks the northern Grampians has to offer. Time to go back to the big smog, but first, food!
Pomonal Estate Winery (see further below for pictures)- Well after a fabulous week of walking the Grampians, we need a good winery estate lunch, before heading back to the big smog. This place did not disappoint. Cosy, cute, good food and beer paddle tasting, what else can J want?
Grampians Estate winery – The Grampians area is fast becoming a destination for great wine. So when we see the sign for the not so imaginatively named Grampians Estate Winery, we have to stop for a sample or two. A lovely modern tasting room where you can also get lunch or light snacks.
Back to Melbourne we go!
Our Top Tips for walking in the Grampians
Do the hardest hike first, then everything else will seem easier. Looking back we wish we had done Mount Rosea first, because compared to that, Boronia Peak was easy! However having said that, you might get muscle soreness if you do the most difficult walk first.

Wear good shoes or boots if you're serious about conquering peaks. The terrain is rough with small and large stones, sticking out everywhere to stub those toes and trip you up. Oh and don't forget about those tree roots, that like to make their presence known too!

Layer up for the walks. On the same walk you can wear one layer at the start and pretend you're sunbathing on a beach, 15 minutes later you need a hat, gloves and that insulated jacket (Winter hiking like we did).

Take snacks and lots of water. Take your rubbish with you. Wear a back pack/ rucksack for the rock scrambling, you'll want to keep your hands free.
For Mount Rosea, tell someone. We met a couple who got lost and they told us it took them 7 hours to get back down instead of the 4 to 5 hours, it should take.
Get really good at spotting yellow triangles. You know that saying that "all rocks look the same"? Ok, there isn't one, but, on some of the less travelled walks it is really confusing and there is no clearly marked trail of footprints to guide you. Keep your eyes peeled for the yellow triangles to guide you. Sometimes it is better to go higher and look back to see where they are.

Indigenous rock art in the Grampians
Indigenous rock art in the Gariwerd (the indigineous people's name for the Grampians is plentiful and well preserved. The Djab Wurrung and Jardwadjali people have looked after their land for over 20,000 years.
We respectfully acknowledge the Traditional Owners of country throughout Australia and recognise their continuing connection to land, waters and culture. We pay our respects to their Elders past, present and emerging. There are over 200 sites but only 5 are "open" to the public. Each site has been fenced off to protect them from vandalism, so, you can't get too close and touch them, which is a good thing.
We followed this guide to see all the amazing ancient indigenous rock art.
The Billimina and Majna rock art sites

Inside the Wartook valley the Billimina Shelter can be found along The Goat walk. It's quite difficult to get to due to the narrow and twisting roads. From the Buandik picnic and camping area, it should take about 15 minutes. It is a steady uphill walk. Drive on 10 mins from the Buandik picninc site and you can see the famous "hands" (manja – pronunced man-yar) rock art.
Bunjil Shelter – Stawell

Located in the Black Range scenic reserve the Bunjil Shelter is amazingly well preserved. This site is an easy walk from the car park.

Grampians wildlife

The eastern grey kangaroos are everywhere. They come up to you in car parks, they wait patiently on the lawn and they hop around the grass lands, sometimes waiting to cross the road. These iconic Australian animals will be the most common sighting along with wallabies, their marsupial cousins.

Possums will make their presence known in the trees above you. A rarer sighting will be squirrel and feather tailed gliders. But, good news sugar gliders often jump between trees when dark.
Beware of the snakes!!!! Eeek – poisonous types are known to be in the Grampians – the red bellied black, brown, tiger and copperheads. These short fanged reptiles are not ones you want to boast on your Instagram profile! Luckily we didn't see any.

We were surprised to see some deer in the forest foothills.

Unfortunately Australia's most unique monotreme, the duck billed platypus will be a rare sighting near the rivers in the Grampians. You're more likely to hear Pobblebonk frogs, especially after fresh rainfall.
Food and produce

There are plenty of wineries and some fantastic produce that only the clean air of the Grampians can produce. Before lunch we had to do a quick stop at the famous Seppelt winery. There's no lunch here but a small cafe and a cheese platter option. They also do guided tours of their underground cellars. Book in advance.

The Toscana (not in Italy as the name may suggest!) olive plantation produces fantastic olives and award winning olive oils including extra virgin.
Red Rock Olives A family owned estate specialising in , yep, you got it, olives!

The Pomonal Estate is worth a visit. Offering beer and cider tastings in addition to home made cakes and cheese platters. How can you say no? Only open until 5pm, except on Fridays, the only dinner day. so make sure you book in for a lunch time slot.




Grampians Estate Winery – offers big and little snacks. Wine has been produced in the Grampians for over 150 years. Sweets and coffee in a very modern setting. Wine tastings are self guided. This winery is known for its Shiraz and sparkling wines.


Places to Eat in the Grampians
We tried a lot of eating places!
The Wickens at the Royal Mail Hotel Dunkeld. A 2 hat restaurant with 3 digit figure prices. A kitchen garden and farm produce with an award winning chef. Degustation menu 190 with matching wines an additional 130. Unfortunately, due to Covid-19 they were closed when we visited. There's a cheaper version to the fine dining option. The Parker Street Project offers 3 course meals for a more reasonable price. It is now open though!
The Spirit of Punjab Indian restaurant – good Indian food, comfortable chairs. No pictures sorry. Very good value and nice and spicy!
The Views restaurant – rubbish – don't bother- overly confident reviews on Google. NO atmosphere. Despite the food looking good here, the taste – meh! Overpriced too.

Rock, Paper Scissors brewery – Good cafe bistro meals.

Sen Vietnamese restaurant connected to Darcy's restaurant and accommodation. Nothing to write home about. Not great, not awful. Good service and generous portions. Well priced food and alcohol. Not photo worthy we're afraid.
Halls Gap Hotel Bistro – Good pub grub and good prices to match. Lovely roaring real log fires.

The old bakery Dunkeld – supposedly the best sourdough in the country!

Well, that's it for our blog on some of the amazing walks you can do in the are near Halls Gap. Known as the northern Grampians, it is an area of outstanding natural beauty. There's something for everyone here. Drawing visitors from around the world, we do hope we have inspired you to come down, lace up those boots and see some countryside just 3 hours drive from Victoria's capital city, Melbourne.

Next time we'll take on the South, East and West Grampians! It's bye for now from The Grampians. Christina and Jason.
Related Posts

VILLAGE NEWS!
Subscribe to our newsletter to hear about unique travel destinations, when to go, what to see and other top travel tips!