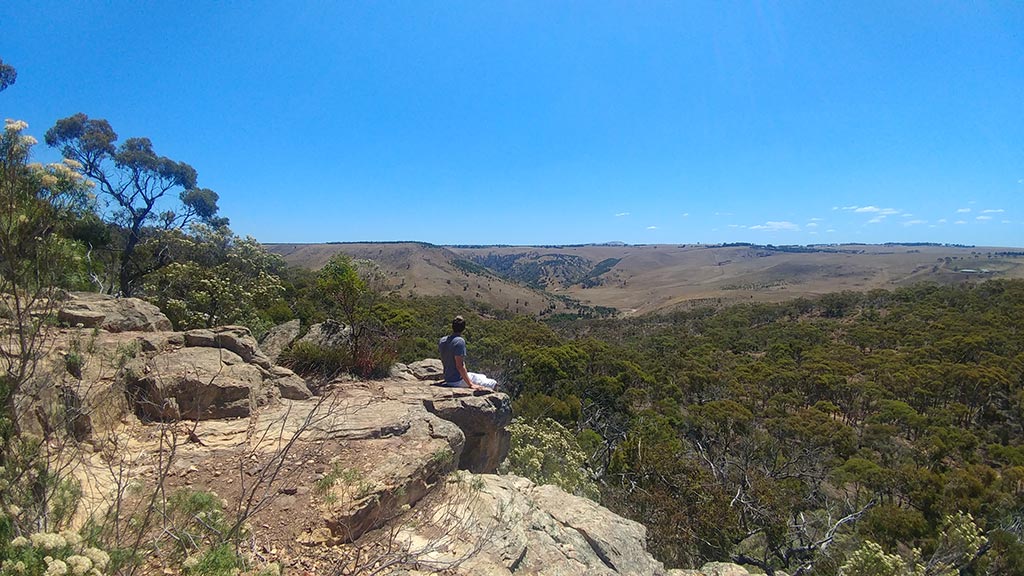 Werribee Gorge State Park 5 Epic Hikes
Werribee Gorge is only 75 kms outside of Melbourne along the Western Freeway. It takes about 45 minutes to drive there. It's a great Melbourne day trip which we love doing. City dwellers love Werribee Gorge as it's a chance to do some 'bushwalking' and get some fresh air. If you're basing yourself in Geelong, the drive is just over an hour. The nearest town is Bacchus Marsh, which is 8 kms away.
What is there to see at Werribee Gorge State Park?
There are spectacular views of the gorge and lookout points over the hills. There is good native vegetation featuring plants such as the white flowered Snowy Mint bush. Parts of the walk are open grassland and there's even a mini beach! There are a variety of walks as well as some basic rock climbing available to everyone. There is also an abundance of native animals such as the black wallaby, snakes and wedge tailed eagles. Keep your eyes peeled as you go on this fantastic bush walk.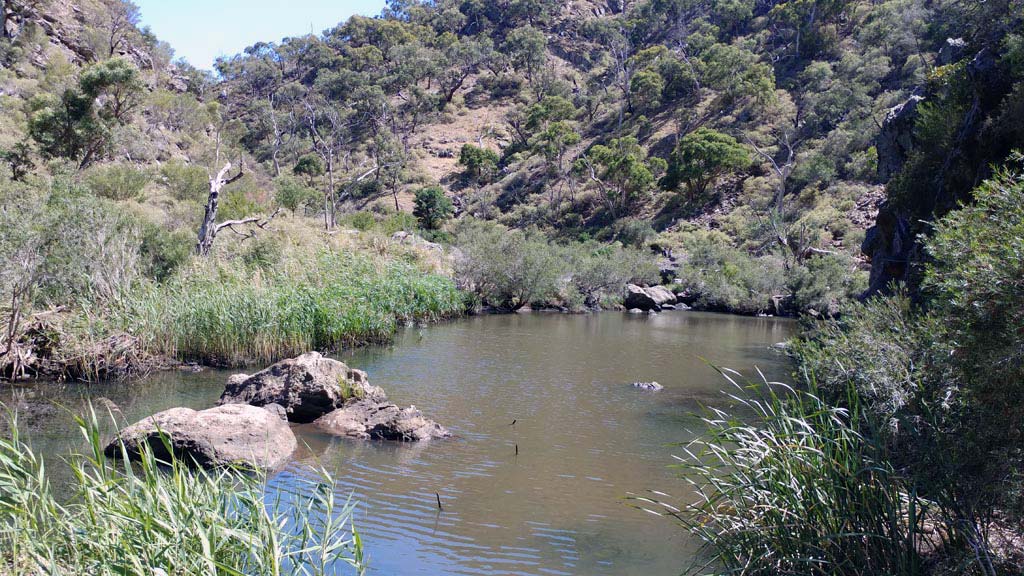 cenery constantly changes in Werribee Gorge State Park. Get out of the city and experience Melbourne's mini 'outback'.
Top Tips
When to go: As long as it's dry, any season is good to go.
Difficulty of hiking trails: Easy to hard. The hiking trails offer something for everyone. Even young children can do some of the river walk as it's pretty flat.
Car Parks: There are 3 car parks off Myers road.
The first car park is directly off Myers road as you come off the Western Freeway. There is limited car parking in the first car park, so just keep heading down the unsealed road if it's full.
The second car park is the Quarry picnic parking area. This is the second parking lot and can be reached down the same road just further along from the first car park. It has picnic tables, toilets and water taps and quite a lot more parking than the first car park.
The third car park is at the Meikles point picnic area. To reach this car park you have to go down a narrow-unsealed road which can be quite challenging if a car is coming the other way. It also has picnic tables, toilets and water taps.
Provisions: We recommend that you take half a litre of water per person, per hour, that you intend to walk as well as some emergency rations.
Sun protection: Don't get caught out with the harsh Australian sun. Wear sunscreen and a hat. You might not feel like you're getting burned, but sun burn is never a good look!
Shoes: Hiking shoes are the best choice for most of these walks, as part of the walks are quite difficult and rocky and can be slippery as well. However, you can get by with running shoes if you have to.
Mobile phone reception is limited and unavailable through parts of the walks in Werribee Gorge.
Flooding: The gorge is subject to flooding during heavy rainfall, so it's best visited outside of heavy rainfall. The path can also be quite slippery when wet so, it's even more important to have hiking boots, if walking when wet.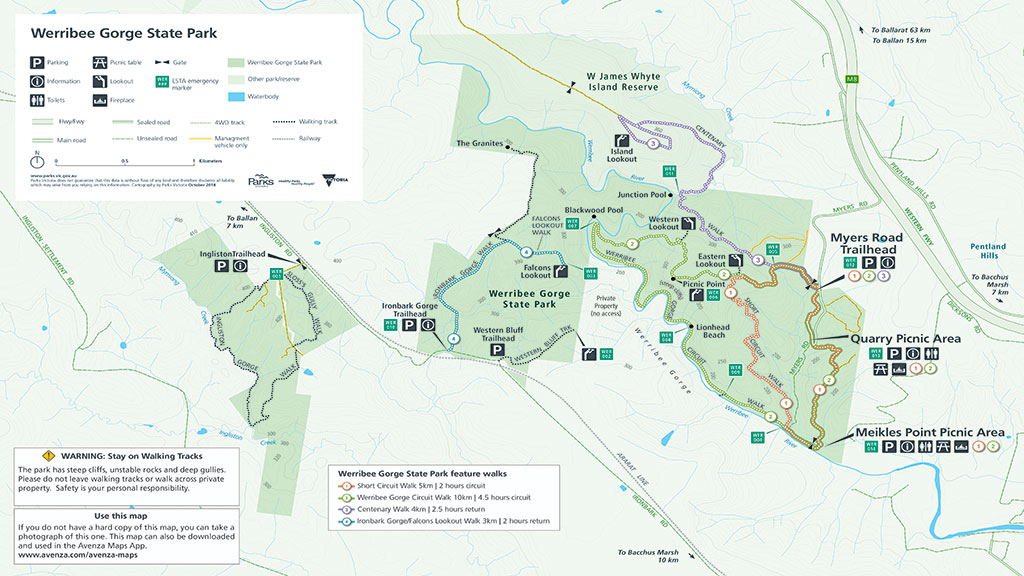 The map above has been republished with permission from parks Victoria. It's the best map of the available walks. It can be found with additional information at the Werribee gorge state park site here
River Walk
3 km return 1-1.5 hours easy/medium grade .Start at Meikles point car park. Follow the river along an old aqueduct until you get to a rock face with a rope to climb around. At this point you turn around and go back if you only want to do the river walk. The path is narrow and mostly flat. Look to your left and you will see the amazing layers in the rocks. Note, there is no sign to tell you this is the point to turn around. If you continue it will be along the circuit walk and will add 2-3 hours to your return time. There are some swimming opportunities along the way.

The River Walk in Werribee Gorge is mostly flat.
Falcons Lookout
3km return 1.5-2 hours medium grade. Start at Ironbark point car park off Inguston road. Some up hill trekking for a magnificent view over the gorge. Keep an eye out for wedge tailed eagles and hawks. This is also the only area where rock climbing is allowed according to Parks Victoria.
Centenary Walk
4 km return 2-2.5 hours medium/hard grade. Start at Quarry picnic parking area and follow the circuit walk until you see the sign for Centenary Walk. The climb up to the top is steep and the path is rough in spots. You will be rewarded with wild flowers and amazing views of the gorge. There's some open woodland and a creek to spot some frogs.
Short Circuit Walk
5 km return 2-2.5 hours medium grade. Start at any of the three car parks. This follows the eastern part of the walk heading down to Meikles car park via the river after the Eastern viewpoint. Some steep parts but doable for families.
Long Circuit Walk
10 km return 3.5-4.5 hours medium/hard grade. Start at any of the three car parks. Lots of different terrain to cover on this circuit. Steep hills, rocky flat paths, sand and grassy banks. This long walk provides the best opportunities for spotting the native black wallaby. The scenery is constantly changing. There are many information boards detailing the rock, river and beach formations.

Want to know what types of rock you're looking at in Werribee Gorge? There are many information boards along the walks giving great geological explanations.
Our Walk at Werribee Gorge
We did the river walk and the long circuit walk which includes half of the short circuit walk. We got a bit lost, but, hopefully you won't!
We parked at the un-named car park, which is the first one you get to, if you follow the brown road signs. Get there early, especially on the weekends. It is very popular with city folk looking to escape the big smog. Werribee Gorge State Park is also popular with the fitness crowd. It's a great place to spot the latest Lycra trends.

To start the River Walk from the top car park with no name, walk down this unpaved road.
Head down the unpaved road towards the named, Meikles Point picnic area. Watch out for cars as this is a shared pathway. When you arrive, make a U turn and walk directly along the river. This flat part goes for about 20 minutes. The gradient begins to change and you are now slowly going uphill. The path becomes quite narrow and the river is now on your left.

After the flat River Walk path ends, you're quite high up. You are now looking down on the river below and get a great view of the colourful rocks.
There are information boards telling you which geological periods you're looking at.

When you get to this point and the path narrows, it's the end of the easy River Walk.
The narrow path should take about 25 minutes. When you reach the climbing ropes, you have two choices. You can turn around and go back to the picnic area or continue. If you only plan on doing the River Walk, then turn back. If you choose to carry on, some challenging hills, change of terrain and river ropes await.

The river rope section is quite a fun challenge. You can't see round the corner and don't know how long you'll be rock scrambling. In reality it's only 5 minutes, but if you weren't expecting it, it can seem like an eternity. If you're not confident near water, the rope section can also be quite scary. We scramble over, thankful we've been doing lunges at the gym and working on our biceps! We carry on, oblivious to the fact that we're now on the Long Circuit Walk.

Lionhead Beach is a welcome pit stop. Take off your shoes and wiggle your toes in the cool water.
Just after the ropes, you see Lionhead Beach. This is a good rest point and a chance to dip your toes in the refreshing water. The information board tells you reasons behind the name and some native trees to look out for. At this point, you are 2 hours away from the top, unnamed car park. You are now walking on sand and it's relatively flat and open terrain. We see some other people and they tell us we're in for some 'goat trekking'. We laugh outwardly and inwardly groan because we only brought 600 mls of water each and it's a hot day. So be prepared, unlike us!

Fellow hikers warn us of the 'goat trekking' part of the walk. Guess we found it!
The rugged beauty of the open landscape compensates for the sweat dripping into your eyes, as you trudge on. We pass 'unstable cliff' signs and trip over large rocks sticking out. Fellow hikers encourage you to keep going with words like, 'almost there' and 'only another hour'. We keep going, telling ourselves this short walk that turned into a long walk is doing us good. We're being spontaneous! In reality, it's too late to turn back, so we might as well continue. We started at 10:00 am and intended to be eating lunch at 1pm!
Half an hour later, we are rewarded with a spectacular view. It takes our minds off the snacks we didn't bring.

The Eastern Viewpoint is a spectacular pit stop. This is typical Australian bush landscape.
We take our time posing and congratulating ourselves on the rock edge at the Eastern Viewpoint. The beautiful views taking in the gorge and the open forest below is a sight to behold. We snap a few shots for Instagram and move on.
At the top of one of the hills, we see our car in the car park. Spurred on with visions of smashed avocado and sourdough, we pick up the pace. Three and a half hours later, we arrive back where we started. We promise ourselves we'll do it all again next week!

Australian bush at its best! Native flora and fauna. Don't miss out. Go and explore Werribee Gorge State Park, it's an easy Melbourne day trip.
We hope we have inspired you to go to Werribee Gorge State Park and do some hiking. It's an easy day trip from Melbourne or Geelong. For a taste of the Australian bush, you really can't go wrong in Werribee Gorge. Have you been? What are your views on the various walks? Do you have any tips for fellow travellers? We would love to hear from you.
Related Posts

VILLAGE NEWS!
Subscribe to our newsletter to hear about unique travel destinations, when to go, what to see and other top travel tips!