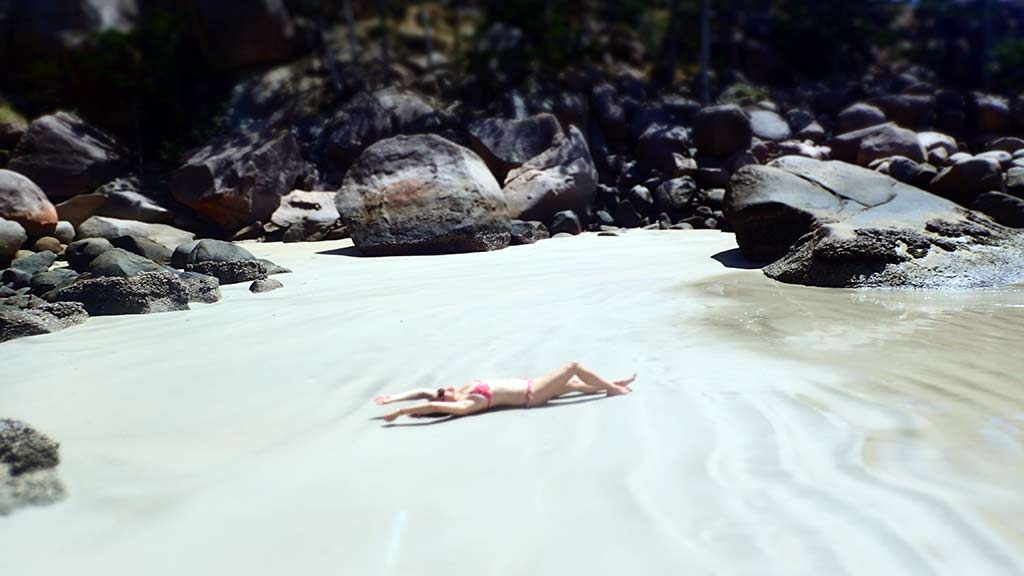 Magnificent Magnetic Island and all its attractions
You'll be blown away by the many attractions of Magnetic Island. No pun intended! This is possibly Australia's best kept secret for a tropical island. Easy to get to and offering a vast amount of natural beauty, we tell you what to see, when and where to go, on this stunning gem, Down Under.
Quick Index Magnetic Island
Where is Magnetic Island?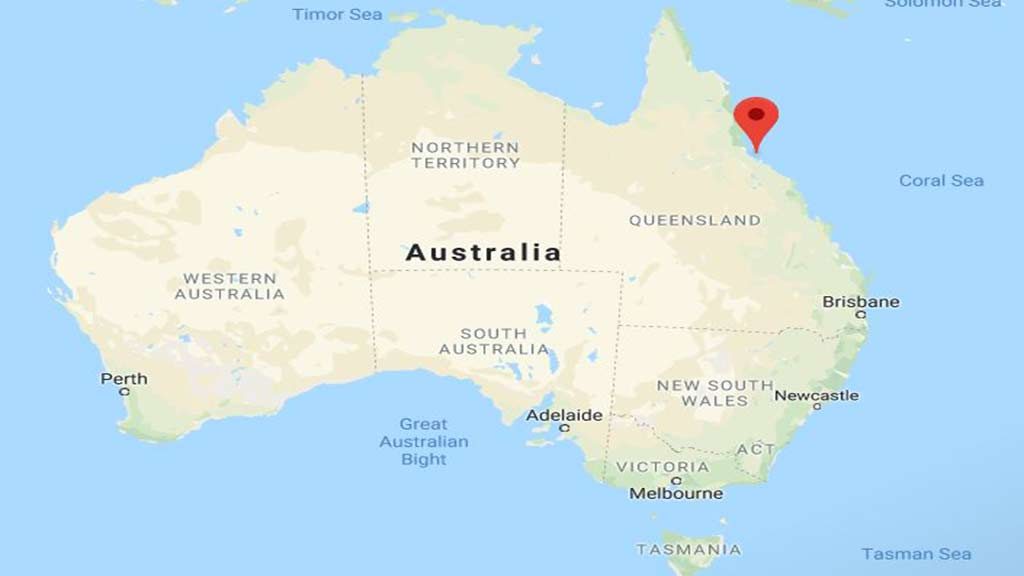 Magnetic Island is located in North Eastern Australia. The closest big city is Townsville. It is a jumping off point for the Great Barrier Reef. A clear favourite destination for Australians who live in the city of Townsville. Magnetic Island lures in international and local Aussies by the hundreds of thousands. Known as 'Maggie' to the locals in Australian Slang – once you go, you'll want to go back for more!
Magnetic Island belongs traditionally to the Wulgurukaba people. In is called Yunbenun.
Is it really magnetic?
Well, the story goes that Captain Cook observed some 'magnetic effect' on his compass as he was sailing by. Scientists can't agree if it has any more magnetic pull than any other island in Australia. What is clear, though, is that Magnetic Island has many attractions! You won't be repelled or repulsed!
Things to do on Magnetic Island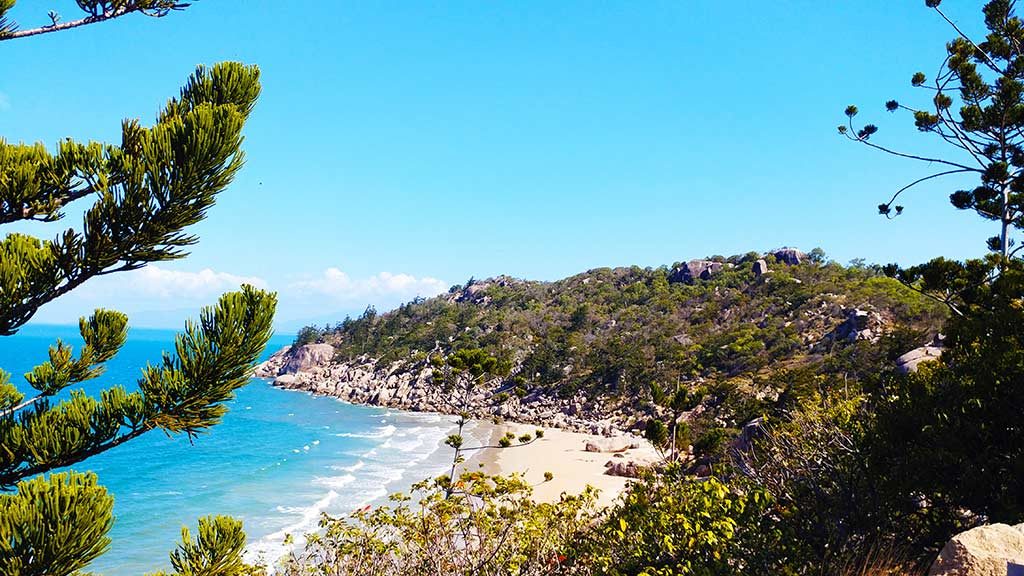 Walking and Hiking on Magnetic Island
Magnetic Island is just full of beautiful walks and hiking trails. If you love hiking and getting rewarded with great views, you're in luck. There are over many secluded bays and hills to discover. The natural scenery is just breathtaking. This is one of the best ways to explore this beautiful island. So, lace up those shoes and let's get going!

The walks and trails on Magnetic Island range from seriously easy to fantastically difficult. There is no drinking water available, except at The Forts Walk, so you must carry all your supplies. Don't get caught out! Remember to always tell someone where you're going if you set out on a long hike.

Below we give you the official grading and time and the time it takes us to do the walking! You can use this online version to plan your walks. This walking map has less detail than the paper version. See below.

Most walks you can do in hiking sandals or running shoes. You don't really need hiking boots. Thongs or flip flops are not recommended as there is lots of uneven ground and rocks to stub your toes on. Also lots of the paths turn sandy, and it's annoying getting sand and small stones under your feet. However, you can manage most walks wearing thongs or flip flops, if you don't have any other shoes.
The walking tracks and hikes on Magnetic Island, offer splendid views. In addition, you'll see native wildlife and the Australian Bush. Below we sort the walks into easy and moderate. Depending on your level of fitness you may find the moderate walks difficult.
There is also a paper version of this map, which has more up to date walks and a bit more information on what you'll see, along the way. We refer to use the paper map and we did every single walk on it! You can pick up a copy of this map at the ferry terminal.

Easy Walks on Magnetic Island
Picnic Bay to WestPoint- 16kms return (5hrs)
This really is an easy walk on flat sealed road. This is labelled as walk number W3 on the paper map.

The road is not really picture worthy. It's a black road with some trees and grass on either side. There's no path, so when you hear the occasional car coming, move aside!

But, the beach is very beautiful, if isolated. We had a bit of an accident and dropped the phone on the way. We were not able to fix the phone to get our own shot of the beach.

Horseshoe Bay Lagoon- 200ms return (15mins) – official time according to somebody.

Labelled as W9 on the paper map above. We are glad to report it is easy and it only takes 15 minutes.
This is an easy one to miss! It is not very well signed at all. We went down the wrong road and it took us 40 minutes to realise we were going nowhere! Here is the correct way to go. As you walk along the road to Horseshoe Bay, go past the Koala Bay Village. Before you see this road sign,

Then you need to look out for two large rocks!


We turn left at Henry Lawson Street and walk until it becomes a sand path. Don't do this, it's the wrong way to the Lagoon Walk, off Horseshoe Bay Road!

On the boarwalk get your camera out for blue butterflies, blue kookaburras and a crocodile.


Depending on the season, the lagoon can look a bit dry.

Hawkings Point Track – 1.2kms return (1hr)
Labelled as walk number W2 on the paper map. This isn't that easy if you're not that mobile or agile as it starts with steep steps. Yes, it's a short walk, but, it's all up hill. When you get to the top of a huge granite boulder, you're finished. The views are spectacular. You'll be looking over Picnic Bay, Rocky Bay, Nelly Bay, Geoffrey Bay and even back towards Townsville!
Start the walk at the end of a residential street called Picnic Street in Picnic Bay.

We always seem to be walking when it's hot and sunny! Magnetic Island has over 320 days of sunshine, so a cloudy day would be strange!



When you get back down, take a walk along the Picnic Bay Jetty you can see from the top of Hawkings Point Track.

Gabul Way – Nelly Bay to Arcadia 1.5kms return (0.5hour)
We are glad to report that this is an easy walk as advertised. It is a little misleading however as the walk starts after Geoffrey Bay, not Arcadia. This is the easier way to do it. There is an elevated walkway which runs alongside the busy road. It is flat if you start at Geoffrey Bay and gently rises as you progress. After you see a spectacular house on the corner on your left, it's road only. Time to turn back.
Moderate Walks
Horseshoe Bay to Balding Bay and Radical Bay- 3.2kms return (1.5hrs)
This walk is labelled W8 on the paper map and W7 on the electronic version. It is definitely labelled incorrectly. If you don't carry water, don't stop to take photos and don't trip on rocks, then, sure, you can do this walk in 1.5 hours! We walked first to Balding and then Radical as suggested. It isn't going to take you 1.5 hours, unless you're a top mountain runner! Also you'll want to cool off at the nudist beach at Balding Bay!








After a quick swim in the cold water, we feel refreshed to continue on to Radical Bay. You go back up the same steep steps and go past the 'nude beach' rock again.


The sand isn't quite as yellow at Radical Bay, more a yellow/brown. There are also larger stones. Like most natural Australian beaches, there is little shade. If you're going to make a day of Radical or Balding Bay, we recommend you bring a beach tent or umbrella. The water is cold and refreshing. As you can see in the picture, Radical Bay is quiet.
Unnamed walk – 1km – 30 mins
This walk doesn't have a name. It starts at Picnic Bay. It is above the walk named W2 on the paper map. It's a quick, steep walk with you guessed it, superb views over Rocky Bay.

Forts Walk- 4kms return (1.5hrs)

If you don't stop to read the interesting placards and you never take a photo, you can do this walk in the advertised time. This is THE place to spot the koalas! We saw 9 on our walk and are happy to report, as far as reincarnation goes, we're coming back as koalas. The cute fur balls sleep for over 20 hours a day! Now that's a goal to aspire to! Just kidding, we would never travel far, if we slept that long.

Start the walk at the Forts car park. The one bus stops here. It's quite a difficult walk not in distance, but in gradient. There are lots of steps too.

It is labelled as 'moderate' on the paper map and number W6. In our opinion, if you're not fit, you'll find this walk difficult. You can do this walk in 1.5 hours if you are fit and don't stop. Otherwise, it's more like 2 or 2.5 hours.
The walk starts on a flat path.


Keep going and keep your eyes peeled for the koalas.

When you can tear yourself away from the koala spotting, continue on your history lesson about Magnetic Island's involvement in WWII.

When you get to the top of the ruins of the Forts complex, this is where the fabulous views start. Persevere to the top. The stunning views at the top are worth it.

Of course there's also the ruins of buildings and the giant gun emplacement to see. There are no gun remains and there is an interesting story about where all the ammunition went after WWII.



Congratulations you have reached the top of the nerve centre of one of the forts! Stop to take in the fabulous views. Bring a few snacks and scramble up the rocks behind this picture to take a well deserved break. The way back to the car park will seem easier as it's all downhill! Tick off walk number W6 on the paper map.
Nelly Bay to Arcadia- 5kms one way (1.5hrs) Grade moderate
This is walk number W4 on the paper map. It's pretty steep in places. It starts with a steep hill climb and it keeps going.

This is the most deserted walk we did. We only saw 5 other people on this walk. You start this walk by going down Mandalay Avenue, a street with houses on it. It's on the corner of the Scallywags Cafe. When you get to the end of the road you see the sign for the walk to Arcadia. You cannot do it in the advertised time unless you run – non-stop – all the way.


After an hour and half, we reach the half way point. We stop to catch our breath and admire the view. Don't forget to bring plenty of water. There's no where to fill up your water bottle on this walk.


There's a few hopeful signs along the way as you sweat through. Thankfully now the path to Arcadia is down hill!

It takes a total of 3 hours for Only1invillage to complete this walk. Pfft to the 1.5 hours, who wrote that?
Tracks to Florence, Arthur and Radical Bays from the Forts car park
Arthur Bay-2km return (30mins) This is doable in 30 mins. Very steep non gravel road. Can get slippery if wet.
Florence Bay-3.6km return (1hr) This walk continue on from the walk above on the same unpaved road with massive pot holes.
Radical Bay-6km return (2hrs) This is accurate time. It starts downhill. Be prepared for the return up the steep road.
Searchlight Tower-3.7km return (1hr) You can do this walk in 1 hour.
Horseshoe Bay via Radical Bay-7.5km one way (2hrs) This is a realistic time for most people to walk one way.
Swimming, snorkelling and diving
The water is cold around Magnetic Island. It is definitely refreshing! It can be quite wavy at some of the beaches. The calmest beaches for swimming and ones with Surf Life Savers on patrol are Horseshoe Bay and Arcadia.
The clearest snorkelling spots are Arthur Bay, Florence Bay and the marked trail in front of the Base Backpackers. Geoffrey Bay is unbelievably murky and bordering on dangerous. You can barely see your own hand. At low tide, it is extremely difficult to get out past the sharp coral at Geoffrey Bay. We can't comment on the snorkelling clarity in the Northern bays as these are only accessible by boat. If you've been to Maud, Norris or Joyce Bay, get in touch!
Native Australian wildlife and Flora
Magnetic Island is famous for its koalas! See the biggest group of koalas in the wild here! Boasting over 800 koalas in the wild, Magnetic Island is the place to see these cuddly fur balls. You can get really close to them and they don't wake up! We saw 9 in one walk!

Magnetic Island Rock Wallabies – Feed the tame wallabies! These cute little relatives of kangaroos are best fed in Geoffrey Bay. You should not actually feed them, but, if you must, they like carrots and paw paw.

If you must feed them, please consult this list.


Endangered Curlews – These rather plain birds have the most interesting call. They sound like they're screaming and whining, it can be quite off putting. Some people call it haunting. We call it downright weird!


Marine Life around Magnetic Island
The marine life, if you can see it, is not bad! It's the murkiness of the water that you have to contend with. We don't rate Magnetic Island as a top snorkel or dive destination. You are better off going to the Great Barrier Reef. However, for some free snorkelling, Florence Bay and Nelly Bay (the trail near Base Backpackers) are reasonable. The coral is a bit grey in colour and there are a few colourful fish to spot.

Some parts of Arthur Bay have some coloured staghorn coral. On the day we visit, there are a few bright fish around.

Magnetic Island Beaches
There are over 23 Magnetic Island beaches and bays to visit. Some are very easy to access, just off the main road. Other beaches are an hour's hike on rugged paths. All Magnetic Island beaches are picturesque and rugged. Many of them are curved. The sand is generally a little course, although some have fine sand. Below we have photos of nine of the most popular Magnetic Island beaches.
Horseshoe Bay
Sand quality – rough yellow brown coarse sand. Water – not clear, but warm enough.

Balding Bay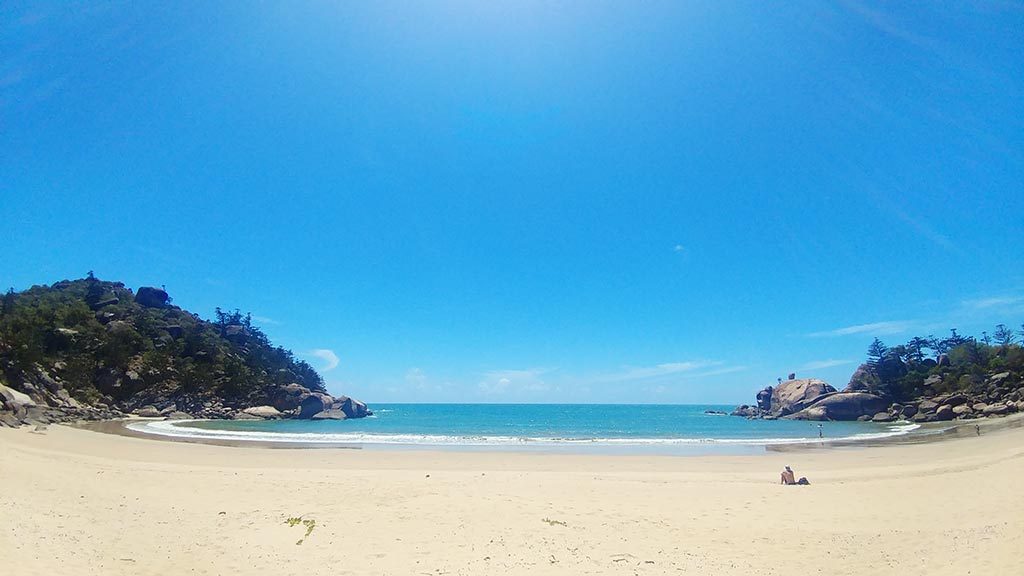 Radical Bay

Alma Bay Beach in Arcadia


Picnic Bay Beach
This is the end of the line for the one bus. Or it can be the beginning of the line. All ferries used to drop passengers off here. This is the beach you can see from Hawkings Point Lookout.

Arthur Bay Beach

Florence Bay Beach
Located in between Gowrie Bay and Arthur Bay. Florence Bay is another beautiful curved beach on Magnetic Island for you to discover. This is a marine national park area. No fishing allowed. This is a good spot to go snorkelling, with some colourful reef. The water clarity is good.

Cockle Bay Beach
A very small beach that is often wet. There is a shipwreck to swim out to but is quite difficult to locate.

Nelly Bay
Nelly Bay doesn't have a beach since it is the ferry terminal bay. Nelly Bay is more of a harbour. But, to the right of Nelly Bay is a huge strip of beach where turtles have been spotted.


When is the best time to Visit Magnetic Island?
Magnetic Island Weather
Magnetic Island has a dry tropical climate! With 320 days of sunshine per year, it seems it is always a good time to go to Maggie. As with all tropical places, Magnetic Island has a wet and a dry season. The biggest factor to consider for the best time to go to Magnetic Island is the jellyfish season.
As Australia is blessed with at least 60 deadly and toxic animals, you don't want to be the tourist making the headlines! Stingers, or jellyfish, like to take a nibble on humans between November and April. Magnetic Island is not a great Christmas destination! The best time time to visit Magnetic Island is April to October. It is cooler but not much wetter, since it doesn't rain much.
There are hardly any mosquitoes on Magnetic Island! C is always the first to get bitten by a mosquito, they just love her blood! On Maggie Island though, the biting is far less severe than other tropical places, we have visited.
How to get to Magnetic Island?
The Magnetic island ferry is the only way to get to Magnetic Island!

Click here for the Magnetic Island ferry timetable. The prices are $34 AUD return per adult, if not booked online. If you book online, it's only $30AUD for a return ticket. Children under 14 years old, only cost $17AUD. The same goes for concession card holders. Book your Magnetic Island ferry online here.

If you're driving, you need to take a different ferry.
Inside the ferry, it's nice and spacious. There are comfortable and clean seats in an air conditioned space inside.

The Sea Link Magnetic Island Ferry even runs on Christmas Day! It's a smooth easy 20 minute cruise on a very comfortable catamaran. You can even bring your mountain bike! There are at least 12 crossings a day from Townsville and vice versa. Book online for a $4 discount.



What we love about the ferry to Magnetic Island – It's easy to find the terminal. There are frequent trips across the water. The journey only takes twenty minutes. It's a clean, modern ferry service. You'll have free wi-fi onboard and at the ferry terminals, both in Townsville and Magnetic Island. A bus connects you at both terminals to all the major places of interest.
Top tip for tourists and Australians – buy the Entertainment book for Townsville. This gives you 25 per cent off the return ticket price for 4 adults. Also there are vouchers for 4 places to eat on Magnetic Island. In the Townsville section, there are over 100 discount vouchers for places like Reef HQ and the museum. Many dining establishments ranging from cafes to restaurants also honour the vouchers. You can even get an e copy of the Entertainment Book.
Getting around Magnetic Island
Magnetic Island car hire
You can hire a sedan, four by four or a special 'topless' car. Going topless is optional!


Many of the roads are un-passable off the bus route, so you may not need to hire a car. If you do want to get to the bays, we recommend a 4 by 4 as some of the pot holes are quite deep!


The bus – Route 250 by Sunbus
There's only 1 bus that goes to all the major bays on Magnetic Island. The bus is crowded at times and there's no space for luggage. Actually, one bus had a luggage crate, but otherwise, the bus driver will tell you to put your cases on the back steps of the bus. It only has regular seats. All seats face forwards in pairs. Click here for the one and only bus timetable.


You'll never get lost on the bus, because it only goes 2 ways – to and from Picnic Bay to Horseshoe Bay. The only thing that may confuse people is at Arcadia Beach there is only one bus stop for both directions. At Arcadia Beach you will see on the bus timetable that the bus is labelled HB or PBJ. HB stands for Horseshoe Bay as the destination and PBJ for Picnic Bay (Jetty). The bus does a U turn to pick u up if it is coming from Horseshoe Bay!

You still stick you arm out at the bus stop to get the driver to stop. You can buy your single, one day or weekly ticket when you get on the bus. The bus runs every hour only, so make sure you get to the bus stop in advance. You don't want to miss it.
Taxis and Uber
We spotted only 2 taxis! A shuttle bus type taxi that can seat 10 people and a Toyota Corolla.
Uber is operating apparently, but we could never get a car! There is a business opportunity in the making!
Where to stay on Magnetic Island
Magnetic Island accommodation
There is a wide range of accommodation on Magnetic Island. Serviced apartments, houses and hotel rooms. There are some bed and breakfast places, a few backpackers and airbnb to choose from. A lot of hotel rooms are privately owned in the Grand Mercure Apartments in Nelly Bay. You will find many of these rooms advertised on Airbnb.
Magnetic Island is not a cheap destination. You don't get bargain prices except at hostels like the Bungalow Bay Koala Village, in Horseshoe Bay. This is a YHA hostel. Prices for a dorm bed start at around 30 AUD. They also have private A frame bungalows, some with their own bathroom. The best thing about staying here is that you will see koalas every day! Non guests can pay to have 'breakfast with the koalas'.
Clusters of places to stay are Horseshoe Bay, Nelly Bay, Picnic Bay and Arcadia. There are a few Airbnb options in West Point, a 'remote' part on the western side of Magnetic Island.
If you are travelling in a big group and need a whole house, at short notice, local estate agents will have a list of available properties. It's still a good idea to book in advance though!!
The food on Magnetic Island
Unfortunately it's quantity over quality on Magnetic Island. Portions are generous, but taste is not like you would find in the big city restaurants. There is one exception, the pub in Horseshoe Bay, which serves up a really decent braised beef cheeks and mash.
Noodies Mexican – Horseshoe Bay


Sandis on the Beach at Horseshoe Bay. Yes, we ate mostly at Horseshoe Bay, The seafood platter was OK, not great value at 80AUD. A restaurant serving Modern Australian fare. That means seafood dishes, pasta and steak.

Barefoot Art Food Wine at Horseshoe Bay was recommended by locals. The starters are impressive. The mains, unfortunately lacked taste. Great garden and balcony though, for scenic dining. Friendly service too.

Scallywags – Nelly Bay
Another recommendation that we do not recommend. Great friendly service but, sorry, the food was awful. The beefburgers were like frozen cheap patties that you might feed your dog. Maybe the breakfast is good, but, we went for dinner. It really is a case of quantity over quality. The burger is huge, but, the taste, yuk. They do have BYO (bring your own) and a bicycle you can use to go and get the booze from the supermarket, down the road.
Picnic Bay Hotel
This pub, hotel and bar is an all in one Australian classic. Recently refurbished with great views over Picnic Bay. They serve classic pub fare at good prices and an unbelievable special which we couldn't bypass.
Naturally, being a pub, it's open every day of the week! They also have a very large aquarium where you can find Nemo and Dory together! After a long day's walking, it is a great pit stop and the bus stop is just outside too.

Related Posts

VILLAGE NEWS!
Subscribe to our newsletter to hear about unique travel destinations, when to go, what to see and other top travel tips!