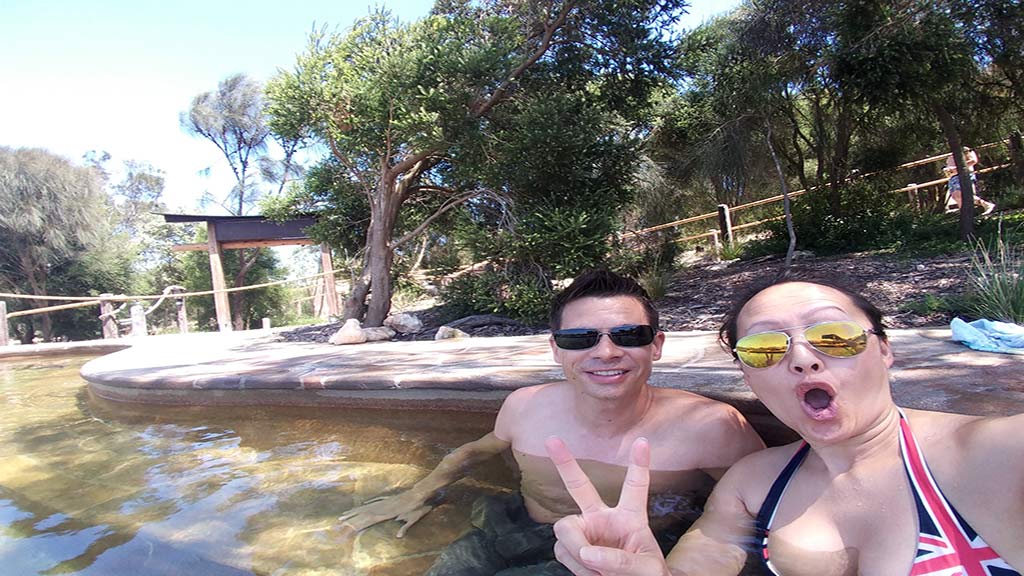 Only1invillage reviews the Peninsula Hot Springs Melbourne
Tired, stressed out, need a short break? Head to the Peninsula Hot Springs Melbourne for a much needed short getaway. Indulge, relax and rejuvenate. Luxury is so close at hand for city slickers at the Peninsula Hot Springs Melbourne.
Healing thermal waters are just 100 kms from the CBD. Make a day trip from Melbourne or stay in a nearby winery for extra luxury.
The Peninsula Hot Springs on the Mornington Peninsula have long been a secret destination for corporate bonding, girls' day out, hen parties and nature lovers. Here you can immerse yourself, literally, in warm mineral water and in nature.
Quick Index Peninsula Hot Springs!
The Benefits of Thermal Spring Waters
The benefits of geothermal waters are plentiful. You get really smooth skin and a great night's sleep for starters! In addition to this, the minerals in the water are good for arthritis sufferers and can reduce blood pressure. Finally, bathing in mineral rich waters, such as the Peninsula Hot Springs promotes detoxification. By increasing blood circulation and the movement of oxygen through the body, the warm waters contribute to the body's detoxifying capabilities. So what are you waiting for? Not only enjoyable, a social event and a beautiful peaceful place to visit, but good for your health!
When to go to the Peninsula Hot Springs Melbourne
The good thing about hot springs is that you can visit them at anytime of the year. Even when it's cold and raining, you'll be immersed in warm water. You won't feel the cold at all. Personally we like to go on sunny or cloudy days with an air temperature in the 20s.
Getting To The Peninsula Hot Springs
Drive
About 1.5 hours away from Melbourne. Of course this is traffic dependent too. Taking the paid way is 15 minutes quicker than taking the free roads.
Public Transport
It's a bit difficult to get public transport and we don't recommend it. But it is possible. If coming from Melbourne, you need to get a train to Frankston. From Frankston take the number 788 bus to Rye. From Rye you need to call a taxi or an Uber.
Tour
Book a day tour which includes entrance, lunch, wine tasting and a gondola ride. The lunch is not at the Peninsula Hot Springs. Prices start at over $200AUD. You only get to spend 2 to 3 hours in the pools, if you come on a tour.
Prices and Packages at The Peninsula Hot Springs
For public bathing, prices start at $55AUD for a whole day. To experience all pools you need at least 4 hours in our opinion.
If you want just a 'quickie' and you can get to the Peninsula Hot Springs before 9am, you can pay as little as $25AUD. That's the off peak tariff, which means Monday to Friday. Weekends are naturally more expensive!
If you don't want to mix with the common people and are seeking seclusion, packages start at $95AUD per person. This means however, no people watching and why would you sacrifice that?! There are also plenty of other ways to spend your money, for example, buying a massage package or the Spa Dreaming Package.
Staying Overnight
At present you cannot stay on site. There are plans for 10 glamping pods to be opened soon. Stay at nearby wineries or in hotels in the nearby towns of Fingal or Rye. The Peninsula Hot Springs has partner hotels on their website. We stay at the excellent 4 star Rye Hotel
What to bring
Bring your own towel and bathrobe if you want to cover up as you run from pool to pool. Bring your thongs! By that we don't mean your G string! Take our Aussie slang guide quiz to make sure you can understand what the staff are saying!
Ladies – C always brings her own powerful hairdryer. There's nothing worse than a bad 'after the hot springs' look!
Bring some clay. What? A mud mask or a body mask. There's an area where you can paint yourself with clay, but, you have to buy it. SO bring your own instead!
What not to bring
On sunny days, you don't need sunscreen as there is plenty available at the Peninsula Hot Springs. Can we just say though, please don't smother yourself in it and get straight in the pools. It leaves a sticky, oily mess floating on the top!
Don't bring jewellery because it will tarnish – badly!
Don't wear your best footwear. They might get wet and shrink.
Spend a whole day relaxing at the Peninsula Hot Springs Melbourne
The number of pools is amazing. They keep adding to the pools too. It's getting bigger and bigger. You can bring your own food because there are dedicated picnic areas. The food isn't that great at the first cafe we're afraid to report.
Start at the bottom of the complex and slowly work your way up!
There's even a ladies' only area, but, sadly, it's not very exciting. It's a fenced off garden area, with a few deck chairs and a table. See the photos below.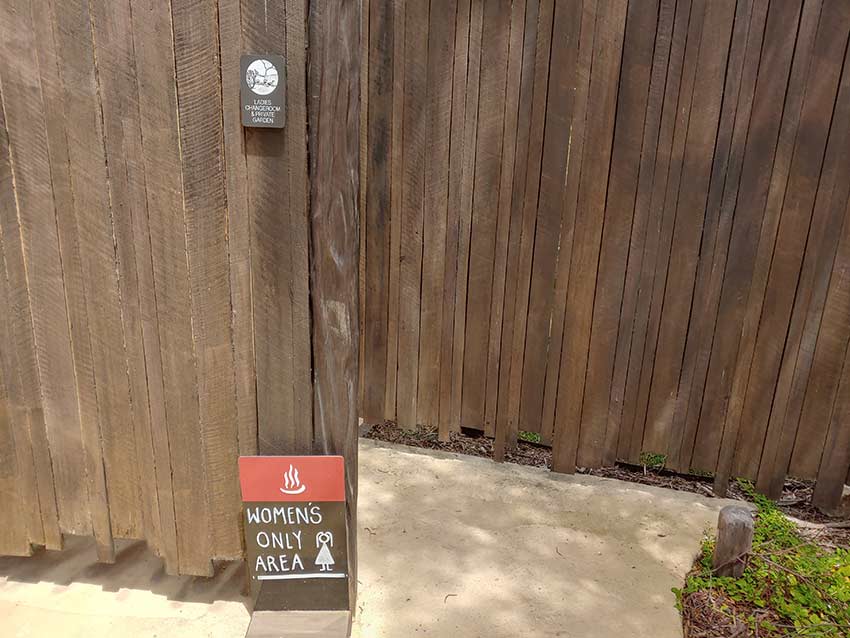 Let's get stuck into the pools!
We like the public spaces pools. You can have private baths, but the tubs in the private areas are not that big and there's less people watching. Where's the fun in that?
After parking, you follow the signs to the Reception area. It's best to book ahead, especially at the weekends. You will get refused entry or told there's a slot available in four hours if you want to wait. The locker charge is $5 which is activated onto your wristband. You don't have to use a locker, there are wooden boxes that you can put your belongings by the first hot pool. However, you are relying on other people's honesty not to rifle through your things.
The first pool has a hydrotherapy bar and lie down jet massagers, that you can activate yourself. The water temperature is a very pleasant 36 – 37 degrees. Just behind is a cold plunge pool which apparently is the best way to use thermal waters. You warm your blood up and then you cool it down.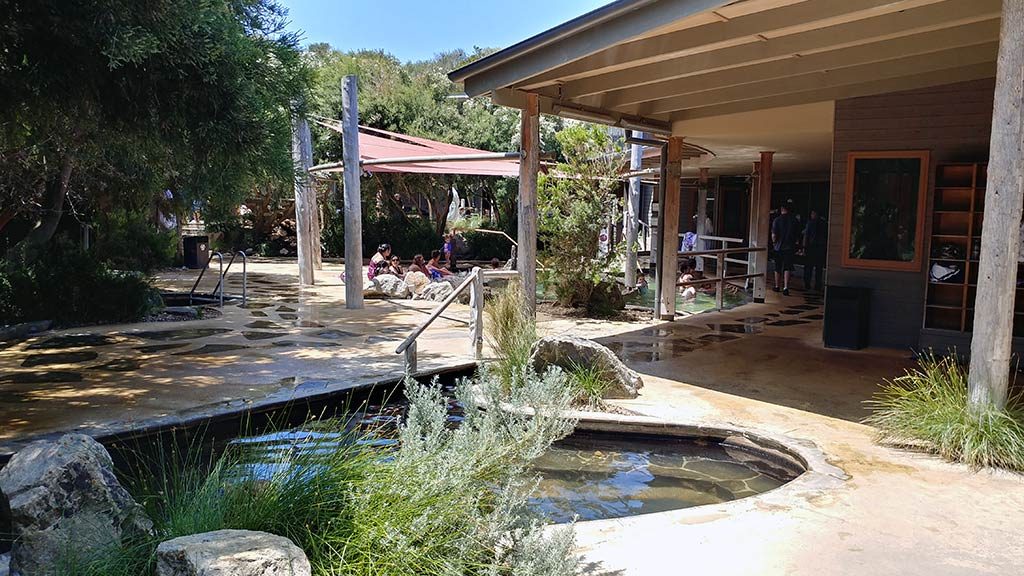 To the left of the first pool is another low pool surrounded by trees. The water temperature is pretty much the same as the first pool (36 -37 degrees).
As you head up the hill, you come to the reflexology walk, also known as the 'freakin painful footpath'. Raised pebbles make a supposed therapeutic walk to ease the tension of your whole body and massage pressure points. It's not for everyone, but, most people do it as a badge of honour. We just like the punishment factor. Of course, it's filled with warm spring water.

After you survive the water walk torture, there's another pool and then the Turkish style hamam. Basically a steam room with a dome, a hamam, is the place to sweat all the toxins out. As is traditional, there is a heated marble stone in the centre to lie on, if you like to pose. Fill up the little silver bowls with cold water to splash on yourself, if you get too hot. Make sure you close the door quickly as you enter and leave, so the temperature can remain hot and all the steam doesn't escape.
Just adjacent to the Turkish style hamam one sauna. It's quite small and can fit a maximum of 10 people comfortably. Bring a towel to sit on the wood for hygiene reasons. Recently added, there are now two larger saunas which can probably squash 30 people in each. You will find the new saunas in the 'fire and ice' section.

Before you get in each pool and after you get out, you are supposed to have a shower to rinse off any dead skin. There are a variety of massage showers which we love to stand under as the powerful jets massage the head and shoulders. All the water coming out of the massaging showers contain trace elements. C swears her hair feels better and has more root lift after using thermal waters.

The newest area of the Peninsula Hot Springs, is called the amphitheatre. This area seems less busy probably because it's further away from the older section.


You get beautiful garden views here, an outdoor stage and a new cafe, with outdoor seating.


There are seven hot pools and two cold plunge pools.

If you turn left at the bottom of the stairs after the reception area, you start at the foot pool inside. Continuing outside there are Japanese style waterfall jets and a small cold plunge pool. There's a hand bath basin, where you can fill up a huge stone basin with therapeutic thermal waters.
Keep walking and you will come to a pond where the ducks are having the best time! Look carefully as you walk between pools.

It's not all about soaking at the Peninsula Hot Springs. There are some day beds and deck chairs scattered around the gardens. The most recent addition is hammocks which take 2 people for lazing around on.

If you don't fancy swinging to relax, there are also some igloo shaped, plastic giant domes, which act like greenhouses. Inside these 'bubbles' are giant beanbags for sleeping on and deck chairs in others.

You can watch the wildlife from the next pool which has the best foot, calf and back massaging jets. The jets are on automatic timer and get switched on every 15 minutes. Most of the pools look like the one below. The temperature of the pools range from 36 to 42 degrees celcius. All the pools are clearly signed for temperature.

Now for the best part of the Peninsula Hot Springs. No it's not pictures of us in our swimwear, it's the hilltop pool. When you make it to the top pool, you are rewarded with a 360 degree view of the Mornington Peninsula. Be warned, however, you will rarely get this pool to yourself!

After some careful editing to protect the privacy of others, we can show you the hill top pool. Be warned though, you will rarely have it to yourself.

We hope you enjoyed this review from Only1invillage. The Peninsula Hot Springs is an easy day trip from Melbourne. If you're in the Mornington Peninsula area, stay at the excellent wineries of the region and of course, take a detour to the nearby beaches. Make a weekend out of it or a day trip. Relax, indulge and rejuvenate!
Popular Posts

VILLAGE NEWS!
Subscribe to our newsletter to hear about unique travel destinations, when to go, what to see and other top travel tips!