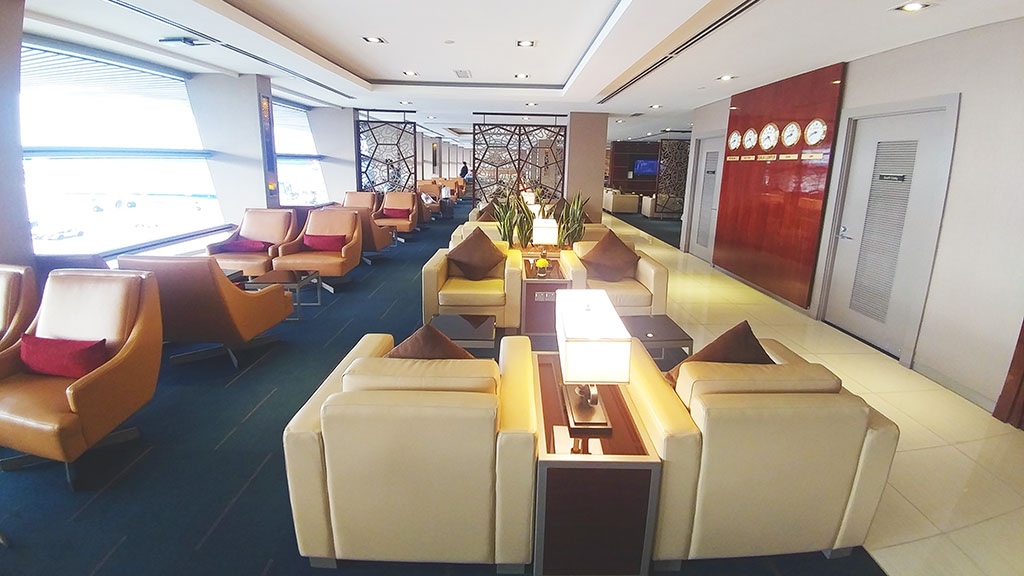 5 enticing reasons to use the Emirates Business Class Lounge KL.
The luxurious emirates business class lounge KL is situated on the upper level of KLIA. Malaysians love using acronyms. KLIA (Kuala Lumpur International Airport) is not to be confused with KLIA2. KLIA2 is the hub for the no frills airline Air Asia and is NOT walkable. There is a train called the KLIA Express which connects the two terminals. Make sure you go to the correct terminal or your FOMO (fear of missing out) will kick in!
You are welcomed with the bright golden signature colours of the Emirates lounge. Access is granted in any number of ways. All business and first class ticket holders. Skywards Gold members travelling in economy can access Emirates Business Class Lounge KL. If you're a silver member, you can't come in here, but you can when you get to Dubai.
This lounge, like all Emirates Lounges are open 24 hours a day.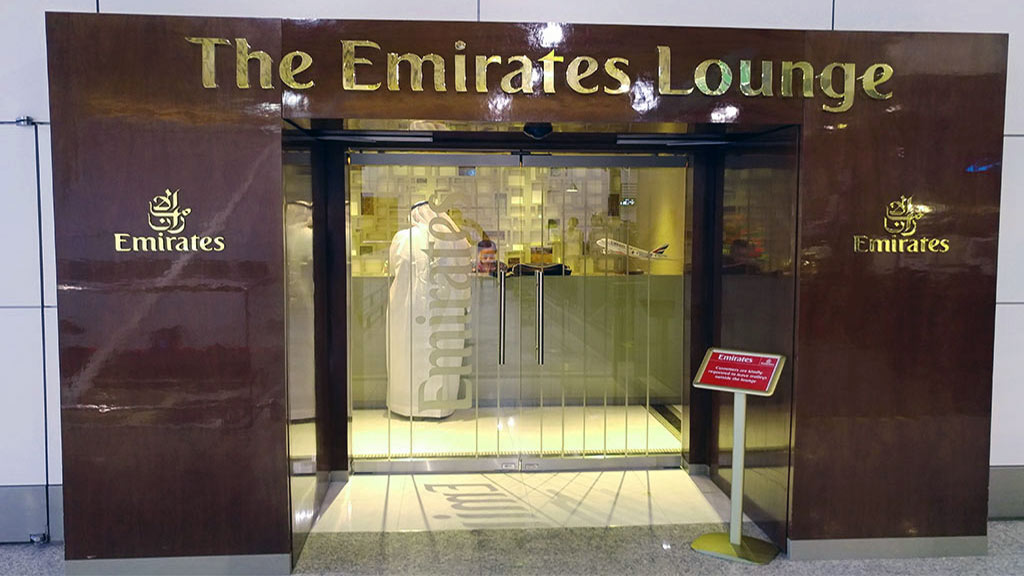 Here are our top 5 reasons you must visit Emirates, business class lounge when in KL.
5 Emptiness and luxury at Emirates Business Class Lounge KL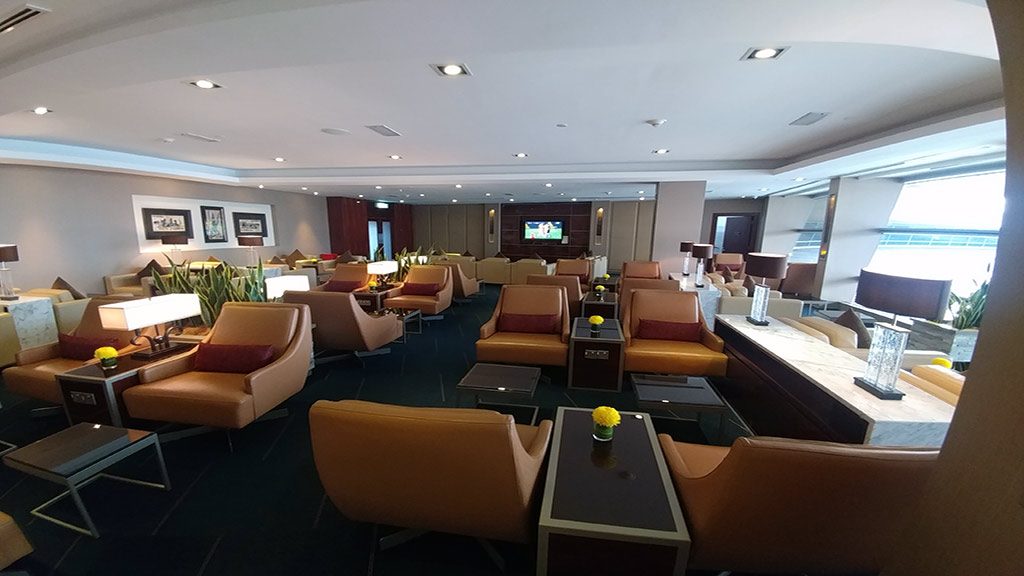 Now some people might argue that having no one in the lounge equates to no atmosphere. Personally, we love an empty lounge. The space looks cleaner, the staff are way friendlier and it's like sitting in your own living room. The large screen TVs keep you informed on current affairs and your flight departure. We have read reviews that this lounge can get very busy, but, this was not our experience.

4 Refresh and relax
A business class lounge should be an area to relax in. A space to catch up on some emails or research your next destination. There are a few different areas to spread out in. The lounge is lovely and cool. The famous humidity of the Kuala Lumpur weather won't get you in here. You can definitely spend 3 hours here easily. Take a refreshing shower, as on board, unless you're first class, there's no shower for you! Collect a towel and toothbrush from the attendants or just help yourself. The shower pressure is good!

3 Comfortable choice of seats and varied seating areas

There are cosy seats for families and friends. Individual armchairs for business and lone travellers are covered in leather. You can choose to sit in a cafe style area or a more restaurant looking area. There's an office space too complete with photocopier and printer. If you've been to other lounges, you'll notice the same signature colours and styles of the seats.

2 Views of aeroplanes
For those who love watching the aeroplanes, the Emirates Business Class Lounge KL has you covered. Watch luggage and catering being loaded. Imagine your comfort on the upper deck of your A380. Dream about your arrival destination as you sip on top quality champagne.

1 The outstanding food and beverages selection

This is where Kuala Lumpur really stands out. The quality and freshness of the ingredients used are first class. The presentation and the taste of the food is as good as a restaurant. Gourmet dishes and definitely standout presentation.
As you can see from the pictures below, care has been taken in the way the food is prepared and plated up. Even when you make your own bigger plate, it still looks good. Everything is very clean and shiny in the Kuala Lumpur Emirates Lounge. Luckily for us, we get to the food before anyone else and so there aren't any spills or stains in the buffet area.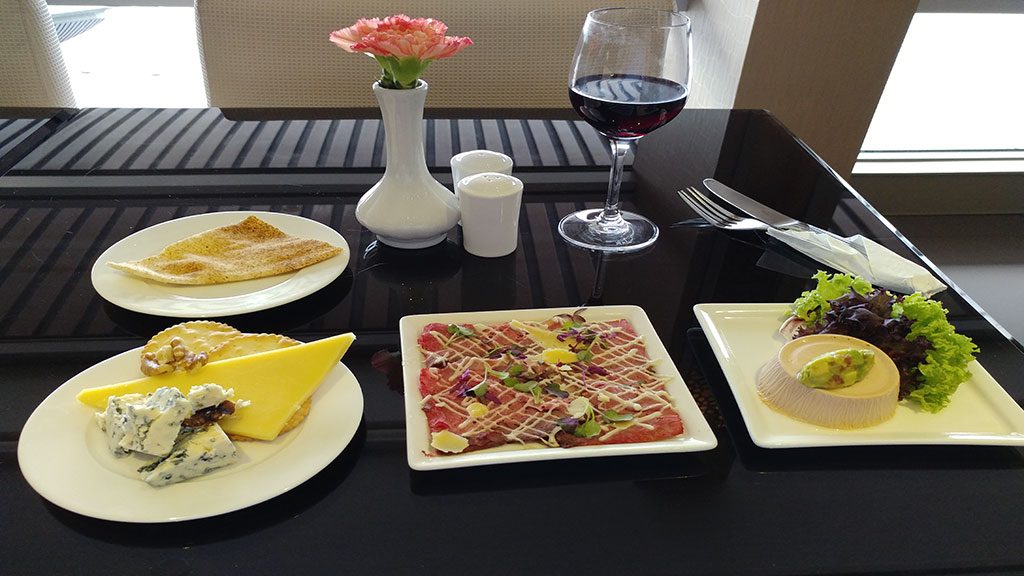 You won't find any cheap and nasty wines in the KL lounge. All the wines retail at about $35 a bottle. (We like to do our research!) The wines are expensive and the champagne French. Emirates don't take short cuts on the beverages list in Kuala Lumpur.


Have you had the pleasure of a stop over in KL? Do you agree with us that Emirates provides a luxurious lounge with great facilities? Want to compare more business class lounges around the world? See more of our reviews below!
Related Posts

VILLAGE NEWS!
Subscribe to our newsletter to hear about unique travel destinations, when to go, what to see and other top travel tips!