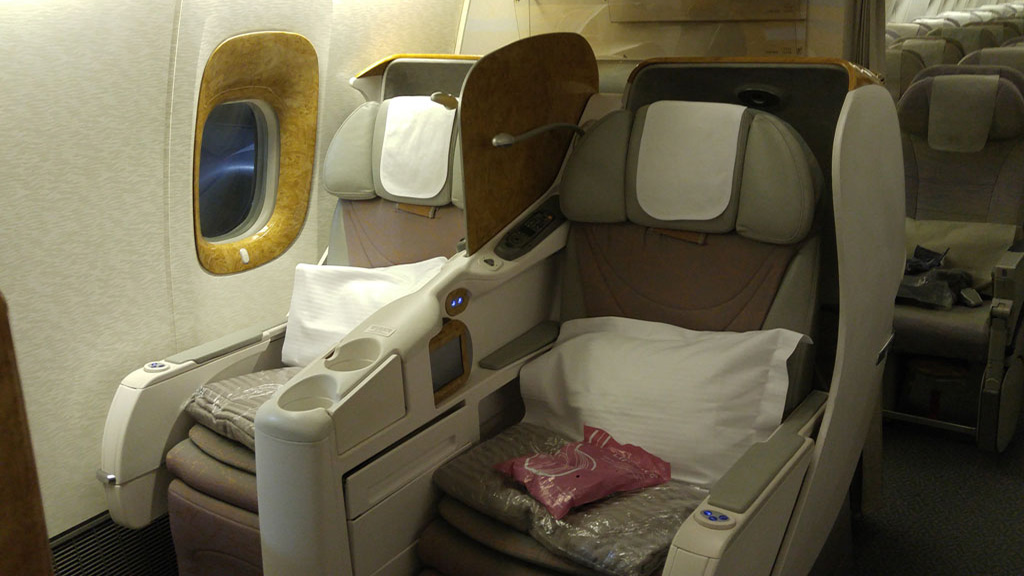 Emirates 777-300 business class review flight Denpasar (Bali) to Dubai
Recently only1invillage was lucky enough to travel on the Emirates 777-300 business class Denpasar to Dubai. Check out our thoughts on the amenities , highlights and low lights of the trip below.
So dive right in or skip to what you're interested in…
summary

Recently only1invillage was fortunate enough to travel on the Emirates 777-300 business class Denpasar to Dubai. Check out our thoughts on the amenities, highlights and low lights of the trip below.

It was a very empty flight. Ten people in business class. A departure time of midnight. Flight duration 9 hours.

The seat does not fully recline! You won't get a fully flat bed. But, there is an in seat massage facility. However this does not make up for the lack of 180 degree recline. If you get the window seat, you will also have to climb over your fellow passenger. Again, not great! This plane the Boeing 777-300 is clearly the older model.
Full Review of Emirates 777-300 business class flight EK 399 Denpasar (Bali, Indonesia) to Dubai (UAE)
Before you even get on the plane in Denpasar, you will have come from the the Emirates Lounge in Denpasar Airport which is quite a surprise, but not in a good way! Check out the review Bali Business Class lounge.
The flight will probably be extremely empty with plenty of space.and If you are not happy with your seat, there are options available to move. The lack of passengers is probably due to the late take off time of just after midnight. The total flying time is forecast to be just over nine hours. So time to sit back and relax.
Immediately, one can see that this plane is older than some of Emirates other planes. The interior cabin still has the colours of the Emirates A380 business class, which are cream and walnut wood. The configuration of the cabin is 2-3-2 which is great for people travelling together. It's not so good if you're strangers and you like your privacy.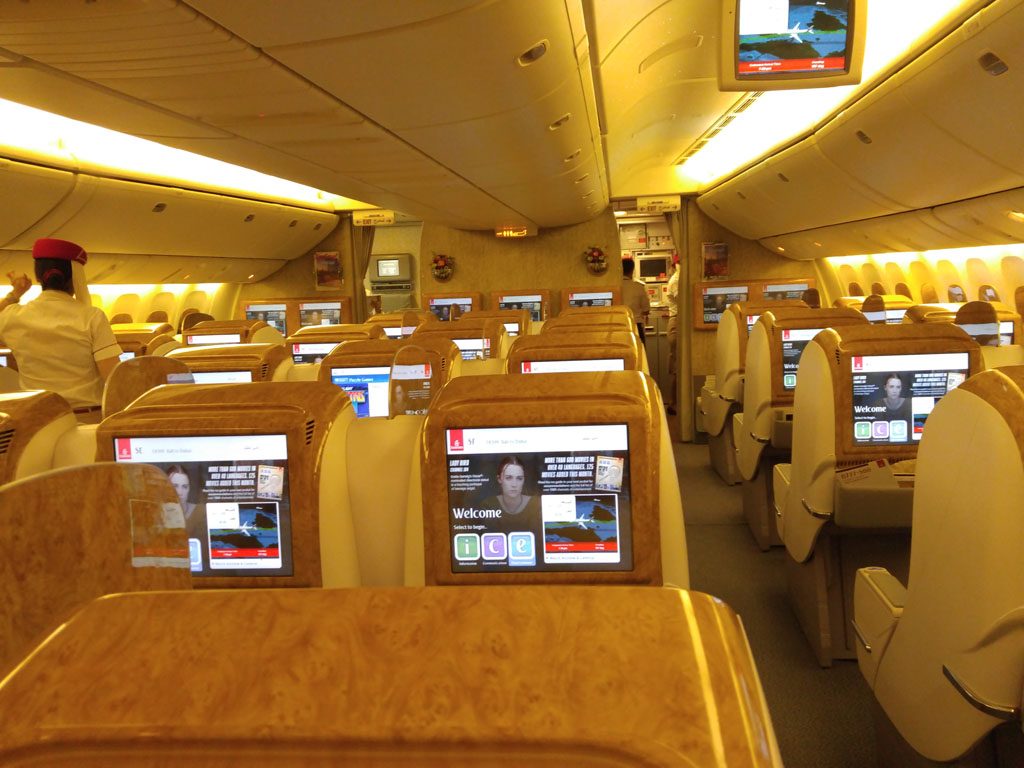 the seat on the emirates 777-300 business class
Seat 3K is a window seat. The configuration of the plane is not ideal if you're a lone traveller. The window seat passenger will have to climb over the aisle seat passenger, therefore not very convenient. This is not the case on the A380 business class cabin. Luckily, an empty flight means this won't be a problem. After take off, you are given a 'mattress' to soften the seat. The 'mattress' also covers that annoying gap that opens up between the seat and the back rest.

There were a few crumbs in the arm rest which, which was disappointing for business class cleanliness. Also the cup holder in the seat divider had coffee stains. Ewwww.
You have various choices for a pre flight drink and you have time to test the workings of the seat, which include in seat massage. The leg room is good for all people under 185cms. The pillow is soft and supportive.

The pre flight drink and warm nuts. Champagne is of course on offer, but C chooses orange juice.
the electrics on the Emirates 777 -300 business class
The seat itself, is slightly uncomfortable and wearing thin especially on the bottom part, probably due to age. Thank goodness passengers get a "mattress" after take off to soften the seat and to aid sleep.

Emirates provide you with this '"mattress" immediately after take off, to aid seat comfort.
The space around the seat is limited. There is nowhere to store a laptop or small handbag. There is no USB charger, only an international socket which isn't very convenient! Luckily, only1invillage has USB adapters in hand luggage!

No USB charger??? You can only charge one device. B777-300 older electrics on the seats in business class.
The seat does not not fully recline to a 180 degree flat position which is very disappointing. This makes it a bit like AirAsia business class, but this seat is still better.
The entertainment system is showing its age. It is so old in fact, it hasn't had an upgrade from economy class. The TV is fuzzy and consequently this means the picture quality is not sharp. While the headphones are reasonably comfortable, they are not however noise cancelling.

That's an economy class control unit! Emirates B777-300 EK399 business class entertainment system control.
the amenities on the emirates 777-300 business class
An amenity bag is provided with Bvlgari products which is a good touch. There is a handy little mirror enclosed which only1invillage likes. The rest of the amenities are a bit cheap looking, for example the plastic brush. Men get a slightly different bag, both in design and contents. Inside the bag for men, there is a razor and also eau de toilette instead of parfum. The construction quality of the amenity bag for men is altogether of a higher quality and can be used again. If you run out of toothpaste, you can always get more from the bathroom.

Amenities provided for ladies on Emirates business class flight EK399 Denpasar to Dubai. Bvlgari products and a mirror for the ladies.
the toilets on the Emirates 777-300 business class
Upon venturing to the toilets, only1invillage is dismayed to find they are exactly the same as economy class! The only difference is there are amenities such as toothbrushes, hand cream and face cloths. It doesn't deserve a photograph because we all know what a toilet in economy class looks like! Furthermore, it also smells like it hasn't had a good clean in a long time. There is also some cheap air freshener placed in a rather awkward place.
the food on the Emirates 777-300 business class
Now onto the food. It is disgraceful for business class. As you would expect, a tablecloth is spread over your tray, metal cutlery and porcelain plates come as standard. This sets an expectation for great food. Unfortunately, nothing is further from the truth. We are very disappointed with the food on this business class flight.
The smoked duck is dry and tasteless and the accompanying salad to start, going limp and browning on the edges. When you read the menu, the taste buds start to get excited. Sadly, after eating it, your expectations have not been met.

Dry and tasteless smoked duck with a wilted salad EK399
The main was slightly better, but nothing to write home about!

The desert is a disaster, in fact, almost inedible. Billed as an orange frangipane tart, what transpired was a dry, cheap looking cake. Therefore, two bites later it was left to further dry out! Having travelled frequently with Emirates in economy class, there isn't much difference in the taste on this particular class.

Dessert disaster on flight EK399, a dry, tasteless cake, not a tart!
There isn't a wide range of herbal teas or decaff options for drinks making you feel like you're travelling in economy class. Emirates business class food needs to look and taste like it is special.The non alcoholic options are also limited which is easy to improve on. Overall, severely disappointed with the dinner that this Emirates business class product provided on this flight. The taste and presentation of every dish was more similar to Emirates economy class and not Emirates business class.
The breakfast is better, probably due to fresher and less processed options. Only1invillage chooses granola and yoghurt and cannot comment on the cooked omelette option. One can only guess the quality and edibility.

Granola and yoghurt breakfast Emirates 777 300 flight EK399 business class.
final Thoughts on the Emirates 777-300 business class
An ageing plane the Emirates 777-300 business class product is definitely not as good as its A380 counterpart. The whole experience makes you feel not as pampered. Very disappointed with the food and beverages on board this flight. A non fully flat bed is really surprising for Emirates business class. This will make only1invillage think twice before booking a non A380 business class flight with Emirates.
Along with the awful lounge at Denpasar and no chauffeur service to the airport in Denpasar, Bali, we will try to fly from another Asian city. Chauffeur service and a great business class lounge can be found in Singapore when you fly with Emirates. In conclusion, due to 4 factors, we'll probably not fly from Denpasar again. The bad food and the economy class toilet are not great business class expereinces. The entertainment quality in addition to a non flat bed means we will probably be avoiding this route and this plane in the future.
Emirates has now suspended its chauffeur service until further notice for all business class passengers.
arrival into dubai from an Emirates business class plane
Arrival into Dubai is a bit of a walk to get to the chauffeur service, so be prepared to walk about 20 minutes. There are plenty of those walking escalators, which will lessen the steps. It's still a hike to reach your bag if Dubai is your final destination. However, you will be rewarded with the sight of the Emirates chauffeur service which almost makes the long walk worth it!
If your next flight is over 9 hours away, Emirates kindly provides you with a hotel. This also includes all meals and the transfer from the airport, to the hotel and back again. Consequently, if Dubai is not your final destination, you are still entitled to the chauffeur service due to the layover/ stopover time. So if time is not an issue, this is a good option since you can get a flat bed at the hotel.
Related Articles

VILLAGE NEWS!
Subscribe to our newsletter to hear about unique travel destinations, when to go, what to see and other top travel tips!
If you enjoyed this review and are looking for more reviews by us check out our TripAdvisor page