Business Class Lounges
Welcome to a page of reviews of business class lounges around the world. We select a few lucky airlines to give you full reviews of what to expect in a business class lounge. Each airline has different offerings in different countries. Read on to discover our best and possibly worst business class lounge experiences.
What are business class lounges like?
Business class lounges offer an escape from the busy and noisy airport terminals. Most business class lounges are an oasis of peace and calm. If you visit at a peak time, however, the lounge can seem as chaotic as the terminals outside. All business class lounges offer complimentary snacks, meals and beverages. The quality of these meals and drinks vary greatly, depending on which airline you fly with. For example, some lounges will have barista coffee service and others will have an automatic coffee machine only.
Food and Beverages
Some lounges have restaurant quality food, while some, unfortunately taste like microwave meals. We have to say that so far, in our experience, Emirates business class lounges stand out for the tastiest food and premium alcohol. We compare a Qatar business class lounge review in London and Doha. It will be interesting to see how the Middle Eastern airline competition stacks up!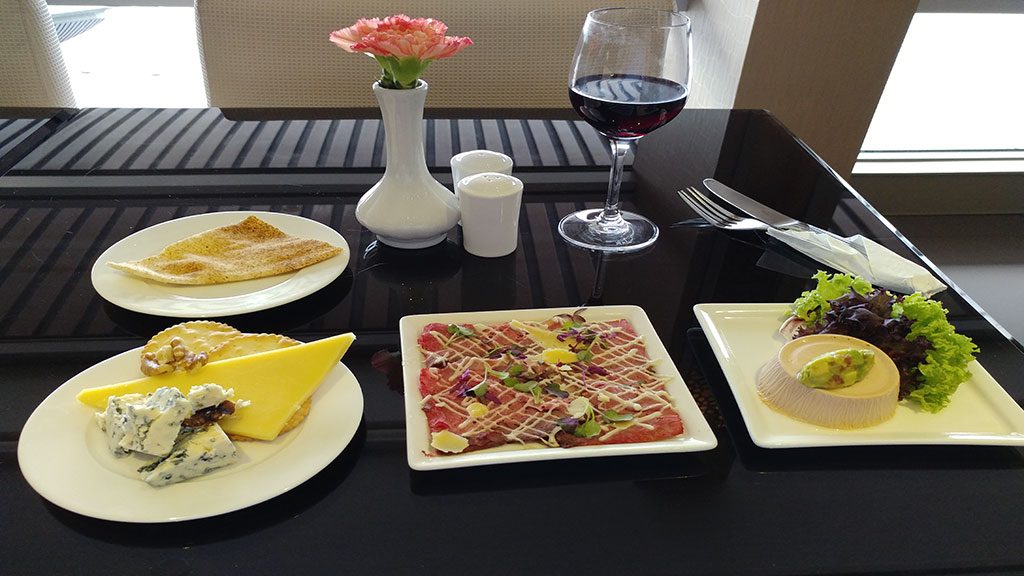 Seating and Wi-fi
All business class lounges offer comfortable seating and a place to charge your devices. Most will have a dedicated office area complete with printer and photocopier. There is always fast and free wi-fi in a business class lounge. Well, the ones we visit anyway. Some people actually use a business class lounge to conduct business! Fancy that! One of the best "office spaces" is in Qatar's flagship lounge in Doha. Naturally we review it below.
Some business class lounges offer showers, towels and toiletries. However, the quality and cleanliness of these facilities vary greatly. British Airways lounges in London offer a free Elemis beauty treatment, but, it is almost impossible to book one!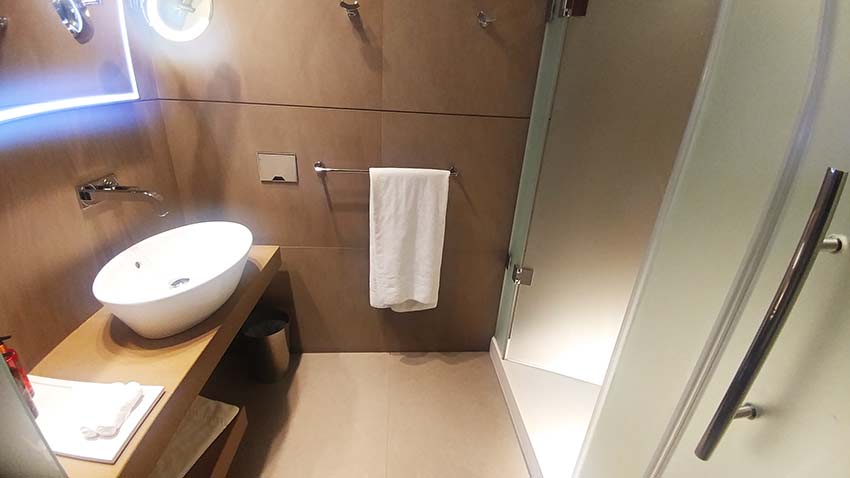 How to get in to business class lounges
You don't always have to fly business class to gain entry to a business class lounge. If you hold the correct credit card, a world of peace and calm awaits! The offerings of Priority Pass lounges and affiliated credit card lounges are a pleasant way to start a journey. Even if you're flying economy class, you can get access to a business class lounge through a complimentary lounge invitation, or, if you hold the top status on your preferred airline.
Holding a business class ticket is always a guaranteed pass for entry into business class lounges. A free upgrade, although, exceedingly rare, gives you access to business class lounges.
Which business class lounges Do You review?
Below is our take on Qantas business class lounges in Melbourne and Sydney. There are two for Melbourne, international and domestic. London Gatwick gets another look in with a paid lounge and one affiliated with Qatar Airways. The much hyped Al Mourjan lounge in Doha also receives a thorough once over! We review Emirates business class lounges in Dubai and Kuala Lumpur. The Emirates business class lounges around the world are very similar. Therefore, we have not included Melbourne and London. Both lounges have very similar seating and food and beverage. British Airways at London's Terminal 5 gets a review below. The only business class lounge in Denpasar, Bali gets the Only1invillage treatment. The American Express Lounge, at Melbourne International Airport is also featured. Enjoy reading!
Are business class lounges worth it?
If you're flying medium to long haul, business class lounges are definitely worth using. It is a complimentary perk. Paying for entry depends on two things. Firstly, some lounges you cannot pay for. Secondly, the cost of entry versus what you get may not be worth it. You definitely need to visit the business class lounge if it's included in your ticket. If you have a lounge pass, sure, it's great. If you have paid for a membership to use business class lounges, don't waste it! If your company pays for you to fly business class, hell yeah, it's worth it!

VILLAGE NEWS!
Subscribe to our newsletter to hear about unique travel destinations, when to go, what to see and other top travel tips!