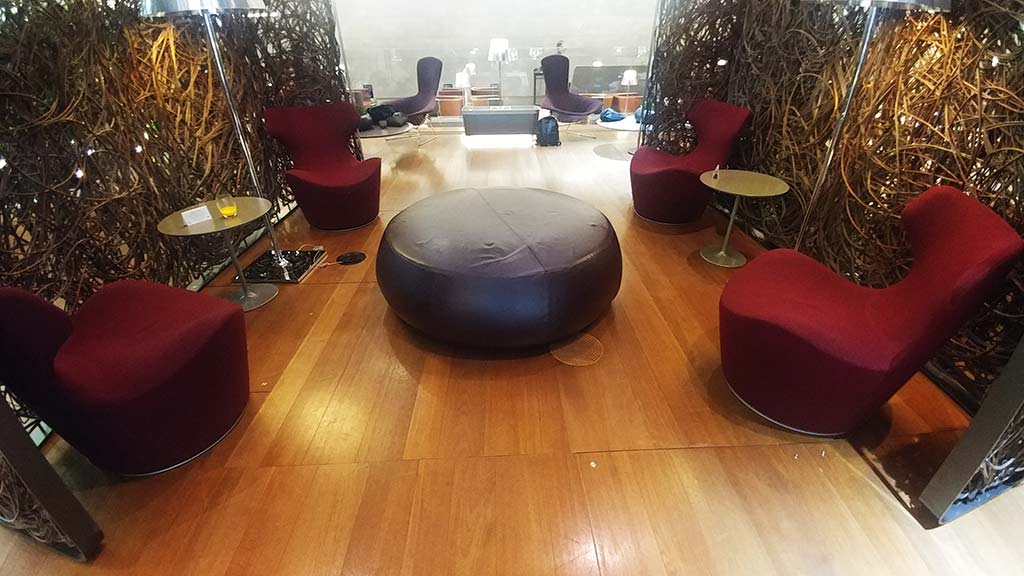 Qatar Al Mourjan Business Lounge
Do not confuse this lounge with the boringly named Qatar Airways Business Class Lounge in Doha. You seriously don't want to go to that one, when you hold a business class ticket. Make sure you head to the Qatar Al Mourjan business lounge. After reading other reviews we are seriously excited to see the ultra modern lounge with a la carte dining options. We visit at breakfast time and have a 2 hour gap before our next flight to Singapore on the Qsuite configured plane.
After experiencing the awful and we mean, truly bad London Gatwick North Club Aspire Lounge, that Qatar uses for its business class passengers, we are mega eager to review Qatar's flagship lounge in Doha.
Put your sunglasses on and prepare for some major bling! This is one shiny lounge with great lighting!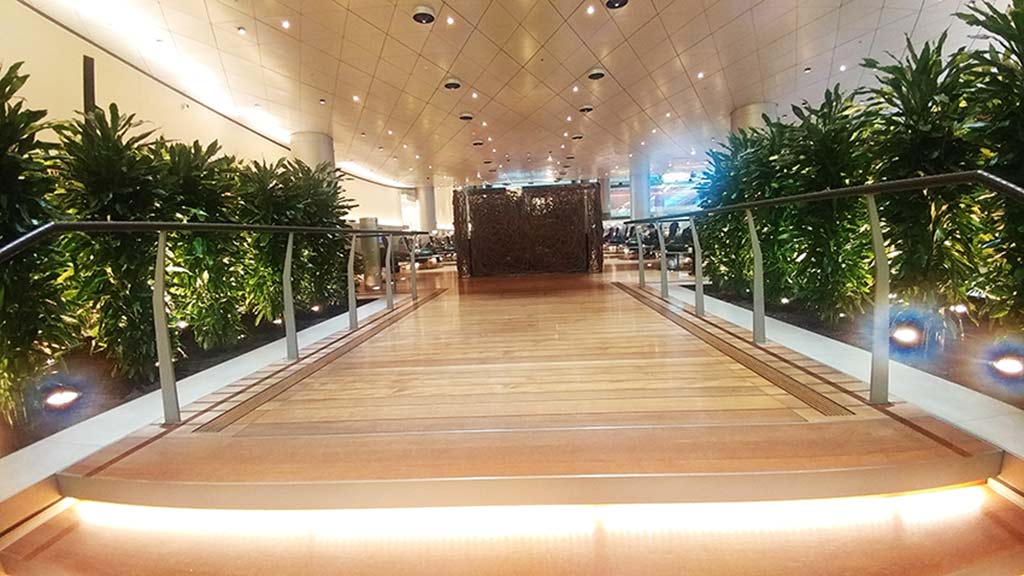 Quick Index Qatar Al Mourjan business lounge
the Qatar Al Mourjan business Lounge Location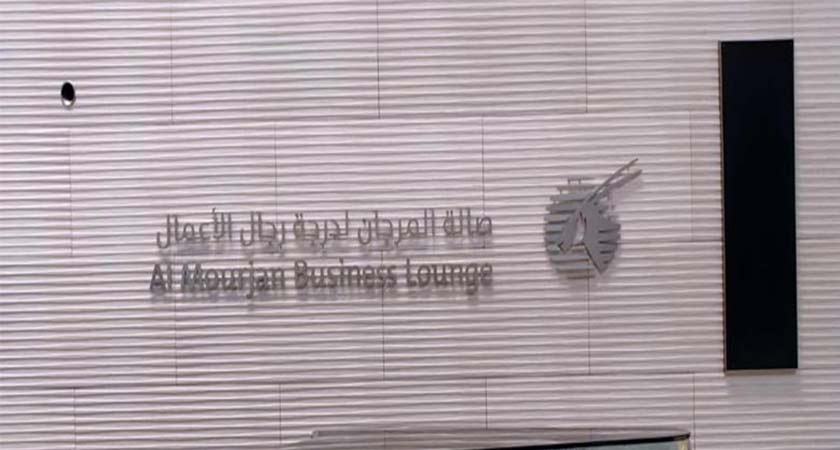 After passport control in Terminal 2 you go through the duty free shops. Keep following the signs.
The lounge is located up an escalator or you can gain access from a lift/ elevator.


Qatar business class dress code
There is no dress code. Ladies, please respect the fact that this is a Muslim state and dress appropriately.

Who can Get In
Anyone holding a Qatar Airways business class ticket or higher. Clearly, if you are travelling first class, you won't lower yourself to mix with the plebs in business class. You will be using the Al Safwa first class lounge!

If you hold a Oneworld business class ticket, you can also come in. You cannot bring a guest, unfortunately, so leave the mother in law in the main terminal!
Economy class passengers of Qatar Airways can purchase entry for 450 Qatari Riyals which is about US$120. You probably only want to consider this option, if you have at least three hours to kill.
Seating in the qatar al mourjan business lounge
The Al Mourjan Lounge is enormous!

We had our work cut out navigating all the different areas and taking photos. It is a short stop over between London and Singapore, so try to book a flight with a longer layover than 2 hours to take advantage of all the Qatar Al Mourjan business class lounge has to offer.





The a la carte area has bench style and table and chair style seating. There is also booth style seating. The a la carte area is on the lower floor, furthest away from the entrance of the lounge.


Now if you don't want to sit, there are also lots of snooze areas. Some of the snooze areas are more communal and some of them are for single snoozers.


Wifi and business facilities
There is a full on office area with separate cubicles and huge glass tables to work on in the business centre. It even had its own concierge. This is pretty impressive if you're actually using a business class lounge, to do business in! Some overworked person was clearly loving the facilities, because he had lots of business paraphernalia spread out all over the place.

On the wired computers the internet is very fast and you don't need a password.

The wi-fi internet is however another story. Despite not needing a password and your phone showing you're connected, we could not surf. We didn't have time to complain or get the staff to help us out for the wi-fi connectivity.
In the business area, there are also seats and a small breakfast bar selection. You can find pastries, fruit, bread and soft drinks. It's more cafe style in an enclosed room.

Bathrooms and Showers at the Qatar Al Mourjan business lounge
Time to get wet! Unfortunately the showers areas were very busy. There is a wait list. There are however two shower areas and the one further from the entrance is less busy and there was no wait time.

Similar to the lounges that Emirates, Qantas and British Airways operate, the showers are more like mini bathrooms in the Qatar Airways AL Mourjan business lounge in Doha.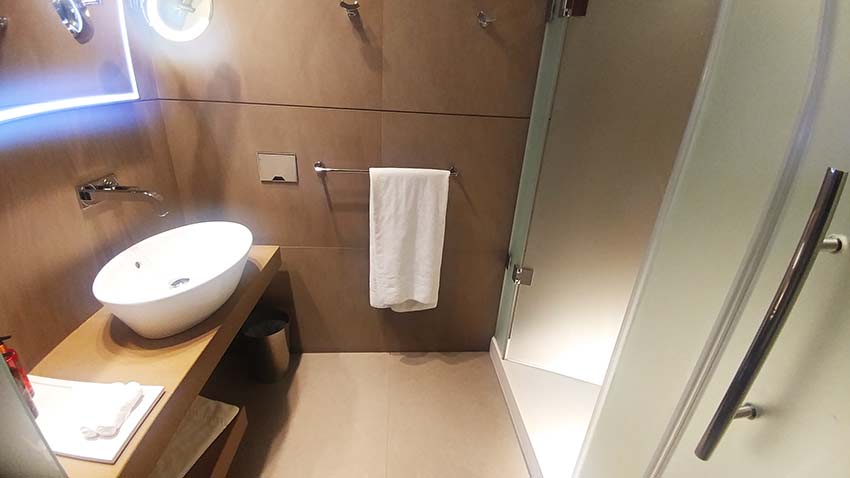 Food and Beverages in the Qatar Al Mourjan business lounge
Feeling hungry? You better be. The Al Mourjan lounge has a global deli and patisserie. In addition, there is a continental and oriental brasserie. Naturally, a full bar is also present. All food served is halal, with many vegetarian options too.
The presentation of the food is stunning. Well in the promotional pictures. We find it to be pretty standard. There are any negative reviews of this lounge, for the space, but not the food. Unfortunately, we didn't think the breakfast selection was fantastic. Also the a la carte options were only sandwiches and salads. Ok, this may be different later in the day. We visited at breakfast time, so there were no exotic dishes to try for a la carte. Next time, we'll have to schedule our lounge visit for a lunch or dinner time stop over!

There is a lot of food available, but the selections were similar in all the buffet areas.
But how does it all taste? Is it all beautiful on the outside but tasteless on the inside?
The breakfast
The cold options are a Western style selection. On offer for breakfast is fruit salad, yoghurts, cereals and muesli. For the Middle Eastern selection there is hoummous, olives, labna and flat breads.




Now onto the hot food. There's what we call a full English. There are baked beans! We thought that was a little un-classy. Baked beans do not present themselves well in any container.

There's also international food for the hot buffet, like pasta and spiced meat options.
The beverages
Any international business class lounge worthy of its class has to have a good selection of alcohol. Whilst Qatar doesn't offer premium alcohol, like Emirates does, the variety is good.

You must order the Qatar airways signature drink. It is a refreshing lemon and mint mocktail, made fresh to order. It even ran out on the Qsuite flight from Doha to Singapore, it is so popular! Make sure you order one in the lounge, if like us, you're a new fan!

The soft drinks selection is pretty standard. Individual teas in sachets and coffee from a coffee machine. Disappointingly, even if you order a coffee from the bar, it's not barista made, it comes from a pre-set menu machine.

Entertainment rooms
If you have a long stop over, take advantage of the playrooms. Indulge your inner child with a game of table football/ soccer. Why not hop inside the racing car and test your driving skills? If that doesn't take your fancy, how about some good old-fashioned Nintendo?



Final Thoughts on the Qatar Al Mourjan business lounge
Some people have slated the Qatar Al Mourjan lounge as super sterile and devoid of character. We think it is a solid 7 out of 10. It is gigantic. It is spread over two floors. It is very shiny and clean. In keeping with being modern, we guess that goes hand in hand with the word sterile. Yes, the chairs are replicated all over the place and the eating booths and spaces lack character. It's one thousand times better than the Qatar lounge at London Gatwick North (Club Aspire). Never, ever fly out of Gatwick, fly from London Heathrow. It's a mistake we will never make again!
Related Articles

VILLAGE NEWS!
Subscribe to our newsletter to hear about unique travel destinations, when to go, what to see and other top travel tips!