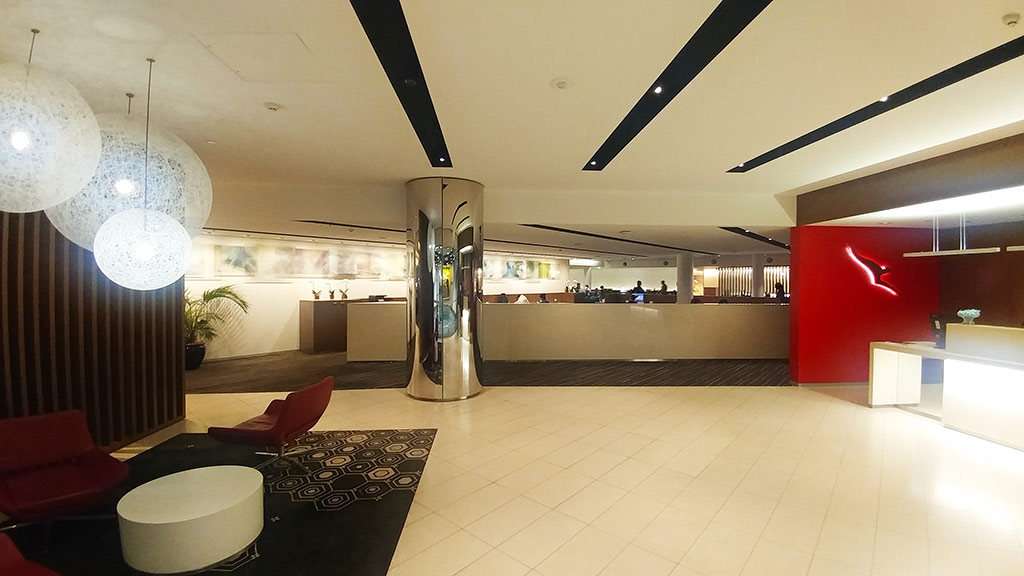 Qantas International Business Lounge Melbourne
Here is our review of this shiny and modern lounge. It is spacious and comfortable with fast Wi-fi. A calm oasis to relax in, before your long haul flight. We visit at both breakfast and lunch time. The menu changes at mid day. Only1invillage tells you what you get and what you don't, in the coffee Capital of Australia!
Australia's national carrier Qantas has recently spent a lot of money refurbishing its domestic lounges. Are the lounges of the same standard for international passengers in Melbourne, Australia? When Down Under, find out if you're getting a dud or a gem, when you fly through or from Melbourne International.
Quick Index Qantas International Business Lounge Melbourne
the Qantas International Business Lounge Location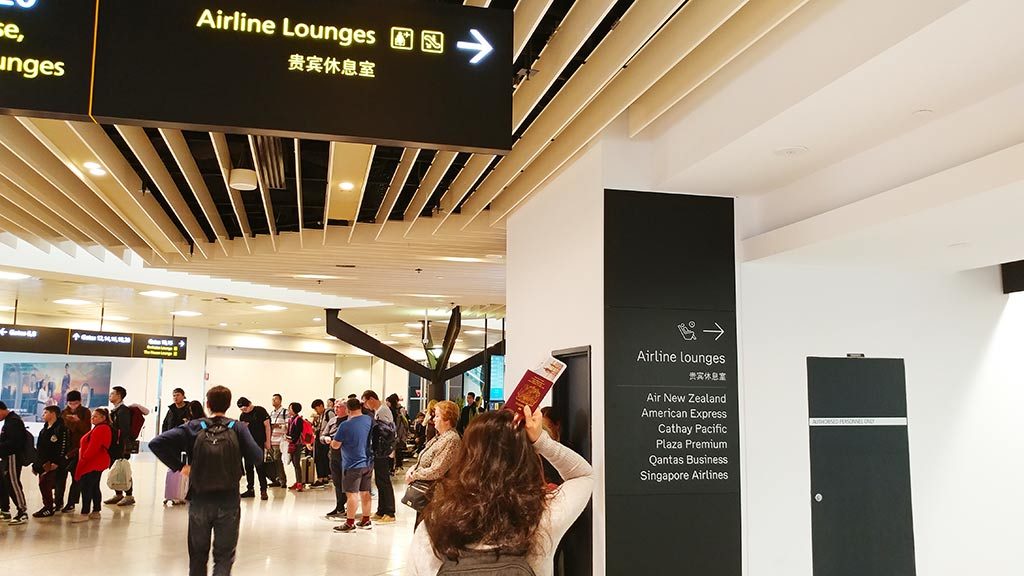 After passport control in Terminal 2 you go through the duty free shops. Keep following the signs. The lounge is located down an escalator and is opposite the Singapore Airlines and American Express Lounge.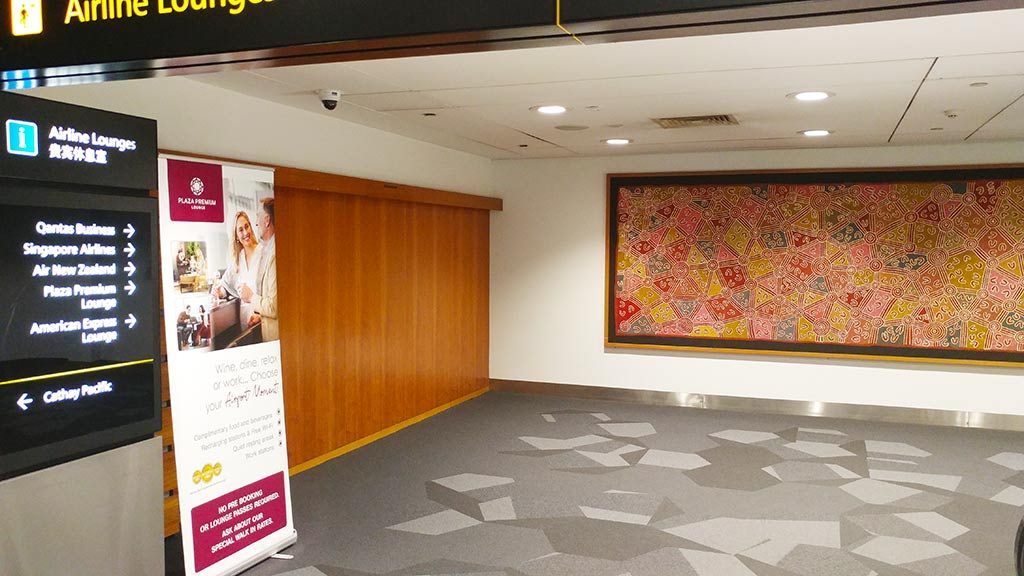 Qantas International business class dress code
Quite a lot of people can use this lounge. Before you get dressed though, please read our guide of what to wear and what not to wear! How embarrassing if you get refused entry because you're not properly dressed!

Who can Get In
Emirates code share customers who are flying business class can use this lounge, but will probably opt for the Emirates lounge. Also business class passengers of the following airlines. Get ready for the long list! Cathay Pacific, Japan Airlines, Malaysia Airlines, Qatar Airways, Sri Lankan Airways, LATAM (Chilean), China Airlines, China Southern, China Eastern, Garuda Indonesia, Fiji Airways, Jetstar, Vietnam Airlines and Sichuan Airlines.

You can also gain entry if you have racked up enough points with your airline. Usually if you're in the top two tiers and have jewel status of at least a sapphire, you can use the Qantas international business lounge in Melbourne. For Qantas you have to hold gold status. For Emirates, gold and platinum status gets you in. If you're a Oneworld alliance flyer and have sapphire or emerald status, come on in!
Lastly, if you're a Qantas Club member or you have a single entry pass, then come on in and relax.
Seating

The good news is that the lounge is very big. It can hold up to 350 people apparently. Still you don't want it to be full and at capacity! You come to a lounge to get away from the terminal crowd.

The best thing for families with small children, is the play area. It would be better however, if it was enclosed, so you can't hear the screeching of the little darlings. Take a leaf out of Emirates' children's area in Dubai. For a review of the Emirates business class lounges in Dubai, click here.

There's a business area with a sleek long desk and photocopier machine/printer at one end, just after the reception desk. Set up here if you need to get some work done.


The seats range from armchairs in small groups to bar stools. They come in a variety of colours, textures and comfort levels. As usual, the tables are way too small to fit much onto them. However, most people aren't travelling in large groups and you can always put two tables together, if the need arises.






Bathrooms and Showers
Close your eyes it's time for the shower shots!
You ask for a towel and an amenity kit at reception. It isn't help your self service and there is no attendant like at the Qantas Sydney international lounge.


The shower area is located in the middle of the lounge.

There are also separate toilet areas.

The showers have a toilet inside them too, so they're more like a mini bathroom.

The toiletries have been exclusively designed for Qantas by Aspar. The 500ml body lotion retails at $50AUD per bottle. When you get on the A380 Qantas plane, inside your amenity kit, you will find an exclusive offer for Aspar products. You enter a code on the Aspar website and you get $50AUD discount. Conditions apply.



Food and Beverages
Feeling hungry? Like all business class lounges, the food changes according to the time of the day. We visit at breakfast time on one occasion and another time for lunch. There's a very good, not quite excellent, variety of hot and cold choices, including Qantas' signature 'made to order' dish of the day.

The drinks selection never changes, don't worry. You can still mix yourself a cocktail at 8am!
Being in Melbourne you are guaranteed great coffee. Barista made is best. There are 2 self service machines, but who in their right mind uses them, when you're in the coffee capital of Australia?
The breakfast

The cold options are a Western style selection. On offer for breakfast is fruit salad, yoghurts, cereals and muesli.


Now onto the hot food. It's what we call a full English.

For those of you who don't know what that is, it's pretty tasty, but, not so healthy. Fried or grilled sausages, bacon, eggs, mushroom and hash browns are standard. For the health component grilled tomatoes are usually offered too. It's not all bad!

If that's too unhealthy for you, you can always try the special dish of the day. It is cooked to order, so it's guaranteed to be fresh. The business lounge plate of the day is next to the barista coffee bar. You place your order and hang around for about 5 minutes. They call your name, when your food is ready.



The Lunch
At midday the breakfast is removed and replaced with lunch offerings. Cereals and yoghurts are replaced with salads. Grilled tomatoes and bacon change to various hot dishes. Presentation wise, Qantas comes second to an Emirates lounge, both in taste and presentation.

If you don't fancy making your own sandwich, you can make your own salad or choose from two ready made versions.

If you're after something hot, there are two dishes on offer.

If you still have room, there is a small cake selection.


The beverages
Any international business class lounge worthy of its class has to have a good selection of alcohol. Whilst Qantas doesn't offer premium alcohol, like Emirates does, the variety is good.

The selection of alcohol is vast. You can mix your own cocktails for breakfast at two stations in the business class lounge. No one is going to judge you!

The quality of the wines isn't as good as in the Emirates lounges, but much better than the Qantas Club in the domestic terminal.

The soft drinks selection is pretty good too. Teas are available in single sachets. Freshly pressed vegetable juice is available too.

What the Qantas lounge does have over the Emirates lounge, is the barista coffee.The fresh barista coffee is excellent. Well, this is the coffee capital of Australia, after all! The latte art is pretty impressive too.

The only drinks missing are the bubble teas and smoothies. We don't know any lounges that offer these! If you do, let us know.
Final Thoughts
Here's a round up of what you get and what you don't in the Qantas international business class lounge.
You get plenty of space. A dedicated children's play area. Comfortable spaces to sit or work. A big variety of beverages. A good selection of hot and cold food. Showers to freshen up in. Fabulous barista coffee.
What you don't get is natural light. Also, the cleaning up of dirty plates isn't as good as it could be. Apart from that, there's not too much to complain about. We enjoyed our time in the Qantas international business class lounge Melbourne. It beats having to cook breakfast or lunch for yourself!

Related Articles

VILLAGE NEWS!
Subscribe to our newsletter to hear about unique travel destinations, when to go, what to see and other top travel tips!