Qantas A380 business class desperately needs an upgrade
Read the highs and lows of the Qantas A380 business class cabin on its journey from Melbourne to Singapore. It's a non stop flight of just over 7 hours.
Australia's national carrier gets the Only1invillage review. Flying high and flat with the white kangaroo because Qantas has an impeccable safety record. Like the character in Rain Man says, "Qantas has never crashed".
We get to turn left when we board a plane! One of us is already a little light headed after 2 hours in the Qantas international business lounge Melbourne. Is it going to be a g'day or not? Continue reading as we give you all the details of this business class flight.
Quick Index of Qantas A380 Business Class
Find out why the Qantas A380 business class desperately needs an upgrade.
The flight from Melbourne to Singapore is scheduled to leave at mid day. An announcement is made that the plane is going to be delayed. When you're sitting in economy class, expletives start to form. Your eyes meet your fellow passengers and you roll your eyes upwards.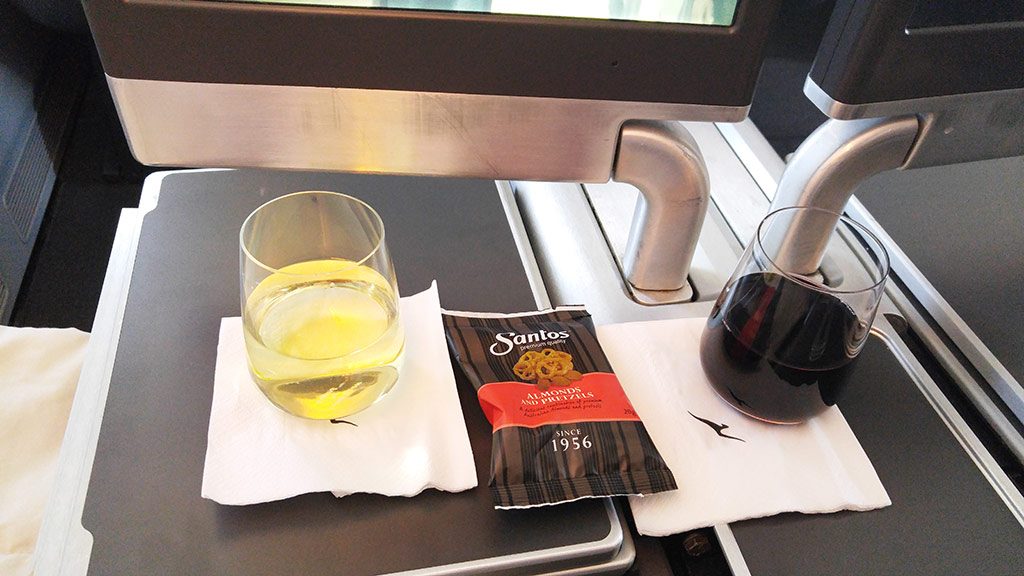 But, if you're in business class, you don't care, because the champagne just keeps on coming! Well actually, there's no pre flight champagne on the Qantas A380. We settle for wine and pretzels instead. We have sympathy for our fellow economy class passengers. After all, we fly economy too!
The Qantas A380 business class cabin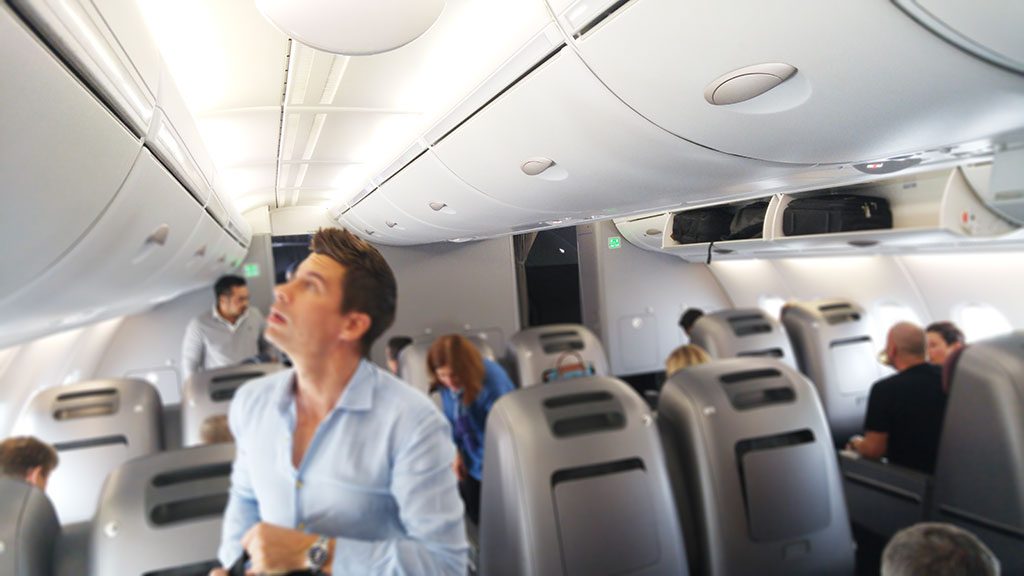 First up, it's really big. The business class section on the upper deck is split into two parts. The front end is smaller and feels more cosy. There are 18 seats here. We get seats 13 A and 13B. One is a window seat and one is an aisle seat.

The configuration is 2-2-2. If you're not travelling in a couple or with friends, it can get a bit awkward for the window seat passenger. The window seat passenger has no direct aisle access. Your fellow passenger will have to step over you when you decide to go fully flat!

The service galley separates the mini cabin from a further 24 business class seats. Behind that there are 8 rows of premium economy seats. Finally at the very back of the plane are 2 rows of economy seats.
The front end contains the 'bar'. We'll get onto that a bit later!
The seat and its surrounds on the Qantas A380 business class cabin
The seats themselves are comfortable enough, but, showing their age. The positives are the 180 degree flat bed position and the comfort mattress. Notice that business class seats are not much wider than economy class seats. It's all about the legroom.

There is a huge amount of legroom.


The window seat passenger gets an extra piece of stowage space in a side compartment.

In flight entertainment
There is plenty to entertain yourself with. The Qantas in flight entertainment system has all the usual options. The latest films and classic films in various languages. You can watch the flight cameras or listen to music. The TV screen is a bit grainy and small for business class.

The noise cancelling headphones are a nice touch. They are superior to the ones you get in economy class. You almost want to take them with you!

But what's going on with this controller? Is it a telephone?

The electronics around the seat
The TV controller can hide in a compartment to the left of your seat. The seat can go into many positions. You can have just your feet up, a slight recline or, the fully flat bed. The buttons to change the seat positions are self explanatory. What we love most, is the in seat massage function of the seats. Getting a massage at 39,000 feet, that's luxury.

The most disappointing and surprising aspect of the seat electronics is the lack of charging outlets. There are no USB or sockets to charge your devices! What is going on Qantas? That's a big reason why this fleet of planes needs upgrading. Many airlines in economy have USB charging options under the TV. We are baffled by the lack of electricity available in business class.
The amenity kits on the Qantas A380 business class
We have to say, they're a bit under whelming. No pyjamas, that's only for first class passengers. The quality of the toiletries bag isn't great. It looks a bit cheap and will make a great 're-gift' present for a 5 year old. The Aspar products do smell very good, though.


The food and beverages
Now if you really want to know what you're eating, you can pre- select your food online. You go to 'manage your booking' on the Qantas website and look for 'Menu Select'. Personally, we like the surprise, there's always something you'll want to eat, when flying business class.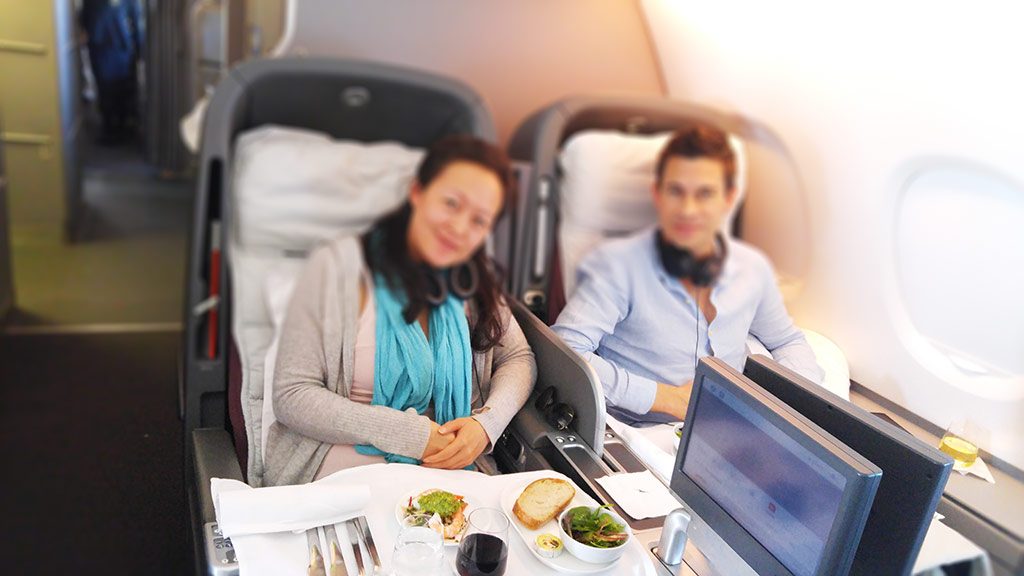 When you fly business class you expect the food to be restaurant quality. The food should look and taste different to economy class. From the 'real' cutlery and crockery, you expect a big difference. The food is definitely better than economy class! One small gripe is the wine and premium alcohol quality.There's also no cocktail service, unlike on Emirates business class.

The menu selection always reflects the place you're flying from and the destination. So, on the flight from Australia there is a choice of Asian inspired and Modern Australian food. We opt for one of each and share!

The lunch service begins an hour into the flight. The headphones are on and the latest film is rolling. It's main course time. There are four options to choose from! There's a vegetarian polenta with braised greens, mushroom ragout and a salsa verde. The other choice is a Moroccan style beef tagine with chickpeas, roasted sweet potato and coriander yoghurt. As you can see, it's a difficult choice!


Ok, Ok, so we eat a lot. Yes, we had a little breakfast in the lounge before the flight, but, you can always make room for dessert! In the interests of a thorough review, it would be unfair not to order something sweet!

Now, just when you think you can't eat any more. Three hours into the flight, there's the mid flight snacks. These are also available at the 'bar' section at the very front of business class. They are pieces of whole fruit, chocolate bars and bags of crisps/chips. They don't need a photograph.
Prior to landing, so about 6 hours into the flight comes the last food offerings. There's a choice of two things, so naturally, we order one of each!

The service of the Qantas staff
The staff are friendly, but not over friendly. They don't seem to have as much time to chat to you about your destination. For example, landing cards are handed out regardless of whether Singapore is your final destination. A more personal touch would have been to ask passengers if they are connecting or not. Outside of meal times, the Qantas staff keep to themselves.
The Qantas A380 business class toilets
This is what you have all been waiting for! Here it is, the toilet photo!

The Qantas A380 business class bar
This is the part of the Qantas A380 that needs the urgent upgrade the most. When you see the pictures of the bar, you will understand why. Unlike its competitors Emirates, Etihad, Qatar, Virgin Australia, Virgin Atlantic and Korean Air, you probably won't be leaving your business class seat for this bar.
It's not really a bar and the shape of it, isn't really enticing. Despite that, you will always get some people using the room behind the curtains!


Summary of why the Qantas A380 business class cabin desperately needs an upgrade
Firstly there are NO USB charging points! What happens to people who actually use business class to do some work? Your laptop isn't going to last the 7 hour flight on battery mode.
Secondly, that bar isn't enticing. There should be better quality wines, champagne on boarding and cocktail options to match competitors. If you compare the area to its competitors, you can see why it doesn't come close to Emirates or Qatar's on board bar. See pictures of the Emirates A380 bar here.
Thirdly, the seats are starting to sag and could be a little wider. Seating configuration of 2-2-2 vs competitors such as Emirates 1-2-1 means a lot less space. Also it means window passengers need to climb over the person next to them. The privacy screens are too short. The television screens are too small and low quality. The toilets have no amenities.
Good news the overhaul of the A380 started in September 2019. Qantas promises to make the bar area more inviting.

Qantas has also announced that all seats will have aisle access in business class. They are making their business seats more like Qatar's 'business suites' which are like mini first class areas.
The upgrades are scheduled to finish at the end of 2020. Roll on 2020, we say!
To read about the improvements, Qantas is planning for the A380 fleet, click here.
Related Articles

VILLAGE NEWS!
Subscribe to our newsletter to hear about unique travel destinations, when to go, what to see and other top travel tips!