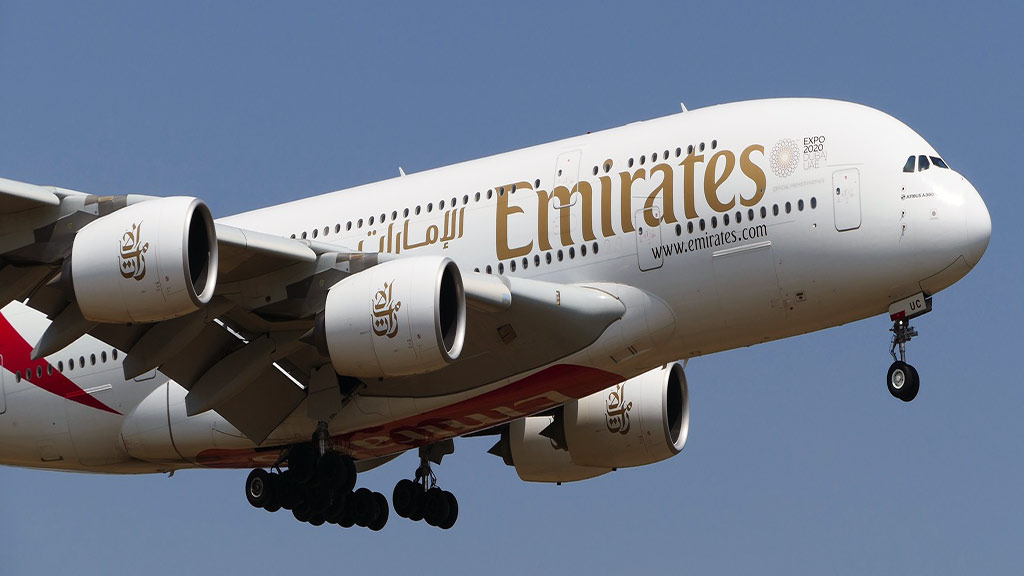 Emirates a380 business class Kuala Lumpur to Paris
It's non stop luxury from the business lounge in KL and onto the first A380. A BMW return transfer service to a complimentary hotel in Dubai too. Back in the dazzling and glitzy flagship lounges (there's 3) in Dubai and onto another A380 to Paris. Come along with us for the ride.
Quick Index of A380 Business Class KL to Paris
Getting to KLIA and the Emirates Lounge
You will notice when in Malaysia, that acronyms are everywhere. No one says Kuala Lumpur – it's KL darling. Unfortunately the Emirates limousine service to the airport isn't available in KL so you are stuck with a cab, Uber, Grab or train.
Flying business class on long haul flights makes it that much more bearable! Using the lounge beforehand in Kuala Lumpur is even better. The lounge is pretty empty for the 19.10 departure flight. This is also the best flight in our opinion, because you can leisurely check out at midday from your hotel. Most, if not all hotels in Kuala Lumpur have a midday check out time. So much nicer than European hotels, that sling you out at 10am. You also miss the notorious KL traffic. Sometimes, it takes over 1.5 hours from downtown KL to KLIA (Kuala Lumpur International Airport). The lounge is actually very impressive check out our full review here.
Stopover, Flight Times and Transit
Emirates flies with 1 stop in Dubai, between Kuala Lumpur and Paris (Charles de Gualle). There are 3 flights daily. Departure times from the Malaysian capital, are, 01:10, 10.15 and 19:10. The flight time is approximately 7.5 hours for each leg of the journey.

The transit time can range from 3.5 hours to 18 hours! If you opt for the longest stopover, in business class, Emirates will provide you with a complimentary hotel stay. This will also include your meals and transfer in Dubai.
Emirates provide all business and first class passengers with a complimentary chauffeur to a hotel in Dubai. Your layover in Dubai has to be over 6 hours to access this.
Emirates use Dubai and Singapore for their stopovers in Asia from Australia and New Zealand. From Kuala Lumpur, you'll be in transit in Dubai for between 3.5 hours to overnight. If you choose the overnight stopover/layover option, (anything over 6 hours for business class passengers) Emirates will provide you with a complimentary hotel. Emirates call this their Dubai Connect service. All the meals are included and so is the BMW or Mercedes chauffeured car to and from the hotel.

The hotels Emirates use varies. We stayed in the Roda Hotel. Emirates like to advertise the Copthorne Hotel as standard, but it is at their discretion.

You must make use of the stopover in Dubai by using the Moet and Chandon Lounge in Terminal 3. It's quite unique. When flying business class via Dubai, don't miss out. See our separate review here for the Dubai Emirates Lounge. Read on to find out what to expect from the Emirates A380 business class flight from Kuala Lumpur to Paris, via Dubai.
Here's the full review of the flight on Emirates A380 business class flight from Kuala Lumpur to Paris
After using the very non busy Emirates Lounge in Kuala Lumpur, (See separate review here) we are very relaxed as we board the 7.5 hours flight to Dubai. The personal welcome message ensures you are in the correct seat! Naturally you will have chosen the best seat via the Emirates App, beforehand!
the Emirates A380 business class cabin
The cabin is spacious and private on the upper deck. Nab the window seats if you're a lone traveller. The window seats offer the most privacy. The middle seats are great for friends. Even if you're not travelling together, the middle seats are still private enough.

The walnut and cream colours are used throughout the cabin. There are a couple of gold bling accents throughout too. The bar is packed up for take off. It looks modern and funky when the canapes and stuzzichini come out later! You receive your champagne before take off.

When you need to sleep, the cabin darkens and you look up to the twinkling stars. Well, not literally, the electric stars on the roof. There is also mood lighting that sends signals to your body to prepare for sleep and waking up. That's why some of the photos are a strange colour!

the seat and surrounds on Emirates A380 business class
The most important thing about the seat in any business class flight is that it reclines to 180 degrees. A flat bed makes all the difference. There's good storage space around you and you won't inconvenience anyone when accessing your belongings. In business class, ample electrical points for charging various devices comes as standard. You get a personal soft drinks mini bar too. An additional 'mattress' for softness is provided after take off. Your personal tablet is also available for flight information and selecting entertainment.

The seats are most importantly able to go to a fully flat position. The Emirates 777 -300 ER business class does not do this. Newer 777 – 200LR planes do, however have a lie flat bed. The 180 degrees position allows you to get a full night's rest. Immediately after take off, Emirates provides you with a 'mattress' which makes the seat even more comfortable for sleeping. Even if you don't want to sleep, the mattress provides an extra layer of comfort.

There is plenty of space surrounding you. Plenty of stowage space by your feet and the over head locker.

Some people don't like the personal storage 'box' which is quite deep on your window side if you have a window seat. If you're in the aisle seats, you have plenty of storage overhead. You've got your USB ports and international sockets close at hand too. Your soft drinks mini bar and small items storage shelf are all within easy reach.

So, after the welcome drink and warm nuts, which come in a ceramic bowl, it's time to look into the amenity bag. Men get a compact, grey rectangular toiletries bag filled with mini sized Bvlgari products. A disposable razor, shaving foam, the plastic toothbrush and those all important sexy flight socks!

Ladies get a beige Bvlgari toiletries bag. Plastic brush, compact mirror, toothbrush, eye mask, body lotion and eau de toilette. Not sure the bag is reusable. It's not as sturdy as the mens' toiletries bag.

All passengers are provided with noise cancelling headphones. They're not as good as your BOSE headphones, but 10 times better than the economy class headphones.

Emirates A380 business class In flight Entertainment
The entertainment system for business class passengers comes with a huge 23 inch screen. You can control your entertainment in three ways. You can touch the screen directly, use the handset, like in economy class, or use your personal tablet. There are over 4000 programmes and films. You can catch up on TV boxsets, listen to whole West End or Broadway musicals or watch endless documentaries. The latest films/ movies are a highlight of Emirates' in flight entertainment. The flight cameras are also quite fascinating. We always leave the personal tablet on flight camera mode. If you're not asleep, you won't get bored.

Emirates A380 business class service
Business class service is pleasant and friendly. Staff notice when your personal mini bar needs a top up. We do notice that when there are only 20 passengers in business class, the friendliness of the staff increases dramatically. They are attentive, but not in your face. They also seem genuinely happy, particularly the bar staff. Where else do you get to chat and get paid at 40,000 feet?

the bar on the Emirates A380 business class
Fancy going to the pub or wine bar? After take off, the staff busy themselves setting up the famous bar at the back of the plane. Here you will find a large screen TV, standing room and seating for about 8 people. Little hors d'ouvres decorate the bar and cocktails are made to order.

If you're a light sleeper, make sure you choose a seat away from the bar. If your flight is carrying an international sports team, things can get quite rowdy! The bar area is like a mini lounge area. You have 2 small seating areas on either side. There are 2 stand up spaces and a dedicated cocktail maker! The on board bar used to be the standout feature of Emirates business class. Now other airlines have jumped on board (no pun intended!!!) Qatar, Etihad, Virgin Atlantic and Korean Air also have on board bars. Maybe we'll get to try them and write a review.
The food and Beverages on Emirates A380 business class
The food is good, but not exceptional. Whilst not exactly gourmet in taste, the presentation is solid. It is really hard to get fantastic tasting food when so high up in the air. It still needs to get reheated and this is where the freshness factor loses points. Still, the smoked salmon entree is always a good choice. You can't go wrong, pulling out some salty fish from the refrigerator!
Your gourmet food is served on fine china crockery by Royal Doulton. Your cutlery is exclusively designed by Robert Welch! (Just in case you wanted to know). All the salads are crisp and fresh. If you really want to know what you're going to eat before the flight, you can download the PDF menu here. J loves looking up the premium wine and liquor section, which you can also see here. The main draw card of all Emirates A380 planes are the bars at the back, where you can mingle with other guests or the staff. Never have your warm nuts and crudites looked so good!
The food on board is presented as a taste sensation of the globe. Flying from Kuala Lumpur you have a choice of Asian or Western starters, mains and desserts. All food is served on a crisp white tablecloth. You have shiny, stainless steel cutlery instead of plastic. If you haven't pre – ordered a special meal, the staff come around with their phone to log your meal requests. There are also light bites available during the flight. You won't be going hungry, that's for sure.
We opt for the smoked salmon starter. Moist and tasty. Fresh lemon and capers on the top are pleasing to the eye. The little salad has not wilted yet.

For main course, the beef dish is succulent enough. There's a bit too much sauce and the beef is medium. Like we say, it's really difficult to get restaurant quality in the air.
The 7.5 hour flies by! (No pun intended)
We're landing in Dubai and swapping onto another A380. As we opt for the long stopover in Dubai, we use the complimentary hotel service. (See above – Stopover, flight and transit times)
When we get back to the airport for our Paris flight, we make use of the Emirates Dubai lounge before boarding !
Back on board the Emirates A380 to Paris, from Dubai. We settle in to the same comfortable seats and play with the electrics again. Surely that's the first thing everyone does? The crew is new and are as relaxed and refreshed as we are. We make sure the latest films are showing and calculate how many we can watch before landing. The menu is different and the first difficult choice is what to eat for breakfast.
We choose the Western English breakfast. The little flower shaped butter is one of those special touches that foodies will appreciate. Cute little salt and pepper shakers add some table elegance. Fresh orange juice is on offer as well as cappuccino or freshly brewed tea.

It's deja vu! We're on another A380 plane. This time however we bring you a toilet review!
the toilet on the Emirates A380 business class
No Only1invillage review is complete without the important toilet pictures! Don't look in the magnifying mirror. Flying has a terrible habit of enlarging pores and drying out your skin! You're still breathing the same air as your fellow economy class passengers.

If you love brushing your teeth, you'll find extra toothbrushes and Colgate toothpaste in the toilets. Apart from that, there's not much more to say. It's got a tap with hot and cold water, face cloths and perfume. It's not a huge toilet, but how much room do you need? It is slightly bigger than economy class and of course, you have fewer people to share with.
final thoughts on the Emirates A380 business class KL to Paris
The Emirates world wide network is quite big. Partnering with Qantas and part of the One World alliance, you can fly practically anywhere in the globe. If you're flying with British Airways and at the last minute you get a plane swap for an Emirates A380, this is a good thing.
On this particular flight, the two A380s are exactly the same. In fact, maybe it is the same plane? The crew changes in Dubai, but the standard of service, food, entertainment etc remains the same.
A good thing about taking two shorter business class flights is you get to use two separate Emirates lounges in different countries. You get to experience the KL Emirates lounge and the Dubai Emirates Lounge. If you take a longer flight, for example, the Dubai to Melbourne route, which is 15 hours non stop, you only get to use the Dubai lounge.
The on board bar is a definite plus, over other long haul carriers such as Singapore Airlines and Cathay Pacific. Having a bar, brings back that luxurious feel of flying in the good old days when a whole deck was a lounge. We read that somewhere. Is it the best business class available? Well, you'll have to decide for yourself.
Related Articles

VILLAGE NEWS!
Subscribe to our newsletter to hear about unique travel destinations, when to go, what to see and other top travel tips!