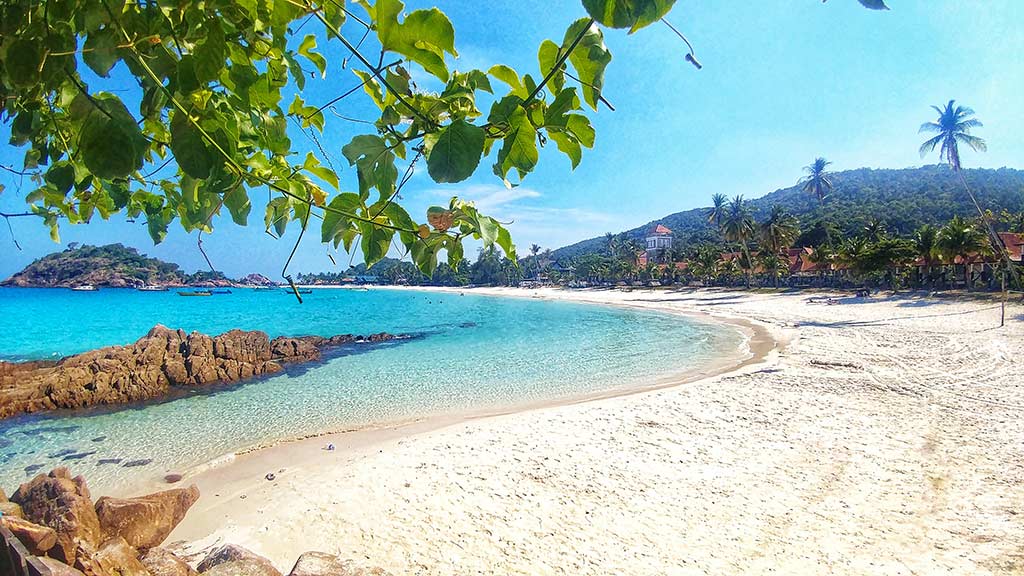 Redang Island the Malaysian Maldives
So what's your favourite place that you have visited? A common question that is hard to answer. For us when it comes to beach destinations around the world this is it! Redang Island Malaysia is a tropical paradise! Beautiful sand, crystal clear warm water, spectacular scenery, amazing marine life and largely unknown. Keep reading and discover why we call it the Malaysian Maldives.
Quick Index Redang Island
Why Go to Redang Island?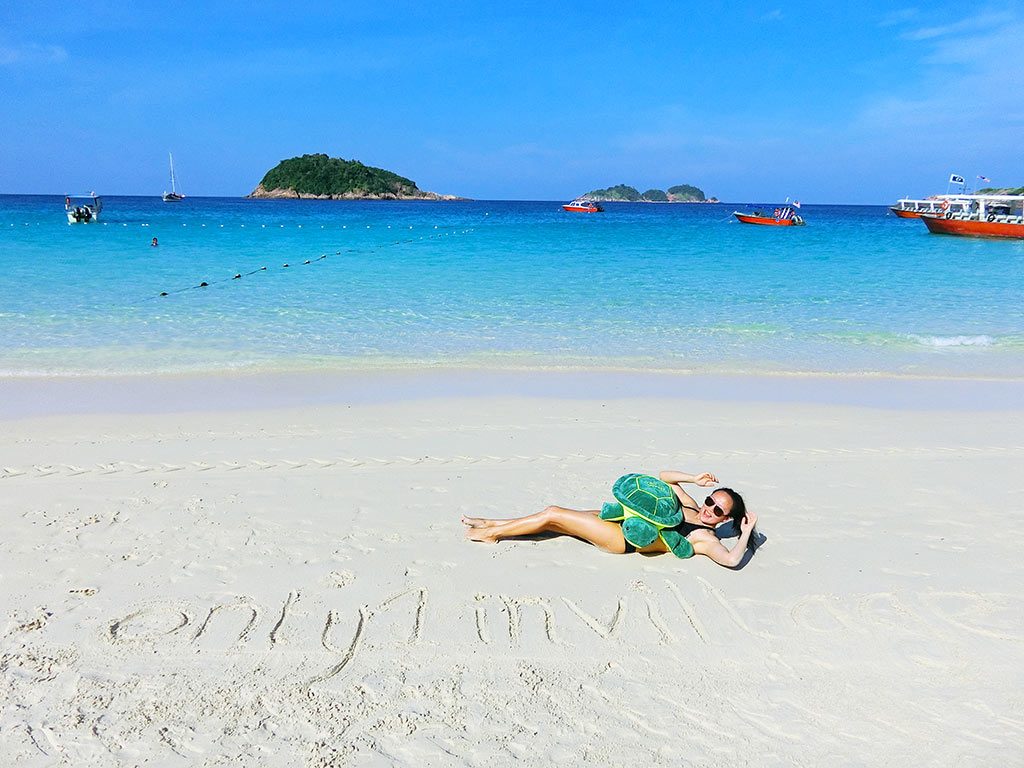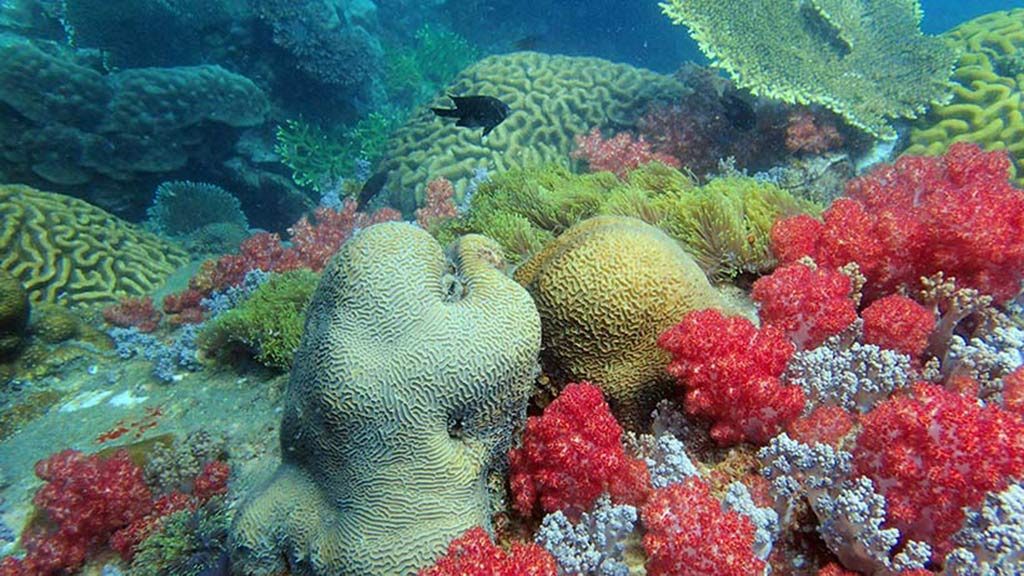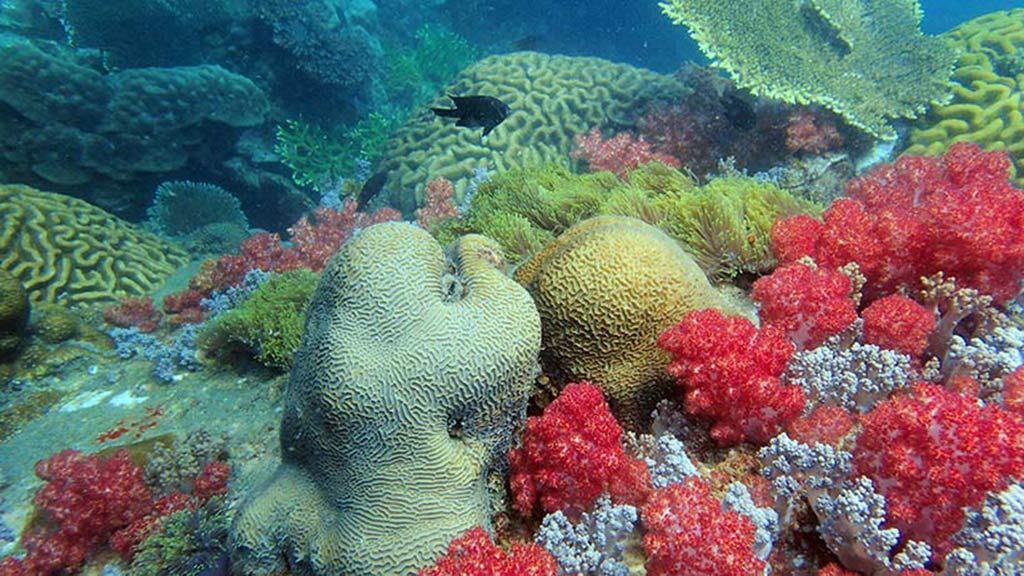 We are not joking! You don't even have to dive to see giant bumphead parrot fish, angel fish, giant clams and the clown fish are everywhere!!! Black tip reef sharks, turtles, puffer fish, red breasted wrasse and titan triggerfish are common sightings.


If your idea of paradise involves palm trees, frangipanis, sitting with your toes in soft, white sand, crystal clear warm water, amazing fish life and serious relaxation, you know what to do……..keep reading!



We know, we know, you want to go to the Maldives, but, trust us, the Maldives is a huge rip off. Do you enjoy paying $US5 for a 330ml can of Coke? Do you like getting your feet cut on sharp coral? Do you enjoy going for a 1 hour snorkel and seeing one grey coloured fish?

Is your idea of paradise worth $US400 a night for a 3 star resort? Unless you go to exclusive resorts which charge in excess of $US800 per night, the sand quality is not better in the Maldives. To us, Redang is the Malaysian Maldives!
Compare these photos. Can you tell which one is Malaysia and which one is the Maldives?


You can see where we're heading can't you? Malaysia has everything the Maldives has but on a budget! Train your brain to say Redang Island is my next dream destination. Forget about the Maldives. Malaysia or the Maldives? See, they are even beginning to sound similar!
Where is Redang Island?
Redang Island is part of Malaysia. The island itself is located in the South China Sea. Redang Island is NE of the capital Kuala Lumpur. It used to be a plane ride away, but the runway closed in 2016. It is a bit of a transportation collective to get to Redang Island, which makes it less popular than Langkawi. Yes, Langkawi is beautiful too, but far more crowded. We like the fact that it's difficult to get to Redang. A plane, a taxi and then a boat ride from KL, makes Redang Island quieter. Redang is close to our other dream destination in Malaysia, thePerhentian Islands.
When is the best time to go to Redang Island?
Redang Island weather is tropical. Redang Island has three seasons. Bloody wet and hot, bloody hot and dry and monsoon season. Best time to go is non monsoon season. June, July and August offer the calmest seas and best water clarity. Many places close on Redang Island from November to February. Always check in advance. The crossing over can be very rough in the monsoon season. Some boats may not operate at all. So the best time to go depends of what type of weather you like!

April is a good time to go to Redang too, but tidal waves bring in some rubbish from wherever all that plastic comes from. When we come in April, we spend a lot of time cleaning the beach.

It is however, nothing like the nightmare of rubbish you see on Indonesian beaches. September still has plenty of sunshine. Even in October, when you might get downpours of H2o, it doesn't last long! Basically Redang is an escape for the southern hemisphere experiencing Winter.

If you're bored of crowded European beaches in June, July and August, come on over to the Malaysian Maldives, of Redang! The sun shines all day long, the water is warm and clear and the sand is soft.
How to get to Redang Island

Option 1 – Getting to Redang Island
The nearest airport is Kuala Terrenganu. Kuala Terranganu is a 50 minute flight, from the capital of KL. KLIA2 and Air Asia offers the most number of flights to KT daily. From KT airport (Malaysians love acronyms) a 50 minute taxi ride takes you to Shandabhar Jetty. From there, a public ferry takes 90 mins to cross the South China Sea to our no longer secret paradise island.


Option 2 – Getting to Redang Island
You can also go to Merang Jetty and wait for a boat to fill up to get to Redang Island. Don't confuse Merang with Marang, which is totally different. The letter e makes all the difference. There is no jetty at Marang. You must go to Merang. Click here for the boat times from Merang Jetty to Redang. Note, we only use this for the return from Redang. We cannot vouch for the accuracy of the times going to Redang from Merang Jetty. Also, we have never booked online, we always pay cash.

However, the boats can be more crowded and you may have to wait for one to fill up.

Buy your tickets here to go to Redang if you turn up at Merang Jetty. Your accommodation can also buy your ticket in advance along with your taxi transfer from Kuala Terrenganu. Don't forget, you will also have to pay a small jetty access charge and the marine park fee. Have to preserve paradise! It won't put a dent in your budget. It's 30MYR for non Malaysians, 15MYR for children and senior citizens. That's the same fee for the Perhentian Islands marine park fee. If, like us, you go to Redang, from the Perhentian Islands, you don't have to pay twice!

Option 3 – Getting to Redang Island
If you love a bumpy, hold onto your bones boat ride for 50 minutes, you can also get to Redang Island from the Perhentian Islands! On arrival at the Perhentian Islands, we always go to Ayumni House, which is behind Tuna Bay resort and ask the lady there to arrange a boat transfer. The cost is MYR100 per person.


At least 6 people have to go to make it worthwhile for the 'taxi'. That's why you need to enquire at least 3 days in advance. In our experience, it's easier to island hop from Perhentian Besar to Redang Island and not the other way around.
If you're staying at the Taraas Beach Resort or Laguna Redang Island Resort, they will arrange all transfers for you. This includes a meet and greet at the airport in Kuala Terrenganu. Enquire with your accommodation.
What's there to do on Redang Island?
The things to do on Redang Island are all outdoors. This is not a tropical paradise where you want to stay in your hotel room. Some accommodation comes without TVs in the room, which we think is a great idea. How will you catch the moon rise? Yes, there is such a thing. Even massages, morning and evening yoga are an outside activity.

It's all about the 's' words. Sun, sea, sand and snorkelling! There's also some hiking, massage, reading and yoga. A few places will rent out kayaks and stand up paddle boards. Believe us, it's exhausting from dawn until dusk fitting everything in.

The snorkelling and diving is some of the best in Asia. The diving is also very cheap and the equipment you get is of a good standard. Diving instructors are knowledgable. If you're thinking of getting your PADI license, why not do it in paradise? It really gives Thailand, where J got certified a run for its money.


Redang is an underwater paradise. Every day, we are busy spotting resident turtles, clown fish, angel fish and rare sightings of bump head parrot fish.


Not to mention giant wrasse, titan triggerfish, black spotted cod, moray eels and sting rays!

Almost forgot about the schools of black tip reef sharks which smile at you as they glide past!

There is also pristine jungle, like on the Perhentian Islands.




Redang Island is, for us, the perfect mix of not too isolated and not too busy.

Nightlife consists of live bands at the various resorts. Thankfully where we stay doesn't have a band at all. Also, Sari Pacifica doesn't do live music, which means it is possible to sleep at 10pm.

During the day, you often have the powder white sand to yourself and 10 other western tourists. Asian tourists avoid the sun from 10 until 4. Your peace will be interrupted 3 times a day when the snorkelling boats come in and out.

Apart from that you can only hear waves, gently lapping against the shore. Oh and course people's conversations about the amazing fish!

What's the food like on a tropical island?
One of the things to do on Redang Island is to eat and eat and then eat some more. The Malaysian food is better than the western food. Eating out doesn't break the bank in Malaysia and Redang Island is no exception.

You'll need great coffee to go with that cake. Forgot to add the latte pictures! Here you go. You can get great coffee on Redang Island. OK, not Milan or Melbourne standard, but what else are you going to drink with your cake?





Where we stay on Redang Island

Our secret island paradise is out, so we might as well share where we stay. Our favourite place to stay on Redang Island is Coral Redang Island Resort. This is a 3 star resort.

Good value and modern with a prime position on the beach. What we like about Redang Island is that even though the hotels are built on the beach, they are well camouflaged. They are also about 20 metres back from the water.

The service is good and the restaurant is the best option for western food. We have tried every restaurant on the island. The organisation of transfers to and from the island is very good. Visa is accepted for paying the final bill. You cannot book via booking.com or expedia. You have to book direct with the resort.

There are two types of room available. Both have their advantages and disadvantages. Deluxe rooms are more expensive, better decor and you only have one neighbour. Deluxe rooms are two storey stand alone buildings at the front and centreof the property. The first 6 from the reception area have beach and water views.




Standard rooms are set further back from the beach. They are cheaper but are newer. They have a more plain decoration. The standard rooms don't have a fridge. The showers are more powerful, however than deluxe rooms. You have more neighbours, especially if you are in the middle floor. Beds are newer and slightly more comfortable than in the deluxe rooms. We like both rooms and have stayed in both. Both rooms have a massive safe. The safes are big enough to store laptops, something quite rare. There are also family rooms. There is a block facing the pool which is ideal for 2 kids and 2 adults in a sort of adjoining room.

Breakfast is included at Coral Redang Island Resort.

There is fruit, yoghurt, cereal, croissants and toast. There is also an egg station. Don't expect poached, egg white omelettes or soft boiled eggs. The egg station is strictly for fried eggs and omelettes.

There's always hash browns (English and Australian style), baked beans and some kind of starch like noodles or rice. On Sundays it's roti bread breakfast day! Our absolute favourite flaky bread with a yummy curry sauce.




Coral Redang Island Resort also have a very professional dive centre. Snorkelling and diving trips go out every day and the staff speak English, Mandarin and Cantonese in addition to Bahasa Malay. The equipment is modern and clean. If you have your own diving equipment, there is a small discount. So bring your oxygen tank, just joking! Waterproof cameras, masks and snorkels are available to rent. Life jackets, masks and snorkels are part of the snorkel trip package. Kayaks and stand up paddle boards complete your water sports adventures. Thankfully there are no banana boat rides or giant doughnuts on Redang Island.

The beach view frangipani villas are the only choice here. You have well padded veranda lounges and a king sized bed. The food isn't the best here. There's no live music at night which makes this and Coral Redang on the quiet end of the beach.




Laguna Redang Island Resort is a big development. Even though it is large it blends quite well into the scenery. This is rated as a four star resort and caters mainly for tourists on a package, which includes daily snorkelling. During peak season, the breakfast buffet can be chaotic!

If you want a pool for the kids and a jacuzzi for yourself you have to stay at Laguna Redang. Make sure you venture out between 11 and 4pm and you'll be like J (see picture below!)

Popular with Chinese tourists on a package. However, most Chinese people stay in the shade between 10am and 3pm, so you'll have the facilities pretty much to yourself during daylight hours. Beware as the temperature drops (by 2 degrees from 32 to 30) the vampires begin to come out and the peace will be shattered!


Located just next door to the big complex that is Laguna Redang is Redang Beach Resort. Yes, the names all get a bit confusing! This is also quite a big resort. The sand in front is powder white and has a volley ball net set up for the 5pm games. Note: no one plays before then, it's too hot!

This is a 3 to 4 star hotel, depending on your tastes. The rooms seem comfortable enough and you get the usual tea making facilities.


Expensive and posh for Malaysia. Read Tripadvisor reviews however, for the service. Commanding a whole white sandy bay all to themselves. The Taaras is a bit remote. Stunning location, definitely a mirror image of some Maldivian islands. Once there, you don't have many choices for food or activities. It's a place to stay if you want luxury and you don't want to leave the one beach.

Turtle spotting happens just in front of this luxury resort. So you don't have to pay for a boat trip, because this is where you end up. The turtles here are amazing! But, it is sad to see that the tour operators let people get too close. They also feed the turtles squid to encourage them to hang around. We don't like this practice and prefer to see our resident turtles on Long Beach.

There is a beach right next door which has the same soft white sand. We trek across the island and it takes about 50 minutes of pure sweat through the jungle. Don't bring anything valuable as there can sometimes be people ready to snatch your belongings. (see the jungle trekking pictures)
The beaches on Redang Island
Long Beach

Coral Beach

Used to be a resort Beach
This is where we want to buy and develop a resort! After that we want to set up house on this island, our beautiful Malaysian Maldives. There used to be a resort here and it is a bit eerie exploring here. But, go through Laguna Redang Resort, past their private jetty area and into the back area to get to Delima Resort and you will arrive here! We are always the only people here. We don't know what this beach is called. There are no facilities here obviously.

Well if we haven't convinced you that Redang Island is the Maldives on a budget, you'll have to go yourself and prove us wrong. We love it so much, we have been six times! Pop on over to the Perhentian Islands, our other fave Malaysian Maldives islands, while you're in the area!


Popular Posts

VILLAGE NEWS!
Subscribe to our newsletter to hear about unique travel destinations, when to go, what to see and other top travel tips!