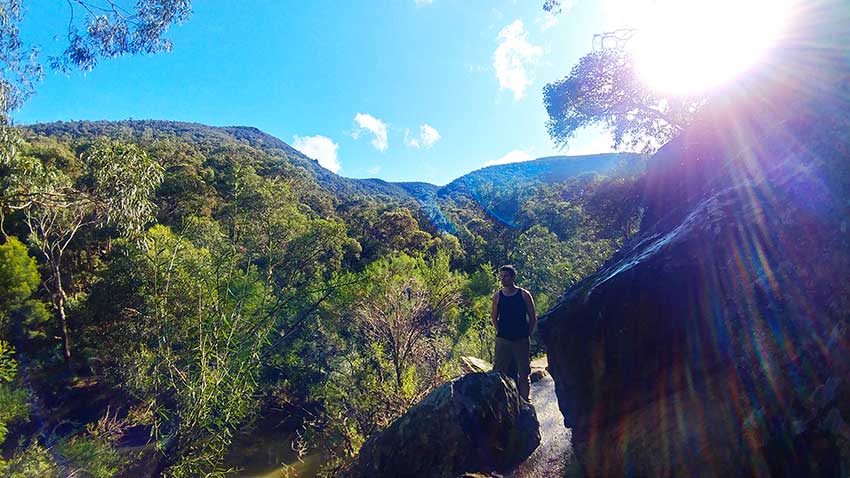 Grahams Dam Walk Lerderberg State Park
An easy walk that everyone will love! There's lots to see and explore along the river. Lerderberg Grahams Dam Walk is just 3kms long and can be completed in under an hour. A quickie, but a goodie! Remote enough to escape the city with a lovely river and rock escarpment. This walk is uplifting and good for the soul.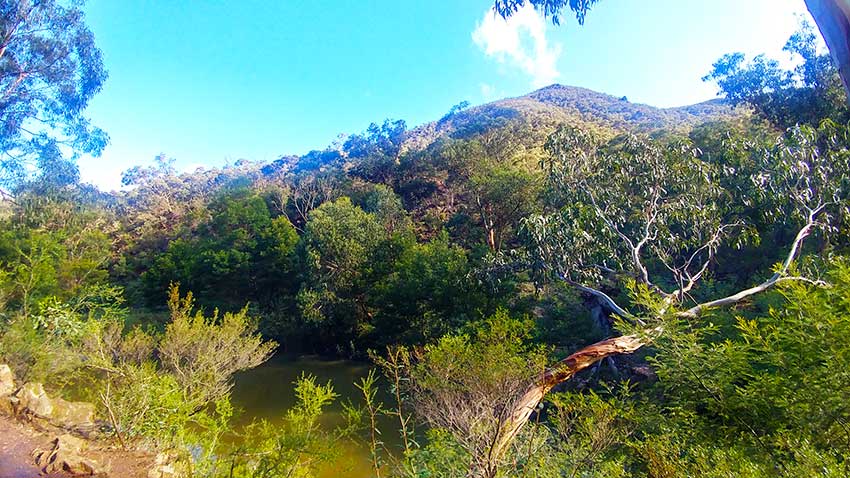 Set near Melbourne's' orchard growing area of Bacchus Marsh, Lerderberg State Park has something for every hiker. There's easy strolls, challenging and 3 day walks. All this variety just 1 hour and 10 minutes away from Melbourne. If you're coming from the satellite city of Geelong, Lerderberg State Park is just 5 minutes longer, at 1 hour and 15 minutes driving time.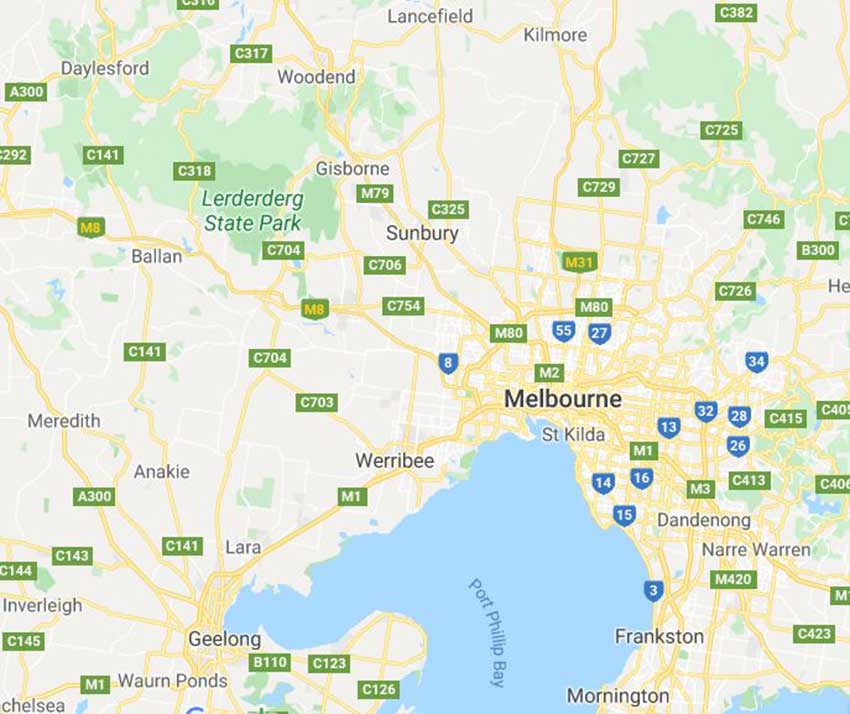 Check back later when we have completed the East Walk and Cowans Track Loop Walk, complete with European wasps and snakes! For now, we'll stick to a child friendly walk.

What is there to see and Do on the Grahams Dam Lerderberg Park walk?

There is a river, which you will cross twice via some giant stepping stones. Hill top scenery overlooks the shimmering river and beautiful native forest, while traversing a sometimes rocky path.


The rocks in the area for keen geologists are composed of tillite, unformed glacial sediments from the Permian era. That's really old! In addition to the tillite is glacial outwash sandstone and conglomerate. In essence you're walking on millions of years old land!

The "bush" contains many plants native to Victoria. The yellow wattle is particularly beautiful. For a flora of Victoria guide, click here.
Where is the Grahams Dam walk?

The Grahams Dam walk is within the Lerderberg State Park. It is accessed by the flat picnic area called Mackenzie Flat Picnic area. You can't miss the signs!

How long will the Grahams Dam walk take?
Under an hour's return journey. Obviously, if you stop off for a swim and exploration at the shallow river bed, then longer.
Top Tips for the Grahams Dam walk
When to go: To see the river flowing and cross over the man made stepping stones, Winter and Spring are the best times to go. Otherwise it will be dry in Summer and Autumn.

Car Parks: You park at Mackenzies Flat Picnic Area car park.
There are picnic benches here and a big lawn area too.

Dog friendly: The park is dog friendly, but, unfortunately, this particular walk prohibits your canine friend. Sorry.
Provisions: If you're planning on a swim in warm weather then a towel will be handy. You don't really need water as the walk is under an hour, so, you can leave liquids in the car.
Sun protection: Take the usual precautions for the season and your skin type. Check the UV index on your phone.
Shoes: Hiking shoes are not necessary. You will get sand in your shoes, so if you choose to wear sandals, plan in advance. There are parts that you need to go steeply downhill, so shoes with grip are recommended. However, you can get by with running shoes like we did. We don't recommend flip flops or thongs.
Mobile phone reception is very good to excellent.

Remember to check back soon, when we have completed other walks in the Lerderberg State Park.
Don't forget if you have done this walk, we would love to hear your thoughts. Please leave a comment in the section below.
Related Posts

VILLAGE NEWS!
Subscribe to our newsletter to hear about unique travel destinations, when to go, what to see and other top travel tips!