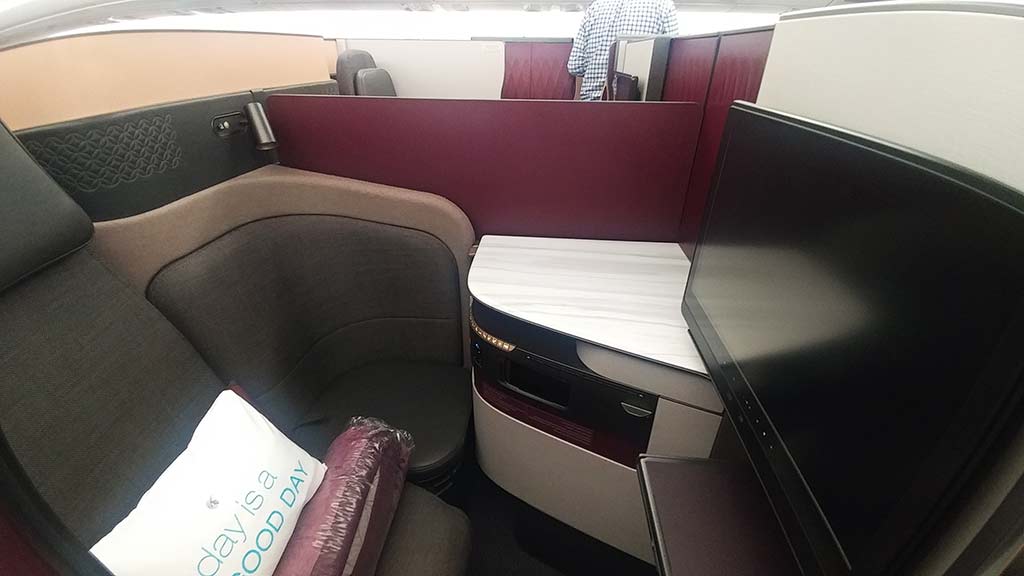 Qatar Qsuite A350- 1000 business class review
This is our most anticipated flight review yet! The business class Qsuites have really been a game changer for Qatar Airways. The first of its kind to offer first class like suites with extreme privacy. The two middle seats can be joined to make a double bed! Is that encouraging the mile high club????!!!! Wink, wink, nudge, nudge!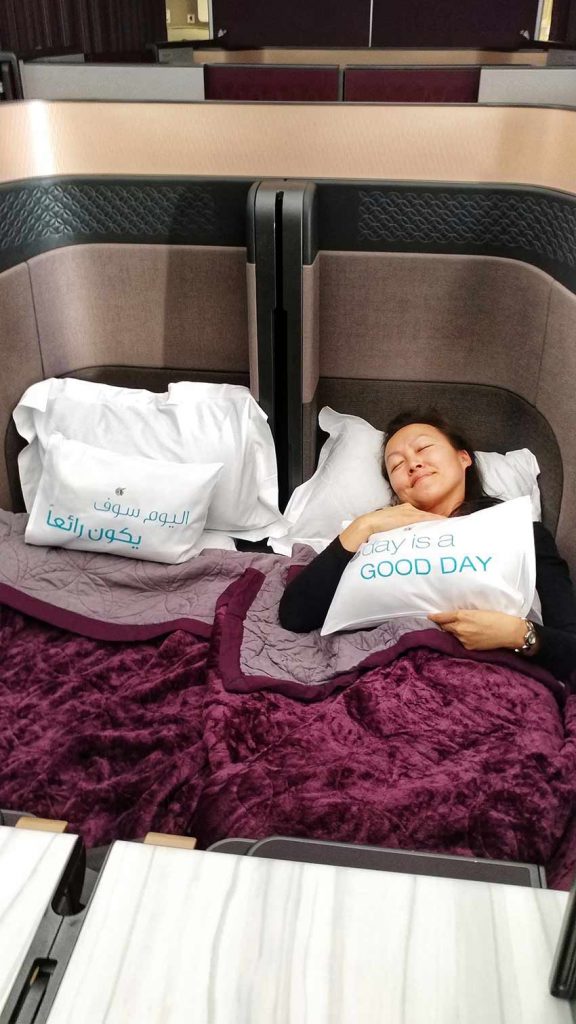 Read our review of the 7 hour flight from Doha to Singapore. It's an early morning start. Well, early for us, 8.30 am. We get on after a quick visit to the Al Mourjan Lounge in Doha.
Quick Index of Qatar A350 Business Class Qsuite
Find out which planes in the Qatar Fleet have the Qsuite
Not all Qatar business class planes are made equally! You are not guaranteed a Qsuite unless you are on the A350-1000. Some of the Boeing 777-200LRs will have Qsuite. Similarly, select Boeing 777-300ERs and Airbus A350-900s might have Qsuite. We did our research very carefully!
The Qatar A350 business class cabin
After a sumptuous feast in the Qatar Al Mourjan business class lounge in Doha we reluctantly board the plane. Just joking, any time we board a business class flight, we are pretty excited!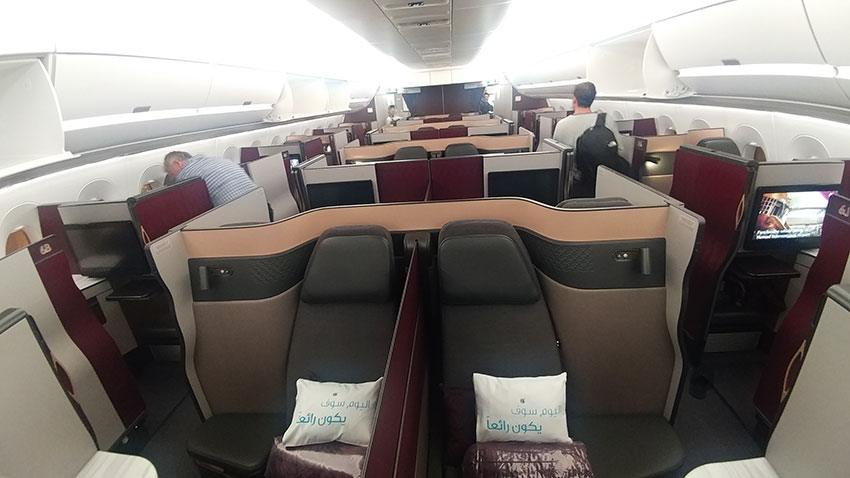 The configuration of the seats is a glorious 1-2-1. Off to a good start. This is one time where a window seat is great, when travelling alone. From the picture above, you can see that some seats face forwards and some face backwards.

The seats in the centre section that are closer together can make a double bed after take off! That's what all the fuss is about. A first class experience at a business class price is the selling factor here.

Qatar were the first to introduce sliding doors, like in First Class on some airlines. However, these doors are purely visual. They don't stop the sound of a crying infant from reaching your ears! Whether crying infants should even be allowed in business class is a whole other blog post!

Not only can some Qsuite seats convert to a double bed, but people travelling and actually 'doing business' can make a mini conference room of 2 opposite seats facing each other to form a group of 4. Qatar call this the quad set up. Movable panels can be opened up to form a social or business area. How cool is that?! On this particular flight, there were no people 'doing business'. In fact, the flight was pretty empty, about 14 people in total. Therefore, we don't have a picture of 4 people opening up the Qsuite dividers to make a conference room. Click here on the Qatar Airways website to see what the 'conference room' in the sky looks like.

The seat and its surrounds on the Qatar A350 business class cabin
Most seats are less than 2 years old. Qatar launched their first Qsuite in June 2017. If you're on a plane that just got configured with Qsuite, then it could even be new! There's a total of 46 seats.
When sitting up right for take off, there is a huge amount of legroom. Well that's what business class is all about!

There is ample storage in the overhead lockers/bins and each one is labelled with your closest seat number. Additional storage can be found in the padded 'armrest' which contains the noise cancelling headphones and a bottle of water.



In flight entertainment
Every passenger in business class gets 60 minutes of complimentary wi-fi internet on board.

When you have finished 'Whats apping' and uploading Instagram stories to make your friends jealous, there's plenty to watch and listen to. The screen is huge and has very good resolution. The latest Hollywood, Bollywood and world cinema films are available. In addition, you have TV series, documentaries and more music than you can ever get through.

The electronics around the seat
You can charge your laptop, connect to HDMI and USB ports from your seat. Everything is within easy reach and nothing is hidden or in a hard to reach corner.


To control the seat itself there are a variety of self explanatory buttons.

The 'DND' button is an acronym for 'do not disturb'. So much better than sticking a sticker onto your seat in economy class. The Qsuite seat also comes with a massage function which is very effective.

The amenity kits on the Qatar A350 business class
Like the amenity kits from London to Doha, the kits are filled with Castello Monte Vibiano toiletries inside a Bric's bag. Bric's is an Italian luxury travel bags and fashion accessories company. It boasts that all merchandise is made in Italy. On top of that it remains a family company.

The bags are definitely classy and ones for keeping for future travels.

The Monte Vibiano toiletries are hypoallergenic, paraben free, nickel tested and cruelty free.
The food and beverages
It's breakfast time on the Doha to Singapore flight. The mains to choose from are Arabic, Western or Asian. Having had the Arabic meze in the Al Mourjan Lounge in Doha, we opt for the Asian prawn congee.
What we really like about the Qatar food service is the cute little touches like the mini salt and pepper grinders and the table light.

It's a short flight from Doha to Singapore, about 7 hours. After catching a few hours of shut-eye it's feeding time again. There is a choice of light bites ranging from a mixed garden salad, Thai red curry with seafood, spring onion panini with beef fillet or fresh finger sandwiches and scones. If none of that takes your fancy, there's a snack platter, where you get snack size portions of world cuisines.

The service of the Qatar staff
Throughout the flight, the crew introduced themselves and asked for feedback on their service. The Qatar staff react with lightning speed to the call button. They are eager to promote the Qsuite and explained the cabin features in detail. The crew offered to take numerous photographs and open up the quad set up. We found the Qatar crew to be very friendly without being over bearing. Top marks!
The Qatar A350 business class toilets
Will they be as special as the cabin? Are they big enough to swing a cat in (like in the BA A380 business class)? Is the toilet tissue 3 ply? These burning and very important questions will now be answered!

The tissue paper isn't 3 ply, it's the same old rough stuff you get in economy. There is a box of disposable razors, toothbrushes and combs in case you come on board unshaven and with bad breath.

The Qatar A350 business class bar
Unfortunately only the Qatar A380 business class product has the bar. You have to ask yourself, what's more important the bar or the seats? You can get the bar effect by ordering as many cocktails on demand and glasses of champagne as you can manage!
Summary of the Qatar A350 -1000 business class cabin
Firstly, we love the layout of the Qsuite cabin. The flexibility of transforming spaces into work and leisure zones for people travelling together is fabulous. Solo travellers are not neglected either, with the best window seat view and privacy screen.
Secondly, the seat comfort in all modes is good. Some people may experience issues with the table when eating. If you're very tall, your knees may bang against the underside of the table as you cross and uncross your legs.
Thirdly, the Qsuite is modern, clean and has great electronic features. The mood lighting enhances rest, even though it isn't ideal for taking photographs.
Qatar Qsuites A350 vs Emirates A380 Business Class
How does the Qsuite experience compare to our current favourite business class product, the Emirates A380?
Well, let's do the scoring!
The first let down for Qatar is the lack of chauffeur service. Getting a complimentary ride to and from the airport is a big plus in our eyes.
Secondly, sorry Qatar, your flagship AL Mourjan lounge in Doha, misses a few points. In terms of food presentation and choice, shower facilities and of course, who can compete with the Moet and Chandon Lounge Emirates has in Dubai?
A plus for Qatar Airways is the larger screen. Size does matter! The Qatar screen (21.5 inches) is 3 inches wider than the Emirates screen (18.5 inches).
The second plus for Qatar Qsuite is the sliding door, which none of the Emirates fleet in business class have.Optimum privacy is guaranteed on the A350-1000 fitted with Qsuite seats.
Emirates win back a point with the food and beverages. The quality and taste of the Emirates dining experience is superior to Qatar's, notably the choice of premium alcohol, served on board.
Just for the flight experience, the A350-1000 Qsuite is the better product. However, overall, in our opinion, if you include the lounge and the limo service (pre and post flight experience) we will still pick Emirates A380.
If you're looking for cheap business class flight deals direct to your inbox, we recommend luxuryflightclub.com
Related Articles

VILLAGE NEWS!
Subscribe to our newsletter to hear about unique travel destinations, when to go, what to see and other top travel tips!