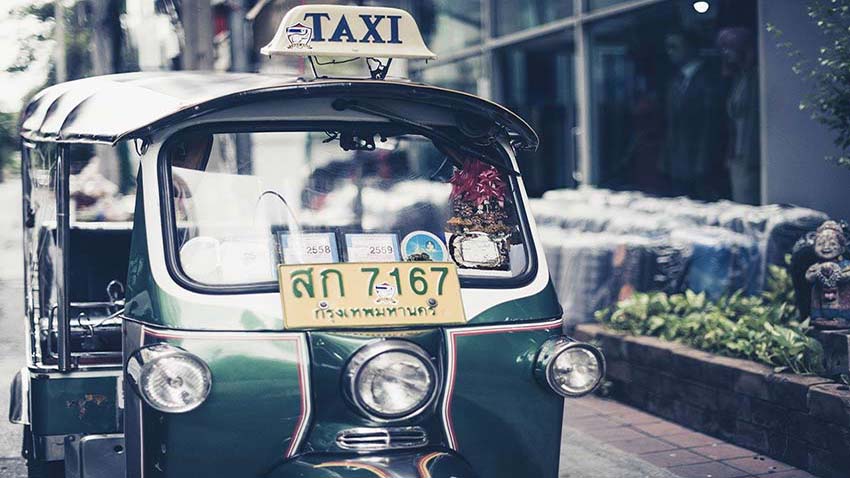 Getting to and from Don Mueang and Suvarnabhumi Airport Bangkok
Flying into or out of the Thai capital, Bangkok? Getting to Suvarnabhumi Airport from downtown or Don mueang needn't be a nightmare. Don't make rookie mistakes and get ripped off as soon as you land. Avoid being the farang (caucasians) who falls into every tourist trap. Whether you remain smiling in the Land of Smiles, depends on your airport experience.
Want to know how to get to Suvarnabhumi Aiport cheaply, or better still, for free?
Landed at the old airport, Don Mueang and thought you could walk to Suvarnabhumi Airport? Think aga01in. The two airports are no where near each other. You definitely cannot walk. Fear not, however, there is a free, very comfortable bus that transfers you between the two airports.
How to transfer between Don Mueang and Suvarnabhumi Airport
Allow at least four hours between flights when you need to transfer between Don Mueang and Suvarnabhumi Airport Bangkok. Don Mueang is mostly used by the low cost carrier Air Asia. Also Nok Air and Thai Lion Air, use Don Mueang, the old international airport for Bangkok.
After immigration you find yourself contemplating one of two options. You can get a taxi and pay 350 baht to 500 baht or you can get a free bus! If you do get a taxi, make sure you get a Grab Taxi, South East Asia's answer to Uber.
We will now cover the free transfer service between Don Mueang and Suvarnabhumi Airport Bangkok. The two airports are no where near each other. Don't even think about walking so you can get a taste of the 'real Bangkok'!
Get your passport stamped by immigration officials and head to Gate 6 on the same floor.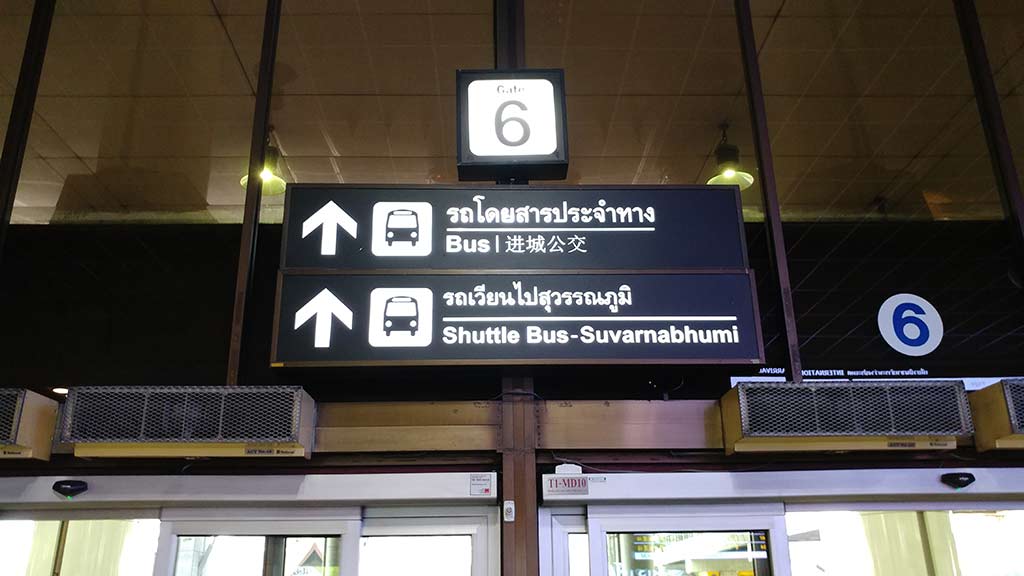 You cannot just get on the bus however, even if it is there. You must show your next flight either on a phone or paper to the person behind the counter. Sometimes they will need to see your passport too. Your hand gets stamped and then you may board the bus.
Frequency of the buses between Don Mueang and Suvarnabhumi Airport
The bus runs every 12 to 30 minutes.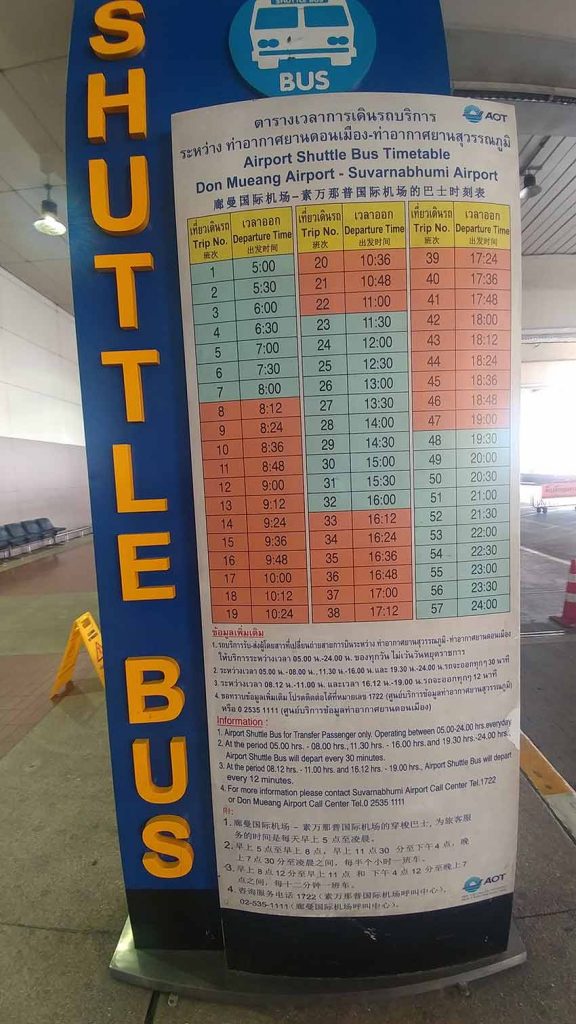 Everything is well signed and the buses run on time. There is even a live screen showing you where the current bus is and an estimated time of arrival. This screen is located just under and to the right of the Gate 6 sign.
Journey time between Don Mueang and Suvarnabhumi Airport
We have heard of the journey taking up to 2 hours, but our journey was only 40 minutes.
The route is along an elevated tollway. Of course, you don't need to pay anything. The whole service between Don Mueang and Suvarnabhumi airport is free of charge.

Inside the free bus between Don Mueang and Suvarnabhumi Airport
Inside the bus it is very clean. Bring a jumper or jacket, the air conditioning is ferocious.

Inside the bus, there is plenty of space for luggage. The suitcases can be securely stored in robust metal cages. Bringing a surfboard or a golf bag isn't a problem either. Our bus was quite empty. If there is a sudden rush we don't know if standing room is allowed.

There are only 23 seats. Each seat has a seat belt! The seats are made of faux leather and are padded which make them quite comfortable.


Sitting up high you get a good view of the skyscrapers and concrete of Bangkok. If you have visions of temples and padi fields, you won't see them on this journey between the two airports! Bangkok is a modern metropolis with continual construction projects.

All in all, a very impressive free service offered to passengers who need to transfer between Don Mueang and Suvarnabumhi Airport Bangkok. Naturally, the bus runs the reverse route!
Like many South East Asian airports, the shouting and hassle as soon as you exit can be down right frightening. If you're travelling with children, beware! South East Asian taxi drivers may be small in stature, but, they are very, very persistent!
Hardened backpackers always head to the bus stops or the train station. Some travellers will have booked a transfer with their hotel. Others may book a more formal car, marketed as a limousine. In reality the Mercedes is just an expensive taxi ride. Might as well take a taxi. Forget Uber. Uber doesn't exist in Bangkok. We always use Grab in South East Asia. Grab is the local alternative to Uber started by two Malaysians who were sick of the overcharging and drivers taking the 'scenic' route to make more money.

Our top tip for not getting ripped off is to download the app Grab, before you land. You can pay by cash or add a credit card. Grab, like Uber, has now expanded into food deliveries. The ride to downtown Bangkok is about 400 to 600 baht.
If you have time on your hands, by all means get a bus. Buses are cheap and some will have have fierce air conditioning. Others though will rely on windows for air conditioning! They are run by the company AOT. Fares are 35 baht to most downtown destinations. Getting a bus from downtown Bangkok is much more difficult. We don't recommend it. Spend the money on a Grab ride share car instead. You don't want to miss your flight.

Getting the train to and from Suvarnabhumi Airport
Your next option is to get the train. This can get very crowded, but, of course, you won't run into any traffic. There are three trains to get you to downtown Bangkok. The airport link train has seats arranged in groups of 4, 2 facing each other. Train times and details can be found here
There is one express train to Phaya Thai station which connects with the BTS (elevated train system) with no stops – Phaya Thai Express Line

The Makkasan Express Line, you've guessed it, stops at Makkasan station.
The SA City Line to Phaya Thai station has 7 stops, Paya Thai, being the last.

Related Articles

VILLAGE NEWS!
Subscribe to our newsletter to hear about unique travel destinations, when to go, what to see and other top travel tips!