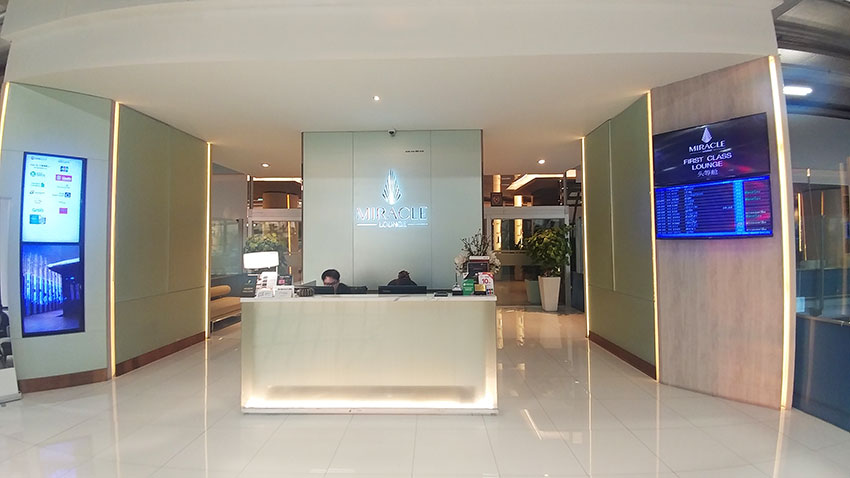 Bangkok Miracle First Class Lounge
Here is our review of this shiny and modern lounge. Bangkok Miracle first class lounge is one you can pay for. Contrary to its name, it is not for first class passengers. Will water get turned into wine? How miraculous is the lounge? Read on to find out!
This lounge is part of the Collinson Group. The Collinson Group introduced the Priority Pass Program which basically allows anyone on any airline, regardless of travelling class, to use their network of lounges. The maximum time you can spend in here is 2 hours. Compare what you get in a fee paying lounge to other business class lounges directly affiliated with airlines such as Emirates, British Airways and Qantas.
Before entering, we expect it to be a bit like the American Express lounges in size and facilities offered. It is way fancier than an American Express lounge. Keep reading to find out why!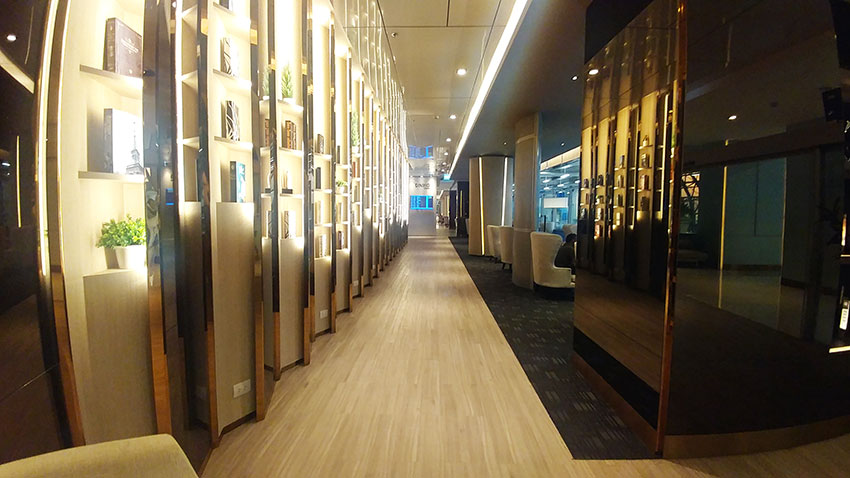 Quick Index Bangkok Miracle First Class Lounge
the Bangkok Miracle First Class Lounge Location
After passport control you go up to Level 3. The Bangkok Miracle first class lounge is located opposite gate D6. It is well signed, so you will be able to find it easily.
Our next flight is to Dubai via Emirates in economy class. Yes, we fly economy too! We don't get to go to the Emirates business class lounge in Bangkok, unfortunately.
Bangkok Miracle First Class lounge dress code
There doesn't seem to be any particular dress code enforced. However, be careful to cultural sensitivities in many countries.
Who can Get In
Anyone who has joined the Priority Pass Program and their guests! You can book a slot online or just go from lounge to lounge to see which one has space during busy periods.
Seating
The lounge is a good size. There is a variety of comfortable padded armchairs for lounging in and harder chairs at dining tables. They come in a variety of colours, textures and comfort levels.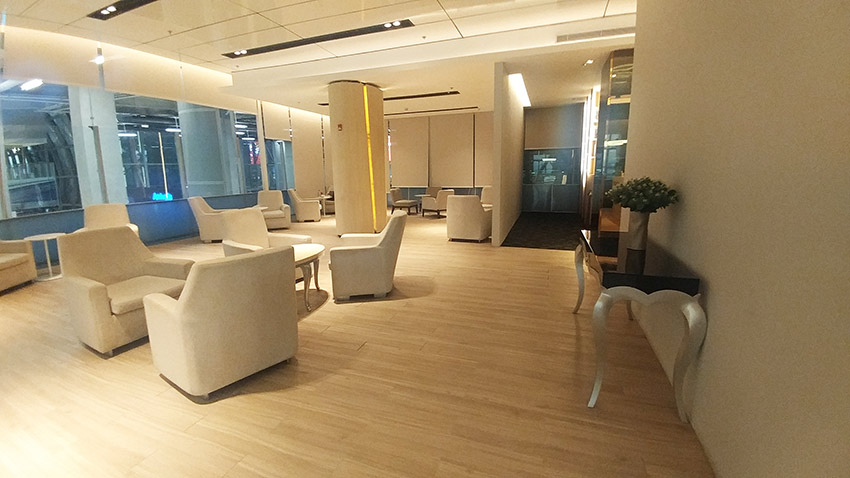 The armchair style chairs have a small coffee table in front of them. You can bring your finger food and drinks to these areas. As usual, the tables are way too small to fit much onto them. However, most people aren't travelling in large groups and you can always put two tables together, if the need arises.
When you walk past the seating area, in the picture above, you come to the dining area. There is a long dining bench to eat. If you prefer looking at your dining companion, there are smaller square tables with 4 chairs around each table.


If you turn left, when you come in there is another area of various seating available arranged in mini zones.


There's a business area with a long communal desk with charging points. It's at the back of the lounge.

Bathrooms and Showers
It's shower time! There are two showers in the Bangkok Miracle lounge.


They are quite new, so still shiny and clean. The soap is of an unidentified brand. If you're fussy or have sensitive skin, we recommend you bring your own.



Food and Beverages
Most business class lounges change their food according to the time of the day. We visit at 4pm so in between lunch and dinner time. There's a reasonable variety of hot and cold choices, including some unique Thai food. However, there are breakfast items available. This is probably because the lounge wants to provide a 24 hour menu.
The food is rather reminiscent of an American Express Lounge. It is not quite up to the standard of an airline lounge like Emirates, Singapore Air or Cathay Pacific. The food selections however, are better than an American Express lounge. Plus, there is the added benefit of made to order dishes.

There's no made barista made coffee, instead it's a machine which whips up your latte or capuccino. Tea consists of a heated water jug and various caffeinated and herbal tea bags for you to choose from. If you need milk, there is milk in the fridge.
You do however get to order a selection of dishes, made freshly upon request. They are quite small, but, if you're hungry, you can order more than one!
The Food
The best part of the Bangkok Miracle First Class Lounge is the made to order little dishes. We say little, because they really are small! You can order two at a time and they come out of the kitchen with lightning rapidity!

We really want to try everything but feel bloated so we only get the won ton soup to share.

There is a selection of hot food in the silver serving dishes with lids.

There are 5 hot dishes on offer. The most colourful dish is below. The range and taste of food is good. There are western and eastern options.

Throughout the lounge there are sweet and savoury treats. There are some wrapped foods, presumably so you can take them away.


There are two sides to the lounge and the food on both sides is the same. You can only get the freshly made dishes however, on the dining room side.

The beverages
The fridges contain the usual soft drinks, like, Coca Cola and Sprite, water and beer.

There is one red and one white wine offering. The hard liquor consists of familiar worldwide brands you can buy in the supermarket. It's make your own and help yourself time!

The hot drinks selection is tea and coffee.


There is no bubble tea, which is a current craze in soft drinks. Basically it's milky sweet tea with tapioca pearls in it. Know any lounge that serves this kind of tea? If you do, let us know. Maybe in Taiwan, where it originates from?
Wi-fi and Charging Points
If you get a wall seat, there are sockets in the wall by the armchairs. If you don't, don't panic! Look down at your feet and you will find charging points in the floor. The wi-fi did not seem to work in the lounge and we were too busy eating and taking photos to ask someone!

About the Collinson Group and Priority Pass
The Collinson Group is behind the huge network of airport lounges across the globe, that you can pay for. They have approximately 1300 lounges worldwide. They claim that their lounges 'transform the airport experience from an endurance test to a moment of indulgence'. We can certainly agree with the sentiment of endurance when you fly economy class.
The idea of getting away from the noise and crowds of airport terminals for the masses is great. Whichever airline you fly with, you can gain access into one of these lounges by paying for each visit or if your membership allows, gratis.
Priority Pass membership rates
Here's how much it will cost you to get into a Priority Pass Lounge.
There are three membership tiers: standard, standard plus and prestige.
Each tier gets more expensive as you would expect. Everything is priced in US dollars and converted back to your local currency when you join.
Standard yearly membership is $99 USD. Each time you want to use a Priority Pass Lounge you pay USD $32 and so does your guest.
Standard Plus yearly membership is $299 USD. You get ten free visits per year and thereafter $32 USD and so does your guest. Note, your guest doesn't get 10 free visits!
Prestige annual membership is $429 USD. Every time you visit a Priority Pass Lounge, it's free for you! Your guest pays, you've guessed it $32 USD to join you.
About Suvarnabhumi International Airport
Suvarnbumphi is a huge airport in Bangkok, the Thai capital. The airport itself is quite new. It was completed in 2006. Suvarnabhumi airport is all glass and metal, a shiny modern mega building. Previous to this, Don Meuang Airport was the international hub for flights into and out of the City of Angels. Yes, to Thai people 'Krungthep' is the city of angels. Only foreigners call Bangkok, by the name, well, Bangkok.
Flights still land and take off from Don Meuang. Notably the low cost carrier Air Asia still uses Don Meunag International. The 'new' Suvarnabhumi Airport has a direct sky train link to Phaya Thai station which is on the co- constructed German – Thai built sky rail (BTS – Bangkok Transit System). You can also get a free transit bus between Don Meuang and Suvarnbumphi.
Final Thoughts
Here's a summary of what you get and what you don't in the Bangkok Miracle First Class Lounge.
You are on limited time. You can stay for a maximum of 2 hours only. However, we stayed longer and no one asked us to leave!
It's quite a large and spacious lounge with some seats overlooking the main terminal. This means you can hear all the noise of the people at the gates nearby. But, that also means, there is an occasional plane to look at.
You get some natural light and free wi-fi.
There's a shower if you need to freshen up.
What you don't get is gourmet food. Don't expect the food to be up to the standard of a 'real' business class lounge. However, the food is quite decent.
You also don't get premium alcohol and barista made coffee. All in all, it's a decent offering and a space to get away from the crowds in the main terminal building (even though you can see people through the glass!)
Related Articles

VILLAGE NEWS!
Subscribe to our newsletter to hear about unique travel destinations, when to go, what to see and other top travel tips!