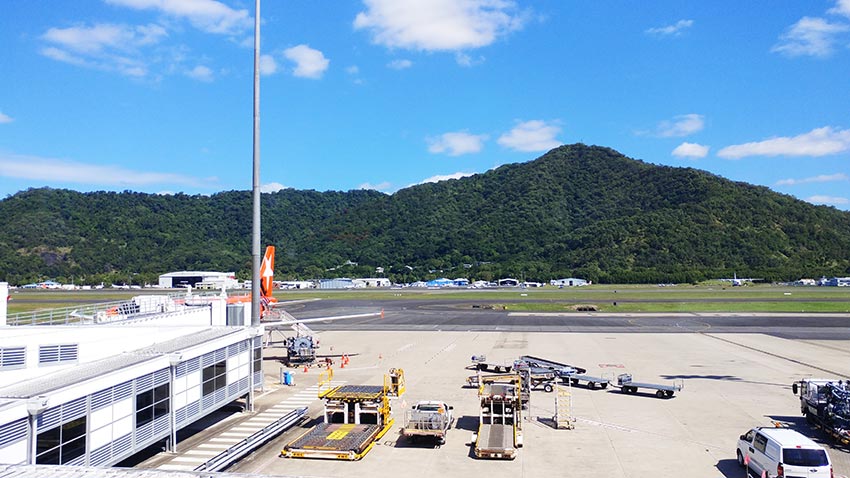 Qantas Club Cairns Business Class Lounge
Welcome to the Cairns Business Class Lounge in tropical North Queensland Australia. The Qantas Cairns business class lounge has one of the best tarmac views in Australia. This lounge is located in the domestic terminal and has been recently refurbished.

Quick Index Qantas International Business Lounge Cairns
What is the Cairns Qantas Club business class lounge like?
Cairns is an international destination with connecting flights from Singapore, Tokyo, Port Moresby, Shenzen and Auckland to name a few. This review is for the domestic lounge. Qantas Club members can access this lounge. If you have a complimentary pass issued by a credit card company, this will be your lounge at Cairns domestic terminal. The Cairns domestic lounge is reasonably spacious and has the usual neutral colour palette of other Qantas lounges both in Australia and around the world. Snacks and light options are available throughout the day. There are both hot and cold options. Full bar service (after 12pm) and barista made coffee for beverage options.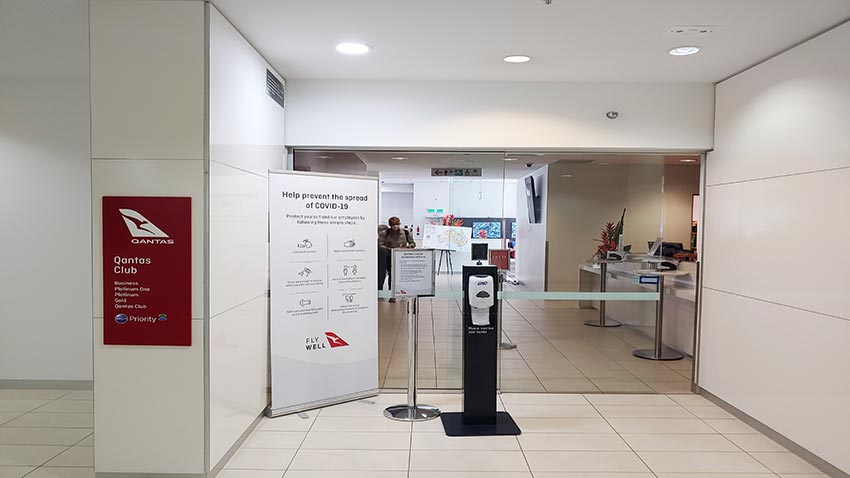 Seating and Wi-fi
All Qantas business class lounges offer comfortable seating and a place to charge your devices. It also has a dedicated office area complete with printer and photocopier.

There are lounge style type chairs, chairs and tables, bench seating, armchairs and stools.

Like the Qantas Club in Melbourne you can choose to be more familiar with people or distance yourself!

The best seats have to be the ones by the window, where you can watch the planes ascend against a green mountain background.

The worst seats are the hard wooden seats, but they are the best height for eating at, think more dining chairs than armchairs.

Conducting Business
Believe it or not, some people actually use a business class lounge to conduct business! There is a printer available, but, we have never seen anyone use a printer in a business class lounge.

Plenty of people have their laptops out, checking e mails and browsing the Internet. Whether they are actually working is anyone's guess. There are charging points at a ratio of about 1:4 seats. Wi-Fi is automatic, there is no need to ask for a code. As soon as you enter the Qantas Club lounge in Cairns your device will pick up the Wi-Fi.
Children's Play Area
If the little ones are tagging along, there is a good space for them to play and run around.

Food options

Similarly to other domestic lounges in Australia for the Qantas Club, the food is not as good as the non Qantas Club lounge. On the plus side, there is a range of hot and cold options. If you're inventive, you can put together a complete meal with hot soup for a starter!



If you arrive at the Qantas Club Cairns at breakfast time, there will not be any hot options, according to the picture above. We would assume that if this option is on offer in the future, it would be a selection of Full English breakfast items. These would be hash browns, sausages, mushrooms, bacon, fried eggs and maybe some grilled tomatoes. If you want to see what the Full English looks like, click here, for a review of the Qantas International lounge Melbourne.



If you're trying to go for the mini restaurant experience and like to finish your meal off with something sweet, there are a few little bites.

Beverages
Soft drinks are on tap. Alcohol is offered both self service and bar service.


Coffee is a national interest in Australia, so naturally it is on offer in every Qantas Club lounge in the country. You can get the DIY one from an automatic machine, or get the barista to do it.


Shower facilities
If you're feeling grubby and need to freshen up the good news is, showers are available at the Qantas Club Cairns. If you have paid for a membership to use the lounge don't waste it.

The showers aren't flash like in an Emirates or Qatar lounge, where the showers resemble mini bathrooms, but hey, you'll smell better and water is water right?


Final Thoughts
The Qantas Club Cairns domestic terminal is a pleasant lounge to while away a few hours. You probably don't want to spend more than 2 hours here. If you have the option of using a lounge or not using a lounge, always use one! Don't expect gourmet food and fine wine. Think of it more as a pleasant cafe experience with the option for a shower.
A lounge is always a better option than slumming it with the masses in the main airport terminal!

Related Articles

VILLAGE NEWS!
Subscribe to our newsletter to hear about unique travel destinations, when to go, what to see and other top travel tips!