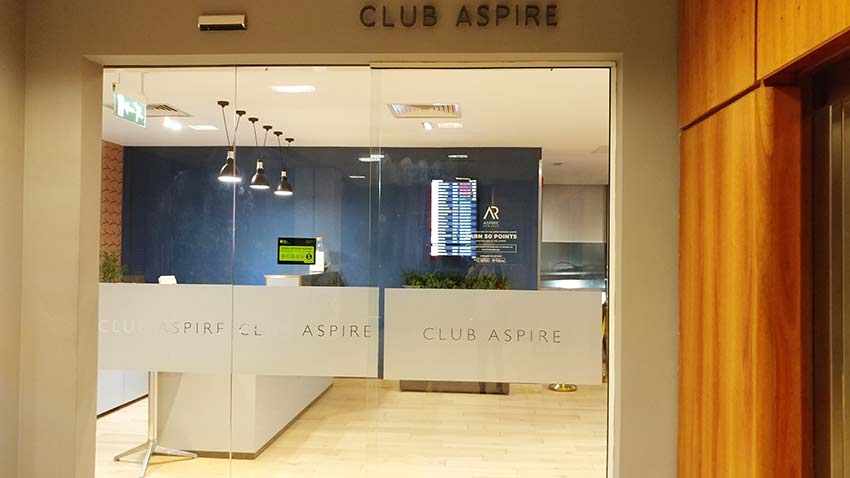 Qatar Business Class Lounge Gatwick also known as the Club Aspire lounge Gatwick
Qatar does not have a business class lounge at Gatwick Airport in London. Instead Qatar business class customers must use the Club Aspire lounge Gatwick. This is probably the worst business class lounge we have ever been to! Yes, even the one in Denpasar, Bali is better! At least the one in Bali had a shower. Albeit a shower you wouldn't want to use, but, still, it has a shower!
Before entering, we must say that Qatar make it very difficult to find out which lounge is used at Gatwick for business class passengers. After many internet searches, we find out that Qatar business class passengers use the Club Aspire Lounge at Gatwick Airport. After even more reading of reviews of the Club Aspire Lounge Gatwick, we are not anticipating a great experience.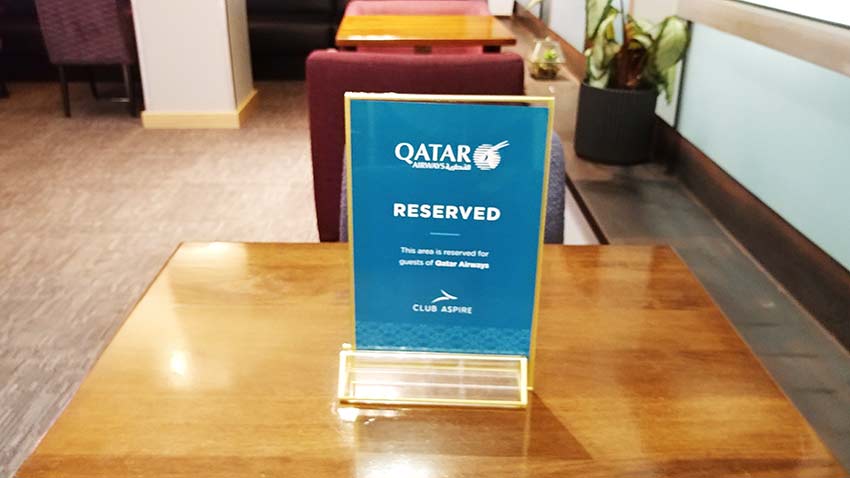 The Club Aspire Lounge is also in the Priority Pass program. This means that entry to the lounge can be paid for and therefore is not that exclusive. Avoid this lounge if possible. We checked out the No.1 lounge before this one and should have stayed in it. Little did we know. Oh well, what doesn't kill you makes you stronger as the saying goes!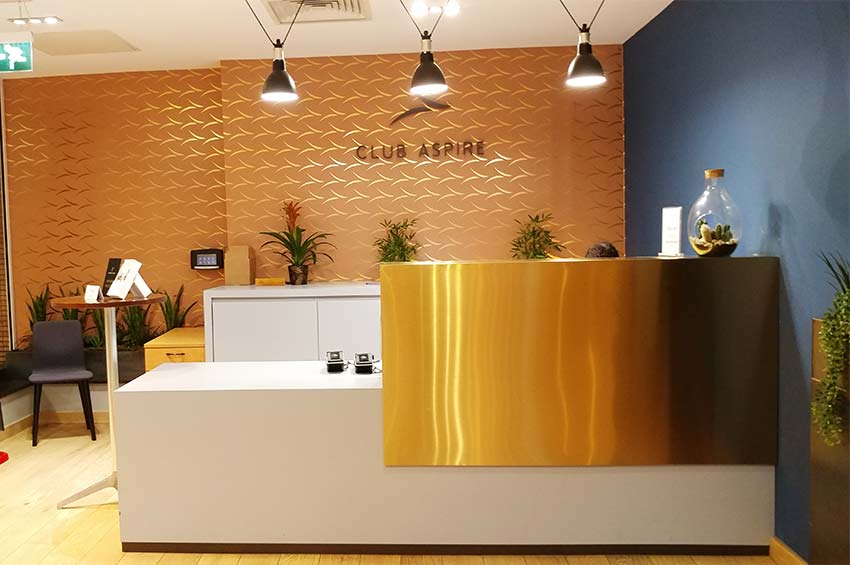 Here is our review of the lounge that Qatar business class passengers use in London Gatwick.
Quick Index Club Aspire Lounge Gatwick
the Club Aspire Lounge Gatwick Location
After passport control you go down into the 'Lounge Pavillion' area. Gatwick North is not a large terminal building. You cannot get lost. Just follow the signs for airport lounges.

Club Aspire Lounge class dress code
There isn't a dress code for this lounge. People are wearing jeans, shorts, track suit pants/bottoms and T shirts. There are a few people wearing shirts, but, the majority of people are wearing casual clothes.
Who can Get in
Anyone can get in since the Aspire Lounge is a paid lounge too. It is part of the Priority Pass Program. Qatar business class passengers are given a voucher which gives them free access to the Gatwick Aspire Lounge. There is a special area cordoned off for Qatar business class passengers, but it's not great! Our top tip, if you're a Priority Pass member, go to the No.1 Lounge instead.
Seating in the Club Aspire lounge Gatwick
The good news is that the lounge is quite new. There are 2 seater sofas and armchairs in a purple colour with lots of soft padding. The seating throughout the lounge is actually good and has variety.

The single chairs with the small tables and the padded wall section are very comfortable.

The lounge has different seating zones and near the TV there's a place where groups can congregate on high backed leather booth like seats, you would find in a restaurant.




Bathrooms and Showers Club Aspire Lounge Gatwick
This is an easy part of the review. There are not any showers!!! Remain smelly and un-refreshed. The toilets smell like they could do with a good clean. There are bits of toilet tissue on the floor, which isn't a good look.

Food and Beverages at the Club Aspire lounge Gatwick
The food and beverages are laid out in the centre of the lounge on two stone benches.

We visit in the evening, since we have a 20:40 hrs departure time to Doha with Qatar Airways on the 787 -8 Dreamliner plane. Note it isn't the Qsuite.
The food choices are appalling. We can barely bring ourselves to eat anything. Everything looks dry and tasteless. The food looks like it has been sitting there for a long time.


The Dinner
We're going to loosely call this dinner, by default. It's evening when we visit. There are breakfast items like a pancake machine.




The beverages
The first shock is that you have to pay for champagne or Prosecco!

Any international business class lounge worthy of its class should have ALL beverages, alcoholic or non alcoholic, for free.
The selection of alcohol is pretty much like the selection in other Priority Pass lounges, like the one in Bangkok we have also reviewed.
The tea selection is pretty standard. Black tea and herbal teas by Twinings. At least it's not Lipton black tea! Every true Brit tea drinker knows Lipton black tea sucks. We mean really sucks, you need about 3 tea bags per cup! Sorry to go on about it, but C is British and knows a good cuppa!

There's an uninspiring coffee machine with soft drinks on tap next to it.
If you look down when you are at the centre bench, you'll see a fridge with juices in it.

Wifi and charging stations


Final Thoughts on the Club Aspire lounge Gatwick
Here's a summary of what you get and what you don't in the Club Aspire lounge used by Qatar business class passengers.
It's a horrible lounge and should not be used by an international carrier like Qatar for its business class lounges. The No.1 Lounge is better than this one. We will never, ever, fly out of London Gatwick again. What a disastrous way to begin your business class journey. We think, even if you don't pay for this lounge, you'll be highly disappointed! This is not the pre-flight experience we were expecting with an international carrier like Qatar Airways. We have thoroughly depressed ourselves looking at footage of the Qatar lounge at Heathrow on Youtube and other travel websites. Shame, we couldn't sneak into the Emirates lounge!

You don't get a lot of space. The Club Aspire lounge at Gatwick North terminal is tiny! Plus, there is not a dedicated working area or mini business area.
There is some natural light. But we are on a night flight, so it's all artificial. Avoid this lounge if you can. Qatar Airways, if you are reading this, please stop using this lounge, it's not fair on your business class passengers. It rates as a new low in business class lounges.
The food is inedible, unappealing and down right nasty looking. The drinks are ok, but paying for Prosecco, not even champagne, is just unacceptable.
It's definitely memorable, for all the wrong reasons. Qatar say on their website for London's Heathrow Qatar lounge that it is 'warm, elegant and exclusive'. This lounge in comparison is exactly the opposite, anyone can use it and it looks cheap.
The lesson here is never fly out of London Gatwick with Qatar Airways, only fly from London Heathrow.
Related Articles

VILLAGE NEWS!
Subscribe to our newsletter to hear about unique travel destinations, when to go, what to see and other top travel tips!