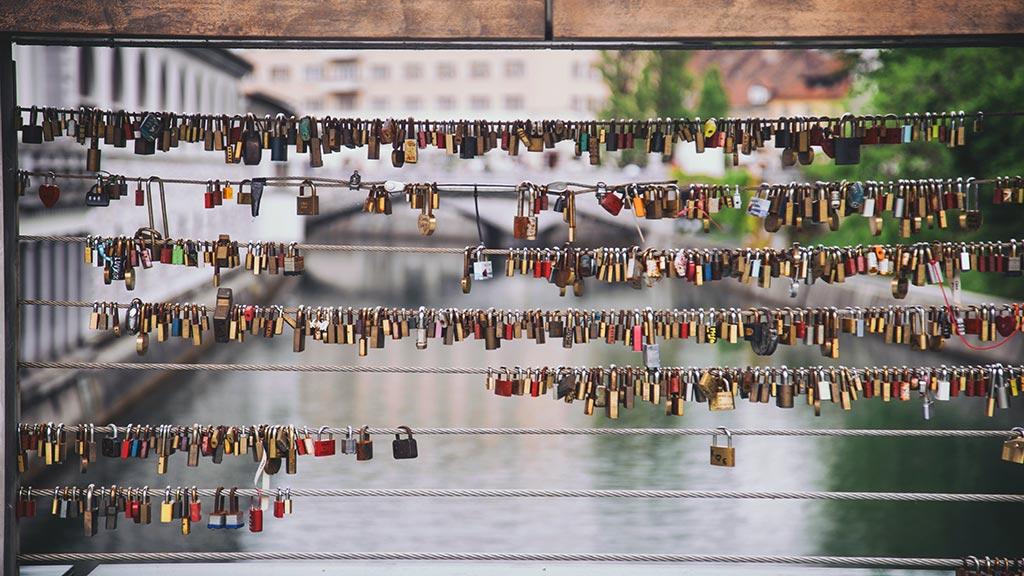 Things to Do in Ljubljana Slovenia and city guide
Ljubljana, Slovenia's capital has rich history and beautiful architecture. It has fantastic food and wine, a castle, great museums, cathedral and churches. In summary, a beautifully preserved old town. Ljubljana is a very green city. Ljubljana has it all. Small town friendliness with big city efficiency rolled into one. With so many things to do in Ljubljana It makes perfect sense to base yourself in the capital.
Quick Index
Why go to Ljubljana?
A Perfect base for Day Trips
Base yourself in the amazing capital city of Ljubljana. If you run out of things to do in Ljubljana, there are plenty of nearby attractions. Day trips to Bled, Kamnik, Moravske Toplice, Maribor and Celje are within easy driving distance.
Food Paradise
Ljubljana is fast becoming Europe's next hot foodie destination.You will love the innovative and fresh local food. The city produces food with some sustainable practices. In fact, Slovenia is the only country in the European Union which has given its native honey bee, the carniolan, protected status! Good news for honey lovers and everyone with a sweet tooth. Ljubljana also has an up and coming wine scene. Slovenia is an up and coming wine region. It produces great tasting favourites, such as, Sauvignon, Chardonnay and Riesling. In addition to these varieties, there is the sumptuous sounding Black Velvet and Puro, a sparkling wine.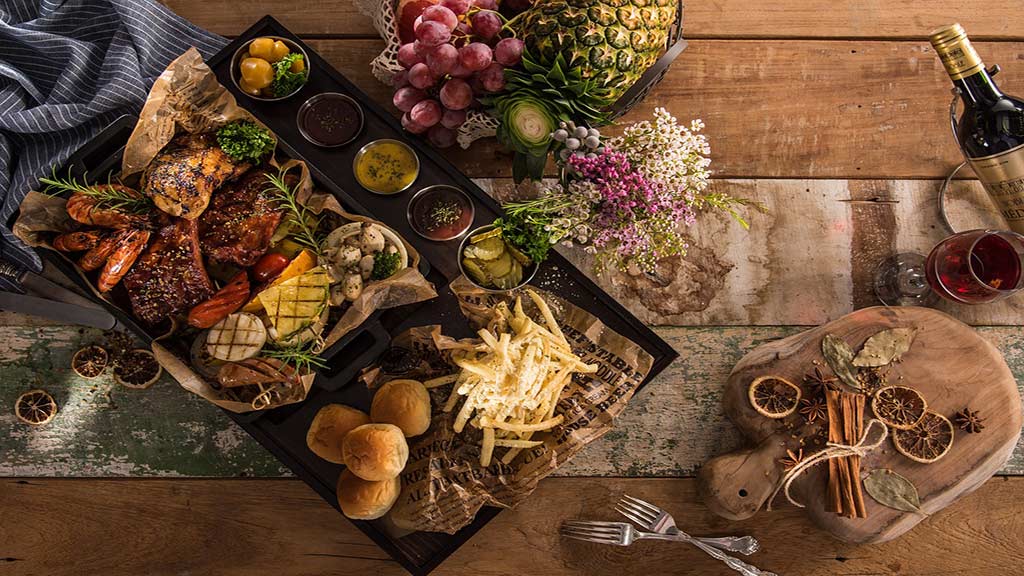 A Green City
Ljubljana has held the prestigious title of European Green Capital, in 2016. It is also in the running for European Capital of Culture in 2025. Past winners like Athens, Amsterdam, Berlin, Dublin, Lisbon and Prague have seen their tourists numbers increase with this title.
Friendly Locals
Ljubljana is full of friendly, smiling locals going about their day. The locals all speak excellent English. Ljubljana has a population of 272,000 and the friendliness of a smaller destination. Ljubljana is a warm and welcoming city. Prices are generally lower than in most of Western Europe. The reasons to visit Ljubljana, Slovenia are endless! You will fall in love with Ljubljana. You'll also learn how to pronounce it well!
Where is Ljubljana?
Pronounced luu-blee-yah-nah, Slovenia's capital city is located in central Europe. Ljubljana is located bang in the centre of the country. To be precise, Ljubljana is 46.05 latitude, and 14.51 longitude. Moreover, it is situated at an elevation of 295 metres above sea level. Slovenia itself is bordered by Italy, Austria, Hungary and Croatia. Slovenia has a small strip of coastline, on the eastern side, jutting out into the Gulf of Trieste.
When to go to Ljubljana?
Ljubljana, Slovenia is a year round destination! Hurrah! Ljubljana experiences a temperate climate and so has 4 distinct seasons. There's always some event or festival to join in with or admire.
Summer time is the most crowded time to visit, but it's also the time of the most cultural events. Even in Winter, Ljubljana is great. Sipping your latte in one of the many cozy cafes along the banks of the river, will be a pleasure. Spring time in Ljubljana is blooming marvellous. The city's largest park Tivoli (510 hectares to be precise) springs into a riot of colour. The ornamental garden beds and trees show off their beauty. In Autumn, you still get the long daylight hours and sunshine to explore. Prices begin to go down and there's more pavement space.
How to get to Ljubljana?
Flying into Ljubljana Airport
Most people will probably fly into Ljubljana, Slovenia, the country's capital city. The Joze Pucnik airport is 26kms to downtown. Connections through all major European hubs such as London, Frankfurt and Zurich from Asia and Australia. From North America, including Canada, your international connections include Vienna, Istanbul, Paris, Amsterdam, Rome, London, Frankfurt and Zurich. Two low cost carriers fly directly from England and Hungary. Easyjet from London and Wizz Air from Budapest.
Train
If you happen to be in Vienna or Venice you can catch a train! The fastest route from Venice to Ljubljana is just over 4 hours with 1 change. Other major European cities offer connections to Ljubljana. Prague, Belgrade, Salzburg and Budapest are easy access points to Ljubljana. For more routes and destinations to and from Ljubljana, by train, click here.
Bus
Don't fancy changing? Happen to be in Austria? Hop on a bus from Vienna, Austria and you can reach Ljubljana in just under 5.5 hours, with no stopping! Other major bus destinations across Europe are mostly from Germany and Croatia. A great way to plan bus journeys, to and from Ljubljana, Slovenia, can be found here.
Car
Leasing or hiring a car really isn't necessary if you stay in Ljubljana. The excellent and cheap public transport will get you to most tourist hot spots.
If however, you're on a grand driving tour, then a car, is the way to go. You will need a sticker that you attach to the windscreen to allow you to drive on Slovenian roads. This is NOT included in your car hire. Current prices for the vignette is 15, 30 and 110 Euros. That's weekly, monthly and annually. These vignettes are available to buy once you cross the border. Sold at major petrol stations. Having a car also enables you to base yourself further out from the old town, which of course means, cheaper accommodation costs.
Getting around Ljubljana
Ljubljana is easy to get around. It has fabulous public transport. The roads are not too busy. Best experienced on foot, SUP, kayak, canoe or bicycle. If you drive everywhere, in our humble opinion, you'll miss little undiscovered gems.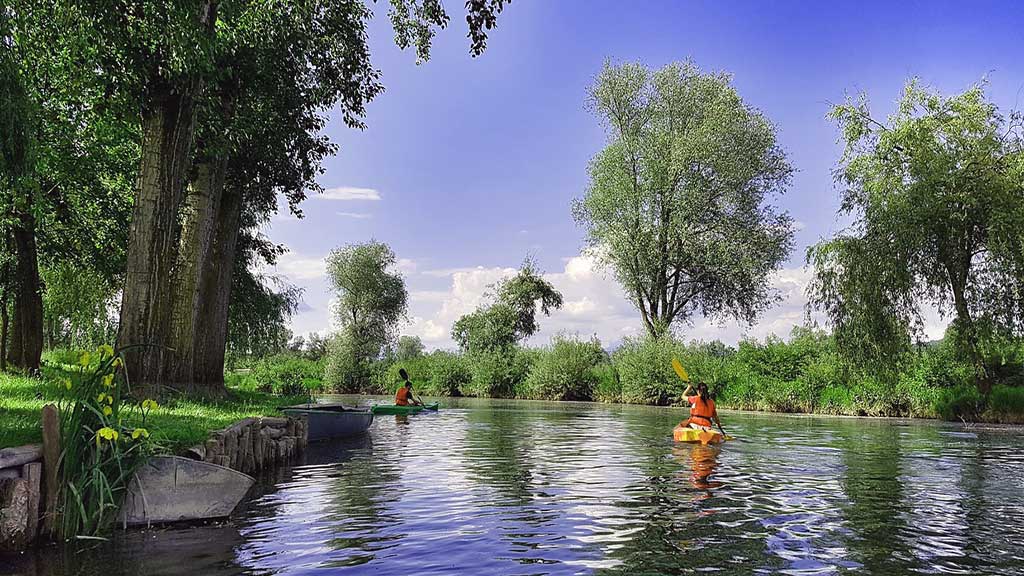 Rent a kayak or canoe. A different way to take in the sights of beautiful Ljubljana.
A great way to see the city is with the Ljubljana City Card. This card which can be bought at the tourist information centre, offers free entry to many attractions and free public transport. P.S city cards like this are available in many European cities. For more information on the Ljubljana card click here.
The Ljubljana card gives you a return journey to and from the airport. Also included is a free guided city tour. There's more. Free travel on city buses and a free funicular ride up to Ljubljana castle. Hang on, you get more. 24 hour free access to WiFree Ljubljana. Get connected on the city's free internet access at the STIC (Slovenian Tourist Information Centre). That's not all! You'll also get free admission to over 20 museums and galleries. Plus 4 hour bike hire and the zoo!
Still not convinced? You get a free boat cruise as well! If you can visit every attraction listed, the potential savings are 210 Euros. Ready to take that challenge? Like getting your money's worth? Well, get a Ljubljana City Card. Online discounts apply too. Current adult prices are 31,39 and 45 Euros. You can buy the card for 24, 48 and 72 hours. The time starts from activation.
Explore the Amazing Capital of Ljubljana Slovenia
Who doesn't like a 15th Century castle? Ljubljana Castle is a must see attraction
The stunning Ljubljana Castle looks down on the city below.
High in the hills and visible from the city below. Ljubljana castle towers majestically over the Slovenian capital. You can take the easy way up, by funicular or the hard way, on foot. Easily takes the spot of number one things to do in Ljubljana. Built at different stages, LJubljana castle has a complicated history. Most of what you see today is from reconstruction work in the late 60s. If you look really carefully, you might see some ancient Roman stones in the walls.

For the hard core, like us, we prefer to walk up the paths from the old town to get to Ljubljana Castle!
For castle buffs, Ljubljana castle is a medieval marvel that you must see! Even if you don't like castles, the view of the city below is breathtaking!
The Museum of Puppetry and the Museum of Slovenian History awaits. You can also dine in style at Ljubljana castle in the two restaurants, Streleca and Na Gradu. Both have fantastic ambience. Prices are high and portions are small. However, the food is first class yumminess.

Don't miss out on a top nosh meal at Na Gradu restaurant inside Ljubljana Castle. Great views, history and amazing food. A perfect way to finish a day's sightseeing!
The wine list is equally fantastic.

It's easy to walk around Ljubljana Castle as it's nice and flat.
In the Summer months, there is an open air cinema at Ljubljana castle. There's even a nightclub! Ljubljana castle is often used for cultural events and dance evenings. Over 500 events a year are held here. Ljubljana castle is rightly the most visited attraction, this fantastic city has to offer.
Check the website for the latest events, such as concerts and non-permanent exhibitions. Some are free, whilst others require a fee.
Exploring the Old Town of Ljubljana
Walking around the old town and soaking up all the blends of architecture is one of the pleasures of Ljubljana. The Franciscan church in the Presernov trg Square is a good starting point. It's right in the historic city centre. The bright pink church is a blend of Secession, Baroque and Joze Plecnik architectre.

The pink Franciscan church is hard to miss! A unique blend of architecture in Ljubljana's Old Town.
Move onto the ornately decorated cathedral. Also called the church of Saint Nicholas. This is also Ljubljana's most important Baroque church.

Ljubljana Old Town is full of interesting styles of architecture and colourful facades.
Meander on down to the Town Hall with its beautiful Roman baroque fountains. Various exhibitions are held in the Town Hall. Continue walking until you get to the now famous Jakopic Promenade in Tivoli Park. This is a popular outdoor gallery which is the place to see huge photographs. Open all year round!
Take up the Bridge Challenge
Walk along the Ljubjanica (the name of the river) in old town and see if you can name all the bridges. There's Triple Bridge and Butcher's Bridge. Next, Hradecky Bridge and Trnovo Bridge. Finally Cobbler's Bridge and the famous Dragon Bridge! Ljubjanica's embankments have wonderful architecture and romanticism. Stroll along, noting the interesting bridges and stop as much as you like in the many lively cafes.

Tick off the famous Dragon Bridge. Walking around the Old Town is one of the top things to do in Ljubljana.

Ljubljana has a mostly pedestrianised river area in the old town district. If you need to be on water though, you can also cruise along in a boat or do it with a stand up paddle board!
ARTS AND CULTURE Museums and Galleries
Ljubljana has museums and galleries galore. You won't be thinking of things to do in Ljubljana! It hasn't won the European Capital of Culture award yet. Ljubljana is a candidate for 2025. Don't miss, the Museum of Contemporary Art Metelkova. There are constantly changing art installations and interactive art projects. The National Gallery is for lovers of fine art during the middle ages to the 20th century. There are of course, many temporary exhibitions, some of which are outdoors and for free.
Then of course, there's the Museum of Modern Art and the Tivoli Mansion. Also the International Centre of Graphic Arts, City Art Gallery and Dobra Vaga. Dobra Vaga is a place where you might lose some money. It's a gallery where you can buy artists' work. They have a unique pricing concept. It is called 'art by the kilo'. Works are sold in physical kilos, but, by the artistic 'weight' and power of the exhibit! It is very subjective. Agree with it or not, it's definitely a unique place to see young Slovenian artists at work.
For photography lovers, there are two place to visit. The Galerija Fotografija and Photon Gallery. Galerija Fotografija specialises in photographic art. Photon Gallery is for modern photography.
Festivals take place outside, particularly in Summer. From films under the stars to classical symphony orchestras and jazz. Festivals equals fun. The Ljubljana Summer festival is a highlight. Don't miss it! A mix of dance, theatre, soloists, orchestra and ballet companies from around the world. Visitors in Winter need not miss out either. A shorter duration, but no less jam packed line up of events happening.
Shopping
Ljubljana provides all the shopping experiences you can expect from a capital city. Major hyper centres which will have supermarkets and malls. There are outdoor fairs and shops selling traditional Slovenian foods. You will even find socially responsible shopping experiences. Locals are using fair trade coffee and recyclable cups. Up-cycled pre- loved items, are available to buy too. You will find the usual global fashion brands when clothes shopping. Hand made souvenirs are particularly popular. Get your hands on some fleur de sel, to rival the French! Of course, a good bottle of wine is never a wrong choice. Plecnik's Market is on every Saturday. Ljubljana locals gather here to buy and sell fresh produce from all over Slovenia.

Shopping at outdoor markets in Old Town, Ljubljana, the amazing capital of Slovenia.
Atlantis Waterpark
If there's a place with healing thermal waters, you can bet your bottom dollar that Only1invillage has been there! Vodno Mesto Waterpark is situated within the gigantic BTC City Ljubljana area. It's a one stop place for fun, relaxation, entertainment and shopping. There's even a hotel here, if you don't want to stay down town. The water park has entertainment for all the family. Slides, swim through underground caves and a rapid river make a huge splash for the little ones. For the adults there's the Thermal Temple and Sauna Land (read naked section!) Expect all the usual treats in Sauna Land. There are massage benches, jacuzzis, massaging waterfalls and steam rooms.
If you love thermal waters, like we do, head on down! You can spend the entire day submerged in water until your skin goes wrinkly! Highly recommended.
EAT EAT EAT
It's difficult not to be impressed by the food and wine in Ljubljana. Ljubljana has so much fabulous food! Touted as one of Europe's best food destinations, when you eat here, you'll agree. Ljubljana has fine dining, fast food and everything in between. Deciding where to eat is very difficult with such a choice before you!
Indulging in great food is definitely such an easy thing to do, in Ljubljana. It is unfair to recommend any particular place. However, the two restaurants at the castle are superb! Streleca and Na Gradu restaurants pull all the right punches. Location, atmosphere, service and of course, traditional Slovene food. Definitely a place for a special occasion.
The whole world's cuisine is represented in the Slovenian capital. You can eat Japanese, Spanish, Mexican, Chinese etc. However, you have to sample Slovenian food in Ljubljana. Hunt out typical Slovene dishes of meat pockets and dumplings with various fillings. Vegetarians and pescatarians are well catered for.

Potica pictured above is a traditional Slovenian sweet treat. Warning, it contains nuts! Photo courtesy of Flickr.
OK, we're going to make some suggestions! Head to Druga Violina for a taste of traditional Slovenian food at a very good price. We like that the produce is fresh and locally sourced. Druga Violina is at the start of the old town. It's small, so in busy months make sure you make a reservation.
Want traditional dumplings decorated with micro greens and edible flowers?

Fancy some micro greens and micro veg? Eat well in Ljubljana. Modern dishes with excellent presentation.
Pri Skofu is a hidden gem, just outside the historic centre. Make the effort to get there. Sample the small, but, interesting menu at a fair price. Fresh local produce as always!
For a slightly more expensive option head to Spajza. Modern European cuisine, situated in an eighteenth century house. Spajza is also, the place to eat horse! Yes, not for the squeamish! The back courtyard is very romantic in the evening. Come for dinner and the waiters will light the table candles. This creates a beautiful atmosphere. The service is friendly and efficient. The servers have good knowledge of the menu. They make good local wine pairing suggestions too.
Need Italian food? Missing pasta? Head to Julija Restaurant on Stari Trg 9. Fabulous pasta and traditional dishes such as octopus. Also some Slovenian favourites too. Outside seating area and free wi-fi!

Mmmmmmm, Spaghetti al vongole. Italian food is delicious in Ljubljana. Spaghetti with clams.
For serious foodies, check out what's hot and what's not on the Ljubljana culinary scene on gourmet-lj.si/si (The site is also in English and Italian).
Where to Stay
LUXURY:
For the ultimate in luxury the InterContinental opened in 2017. It has a rooftop restaurant with great views over the city and castle.
MID RANGE:
The excellently located sLOVEnian ART STORY receives consistently great reviews. The hotel features artwork from local artists.
BUDGET:
The friendly Turn Hostel Ljubljana is a great budget backpackers' choice in the city centre.

Related Posts
Popular Posts

VILLAGE NEWS!
Subscribe to our newsletter to hear about unique travel destinations, when to go, what to see and other top travel tips!