11 Best Things to do in Slovenia
Slovenia is a largely undiscovered gem. Some say Europe's best kept secret! Visit the amazing capital Ljubljana. See the most stunning lake in Europe. Relax in spa towns, cycle through picturesque villages. Visit the oldest vine in Europe and many more! Here is our list of things to do in Slovenia!
Quick Index of Things to do In Slovenia
Where is Slovenia?
Slovenia is in the middle of Europe, when you look on a map. Slovenia is often confused with Slovakia. A European country that didn't exist until 1991. It gained its independence from the former republic of Yugoslavia. To make matters even more confusing, Slovakia, is not too far away! The countries have similar sounding names. Their flags are similar colours. They have similar history. The two countries also share border countries. But don't let that confuse you! To help you tell the two apart, Slovakia is land locked and Slovenia isn't.
Slovenia itself is bordered by Italy, Austria, Hungary and Croatia. Slovenia has a small strip of coastline, on the eastern side, jutting out into the Gulf of Trieste.
Why visit Slovenia?
Basically put, Slovenia has it all! Fantastic food and wine. Romantic castles galore and great museums. Slovenia has many historical sites. It has cathedrals and churches too. There is interesting architecture to marvel at as well. The small towns are very friendly. Even the big cities maintain their charm. In our experience, Slovenia is full of friendly, smiling locals. English is widely spoken. With a population of just over 2 million, Slovenians are genuinely welcoming. Slovenia doesn't suffer from over tourism yet. Plus, who else do you know who has been to Slovenia? Go for bragging rights!
Slovenia is fast becoming Europe's next hot, gastronomic destination.It is getting a reputation for innovative and fresh local food. Slovenia also uses many sustainable practices. Winner, winner! Slovenia is the only country in the European Union which has given its native honey bee, the Carniolan, protected status! Good news for honey lovers and everyone with a sweet tooth. The wine scene is slowly starting to make a name for itself too.
Some say that Slovenia is Europe's best kept secret. Well, not for long! It is fast gaining a reputation for Europe's outdoor adventure playground. Rugged mountain trails and slopes for skiing and other snow based fun. If we have to make comparisons, Slovenia is a bit like Switzerland. Of course, there's one big difference, the affordability! Then you've got lakes and rivers to go canyoning, kayaking, rowing, white water rafting and SUPing (stand up paddle board) on. There's underground caves to explore, forests to zip line through and hills and mountains to para-glide over. Don't forget the usual suspects of walking, hiking, cycling and horse riding too!
Prices are generally lower than Western Europe too. The reasons to visit Slovenia are endless!
When is The best Time to go to Slovenia?
Slovenia is a year round destination! Hurrah! Slovenia experiences a temperate climate and so has 4 distinct seasons. There's always some event or festival to join in with or admire.
Summer time is the most crowded time to visit, but, it's also the time of the most cultural events. Even in Winter, provided you are dressed correctly, it will be your Winter wonderland. Spring time in Slovenia is blooming marvellous. Prices are still low. There's less people too. In Autumn, you still get the long daylight hours, sunshine and the great galleries and museums. Prices begin to go down and there's more pavement space.
How to get to Slovenia?
Fly
Most non- neighbouring -European- country people will probably fly into Ljubljana, the country's capital city. The Joze Pucnik airport is 26kms to downtown. Connections through all major European hubs such as London, Frankfurt and Zurich from Asia and Australia. From North America, including Canada, your international connections include Vienna, Paris, Rome, London, Frankfurt and Zurich. Two low cost carriers fly directly from England and Hungary. Easyjet from London and Wizz Air from Budapest.
Train
Slovenia is well connected by the inter city trains of Europe. Your main station will, of course be the capital, Ljubljana. If you happen to be in Vienna or Venice you can catch a train directly from Austria or Italy! The fastest route from Venice to Ljubljana is just over 4 hours with 1 change. Other major European cities offer connections to Ljubljana. Prague, Belgrade, Salzburg and Budapest are easy access points to Ljubljana. For more routes and destinations to and from Ljubljana, by train, click here.
Bus
Don't fancy changing trains? Happen to be in Austria? Hop on a bus from Vienna, Austria and you can reach Ljubljana, the capital of Slovenia in just under 5.5 hours, with no stopping! Other major bus destinations across Europe are mostly from Germany and Croatia. A great way to plan bus journeys, to and from Ljubljana, Slovenia, can be found here.
Car
Most neighbouring Europeans drive into Slovenia. You will need a sticker that you attach to the windscreen to allow you to drive on Slovenian roads. This is NOT included in your car hire. Current prices for the vignette is 15, 30 and 110 Euros for weekly, monthly and annually. These vignettes are available to buy once you cross the borders from neighbouring countries. They are sold at major petrol stations. Having a car also enables you to base yourself further out from the big cities, which of course means, cheaper accommodation costs.
Getting around Slovenia
Slovenia is easy to navigate. Modern roads and motorways with clear road signs. A good public transport system coupled with roads which are not too clogged with traffic. To get to the lesser known places, a car is essential. If you're sticking to the 2 most famous sights of Slovenia (Lake Bled and the capital city, Ljubljana) then trains and buses will be fine.
Right, now you have the basics covered, let's get back to our awesome list of the 11 best things to do in Slovenia!
11 Float on the Slovenian Riviera in Piran
Fiesa beach, a short walk from the centre of Piran, is the best place to get your salt on! It is popular with locals and international visitors who want crystal clear water to swim in. There are also many chairs to rent, a large shaded area and a playground for kids. Water activities such as SUP, paddle boats and canoes are available for floating and lazing on. You can also see underwater life in this part of the Adriatic sea. So don't forget your mask and snorkel. Walk a short distance and you will find a beach under the cliffs.
Piran itself, is a pretty harbour town. Salt harvesting has kept this town alive for over 700 years. The benefits of natural sea salt are said to aid everything from rheumatism to dry skin! Pop into the Thalasso Spa Lepa Vida to feel the benefits of salt mud, brine and sea water. You know it is natural because the spa is right in the middle of the salt pan harvesting area! The spa closes from September to May.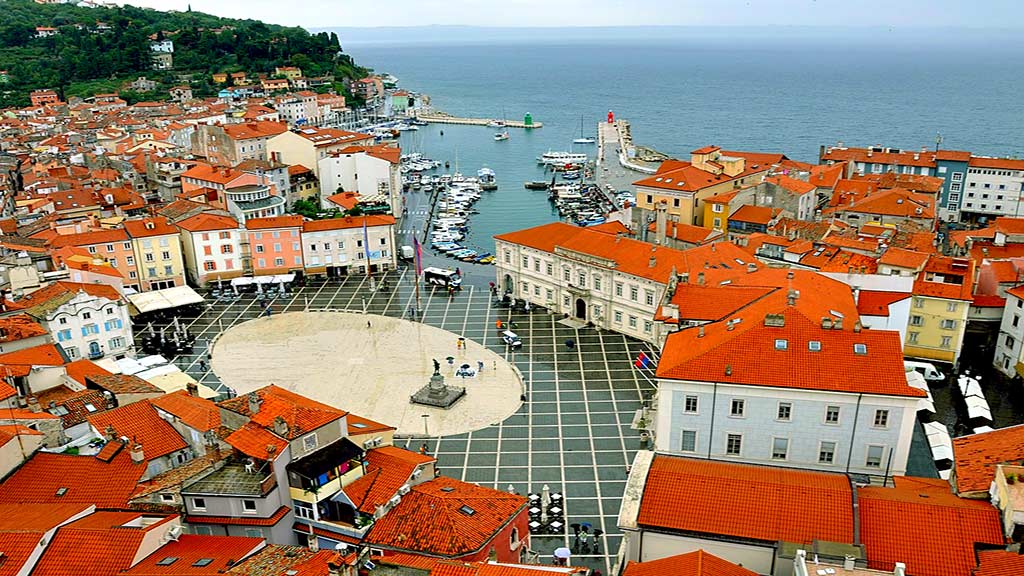 Get your salt on in Piran! The beautiful coastal city has a rich salt harvesting history. Close to Italy, this Slovenian beauty, is a little reminiscent of the Cinque Terre.
In the city itself, Piran has walking and bike trails. There are city walls and gates to discover along with a salt museum. You can sample the up and coming wines of the Istria region. Stroll along the pretty harbour front and taste Slovenian traditional food. Finally, you might want to get an aerial view of this picturesque coastal town when you jump out of a plane. Tandem skydiving is one way to get that Instagram shot without a drone!
10 Explore Fabulous Ljubljana
Explore the amazing capital Ljubljana! Ljubljana held the European Green Capital title in 2016 and is a candidate for the European Cultural Capital city title in 2025.
Ljubljana, Slovenia's capital has fantastic food, a fascinating castle, great museums, cathedral and churches. Also a beautifully preserved old town. There is interesting architecture in Ljubljana with the modern jostling for space next to the old. Best experienced on foot, SUP or bicycle, Ljubljana has it all! Small town friendliness with big city efficiency rolled into one. It makes perfect sense to base yourself in the capital for day trips. Popular places to visit are Bled, Kamnik, Moravske Toplice, Maribor and Celje.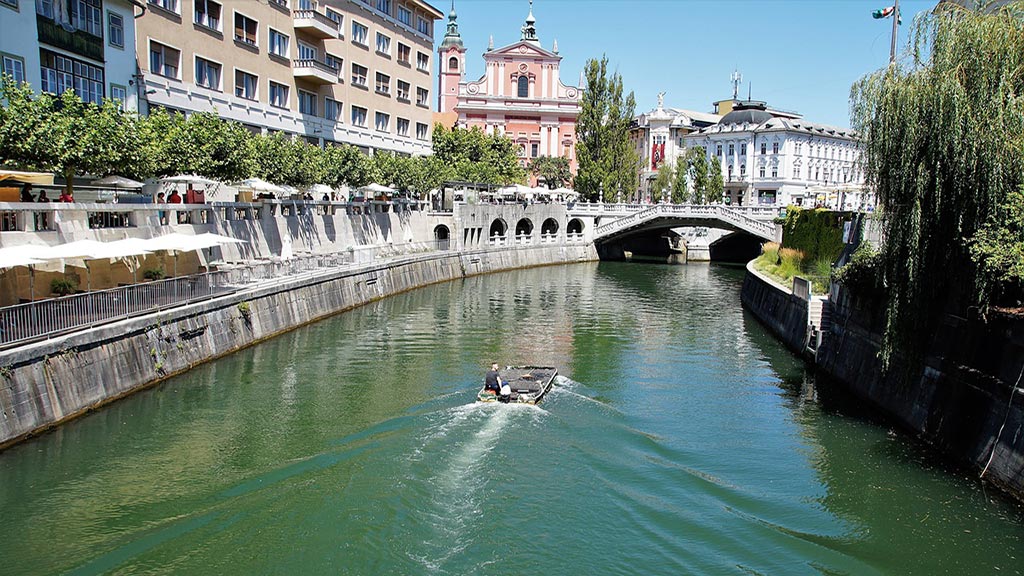 Ljubljana has a beautiful river running through the old city centre.
9 Stroll around Lake Bled
Lake Bled is possibly Europe's prettiest lake. With its own little island perched in the middle, a medieval castle in the hills and pristine green glacial water! We think you'll agree that Lake Bled is stunning. It usually ranks pretty highly on people's things to do list when in Slovenia. There are picture perfect postcard views from every angle of the lake. Strolling around the perimeter is an easy 2 to 3 hour walk. Flat, mostly paved and boardwalk style walkways mean no special footwear. A family friendly destination, with plenty of things to do for young and old alike.
For the less active there's pletna cruising ( the traditional Lake Bled boats). Being a clean body of water, it's not surprising that in the Summer months, swimming, SUPing, rowing and kayaking in Lake Bled are very popular. You can even go tobogganing in Lake Bled! For our full guide on Lake Bled, including where to eat and stay,click here for our post.

Lake Bled, Slovenia's number one tourist attraction! It definitely should be on everyone's list of things to do in Slovenia. On the country's only natural island, make sure you ring the 17th century bell for good luck!
8 hike the Vintgar Gorge
Only 4 kms in distance from Bled, Vintgar Gorge is a great day trip out from Bled. Cycling is the best option, as the roads are quiet and the countryside to the gorge is scenic.Enjoying the great outdoors couldn't be easier than hiking the Vintgar Gorge. It's suitable for the whole family. Slovenia is Europe's outdoor adventure playground and Vintgar Gorge is so accessible. It's surely one for the bucket list.
Mostly flat, along boardwalks which lead you through the amazing rock excavations of Mother Nature. The calming hues of green and blue mixed with unmistakable smell of clean, crisp air, is what Vintgar Gorge is famous for. There are even parts where you can scramble down to the river and dip your toes in! A mini waterfall, towering limestone cliffs and deciduous vegetation, make Vintgar Gorge an absolute must on your list of things to do in Slovenia, particularly if you're in the Lake Bled area.

Luscious vegetation and crystal clear water awaits you in Vintgar Gorge. An easy and spectacular walk.
7 Swim or kayak in Lake Bohinj
Lake Bohinj is the lesser known of the two most beautiful lakes in Slovenia. Lake Bohinj is just 36kms southwest of Bled. It offers a more chilled out and relaxed vibe than Bled. There isn't actually a town called Lake Bohinj, so in your sat nav you'll be looking for Ribcev Laz, Jereka, Star Fuzina or Bohinjska Bistrica.
The water is the same, crystal clear and changing hues of emerald green and blue. Kayaking, SUPing, rowing and swimming are your water based options. There are various cycling trails and you can horse ride in the area too! If you're looking for more peace and quiet, less tourists, but still outstanding natural beauty, head to Lake Bohinj!

The quieter less famous and brash sister to Lake Bled, Lake Bohinj, has its own rugged beauty.
6 Sip Wine along the River in Maribor
Maribor is Slovenia's 2nd largest city with a population of 95,000. Winner of the 2012 European Capital of Culture award. Yes, Ljubljana is the capital of Slovenia, but the award doesn't have to go to the actual capital city. Past non capitals have been Antwerp in the Netherlands and Krakow in Poland. In Maribor you can indulge in many lazy afternoons, eating on the river banks and walking it off afterwards! Maribor old town has a very picturesque main square and is easy to navigate.
The oldest part of Maribor is the area of Lent. Here, for wine lovers and history buffs combined, you will find the oldest vine in the world.

Naturally, Only1invillage has to visit the museum and sample the wine cellar delights. Come on, it's a historical and cultural activity after all! As the saying goes, "When in Maribor…"
According to the website of tourism in Slovenia, the vine is over 400 years old and the world's oldest vine. Now, that's what we call vintage (no pun intended) Apparently, French vine specialists, in Paris, have authenticated its age, from cuttings. So it must be true.

Maribor is home to the world's oldest vine at over four hundred years! The Zametovka vine has its own Old Vine Festival for 10 days every September in Maribor. Yes, Slovenia makes good wine too!
Admiring the city's architecture of Maribor's buildings, churches and cathedral is easy to do on foot. Your admiration route of Maribor is best done by walking along the Drava River. Start on one side, cross over the Main Bridge (the one that is high up) and doing it all over again. Make sure you stop off for food at Barcaffe @nana, right on the main square. Great marinated trout salad!
Read up on your Slovenian and European history and culture in the Regional Museum. It has some of the best exhibits dating back to the Stone Age. For 3.50 Euros this is an excellent way to get a grip on Maribor's history and sense of place in the world.

View of Maribor, Slovenia's 2nd largest city and the River Drava.
5 Drink from a Beer fountain in Zalec
Whilst we're on the subject of alcohol, the old town of Zalec, which is a mere 20 kms from Celje has a beer fountain! Okay, it doesn't dispense real beer for free, but, it is something you might not find anywhere else in the world? It is now over 2 and a half years old. Head to the North side of City Park (Park Zalec) to experience this unique tourist attraction.
You buy a beer mug from the many shops in the town and inside each mug there is a microchip. There are six beer fountains to take samples from. When you place your mug under the fountain, it will automatically dispense a decilitre of beer. The idea is not to get you drunk, but, to appreciate the different flavours of Slovenian beer. You also get a history lesson of the hops growing tradition of the surrounding area. Above all, you get to take the beer mug home as a souvenir!
For more information about the Zalec and Zavinja Valley area, where to eat and stay, cultural events and where to eat and stay visitwww.turizem-zalec.si. The website is in 7 languages.

The world's first beer fountain! Surely a 'must do' thing in Slovenia. Hop to it in Zalec.
4 Coffee at the Historic Castle in Celje
Celje where great coffee and castle history go hand in hand! Castles are definitely always on our list of things to do when we visit European countries. Slovenia is no exception!
Celje is Slovenia's 3rd largest city with a population of 38,000. The main draw card for Celje is its magnificent castle ruins. Set high upon the hills, it towers over the city below. Be sure to go just for great views of Celje and the surrounding area. Inside, there is a great little museum and the best coffee. You get back the price of the coffee as part of the entrance fee.
Also, a small, grisly torture museum, showcasing the worst of European torture devices in the Middle Ages. Not recommended for children!
Walking around old town in Celje, exposes you to pretty houses and buildings. The mostly pedestrianised streets are meant for casual strolling and sipping coffees. However, if you have the time for a meal, we recommend Gostilna Frankl.
Roman ruins too in Celje!
If the castle hasn't given you enough history, there is the Museum of Regional History. Inside the Princely Palace, in the basement, you can see remains of ancient Roman roads and statues. This is from a time when Celje was known as Claudium Celeia. So called because Claudius was the Roman Emperor at that time. In the other building, The Old Count's Mansion, you can see weaponry, art and furniture of the times. Buying a ticket from Celje Castle will give you a discounted rate on these two (well technically one) museums.

A castle with your coffee sir? Celje castle is perched high above the town and has spectacular views of the surrounding area.
3 Relax in Spa paradise at Moravske Toplice
Moravske Toplice is in the North East of Slovenia. A place to relax, rejuvenate and refresh! This small town is for people who love thermal waters. Hey, that's us! Ideally situated on the borders of Austria, Hungary and Croatia. A 2 hour drive from the capital, Llubjana. Perfect for day trips into Graz and Austrian spa towns such as Bad Radkersburg, Terme Loipersdorf and Bad Gleichenberg. Note, however, that Austria is more expensive than Slovenia.
Moravske Toplice is home to Terme 3000 and Terme Vivat, the former being the biggest by water area. Hotel Termal, Hotel Ajda and Hotel Livada also have their own smaller pools and access to Terme 3000 pools and the whole complex. If you're not staying at Termal, Ajda or Livada, you cannot use those pools. Never mind they are smaller than the 9 outdoor pools that Terme 3000 offers.
The famed 'black water' thermal pools are the hottest pools which contain special algae. Upon closer inspection the water is actually clear with dark green bits. DO not wear light coloured swimwear into these pools!

Terme Vivat in Moravske Toplice has a good mix of indoor pools and outdoor pools (about 10 in total) and a sauna.
Terme 3000 is best if you have kids. There are water slides and inflatables for the children to jump on. Terme Vivat is more for the healing properties of the thermal waters in a quieter atmosphere. There are no slides. Both have adult only sections. Going nude is required for the saunas and steam room. Terme Vivat has the better nude section in our opinion. There are more saunas and a steam room. Terme 3000 only has 2 saunas, an ice cold plunge pool and an area of wooden beds with buckwheat pillows.

Terme 3000 has water slides for the kids. Pictured is the warmest 'black' pool, which contains the healing algae.
Apart from indulging in spas and massages, Moravske Toplice also boasts great cycling to the surrounding villages and wineries. So get on your bike! You can hire bikes from the tourist information centre. Mainly flat and dedicated cycle paths will keep the whole family fit and healthy for hours! There are cute pumpkin fields everywhere and a great golf course. Cycling through the villages is very picturesque. You might even see some interesting art works made by the locals. After all that cycling, you'll need to jump back into the healing thermal waters to soothe the saddle soreness!
2 Mountain Hiking at Snovik and Kamnik
Hiking and more hiking! Enjoying the great outdoors is one of the best things about Slovenia. Natural scenery abounds in Slovenia. Mountains, lakes, glacial valleys, gorges, river walks, caves and canyons, forests and alpine meadows. If it sounds a bit like Switzerland, that's because it is! But with one big difference. The price. It is a bit like Switzerland on the cheap!
Snovik
Snovik is an area of cute villages and hiking opportunities, set in the Tuhinj Valley, in the North of Slovenia. Only a 50 minute drive to Lake Bled, the country's most visited destination. Plus, a world away from the hustle and bustle of the capital Ljubljana, also only a 50 minute drive away. These two towns make the ideal weekend get away for city dwellers.

Head off into the hills for fresh air and a more relaxed pace of life in the villages around Snovik, in the Tuhinj Valley, in Northern Slovenia. The Tuhinj Valley is only a 50 minute drive from the capital, Ljubljana.
A recently developed eco resort, called Terme Snovik (click here to book), with thermal waters is a popular resort to stay and base yourself in. Within the Terme Snovik grounds, you can explore the practice of 'Kneipp' therapy along the stream and woods. There are placards along the Kneipp trail, telling you what to do and how to get the best benefits of the combination of water, exercise and nourishment.
There are many signed walks from Terme Snovik, up into the surrounding hills, where villagers grow plums and apples. The names of these villages are, Praproce, Podbreg, Hrusevka, Pirsevo, Vaseno and Potok.
Kamnik
The tenth largest town in Slovenia, with a population of about 18,000. You can drive here as a stop off point whilst going to Velika Planina. It has a tiny castle in ruins, which is worth stopping off at because it offers great views into the surrounding mountains. Also, climbing the steps to the castle, you get a fabulous roof top view of the pretty orange tiled houses below.

The view of Kamnik's pretty orange tiled roof tops and the Kamnik Alps, from Kamnik castle.
1 Go off grid at beautiful Velika Plenina
Velika Plenina is a fascinating and beautiful place to go for a hike. High up on the mountainside, villagers have built their own community in the fresh mountain air. The first thing you notice is the roof tops. They are made of pine shingles. The traditional houses look like they are sinking into the ground. It is so picturesque and peaceful up here, because it's so difficult to get to.
You first drive to a car park (which is free) near Kamnik, head for the town of Stahovica in your GPS. You buy a ticket which includes the cable car and a ski lift both ways (17 euros) The cable car is terrifying for those who don't like heights! The ski lift is somewhat more pleasant as it is closer to the ground, but, not enclosed. Your legs are just dangling freely in the open air.
Velika Plenina is full of cows roaming freely with their giant bells. It's a bit like a scene from Switzerland if we have to make comparisons. You can get up close and personal to the cows, since they're pretty used to gawping humans!

Here's a friendly cow on the ski lift, going up to Velika Plenina! (Only cow in village!) An off grid, mountain settlement with traditional Slovenian mountain huts, dotted around the spectacular green landscape.
Is there any food to buy up there? Yes and no. If you go in peak season and peak times, there are some options. As you get off the ski lift, before you get to the first village there is a restaurant called Gostisce Zeleni Rob. Traditional home cooked food with amazing mountain views. If this is closed, a few of the villagers have yoghurt and cheese for you to sample in their front garden. There are also a couple of drink stands offering alcoholic and non alcoholic beverages on the side of the paths. These are very few and far between and may, or may not, be open.
The good news is that despite reports to the contrary, there are fresh water drinking taps. The water tastes really good and is 100 per cent potable!

The traditional mountain huts in the picturesque village of Velika Plenina, high up in the Kamnik Alps. In the Spring and Summer the lush pasture plateaus are great for hiking. In the Winter, a white Winter Wonderland emerges, where snow activities abound.
You can spend hours up here wandering from the village back down to the car park. There is even accommodation, if you wish to stay longer in this idyllic setting. If you go in Spring, you will see the most amazing carpet of crocus flowers. In Winter, it looks magical with the snow capped mountains, as you can imagine. What you don't expect is a museum! Yes, you hear correctly, there's a museum in the first major village of Velika Planina. This unique place has to be on your list of undiscovered gems in Slovenia. It is certainly one of our favourite things to do in Slovenia!
For live weather reports and the most up to date information on prices and opening times, visit Velika Plenina's official website. www.velikaplanina.si/Home
Popular Posts

VILLAGE NEWS!
Subscribe to our newsletter to hear about unique travel destinations, when to go, what to see and other top travel tips!