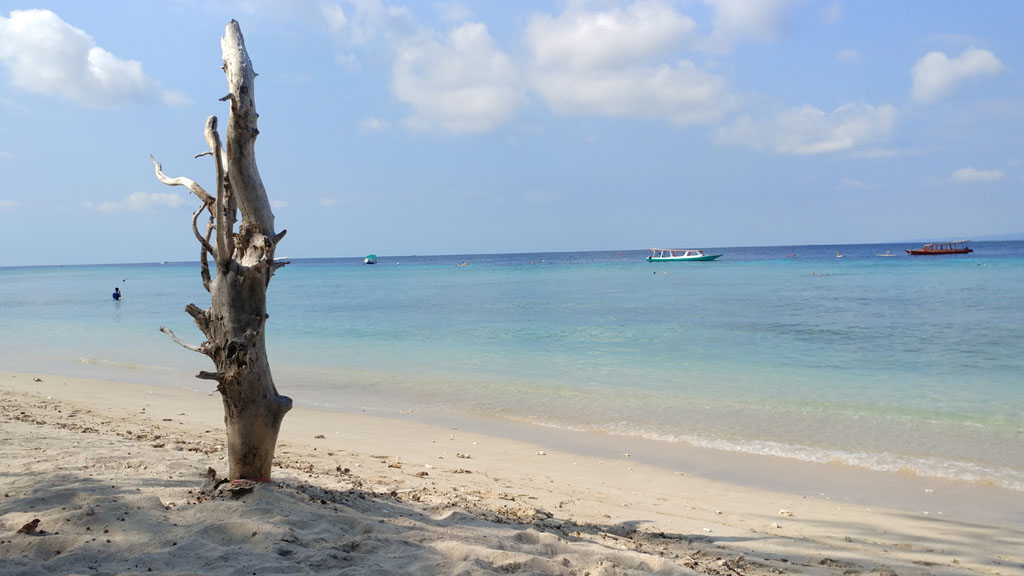 10 fun things to do in Gili Trawangan and 1 don't.
warning – The first 3 fun things to do in Gili Trawangan will get you wet!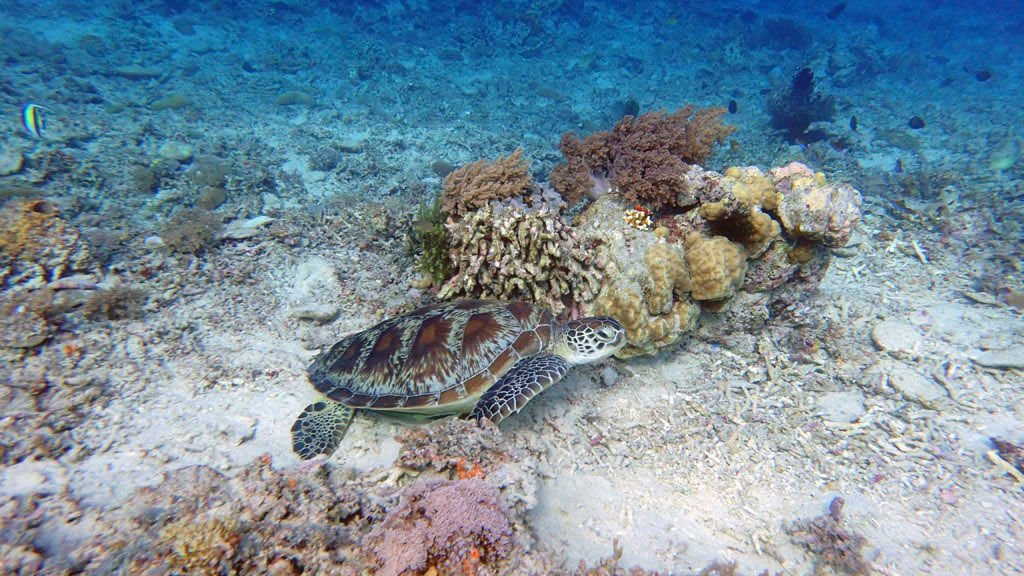 Go turtle spotting
Our favourite activity and particularly rewarding here in Gili T. Head north from the port about 600 metres so you are in the north east part of the island. From here take a dip into the clear waters. You will almost certainly see turtles every time you go out! If you can't make it into the sea, Gili T has its own little hatchery (free of charge) to look at these cutest of reptiles. Beware of the coral getting in to the water. Fortunately the water is very clear, so you can see where you're going.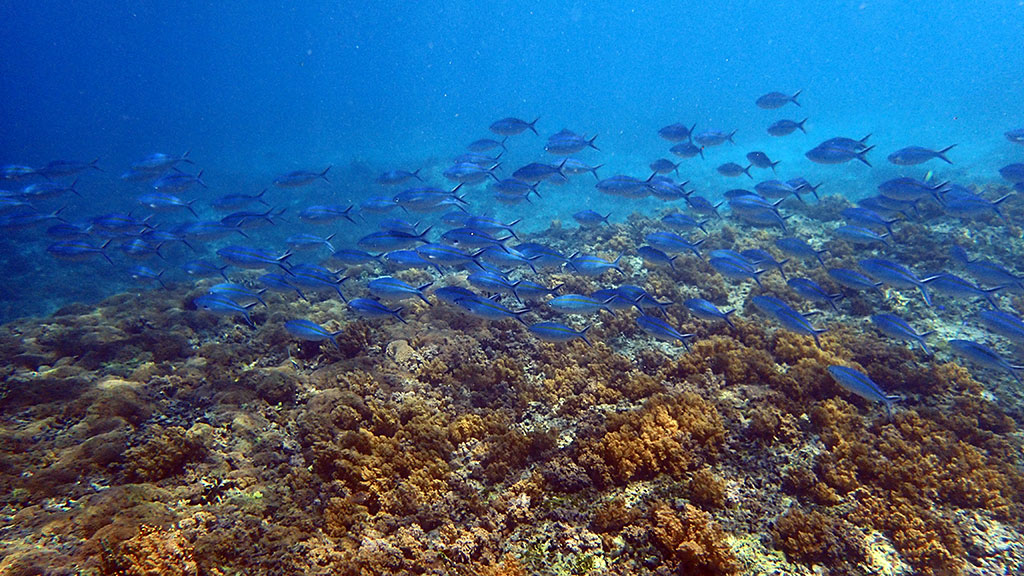 Swim and snorkel
in the incredible warm and clear waters – Swimming is good at high tide, otherwise you'll be wading out over lots of coral to cool down. Watch the salt dry on your skin and give incredible volume to your hair when dry! Hiring snorkeling equipment is easy, but if you're a bit squeamish about germs and where the mouthpiece has been, bring your own! Snorkeling is a must for both experienced and first timers. It's rewarding and high on our list of fun things to do in Gili Trawangan.

Day trips
to amazing underwater features and the other Gili islands – Day trips from Gili T take you to unique underwater statue sites and giant slides. You also get a pretty good view of the amazing waves, crashing against the rocks as you speed past. Practise your free diving and get your GoPro charged because you don't want to miss these unique sculptures. This definitely rates highly as one of the fun things to do in Gili Trawangan.

Sunbathe
on comfortable foam loungers and over sized bean bags – all you have to do is buy a drink at the many establishments on the beach and you're welcome to stay as long as you like. Relax, after all it's a holiday isn't it and if you don't deserve it then who does?

Catch breathtaking sunsets
The island is split into two sides – sunrise and sun set. No prizes for which side has the best views for the more lazy of us, who can't wake up for Mother Nature's daily 5.00 a.m show! The most popular spot for sunset is actually the south of the island near Pink Coco about 1.25 kms from the port (most people ride a bike there). A couple of places serve drinks and food, plus offer chairs and cushions to watch the sunset.
You're half way through our list of 10 fun things to do in gili trawangan and 1 don't ………….keeep going!

Get on your bike
With daily rental starting from 80000 IDR it's a much easier way to see the whole island than by foot. NO cars are allowed on Gili T. Sound like bliss? There are a few parts where you will have to wheel your bike across narrow paths and sand. Most of the island has decent enough path. Beware there are hardly any street lights at night. Bring your phone and think of ingenious ways to attach it for lighting your way after 7pm. Riding on two wheels is always a fun thing to do on holiday in our opinion!

Laze at the outdoor cinemas
Nightly screenings of classic films at various locations. For food and a film try Pink Coco on the sunset side of the island. Get there before sunset and settle in on one of the comfy lounges. Films usually begin at 8pm and are free. You can also see movies closer to the port at a different venue although these are paid about 100000 IDR.

Channel your inner Bob Marley
The Reggae Bar is the place to hang if you're serious about reggae. Even if you're not, you'll hear it! Great bass and powerful speakers ensure the rasta in you will be mellow amongst your fellow holidaymakers. Or, if relaxing is more your style, try a turkish shisha by the ocean.

Romantic dinners on the beach
Most restaurants and even cafes on Gili T have an outside section. Dine nightly on freshly caught seafood with the sound of the waves lapping gently on the shore. Be prepared to hiss at the many cats which try to get in on the fish action. Most venues also have live music, which can be an added bonus, depending on your mood!

Energise over long healthy breakfasts with a beach view of course
Smoothie bowls and great lattes are de rigeur on Gili T. Yes, even quinoa and chia seeds have shown their faces. Most cafes also offer delicious salads and vegetarian options. If you still crave more health kicks there are yoga classes operating in the northern end of the island from a raised studio with ocean views.
Onto our last thing that is not fun to do. Downright dangerous even.
Don't ever drink cocktails
on GIli T and in Indonesia in general. Stick to beer or wine as there is very little chance these have been tampered with. Better still, use this holiday to go tee total and de -tox! Even though Indonesia is a cheap country for tourists, the price of a cocktail is so cheap, it is too good to be true.
The reason is simple. The alcohol in your cocktail isn't a blend of the famous brand bottles you see on display. The alcohol in your cocktail is a lethal local brew containing a toxic chemical called methanol. Disguised with syrups and juices, you won't be able to tell your cocktail is potentially poisonous. You could go blind, or worst case scenario, you could die. (check for yourself, google methanol and Gili T)
That wraps up our list of 10 fun things to do in Gili Trawangan and 1 don't. We would love to hear your views too. Do you agree or disagree? Leave a comment below!

Related Articles

VILLAGE NEWS!
Subscribe to our newsletter to hear about unique travel destinations, when to go, what to see and other top travel tips!
If you enjoyed this review and are looking for more reviews by us check out ourTripAdvisor page