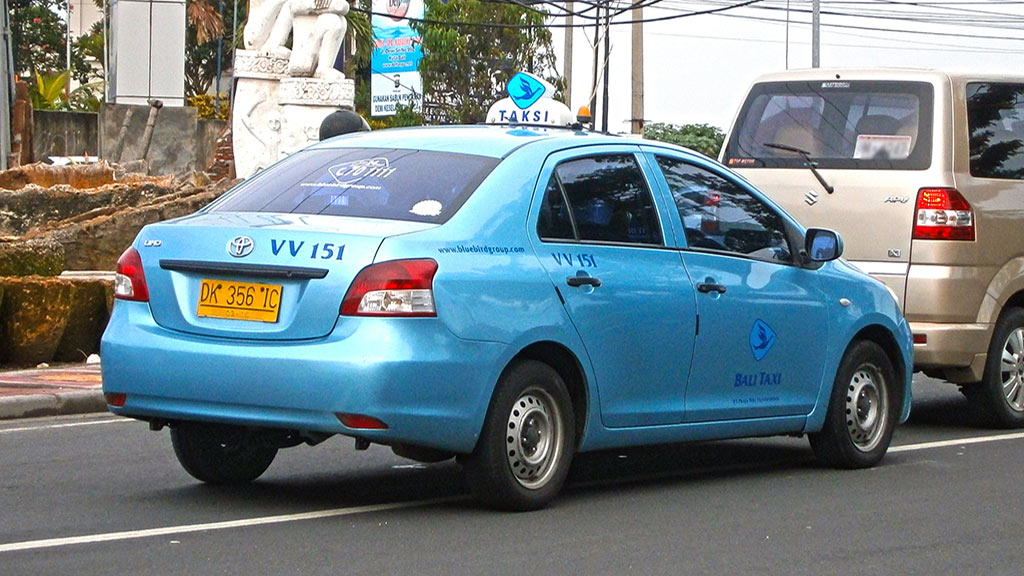 Bali Airport Taxi tips don't get ripped off!
Here's only1invillage's guide on how to survive the taxi mafia at Bali International Airport. Our top tips for a 'fare' rate (pun intended) to start your holiday without a sour taste in your mouth. Getting a Bali Airport taxi is quite an experience.
Grab and Uber can't get into the terminal which is very frustrating. Taxi drivers and anyone who can drive love this fact!
It's really hard to get your Uber, Grab or Go-Jek app to work. The drivers cannot enter the airport without paying a 10,000 rupiah parking charge, just for entering the airport grounds. There is great opposition in Bali towards ride sharing apps. There have been reports in the media of violence and aggression towards the internet based drivers.
Number one tip
DO NOT USE The official taxi stand. It isn't official at all! Particularly true if your flight lands in the evening. It's a disgrace. It's a scam in itself, never use it. As frequent visitors to Asia, we recommend leaving the arrivals hall area.
So, you approach the Bali Airport taxi stand after saying "no thank you" to at least 10 drivers holding their id card out. You have done your research and believe that AN OFFICIAL TAXI operator inside an international airport will be official and honest. Of course not! When you tell them the name of the hotel, they change the price accordingly. So, if you say "I am staying at the Hilton" they'll say 200,000. Say you're back packing or mid range, then a "good" price, (winking heavily) is 150,000 IDR which is about AUD20 or US14 or eleven GBP. Walk away.
Number two tip
On your way out you will see that the price drops the further you walk. So a 200,000 rupiah fare can become 100,000 rupiah in a couple of minutes. Your Grab application tells you the fare is only supposed to be 10,000 rupiah for a 5 minute drive. You're a 'rich' tourist in a developing country, it's only one way and these guys don't make that much money.
Number three tip –
Book a transfer with your accommodation. It is really expensive but if you want to avoid the aggressive haggling, pay the money! You're tired, it's dark, you've arrived with children, so pay! We don't book a transfer because we love the hassle of haggling! Know that 100,000 is a 'good price' including taxes, fees and the heavy traffic. We know we are being overcharged for the short 2km drive, but it's a one off.
When we leave the next morning, the price back to the airport (a 2km journey) has miraculously dropped to 50,000. Of course the Grab we book is only 12,000 and of course they're illegal. Our happy driver gleefully points to some dubious looking signs outside the hotel. We get in to the 50,000 car, as the Grab driver's time to arrive has increased and we are running late. Needless to say, our Grab driver arrives later ( not so illegal after all) we aren't there, but he gets paid anyway.
number four tip
Run up to the departures level with your luggage and get into a Bluebird taxi that has just dropped someone off. If the driver doesn't switch on the meter, set a price. It's still really annoying that Bali Airport taxi drivers with a meter won't use it. But grin and bear it, getting out of the airport is the most annoying taxi ride you'll have in Bali.
number five tip
As a last resort, wave around cash (the amount you're willing to spend) and see who comes!
summary of Bali airport taxi
The moral of the tale is, if you dislike haggling and we mean aggressive haggling, book transfers through your hotel. Know the prices, download some ride sharing apps and NEVER USE the "official" Bali Airport taxi stand at Ngurah Rai Bali International or domestic.
For reference, the Hilton Garden Inn Bali Ngurah Rai Airport offers a free shuttle service to and from the airport. It is essential you book in advance so they know how many cars to send. Do not turn up and call. Email ahead.
Related Articles

VILLAGE NEWS!
Subscribe to our newsletter to hear about unique travel destinations, when to go, what to see and other top travel tips!
If you enjoyed this only1invillage review and are looking for more reviews by us check out our TripAdvisor page