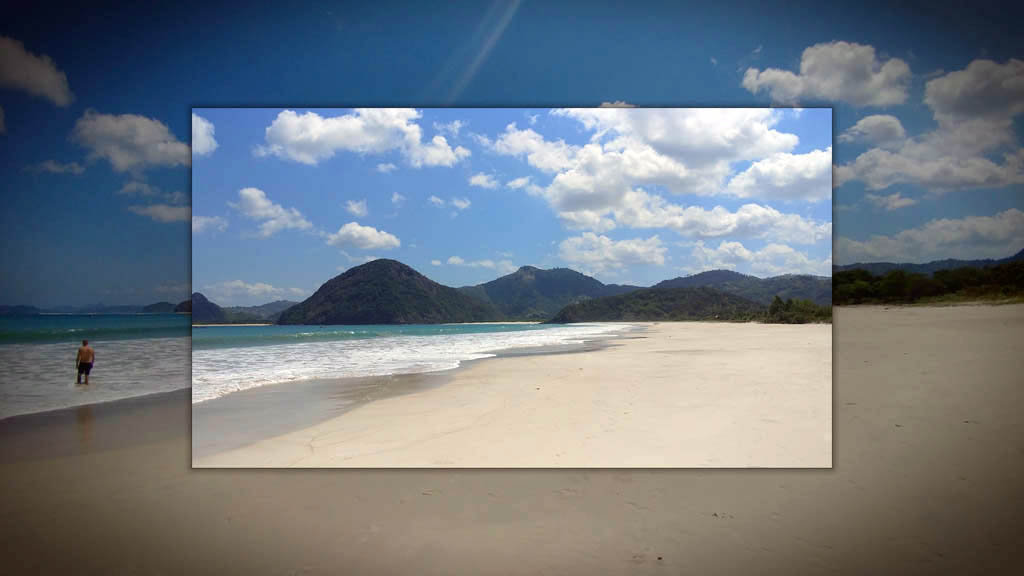 5 best beaches on lombok
Firstly, how to get to Lombok? Where is Lombok? Lombok is one of the thousands of islands that make up Indonesia. It is sandwiched between the better known island of Bali and the almost undiscovered West Nusa Tenggara. Land in Bali and then get straight onto another plane to Lombok! Believe us, this is the easiest and most hassle free way to get to the best beaches on Lombok. Secondly, if you're after a beach vacation only, then Lombok really has the best of the best. In other words, if you're looking for that picture perfect beach, then Lombok will deliver.
Lombok has so many beautiful beaches. Some are easy to get to, but, others are a bit of a day trip. Much emptier than Bali's beaches, Lombok is probably like what Bali was 30 years ago! Our best beaches on Lombok guide is in no particular order. But you must see them to believe them!
Quick Index Best Beaches on Lombok
What makes a good beach is different for each person
As half our time is spent in Australia, we have become a bit spoiled as to what constitutes a good beach. For us, it's clean water and better if it's warm and doesn't contain plastic pollution. Fine sand, of any colour with the absence of coral, stones or vegetation debris. You should be able to lie down with just your towel. Flat waves or surf, you pick your beach depending on your activities for the day. The absence of flying and biting insects also makes it into our consideration for our list of best beaches in Lombok.
Selong Belanak Beach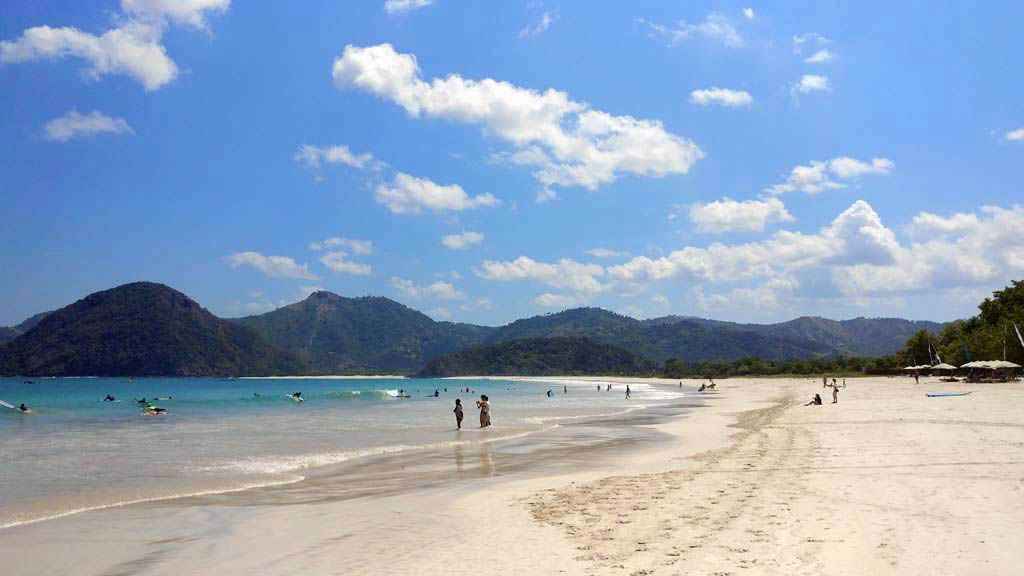 Is this the best beach on Lombok? Read on and decide for yourself.
This beach, in our humble opinion is the quintessential definition of great! White powdery sand in a crescent shaped bay, fringed by coconut palms. The water whilst not crystal clear on some days is clean, warm, free of debris and has decent surf. As with many Lombok beaches, there is no natural shade in the good sandy spots. Looking across the horizon you have little hills which frame the sunset perfectly.
Twice a day, local farmers walk their herd of buffalo along the perfect white sand and this makes for a great spot of people watching. Every single first timer quickly gets up, runs for their camera or phone and snaps these magnificent animals, sometimes getting a little too close! Not too many beach vendors here which is another bonus. There are wide food choices and in general, you get what you pay for. The cheaper seafood dishes like fresh calamari are sold in tiny portions and deep fried. Also not the best quality and prepared in dubious conditions. We're talking hygiene conditions. However, we are still alive, so it can't be that bad!
Taanjung Aan Beach Lombok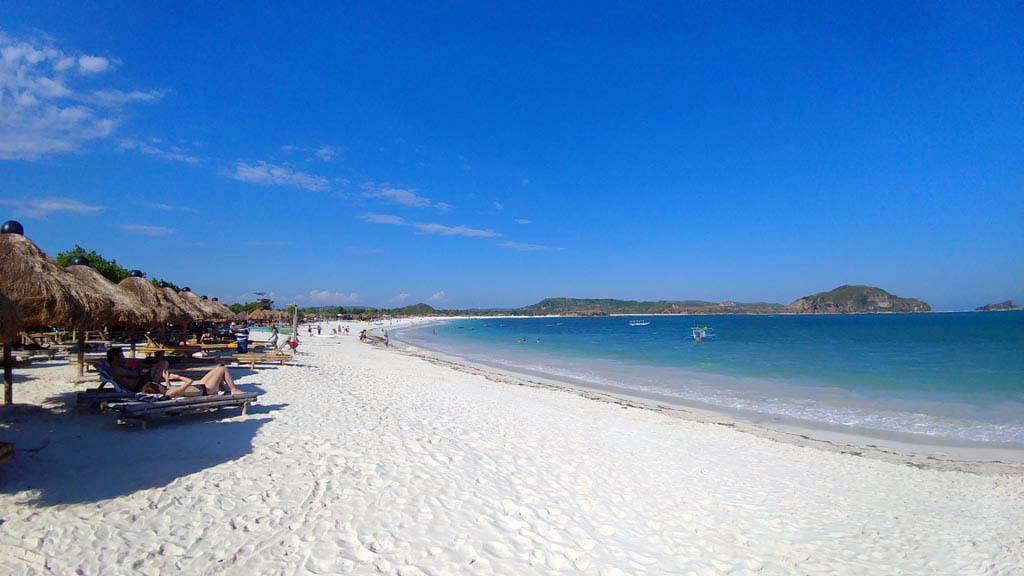 Curved bay, white sand, clear water. It sounds a bit like Selong Belanak. Moreover, it looks a bit like it too although with whiter sand! Beach chairs for hire and trinkets to buy. Flatter waves. The vendors here are a bit more persistent and use children and women to turn on the guilt factor. Depending on the tides and time of year, plastic pollution may rear its ugly head. There are plenty of those wooden swings that you find on Gili Trawangan. Another spot for spectacular sunset shots.
Mawun Beach Lombok

Much less developed in terms of places to eat and sun loungers to rent. Good if you don't like being pestered. Another crescent shaped beach with fine yellow and white sand. Hills frame the water perfectly on either side of the bay. Small waves. Clean water and that indispensable hash tag sunsets on Instagram!
Mandalika aka Kuta

An easy to get to beach from the town of Kuta. Not to be confused with Kuta in Bali! Not that pretty as the Mandalika resort are still building their megolith directly on the beach. The sand is more coarse here and definitely yellow in colour. There are however green hills in the distance as you gaze onto the water.
Sengiggi Beach Lombok

Yellow or sometimes grey looking coarse sand and busy. This is either a curse or a blessing. A blessing because there are lots of food options and water sports, but a curse, if you're seeking peace and quiet. Great for sunset views. Some parts of the beach have lots of dead coral. The big plus is the range of accommodation in the immediate vicinity. Decent surf to be had on most days. If working on your tan is more your thing than water activities, you'll be easily satisfied.
Most Over Rated Beach on Lombok is Pink Beach

We don't like to write negative things, but, sadly the prize goes to Pink Beach. Difficult to get to on horrendous 'roads' and not very pink at all! Plenty of dead coral and in the low season somewhat deserted. Great marketing done by the Indonesian Tourist Board, but we're not impressed.
We hope you liked our list of the best beaches on Lombok. Do you agree? Have you been to these beaches? Leave a comment below and join in the conversation!
While on Lombok we stayed at and highly recommend Bukit Indah Boutique Accommodation
Related Articles

VILLAGE NEWS!
Subscribe to our newsletter to hear about unique travel destinations, when to go, what to see and other top travel tips!