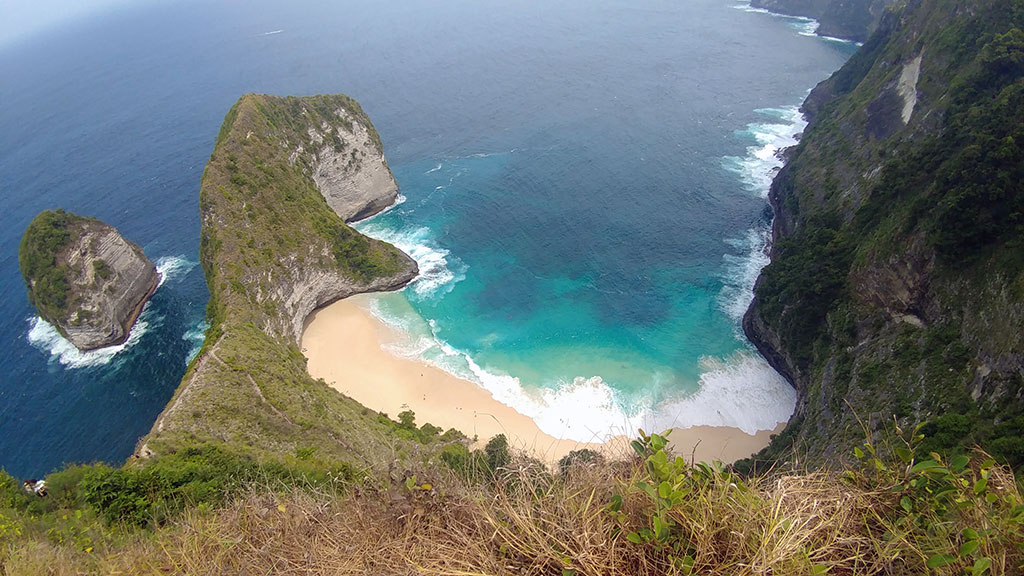 Day trip to Nusa Penida
A day trip to Nusa Penida is a must when in the area! If you're tired of Bali and want a bit of a change, book a day trip to this unique island. You can also book a day trip from Lembongan. Nusa means island and hence Nusa Penida means Penida Island. Nusa Penida is one of the thousands of islands that make up Indonesia.
How to see Nusa Penida's attractions
Penida is best seen on a day trip. It's an early 8 am start from your resort on Lembongan. (To get to Lembongan we like Rocky Cruises). You are driven down to the shore by the Yellow Bridge and depending on how many of you there are, your boat will be waiting. Speed across the water and wave goodbye to your water boat 'taxi' man. He may, or may not be the same person who takes you back over. Seasoned travellers in SE Asia will be familiar with this scenario.
Once you arrive on Penida, your driver for the day will be waiting for you. Don't be surprised if there is another local along for the ride. No matter how comfortable the car is, prepare yourself for the bumpiest ride of your life. The roads are shocking and so narrow in some places, there's only enough room for one car. For those who like to be in the dusty open air and get UV damage, hire a moped!
Angel's Billabong and Broken Beach
First stop is Angel's Billabong and Broken Beach. Amazing crashing waves and a beautiful arch of stone caused by wave erosion. The water here is unbelievably clear with changing shades of aqua, azure and green. Mother Nature definitely makes her mark here. There are plenty of concrete steps to help you get close to the water's edge. Once at the edge, the path becomes more rugged and natural. Watch your step! The billabong is a pool and varies in colour and depth, depending on rainfall. In our photo below, Angel's billabong is reasonably full and is green.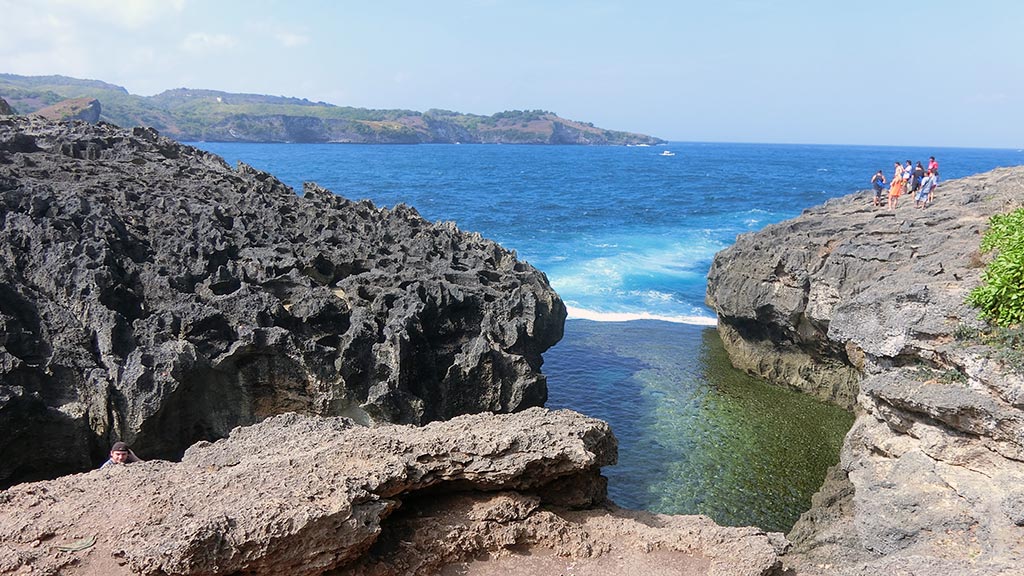 Angel's Billabong – be careful climbing down and around it.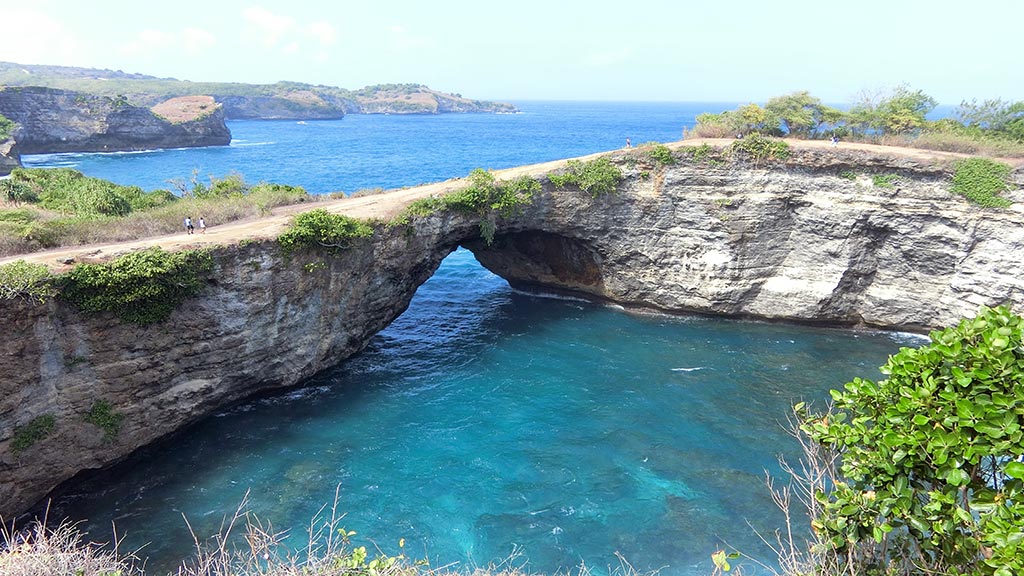 Broken Beach

Breaking Waves near Angel's Billabong
Kelingkling Beach
Second stop is THE ultimate place for every Instagram poser on the planet. Kelingkling Beach or KK is, we admit, is a breathtakingly beautiful spot. Warning, when you arrive, you are on the top of a hill where you look down onto KK beach. To actually get to the beach hundreds of metres below, requires a treacherous 1 hour walk. Only strong swimmers are advised to take a dip and there are of course no life guards at this remote beach. Swimming is only possible at low tide. Most people just jostle for their picture at the top part, overlooking the stunning beach.

Crystal Bay
Third and last stop on our day trip to Nusa Penida is Crystal Bay. It may seem familiar to you, if you have already taken a snorkeling or diving day trip from Lembongan. The beach itself is reasonably sandy but looks a bit grey, even on a bright day and suffers from some oil stains due to the many boats. There is an awesome cliff top walk to the next bay if you're game.

There is some excellent snorkeling and colourful reef at Crystal Bay

The beach itself isn't great being a bit grey and oil stained from all the boats that visit
In summary, it doesn't seem like this would take a whole day, but due to the poor condition of the roads and the traffic from other day trippers, it really does!
Top tips! Take plenty of water and your own snacks. You can of course, stop off for lunch somewhere on your trip. All is negotiable. Bring small change for the toilets, which aren't the best, but when you have to go, you have to go. Finally we hope you have a great day trip to Nusa Penida!
Related Articles

VILLAGE NEWS!
Subscribe to our newsletter to hear about unique travel destinations, when to go, what to see and other top travel tips!