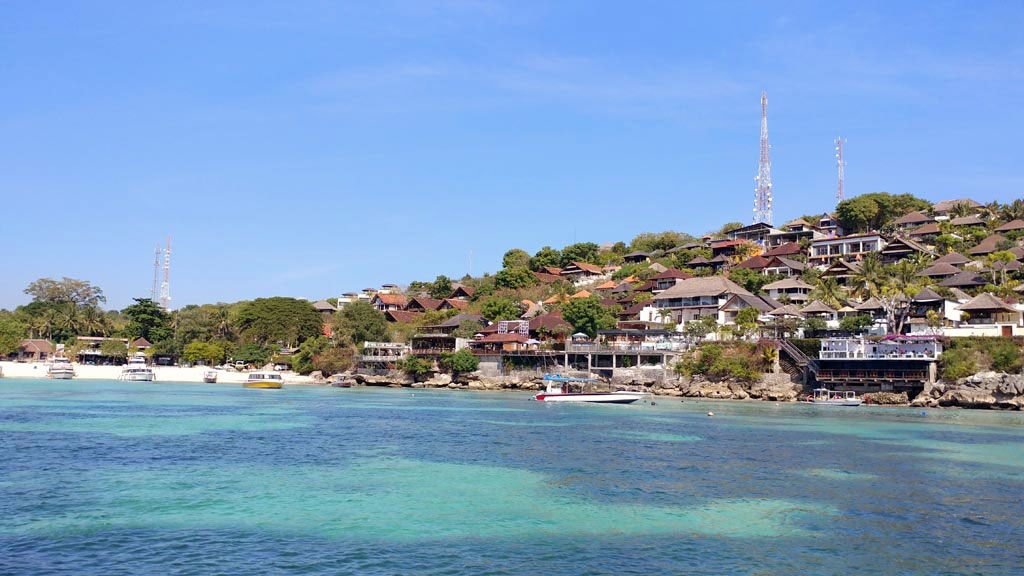 Lembongan

Island the Complete Travel Guide

Everything you need to know, what to do and where to eat on Lembongan Island, Indonesia. Read on, for the one and only Only1invillage guide!

So dive right in or skip to what you're interested in…
Where is Lembongan?
Lembongan is a surprisingly unknown tropical island off the South Eastern coast of Bali, Indonesia. It is a 45 minute fast boat ride away.
Most tourists go either on a day trip, or stay one or two nights. However, we think there's plenty to do for at least 4 nights. Especially true, if you want to visit Ceningan and Penida.
when should I go to Lembongan?
Best time to visit is of course the dry season which runs from May to October. Don't make the mistake of thinking it's the same as Thailand's dry season, which, (generally) is from December to March for the tropical islands of Samui and the Phuket area. However, that said, wet season will be quieter and prices will come crashing down.
How to get to Nusa Lembongan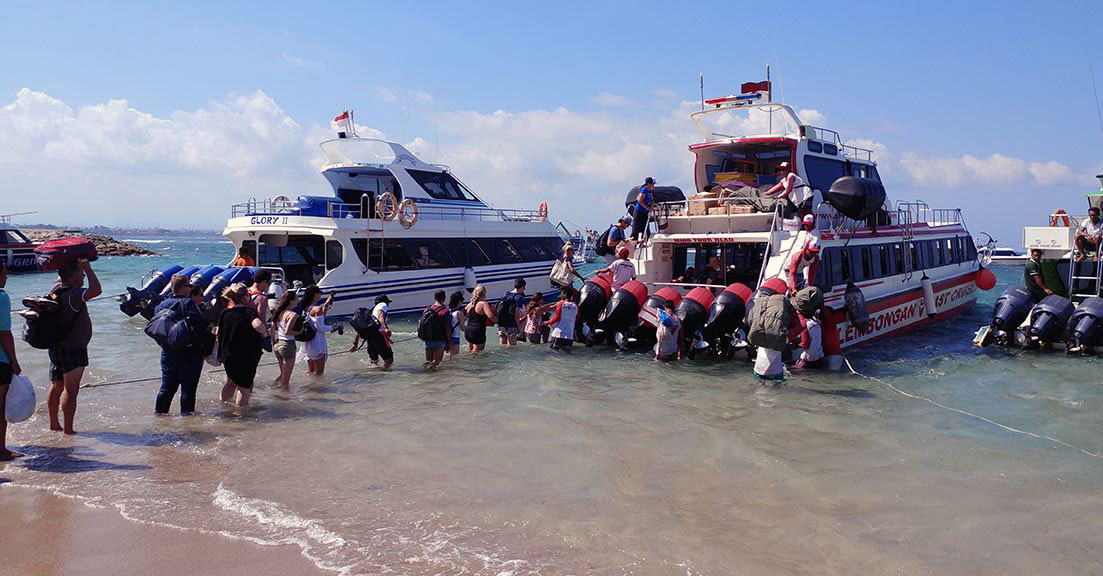 We recommend a fast boat. Rocky Cruises provide a professional service with pick up to the port in Sanur and drop off to accommodation in Lembongan. They provide transport from many spots in Bali to and from Sanur as part of a round trip. You can of course, take a local boat, but, this is a hair raising and very wet experience. Even the fast boats do not guarantee a dry experience, unfortunately. Wear shorts or be prepared to lift that dress, because this is boarding your boat Indonesian style!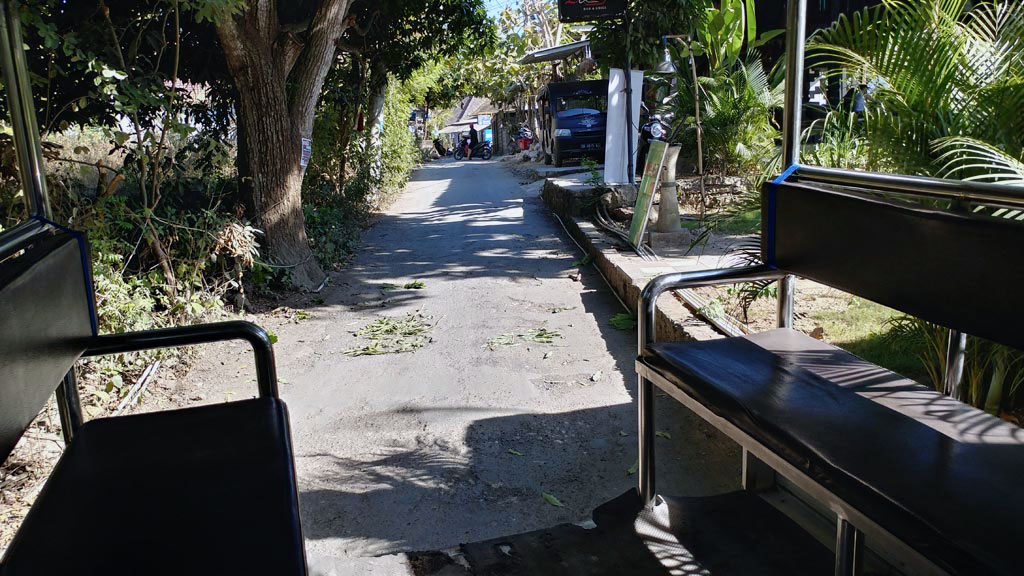 After arriving in Lembongan you will be assigned to a taxi group. Don't forget to pick up your flip flops/thongs or sandals! After a short walk of about 100 metres, you will get to the taxi waiting point. An open air taxi, for example in the picture below will take you to your accommodation. Likewise, they will pick you up for the return journey included in a round trip.
Getting Around Nusa Lembongan
It's not a particularly large island and many attractions are in the southern half of the island. So, if you are up to the challenge of walking a few hours that is certainly possible. Taxis are around, if not the best value option. Push bikes can be hired, although only a few people do this due to the heat. Hiring a moped is the most common option and only about 100,000 IDR a day or cheaper. As much of the island is unpaved there are spots cars just can't go, i.e, the Yellow Bridge that connects Lembongan to Ceningan island and the mangroves in the north. Hiring a golf buggy is a another option with the same limitations as cars.
THINGS TO DO on Nusa lembongan
Mushroom Beach
One of the main beaches on Lembongan and a drop off point for the fast boats from Bali. It's around 150 metres in length has soft sand, plus a nice crescent shape. In addition, the water is calm and warm. There are however many boats that make it impractical to swim on most of the beach. About a quarter of the beach has reef, so you can swim over it as long as it's not low tide. Unfortunately, most of this reef is dead. It's not all doom and gloom however, there is hope for snorkellers at the next beach! At low tide in the morning much of the beach is underwater.

There are plenty of restaurants and bars over looking the beach which makes for a picturesque setting. Also, a main street with lots of dining, bars, shopping, diving shops and accommodation options. A small town has grown around Mushroom Beach so it's more than just a beach.
Secret Beach

With only a handful of people present at any one time, Secret Beach can be accessed in one of two ways. Firstly, you can walk around the rocks at the far north end of Mushroom beach. The second way is through the village and a path near Nanuk's bungalow. Uncrowded with nice sand and no boats. If you swim out from the north side of this beach you will find some decent coral and fish life. It's best accessed at high tide, as the coral can be quite shallow otherwise. Note, this is a different Secret Beach to the one on Nusa Ceningan.
Dream Beach
The most beautiful of the beaches on Lembongan. It has wide and fine sand which makes for great photos. Getting to the beach can be a bit of a trek, although, there are signs and plenty of people headed that way. It is unpaved road most of the way, however. You can get there by motorbike, taxi or walking. There is a steep stairway down to the beach.

Swimming is treacherous due to tides and rocks, so, it's more of a place for a dip and lying on the sand. If lazing on the sand isn't your thing, there is an infinity pool and a restaurant which are part of a hotel on the cliff top. This is open for non hotel guests and visitors for a fee. That is to say, if you want to stay, you pay! Probably the most spectacular views over the beach from this viewpoint.
Devil's Tear

Around the corner from Dream Beach and often done on the same day by the many day trippers and tourists is Devil's Tear. Similar to a blowhole, water rushes in from the ocean and crashes spectacularly against the rocks, sending high jets of water into the air. Be careful where you stand and don't risk your safety for a selfie as the area is not roped off. It's good to visit just before sunset, as you can then meander towards Sunset Beach for great sunset shots.
Spectacular sunset pics at sunset Beach

About 200 metres further along past Devil's Tear is a cliff top overlooking Sunset Beach from which you guessed it, you can get some great sunset shots! There is a pop up bar at the top of the cliff, where you can enjoy a beer and then walk down to the beach itself. Sunset Beach has a popular restaurant/bar called the Sandy Bay Beach Club if you're after a more upmarket venue to watch the sunset from.
Jungut Batu beach

This is the beach where most of the fast boats from Bali dock, including Rocky ferries. The water is crystal clear and as you approach the island, there are great views of a hillside with picturesque restaurants and accommodation overlooking the water. The beach itself isn't really a beach to hang around, due to the many shells and boats. There are however pontoons further out where you can snorkel and swim. Around this area is where you will find many restaurants that will pick you up for free when you dine with them.
Yellow Bridge

The bridge that connects the two islands of Lembongan and Ceningan are connected via a yellow bridge which can only take motorbikes and pedestrians. You can't miss it, as it's er, bright yellow!
Snorkelling or diving TRIPS

The best way to appreciate the abundant underwater life is to get out on a day trip by boat. The island is famous for its giant manta rays which you may be lucky enough to see on a dive or snorkelling trip. Colourful fish can be found in Crystal Bay, Penida, when you book a snorkelling trip.

Lembongan is the place to book tours to Penida or Nusa Penida, which just means Penida Island. It's the same place. Penida is rugged wild and beautiful. You can stay on Penida, but, options are much more limited than on Lembongan.
Where to eat and drink on Lembongan Island Indonesia
A surprisingly vast number of establishments exist on Lembongan. You can get Japanese, Thai, Indonesian, Chinese, Italian and Modern European. There's also really good coffee, made with fresh milk in some places too! You're certainly spoiled for choice on Lembongan for dining options.

Hai Bar and Grill is attached to Hai Tide Beach Resort, the high end establishment in Mushroom Bay. Always busy as a result of its beach views. Consequently book for dinner, especially if you want that view! They also have their own boat called Bali Hai which they use to transport guests from Bali and take out on day trips for snorkelling and lunch. The coffee here is great, definitely up to Italian standards. The food is fantastic. A vast array of salads, steaks, seafood and Indonesian food. Something for everyone and prepared in clean conditions. Slightly pricier than other establishments.

Dream Beach snack bar on the beach. Not the one with the pool on top of the hill. Good salads and snacks. Cheap prices.

Seaweed Seafood and Grill. A little walk up from the Yellow Bridge and drop off point for Nusa Penida. This awesome place has great seafood and the fresh seaweed that is painstakingly farmed, in front of you from the restaurant terrace.

LGood Bar and Grill in Mushroom Bay is good for the free music that is on every night. The description of the food doesn't quite match what you get, but the ambiance is good. Also the chairs are very comfortable!

Our favourite coffee joint is Mushroom Espresso in Mushroom Bay. An imported Italian coffee machine with fresh Greenfields milk, guarantees a tasty latte, espresso or capucciono. The baristas are super friendly too.
Where to STAY on Lembongan ISLAND


We stayed at Damara Hotel which is a mid range hotel. It has a great pool, location, staff , nice rooms and a fantastic price. Breakfast can be improved however. The staff here can organise your Penida day trip tour.
Budget Accommodation Pange Hostel
Luxury Accommodation Hai Tide Beach Resort
Related Articles

VILLAGE NEWS!
Subscribe to our newsletter to hear about unique travel destinations, when to go, what to see and other top travel tips!