Belem Portugal home to the famous belem egg custard tart
Belem is a district of Lisbon, Portugal, on the banks of the Targus river. While for some it is famous for landmarks associated with discovering the so called "new world". But for Only1invillage, it is about savouring the taste of a particular sweet. Welcome to Belem Portugal, home to the famous Belem egg custard tart! It seems like quite a long journey to make to eat something, but, if you're a foodie, you mustn't miss out. However, if you're in Lisbon, you might as well jump on the tram and see what all the fuss is about for yourself. Moreover, you will want to judge for yourself if all the hype is worth it!
home to the famous belem egg
custard tart!
The famous Belem egg custard tart! Never heard of it? Where have you been hiding or eating for that matter? Firstly eating dessert is a serious matter. Secondly, it might become your new favourite dessert item. Lastly we like it so much we have to write about it! But, of course, you'll have to judge for yourself. You'll either love it or hate it. Maybe you'll be indifferent. We know either way you're going to try it!
It almost doesn't need explaining. As the name suggests, it's a tart filled with egg custard! It's a bit like a more solid creme brulee in a crispy pastry shell. Belem egg custard tarts are made to a secret recipe. You can find egg tarts wherever there are significant Portuguese populations such as Brazil and ex colonies like Macau. But they're not all same same! Belem egg custard tarts are world renowned in foodie circles. As a result only1invillage isn't going to miss this opportunity. When in Rome, as the saying goes.
belem sighstseeing
After filling your belly with the "pasteis de nata" or "pastel de nata", head towards the water for the monuments and museums.
There are UNESCO world heritage sites to discover and explore. They'll probably be on your list anyway. It's almost like they go hand in hand with the egg custard tarts. Most noteworthy is Jeronimos Monastery and the Belem Tower. But, there's also plenty of transport museums, a small palace and a tropical garden. Maybe, you'll have to come back another day as you'll probably run out of time. Finally, after all that culture you'll most likely be in need of a custard egg tart.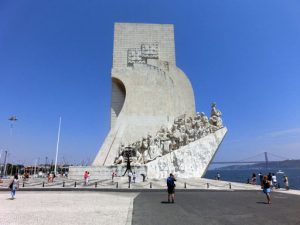 Vasco da Gama, the famous Portuguese explorer and navigator set off from Belem in 1497 looking for trade routes to the East. He is accredited with finding an alternate sea route to India. This monument is dedicated to him and various others to commemorate their seafaring accomplishments.
pasteis de nata
The sweet treat is worth coming to Belem for! After years of eating the chinese version, while similar, we have to say that this egg custard tart was better.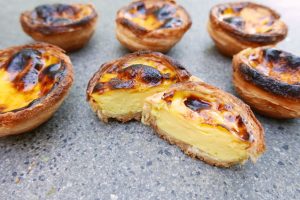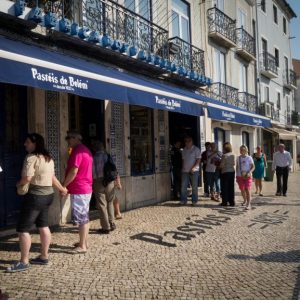 the original Belem egg custard tart bakery in belem
Impossible to miss by the queues outside this long established bakery. The blue and white tiled bakery is a must visit. You won't stop after just one egg tart.

Climb to get this view from the upper terrace of the Torre de Belem. Below there are dungeons, steep spiral staircases and all manner of medieval marvels. Make time to visit, after all it is a city icon and good views too.
WATERSIDE WONDERS at BELEM
The Belem tower is a fortress originally built to defend the mouth of the Targus River. Tours are available and you get splendid views from the upper terrace. UNESCO World Heritage SIte of course. Yet another one to tick off in Lisbon, while you're there!


jeronimos monastery
Yep, it's a UNESCO World Heritage Sight, declared so in 1983! Well , well. Therefore you have to visit! The patterned stone detail is tessellation on a grand scale.
Okay there's more to Belem than the egg custard tarts. See the photo essay here.

LEARN PORTUGUESE
If you're travelling to Portugal (or Brazil) you need to learn Portuguese. It will open up a world of opportunities to really experience the culture and connect with the people.