lisbon portugal cool capital
Lisbon Portugal the uber cool capital is fast gaining a reputation for partying by night and cultural sightseeing by day. Blessed with lots of sunshine, a coastal location and still relatively "undiscovered" for Western Europe. Lisbon, is well connected by air and rail to all other major European capitals. You could easily spend two weeks in this value for money destination. Only1invillage spent a week in Lisbon and it wasn't enough! Stay in any one of the distinct districts or hop between them. The Baixa district is where most of the activities and shops are located. Stay here if you don't want to move and want to be centrally based. Chiado and Bairro Alto are fast becoming the hip, cool, bohemian, alternative place to live. Very trendy bar area at night and cafe scene by day. If you want to live like the locals, then Alfama will be your pick. More traditional with many narrow streets and home to dying trades like fishing. The Belem district has many fine monuments and grand houses. If you're looking for more space and a less hectic space and of course the best egg custard tarts, this district is for you.
St george's castle towers over lisbon PORTUGAL and is easily visible from below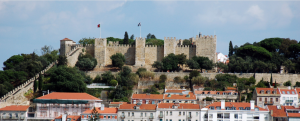 The Moorish style castle is one of the most visited sites in Lisbon , Portugal.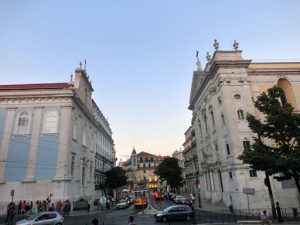 Grand buildings are everywhere in downtown Lisbon. An architect's dream as there are many different styles such as Neo Gothic, Baroque, and Modern. This building down
the street from the Sao Roque church is typically grand and Libonesque.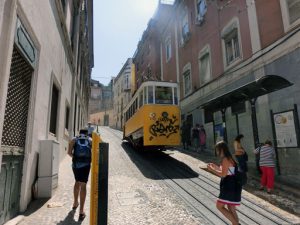 excellent Lisbon tram system
Thankfully the trams in Lisbon go everywhere you would ever need to go. Given the amount of steep hills, the trams are a god send!
the views of lisbon are worth the climb to the top!
Built upon seven hills, the view from the castle overlooks the river and the city . One of the best places to get a panoramic view of Lisbon.Marvel over the terraces, battlements, Lisbon's squares, bridges and the orange sunburnt rooftops.

BAiRRO ALTO (upper district)
The distinct district of Lisbon comes alive at night with bars and music. During the day it is like any other area with people going about their usual business. People live tightly packed together, romantic or overcrowded? Take your pick.
Below are some of our favourite pictures of Lisbon Portugal.

LEARN PORTUGUESE
If you're travelling to Portugal (or Brazil) you should learn Portuguese. It will open up a world of opportunities to really experience the culture and connect with the people.