Fresh, tasty Vietnamese food
Food, glorious food. It's everywhere in Vietnam. Seems endlessly available, fresh, fast and tasty. Signature notes of lime, lemongrass and Vietnamese mint, which tastes in contrast, nothing like peppermint or spearmint. Holy basil, tamarind, ginger, garlic and star anise. These are just some of the key ingredients in Vietnamese food. The pho is world famous. We have it on good authority that it should be pronounced like the 'fur' of an animal. In addition with a low intonation. Definitely not rhyming with 'go' though! Chicken pho, beef pho, pork pho, frog pho. So, whatever the pho you're into, it's never better than in Vietnam. We also love the salads of Vietnamese cuisine. A blend of various textures in each mouthful. An almost guaranteed explosion of flavours. Above all, Vietnamese food is fresh, made on the spot and full of unique flavour.
Even though Vietnamese people love meat, you can also eat very well as a vegetarian. Moreover, the mind boggling array of fresh vegetables and fruit will delight the senses. Crunchy, succulent, tender, sweet, sour, salty, umami and bitter. Due to the climate, there are fruits that you will probably never have seen. There are vegetables that look like they're from another planet. You might not even be able to pronounce them! But, give them a go, it's definitely an experience. Certainly, all the taste sensations are in Vietnamese food. Only1invillage is a particular fan of pomelo salad. Similar to a grapefruit but not! It can also be ordered off the streets. Maybe you can also find it in hole in the wall restaurants with plastic chairs or the more salubrious restaurants in 5 star hotels. Happy eating!
colourful fruit
Tired of the old apple and pear? Then try these delicious fruits instead! Longan, dragon fruit, jack fruit, sapodilla, star apple . Or how about some syzygium samarangense? All right, we'll call it a bell apple for short.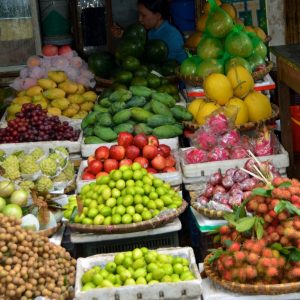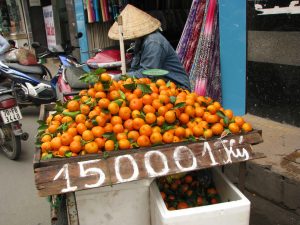 colourful vegetables
Vegetarians rejoice in Vietnam. An overwhelming variety of vegetables are available. Try something new like bitter gourd. Maybe stick to old favourites such as taro and choi sum.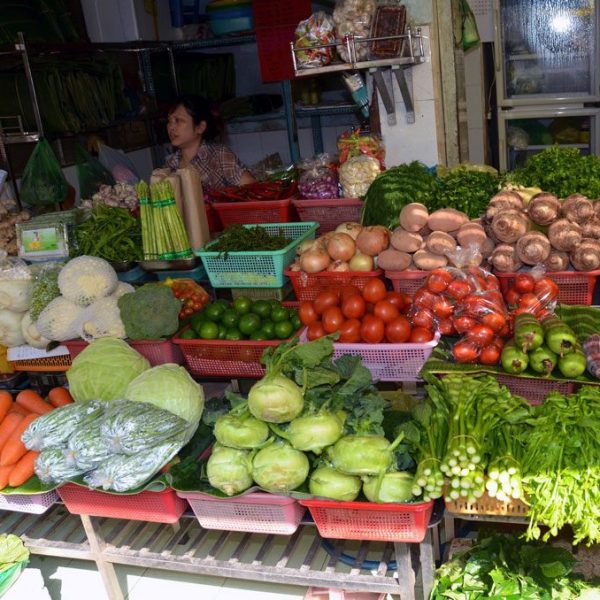 Travelling food
Fresh, tasty Vietnamese food is everywhere. Even at traffic lights you can grab a snack on the go!


bowls of flavour
Whether it is hot or cold, morning or night, everything in your bowl will be fresh. It will be tasty and a feast for the eyes.
You'll never go hungry in Vietnam. Day or night, fresh, tasty food abounds. Vietnam is a foodie paradise!