busy in the cities of Vietnam
First of all, all Vietnamese cities are busy. Being busy in the cities of Vietnam is somewhat of an understatement! If you are new to Vietnam you will probably find it chaotic in the cities, where it seems like everyone is on the move, almost all of the time. You will probably end up dazed, back in your hotel room, pondering how you didn't get hit by traffic while crossing the road. There's always something going on in the streets and alleyways.
Did we say it's busy in the cities of vietnam? ho chi minh and hanoi
The two old capitals, at opposite ends of the country are the busiest cities of Vietnam. Most of all they are now a blissful blend of architectural and cultural delights. Spend days wandering the markets, dodging the motorcycles and stopping off at any one of the hundreds of pop up street food and beer stalls. To us, Vietnam is like a cleaner, calmer version of India! A cacophony of mopeds for the ears and bright, dazzling colours of all the fresh herbs, spices, fruit and vegetables available all over the cities. The main cities to visit are the two old capitals, Hanoi and Ho Chi Minh plus the sea side cities of Nha Trang and Hoi An.
busy in the cities: the traffic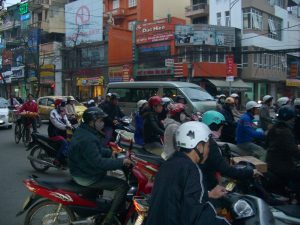 Everywhere is busy in the cities of Vietnam
The quaint sea side village feel is definitely gone and there isn't less traffic in the smaller towns. Darting in and out of the traffic and holding up your hand to stop traffic is quickly going to become second nature. After one day you will be an expert and move like the locals. More and more pavements/ sidewalks are in the cities and sometimes the citizens obey the traffic light signals, but sometimes they don't! Maybe, if you're lucky a man with a plastic "lollipop" will blow a whistle, wave his lollipop and the traffic will slow down and go around you. In conclusion, it's definitely an experience dealing with traffic in Vietnamese cities!
get busy shopping
Endless shopping, dining and nightlife abound in Vietnamese cities. Don't forget to bring your favourite clothes to the cities like Hoi An to get copied while you're sighseeing. In addition to clothes, even shoes and boots can be tailor made! Like in Hong Kong, the tailors and shoemakers can whip you up a suit in under 24 hours. Furthermore you will also get a free shirt! Due to the vast number of tailor shops, of course you must do your research, as quality varies in fabric and finishes. Fake designer goods are plentiful but beware of the spelling. Vietnam is also famous for lacquer painted products. Artisans can paint almost anything with this glossy finish. When shopping, remember the old adage, if it seems too good to be true, it probably is!
Busy travelling in the cities
get on your bike
Getting around is quite easy in Vietnamese cities due to the many transport options available. Hence bicycle hire is readily available in quieter cities, such as Hoi An and Hue.
taxis
Due to the usual taxi scams, we recommend using Grab (South East Asia's main rival to Uber). It's much less hassle than haggling with a taxi driver. In addition you won't get ripped off as you fumble with those paper bills. It is probably best to download the app in advance. Working on the same principles as Uber, you get a set price in advance. Almost the same as Uber, you get the name of the driver, the make and model of the car too. In the same way as Uber, you rate your driver after the trip.
planes and trains
Travelling between cities is best done by plane, if you're time restricted. But also consider night sleeper trains as they are relaxing and you get magnificent country views. Of course buses will be the cheapest and slowest option.