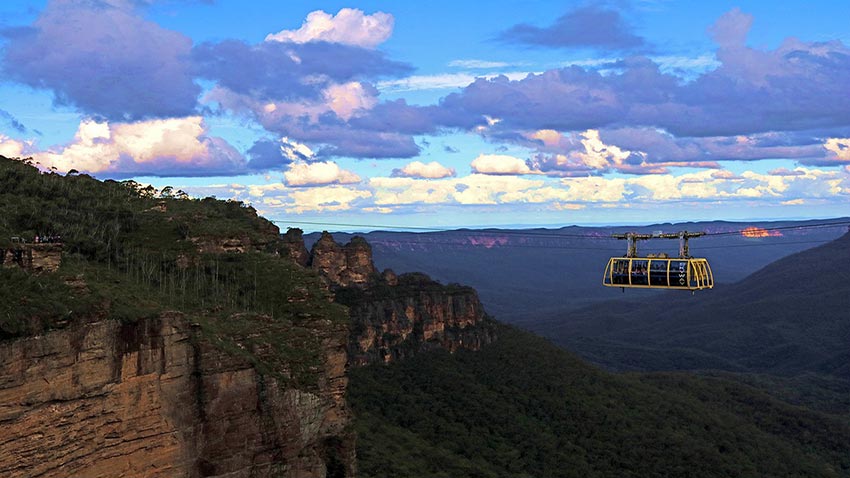 Blue Mountains a perfect weekend escape or day trip from Sydney!
A weekend in the Blue Mountains will leave you relaxed, refreshed and re-energised for the week ahead. It's the perfect romantic weekend getaway. The Blue Mountains lookout points, stunning scenery, waterfalls and walks are not to be missed. You'll want to return every weekend to the Blue Mountains to discover more. The Sydneysiders' secret nature playground is out!
Quick Index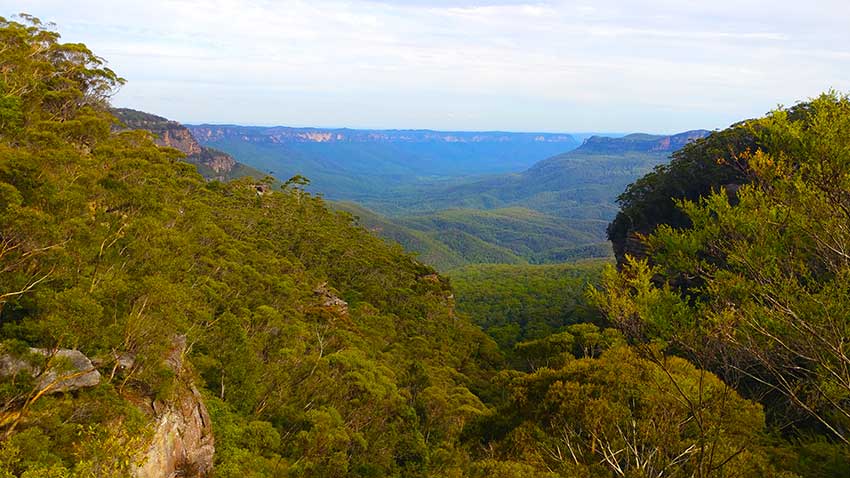 The Blue Mountains is a national park with outstanding natural beauty and World Heritage status. For geology geeks, it's good to know that the Blue Mountains is a mixture of all 3 rock types. Yes back to your school days to recall them. There are igneous, sedimentary and metamorphic rocks and landforms to gaze upon. The forces or uplift, erosion, weathering and even fire have all contributed to the stunning landscape that is the Blue Mountains.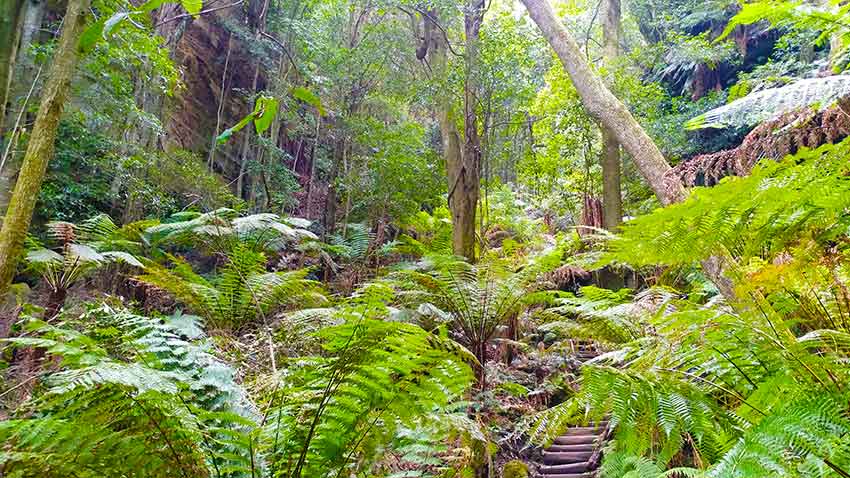 Where are the Blue Mountains
The Blue Mountains are an hour away from Sydney, along the M4, heading West. The Blue Mountains are located in New South Wales, Australia. It's a vast area over 1000kms squared. You will pass Parramatta, the area where Sydney had the 2000 Olympic Games. The Blue Mountains is a national park and area of designated beauty. It is famous for The Three Sisters rock formation around the world. International and domestic tourists alike are drawn to the Blue Mountains for the stunning waterfalls, jaw dropping lookout points and hiking opportunities.

How to get to the Blue Mountains
The best way to explore independently is by car. Hire a car for the weekend directly from the airport. If you're a Sydneysider, you'll obviously be driving. The two main towns which everyone visits are Katoomba and Leura. If you have time, or on a return visit, you can't miss out the walks from Springwood, Blackheath, Glenbrook and Lawson. These towns all have walks of their own.
You can join day, or 2 day tours too which will take you to the "Big Three" sights – The Three Sisters, Wentworth Falls and Leura Falls. You can also ride the scenic railway, valley cableway and the skyway (suspended cable car). Some tours stop at Featherdale Wildlife Park, where you can get your picture taken with a cute koala. Meet kangaroos, wombats and dingoes too! Tours are best if you can't be bothered with the hassle of driving in a foreign country.
Best time to go to the Blue Mountains
If you're a keen hiker, the best time to go to the Blue Mountains are Spring and Autumn. Winter and Summer are still good. However, optimum conditions to avoid sunstroke and hyperthermia (if you get lost, which has not been unheard of) are Spring and Summer, as a rough guide. Also, rain is a big dampener on mountain scenery, so sunny days are best for those blue sky shots!

The seasons in this part of Australia are:
Spring – September, October, November
Summer – December, January, February
Autumn/ Fall – March, April, May
Winter – June July, August
Your Saturday Blue Mountains Walk Wentworth Falls
Where to start: At the Wentworth Falls Picninc area car park. Here is the Jamison Lookout platform where you can get a rough idea of the walk ahead. Wentworth Falls is after the town of Bullaburra.

The Wentworth Falls walk was named after a famous explorer who basically wanted to discover if you could get through the mountains. William Charles Wentworth with two others, did it in 1813. Wentworth Falls are 867 metres above sea level.

The full circuit of going up and down the valley, in a loop, will take around 5 hours. This includes the Charles Darwin Walk, the Rocket Point lookout and Princes Point Lookout. This is quite hard work with lots of steep steps between lookout points. The rewards though are worth the sweat. The thing to note here is that there are loop walks within this walk. If, at anytime, you need to turn around you can.
You can get much closer to different parts of the falls on the loop trail.

So this walk can be as short as 1.5 hours if you wish. If you want more of a challenge or a workout in nature, we suggest the entire loop. This will take around 5 hours, depending on your fitness levels.

Bring plenty of water as you cannot drink the crystal clear water. On our walk we saw lots of people without water or sun protection. There are no water fountains installed on the Wentworth Falls Walk.

The Gundungurra people occupied this area for over 40,000 years before European 'discovery'. The Blue Mountains is home to indigenous species such as kangaroos and koalas. These iconic creatures are hard to spot however. You're better off going to the Grampians mountain range in Victoria, to see kangaroos and even emus. You will see the Australian water dragon, pictured above catching the sun's rays on warmer days.

Your Sunday Blue Mountains Walk Leura Falls
The full circuit will take around 3 hours , if you don't start at Leura Falls Picninc Area. We started at the Bridal Veil Lookout point, which incorporates the Fern Bower Track. If you search for "best hikes Blue Mountains", this one will surely come up! It can be difficult or moderate. You can even incorporate it into another walk, like the Gordon Falls walk.
Where to start the Easy Leura Cascades walk:
Go through the stone arch at the Leura Cascades picnic area. There is plenty of car parking. You start a set of stairs descending towards Leura Falls. This is really short and will take you about 5 minutes.

Gordon Falls lookout area is a popular spot with families. With its magnificent panoramic views, excellent birdwatching, space for the kids to play and bushwalks, who wouldn't come here? This will explain why you might see more people when you get to this part of the walk.

From Gordon Falls, it will take you about 75 minutes, depending on your fitness level, to reach Leura Cascades. But from the picnic area it's only 3 minutes!

Now if you're super enthusiastic, on the drive back to Sydney, we really recommend the Clarinda Falls walk near Springwood. It will be absolutely deserted as most people do the Wentworth and Leura walks when they go to the Blue Mountains. Here you will definitely feel like you have stepped into the film set of Jurrassic Park. Massive ferns and boulders and dense foliage envelope you until you get to lovely clearings of refreshing mini falls. Don't miss out!

The Clarinda Falls walk starts at Faulconbridge train station. It's a bit confusing as you have to walk down a residential road called Sir Henrys Parade. Look for signs for Victory Track which will lead you down into bush land.

Once you have found the track, you can smell the earthy forest floor and ferns. Look down at your feet for the lovely green moss.

The Clarinda Falls Loop Walk will leave you feeling energised or exhausted! Have you been to the Blue Mountains near Sydney? Share your comments below.
Related Posts

VILLAGE NEWS!
Subscribe to our newsletter to hear about unique travel destinations, when to go, what to see and other top travel tips!