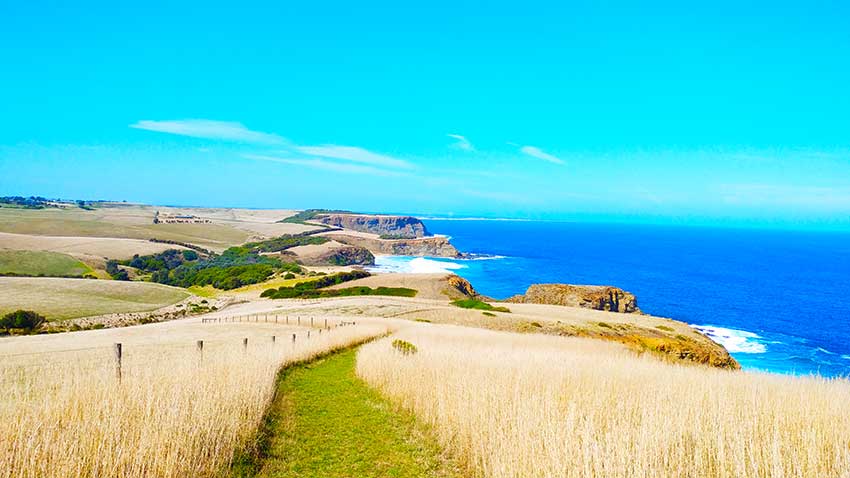 George Bass Coastal Walk
Want a mildly challenging hike with spectacular coastal scenery, varied terrain, Australian native wildlife and plants?
Well, get those shoes on and let's go walking on this amazing hike, just under 2 hours from Melbourne. Make it a day trip or take it easy and complete the walk over a weekend in regional Victoria.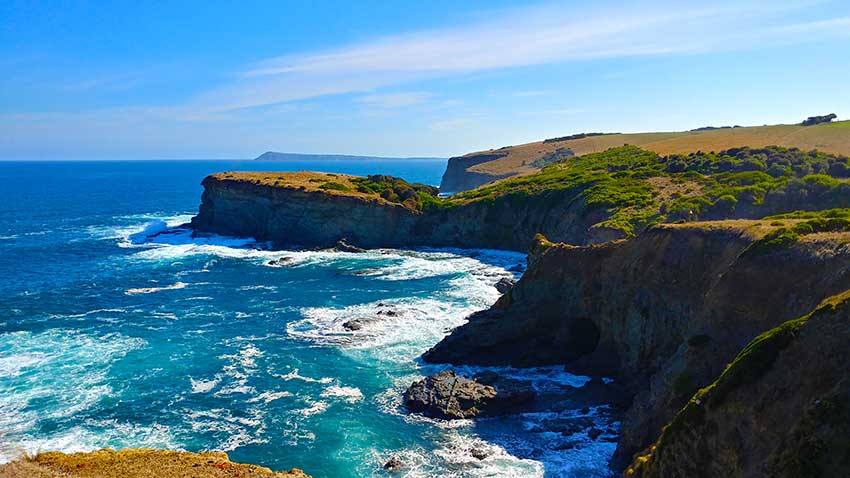 What is there to see and Do on the George Bass Coastal Walk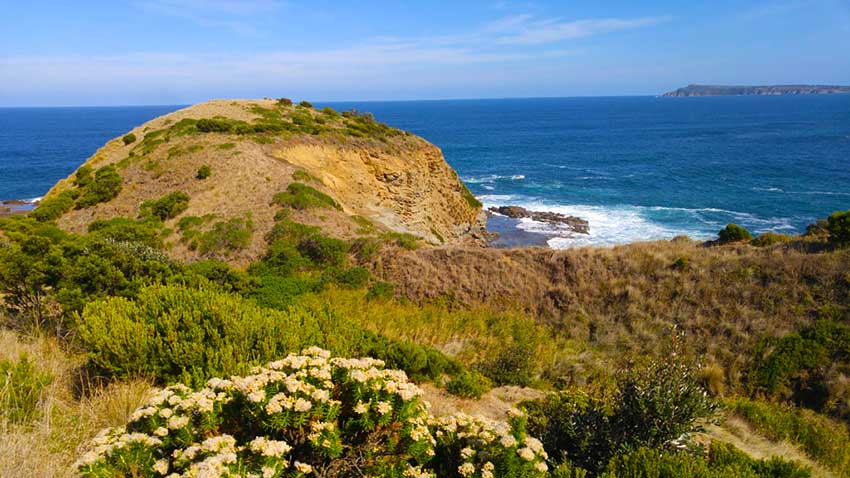 There are spectacular views of the ocean and countryside on the George Bass coastal walk. There's beach, hills, gravel paths, swathes of grassland and classic Australian "bush" foliage. Spring (September to November in Australia , Melbourne region) is a fabulous time to go and see the coast beard heath in flower. The blue tongue lizard and over 300 bird species are just some of the creatures you'll see on your walk.

All of the walk is open and exposed to the elements. You'll get sand in your shoes, stumble over rocks and walk on compacted gravel. In some parts you'll feel like you're walking through a scene of the film Gladiator. You know the part where Russell Crowe drags his hand along the grass!

Where is the George Bass coastal walk?
The George Bass coastal walk is a mere 1.5 hours drive (in good traffic) from the city of Melbourne, the capital of Victoria, Australia. It is about 120 kilometres from Flinders Street Station in the city centre. So you can do this walk on a day trip!

How long will the George Bass coastal walk take?
This depends on your fitness levels and how much you like taking photographs. Average times say about 2 hours. We're good walkers and we took 2 hours 50 minutes because we were faffing with cameras and someone called J along the route! If you're doing this as part of your fitness routine, you'll definitely do this in about 2 hours. If you're not fit, then allow up to 4 hours each way. Let us know in the comments section, how long it takes you!
Top Tips for the George Bass coastal walk
When to go: As long as it's dry, any season is good to go. Being a coastal walk it is almost always windy. Don't bring your favourite floppy hat unless it's really tight fitting. If you're prepared to hold onto it constantly, by all means bring it. They do look good on all those photos we have to admit!
Difficulty of hiking trail: Mostly easy to moderate. It's 7 – 8kms one way. The hiking trails offer something for everyone. Even young children can do most of the walk. There is meadow land, compacted gravel and sand on this walk. There are some short steep hills and it is close to cliff edges. Make sure you keep your children or dog away from the edges, especially on a very windy day.

Car Parks: You walk from one car park in Punchbowl Road, San Remo to the other one in Kilcunda. Or vice versa. There's no charge to park in either car park. To access the one in Punchbowl Road you just turn on to the compacted gravel road. Be careful it is a two way road and narrow. The car park at Kilcunda is just off the fore shore.

Dog friendly: Keep your canine on a lead. The park allows dogs but to protect the sensitive native fauna and flora, they ask you to make sure your dog is kept under control.
Provisions: We recommend that you take half a litre of water per person, per hour, that you intend to walk, on a hot day.You might want some fruit and muesli bars for a walking lunch. There's no cafe along the way for a half way break! There are also no bins so take your rubbish with you. Don't bother with an umbrella, it will get broken. If there's a chance of inclement weather, you're better of wearing a waterproof jacket with a hood.
Sun protection: There's hardly any shade on this walk. Don't get caught out with the harsh Australian sun. Wear sunscreen and a hat. You might not feel like you're getting burned, but sun burn is never a good look!

Shoes: Hiking shoes are not necessary. You will get sand in your shoes, so if you choose to wear sandals, plan in advance. There are parts that you need to go steeply downhill, so shoes with grip are recommended. However, you can get by with running shoes like we did. We don't recommend flip flops or thongs.
Mobile phone reception is patchy on the George Bass coastal walk. Sometimes you get a signal, sometimes you don't!
Flooding: There are some areas close to the beach walk section which can become waterlogged and 'pools' may be deeper than they seem.

Let's get started along the stunning George Bass coastal walk! We started from the Punchbowl Road car park, in San Remo.

So, we leave the car in the Punchbowl Road car park. If we walk quickly enough we can be back in 5 hours! Doesn't sound too hard!
We're in high spirits as we trek along, with the beautiful blue ocean to our right and lush greenery on the left. The sweeping views are starting already and the blood is flowing.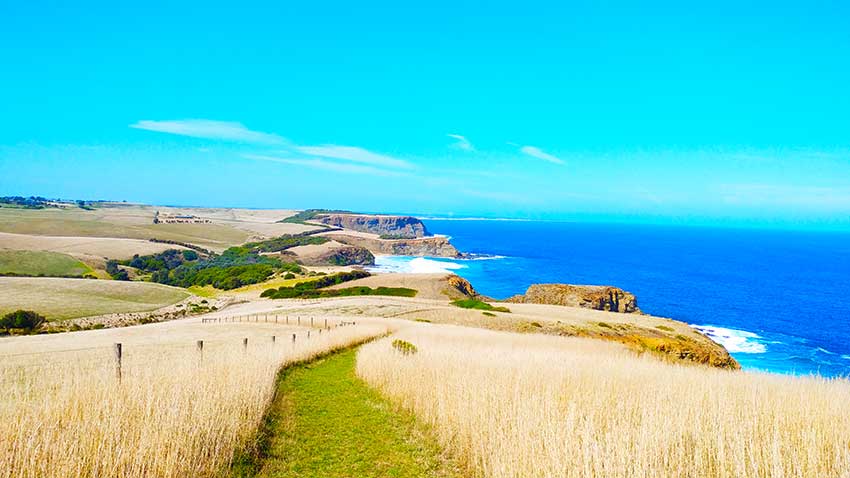 You're 45 minutes into the walk and you see signs for Half Moon Bay. So far the walking has been pretty easy on gently sloping grass paths.

In order to get down to the bay, there's going to be a moderately steep descent. At the 1 hour 15 minutes point, the terrain changes to sand.

You have to back track the same way you came to leave Half Moon Bay. You cannot continue to skirt along the coast line. Keep walking and your next sandy beach awaits.

At times, after Half Moon Bay the route can get confusing. But continue to read and "she'll be right", see our Australian slang guide to understand what we mean! Our best advice is to keep the shore line in sight.
Along this part of the George Bass coastal walk there are some really cool 'water holes' or mini swimming pools. So as not to confuse things, Australians have named this part of the walk, you guessed it, Sandy Waterhole.

Remember, it's not safe to swim in the ocean here. The rip tides are very dangerous and there are no life savers patrolling any part of this area.
Keep calm and carry on! The aptly named beach walk section is coming up next. After all the greenery of the rolling hills and dramatic cliff faces, comes the light yellow sand.



After the Beach Walk section, there's more grassy path which leads you to a sign of colonial human impact on the landscape.

If you're interested in reading more about the mine sites of Victoria, click here.
Just when you think the walk hasn't been varied enough you see this on the approach to the Kilcunda foreshore and the end of the George Bass coastal walk. There's this sight to behold. Crashing waves!

At Kilcunda, we congratulate ourselves and wonder do we have the energy to walk the return journey?
Looking back over the view, we give it some serious consideration.

But we decide against it. That's for the next time!
Don't forget if you have done this walk, we would love to hear your thoughts. Please leave a comment in the section below.
Related Posts

VILLAGE NEWS!
Subscribe to our newsletter to hear about unique travel destinations, when to go, what to see and other top travel tips!