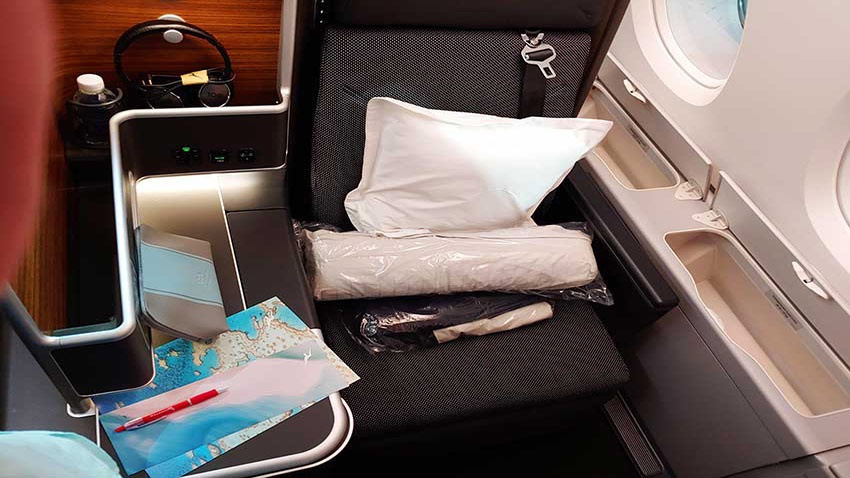 Qantas A380 Refurbished business class Flight Singapore to London
Read all about the refurbished Qantas A380 QF2 business class flight from Singapore to London. It's a non stop flight, just shy of 13 hours.
The last time we flew business class on a Qantas A380 was on the older style aircraft and it desperately needed an upgrade! Well Qantas must have listened to us and taken our feedback on board. After all, when you fill in the after flight questionnaire, surely someone in head office reads it?!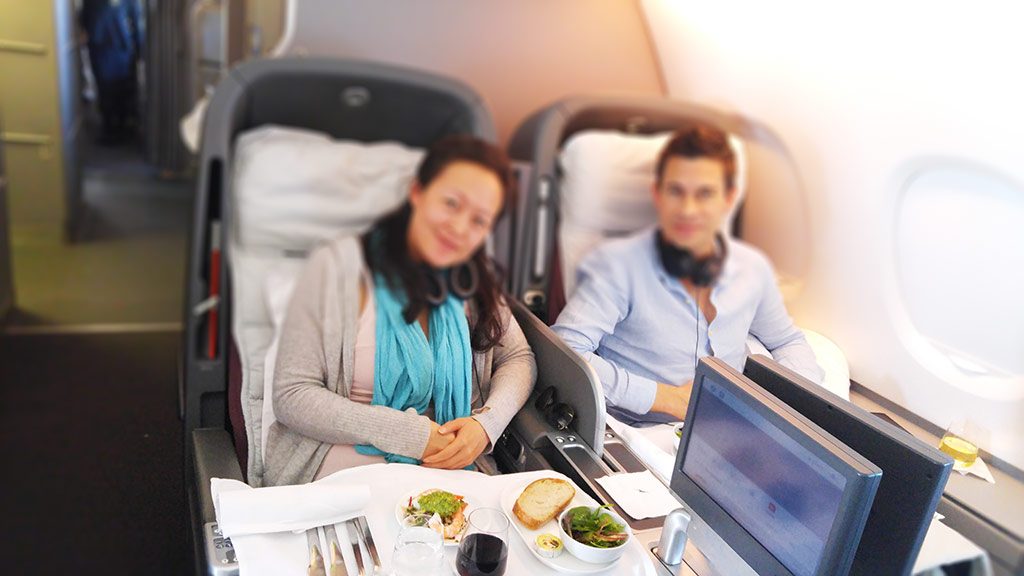 The newly refurbished A380 now has 14 first class seats, 70 business class seats, 60 premium economy and 341 economy seats. Let's see if the refurbishment meets the Only1invillage standard! Australia's national carrier gets the Only1invillage review.
It's a night time flight out of Singapore, but it's OK as the Qantas lounge in Singapore has been used for a good 3 hours beforehand! Who cares if the plane is late from Melbourne or Sydney when you're sipping champagne and watching the world go by from your lounge seat?
Turning left onto the newly refurbished A380 is a whole new experience. Hopefully it will meet our expectations. You'll only find out if you keep reading!
Quick Index of Qantas A380 refurbished Business Class Flight QF2
The refurbished Qantas A380 business class cabin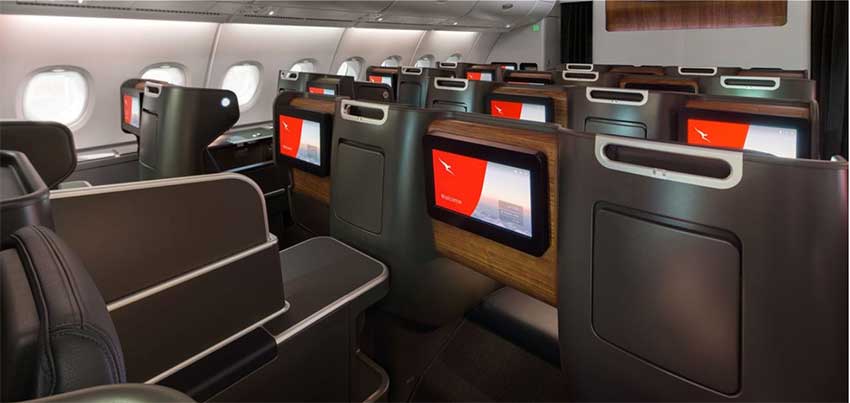 There are 70 business class seats. The configuration is 1-2-1 which means everyone has aisle access, no more stepping over a stranger. The older style A380 jet which we previously flew on was a 2-2-2 configuration. Qantas are calling the seats business class suites. They are not technically suites with a closed off privacy area like Qatar's Q suites. But, they do offer much more privacy than before and the seat itself is much more comfortable.

Everyone faces forwards in a staggered arrangement. Some airlines like Qatar have a herringbone arrangement where some business class seats face the rear end of the plane.
The seat and its surrounds on the Qantas A380 business class cabin
The window seat feels very spacious and of course you'll get the better cloud and take off shots.

The footwell is good and there was plenty of space for size 45 feet and 185cm tall (6ft 1″) human when lying flat.

Plenty of storage for your handbag, manbag, phone, noise cancelling headphones and laptop. There is also room for a water bottle, a coat hook and a reading light.

When it's time for bed, you get the mini mattress like Emirates A380 business class and Qatar business class offer. This makes the gap between the bottom and the back less obvious in lie flat mode.

On the 13 hour flight Qantas provides pyjamas. Are you ready to see J in his sexy night wear?

In flight entertainment

The new upgraded HD 16 inch screen is a welcome upgrade from the older 12 inch version. Believe us when we say 4 inches makes a big difference! The usual movies and TV shows, documentaries and music selection are on a par with other international carriers. Suffice to say there is more than enough to entertain you on the 13 hour non stop flight from Singapore to London.
The electronics around the seat
You get the usual charging spots in your seat – the USB, universal charger and the headphone socket. The noise cancelling headphones are comfortable and do a great job, which you expect at this price point. However, they are not as crystal clear as the Bose headphones.

The seat switching functions are all within easy reach on a shelf type arm rest.

On the old A380, it was almost impossible to find the USB outlet and the adaptor socket. In fact, for a while, we didn't think there were any, so this is definitely an upgraded feature and much more in line with other international airlines we have flown with.
The amenity kits on Flight QF2 business class
Now here is where Qantas has really improved. A bag you can re-use and isn't to be re-gifted to a 5 year old niece. The faux leather bag is on par with other business class airlines, but still doesn't beat the swanky Qatar business class amenity kit bag.

The food and beverages
Dinner and breakfast will be served since it is a late flight out of Singapore and landing in London before rush hour starts. Throughout the flight there is food on demand and various snacks such as chips/crisps and fruit.

The pre flight champagne has been sipped. Let the feeding commence! The main course of stir fried beef could have been presented better. It looks a bit like a canteen "help yourself" job. Still, presentation aside, it was tasty.

The clinking of cutlery and the tablecloth tells you it is time for dinner. In case you need to remind yourself of what you're eating, you can always refer to the menu card.

Almost forgot the drinks menu!

Dessert was a delicious pain au chocolat bread and butter pudding. A nice blend of a classic French pastry and an English pudding classic! It went down very well with the sweet dessert wine.

After a good sleep in the Qantas pyjamas, the clatter of crockery signalled breakfast. This was served 2 hours before landing in London. You fill in the pre order personalised breakfast card.

A bacon, egg and cheese brioche served with hot sourdough toast was a good choice. The muesli and fruit salad with yoghurt was the healthy part!

The service of the Qantas staff
The staff kept on calling us sir and madam. It took us quite a long time to figure out who they were referring to. We thought it best to let them carry on using these names since they were convinced that's who we were. Sir and madam were well watered and fed throughout the duration of the flight. They were not over friendly and seemed happy to be back in the skies.
The Qantas A380 business class toilets
Here is where the most interesting photos of a blog are! It was no different to the economy class toilet!
The refurbished Qantas A380 business class bar

The bar isn't really a bar per se, where there is a bar person, like on the Emirates A380. It's more like a place to meet others for a chat out of your seat.

Here is a picture of the Emirates A380 bar for comparison.

A few people made use of the bar area. The old style A380 had a bright red bar area.

We much prefer the new understated colour palette. The bar doesn't have to match the outside of the plane (red)! which was a bit bright in the non refurbished A380 super jumbo.

Final Thoughts
We're really glad that Qantas listened to our thoughts and read our previous comments about the A380 desperately needing an upgrade! The refurbished Qantas A380 superjumbo is now in line with other international carriers such as Singapore airlines, Emirates, Qatar and Etihad, in terms of cabin configuration and seat. The food and drinks selection is more on a par with British Airways A380 business class. We think the Middle Eastern airlines do higher quality wines and the food presentation is definitely a cut above Qantas.
Related Articles

VILLAGE NEWS!
Subscribe to our newsletter to hear about unique travel destinations, when to go, what to see and other top travel tips!