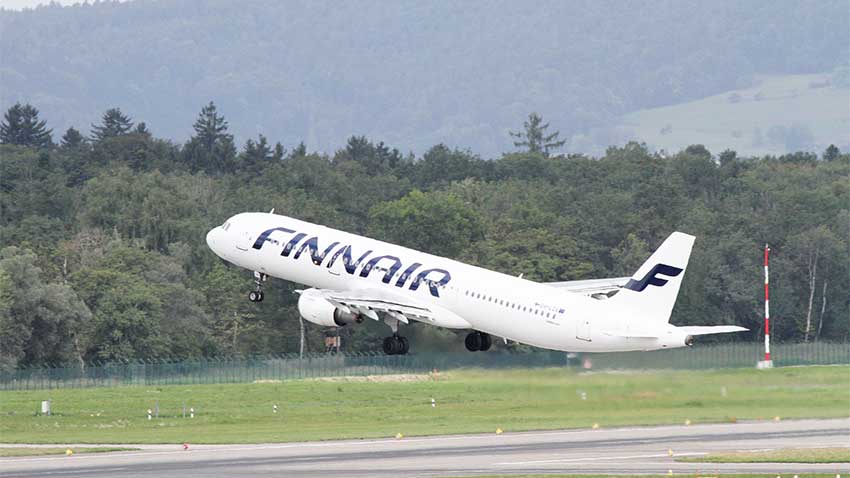 FinnAir A350 business class review
Finnair? Who? Is that connected to Finland? Where is Finland? Yes, Finland has its own fleet of planes including a business class product which we share with you now! Finnair business class review here we come!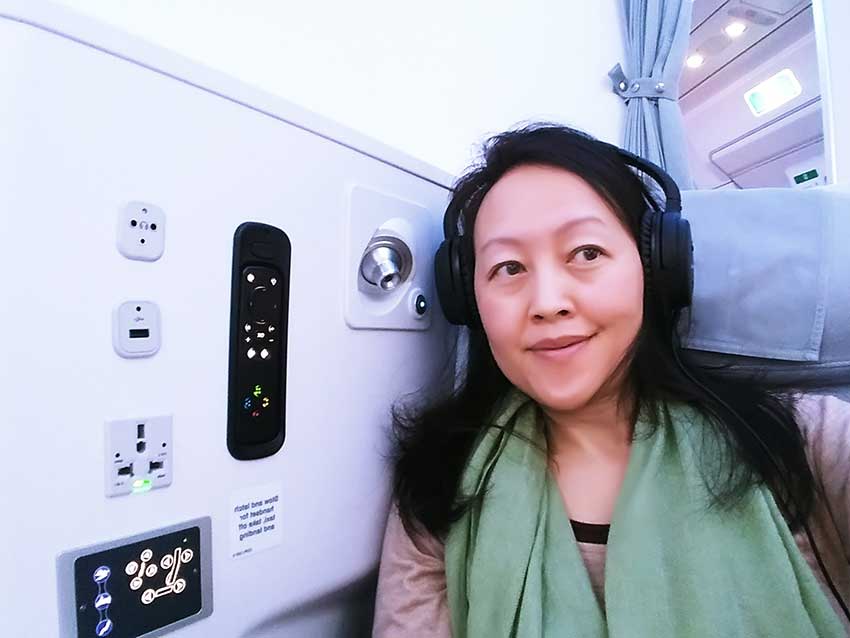 Read our Finnair business class review from Helsinki, the capital of Finland to Singapore. From freezing temperatures to the humid and hot touchdown in Singapore, we reveal what you'll get on your 11 and a half hour flight. The modern fleet is made up of A350 900 narrow body jets. It's a late flight almost midnight so you will be ready to sleep when you get on board!
Quick Index of Finnair Business Class Helsinki to Singapore
The Finnair A350 business class cabin
After a traditional meal of meatballs and salad in the Helsinki lounge, which closed at 6pm (yes we had to slum it with the common people for 6 hours!) we were desperate to join the priority queue to get the pre flight champagne and kick our shoes off!. Due to this little thing called a global pandemic, the Finnair Lounge in Helsinki has drastically reduced its opening times. Also the main reason for choosing Finnair was to use the sauna area, which of course was closed. Wah, wah, wah, had we known, we would have flown via Dubai and with Emirates business class who have fully opened their lounges.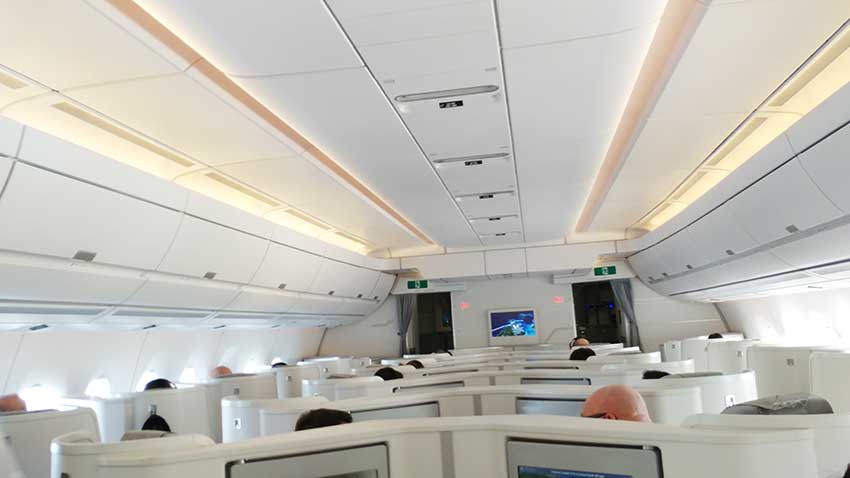 The configuration of the seats is a glorious 1-2-1. Off to a good start. This is one time where a window seat is great, when travelling alone.

The seats

Most seats are less than 2 years old. Finnair is in the process or refurbishing its entire fleet of A350 and A330 planes. According to their statement their seats will, "elevate your travel experience to new heights".
When sitting up before take off, the seat doesn't feel that padded and comfortable which is a bit surprising. The seat belt is also huge and quite heavy.

There is no mattress for you to even out the gaps in the seat on the Finnair business class flight from Helsinki to Singapore.

There's not a huge amount of leg room in the up right position and you can see that lying down if you're tall you're going to have to keep those legs quite close together!

There is ample storage in the overhead lockers/bins and each one is labelled with your closest seat number. Additional storage can be found in the padded 'armrest' which contains the noise cancelling headphones and a bottle of water.

In flight entertainment
Every passenger in business class gets 60 minutes free wi fi. However it was quite difficult to get a signal and it only worked half of the time.

When you have settled in and checked out your fellow passengers there's plenty to watch and listen to. The screen is huge and has very good resolution. The latest world cinema films are available as well as some classic Golden Oldies. In addition, you have TV series, documentaries and more music than you can ever get through on a 12 hour flight.

The electronics around the seat
You can charge your laptop, connect to HDMI and USB ports from your seat. Everything is within easy reach and nothing is hidden or in a hard to reach corner.

To control the seat itself there are a variety of self explanatory buttons.

The amenity kits on the Finnair A350 business class
One word – disappointing.


The amenity kit is quite mean and sparse. It is certainly not up to the standard of the Qatar business class amenity kit.

The bags are definitely NOT classy and ones for keeping for future travels. Unlike the bags we received on Qatar Airways (see below)

The food and beverages

It's dinner time on the Helsinki to Singapore flight. The mains to choose from were fish or chicken. In no way does the presentation match up to the middle eastern airlines such as Qatar or Emirates. (See the photo below). However in taste, the food goes down a treat and is of fine dining quality.
What we really like about the Qatar food service is the cute little touches like the mini salt and pepper grinders and the table light.

The dinner menu was very interesting. A western and an Eastern option. We opted for the seafood and it was a delicious prawn appetizer and a baked salmon with vegetables.





After a few good hours of sleep the clinking of plates and the smell of coffee is the signal for more food! Breakfast is served.

Throughout the flight Finnair offer a selection of sweet and savoury snacks. We were so full and bloated that we did not try any. If you have tried them, drop us a line and let us know what is on offer!
The service of the Finnair staff
From the moment you board the staff address you as Miss or Mr. They have done their homework and you can see your name on the passenger list has been hand written. Frequent fliers of Finnair business class got an extra special welcome and were copiously plied with alcohol offerings throughout the flight. As newbies to Finnair, we thought the service was efficient, friendly and not too intrusive. A few small details, such as noticing empty water bottles and replacing them, would have been good. Apart from that, there wasn't much to improve on.
The Finnair A350 business class toilets
Well they were a bit disappointing. They were exactly the same as economy class. The only difference was the number of people using them and the number of times the toilet paper roll was folded into a triangle!

However, you do get a better handwash in business class and the moisturizer too is of better quality.

The Bar
There isn't one!
Final Thoughts
All in all a very solid soft product, with good food and wine albeit with small touches like a table coth for dinner. The the seat and amenities are not as luxurious as Emirates or Qatar and you don't get as much space overall. The flight time is also a big consideration with a 6 hour gap between closure of the Finnair lounge in Helsinki and the boarding time. Would we fly Finnair again? Probably not if given the choice.
While you're in Helsinki airport don't forget to pop into the Moomin Cafe. The Moomins are Finland's answer to the Simpson's and were a hit cartoon show. It also has comfortable seats to wait on during that long six hour gap. Go on, indulge your inner child!

VILLAGE NEWS!
Subscribe to our newsletter to hear about unique travel destinations, when to go, what to see and other top travel tips!