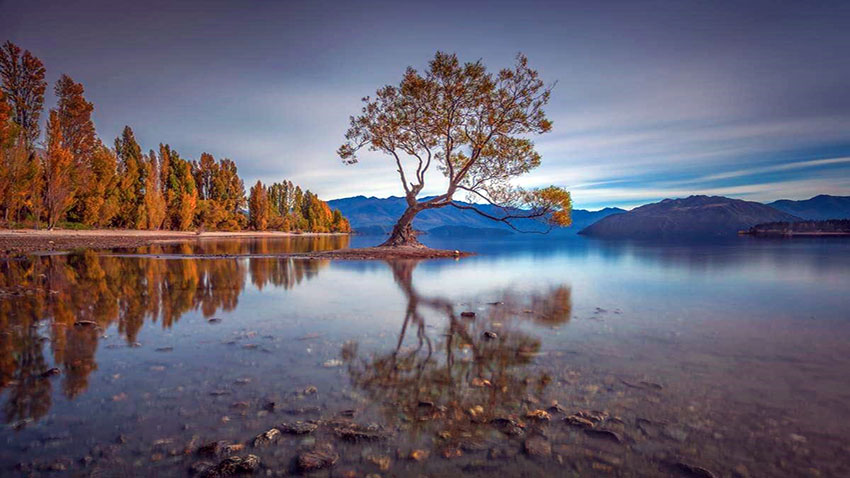 Unmissable South Island New Zealand 14 day itinerary
Join us on our South Island New Zealand road trip! We tell you where to go and what to see on our unmissable 14 day itinerary to South Island, New Zealand. The land of the long white cloud, Aotearoa, in the Maori language will leave you speechless.
Quick Index New Zealand South Island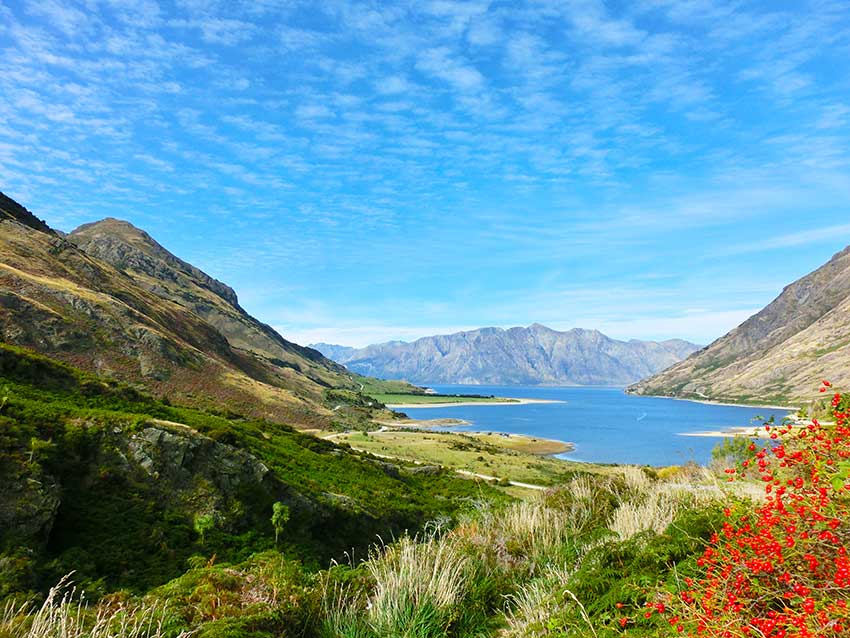 Where to start? South Island New Zealand is simply amazing. Everything about the place is jaw dropping and fantastic. Startling, staggering, stupefying, breathtaking, stunning and astounding. Mind blowing, thrilling and exciting our 14 day South Island itinerary will leave you with memories that last a lifetime and a huge hole in your pocket!
How much will a 2 week trip around South Island New Zealand cost?
Yep, South Island is expensive! It's not a cheap destination, even for Australians. For our two week trip we spent just shy of 7000 Australian dollars. The main reason is the car hire, fuel and the astronomic amount of doing adrenaline and non adrenaline activities. OK, we took a helicopter ride which was 400 NZ dollars a person to trek on the Franz Josef Glacier. Plus, we didn't realise a kayak trip can set you back 200 NZ dollars each! Well, you can't walk up the Franz Josef Glacier and the water is too cold to swim in, so our hands were tied!

If you do one bungee jump, float on water jet skis, go kayaking and whale watching, go in a speeding submarine, get spun around a lake and wear some flyboard boots, expect that cost to go up another 1000 NZ dollars per person!!
Well South Island New Zealand can't help it if it has so many attractions. The things to do list just goes on and on. It's a paradise for nature lovers and a haven for adrenaline junkies. South Island New Zealand has everything you can ever want in a holiday, apart from a cheap getaway!
Getting to and around South Island New Zealand
The main reason why a two week trip is so expensive, is the airfare and the car hire. You simply cannot bring your car across on a ferry! The roads however, are some of the most beautiful in the world and very relaxing to drive on.

New Zealand is literally on the other side of the Earth for most visitors. It's even further than Australia, which for many is far enough! Even from Asia, you have to add on an extra 3 hours from Melbourne or Sydney in Australia. If you're coming from Europe or the Americas, you'll already be feeling the pain of multiple stopovers, once in Asia and then one in Australia.

Hiring a camper van or a car is not cheap. Even back packing hostels are not at the rates you would expect. OK, dorm beds can start from as little as 20 USD, but then you still have to hire some form of transport. AN alternative is to book yourself on the many day tours that will pick you up and drop you off from your accommodation. This method, however, does not allow for much flexibility in your itinerary around South Island.
South Island New Zealand Map

Here is our itinerary
Day 1 – Fly in to Christchurch
Day 2 – Kaikoura
Day 3 – Nelson area including the winery region of Blenheim
Day 4 – Motueka and the Abel Tasman National Park
Day 6 – Franz Josef Glacier
Day 7 – Te Anau and Milford Sound
Day 9 to 14 – Wanaka and Queenstown
Best time to go to South Island New Zealand
The best time to go to South Island, if you're not a skier, is November to March. It's the hottest time of the year, but also the peak season. October and April are great months to go if you're a keen hiker, as it's cooler and less crowded. But be prepared at any time of the year for a sudden dramatic change in the weather, especially on hill tops and glaciers.

South Island New Zealand weather
South Island New Zealand has a similar climate to North Island New Zealand. Being a southern hemisphere country and sort of Down Under, it is the opposite to Europe and North America. So when it's Summer in South Island New Zealand, it's Winter in Europe. It is more similar to Tasmania in Australia. It rains a lot in New Zealand and the 'land of the long white cloud' is very lush and green, most of the time. Of course, in recent years, climate change has meant drier Summers than usual.

Christchurch
Christchurch is not the capital of South Island, New Zealand. Wellington is the capital of both islands, the whole of New Zealand. Christchurch has been a very unlucky city. Due to its location on the Ring of Fire, earthquakes have been a constant threat. Since 1888 Christchurch has suffered terribly from its geographical positioning along tectonic plates.
In more recent times, 2010 and 2011, two earthquakes have struck the region. The 2010 earthquake's epicentre was 37kms west of Christchurch. A bone chilling 7.1 was recorded on the Richter scale. The effects were felt in Christchurch, but it is more accurately called the Canterbury earthquake.
In 2011 the most devastating earthquake to life and buildings happened. Even though it was smaller than the 2010 earthquake, the 6.3 magnitude reading killed 185 people and injured several thousands. Today, Christchurch still has not fully recovered. There's still lots of construction going on, but, the shipping containers have gone.
Kaikoura Whale Watching
What could be more exhilarating than getting up close and personal to theses majestic beasts of the ocean? If you have never seen a whale up close then this could be the place! Unfortunately when we were there, whales had not been seen for 3 days. Always check with the company you book with and ask locals. It is not a guaranteed sighting, just because they offer a whale watching tour from Kaikoura. Sometimes you can also kayak and swim with dolphin pods.
Kaikoura is a lovely sea side town with great walks and cycling tracks if you want to stay dry. We loved the Fyffe-Palmer Track that had some forest and farmland views. You can also visit a lavendar farm or go quad biking on a working farm.
Abel Tasman National Park Kayaking

The Abel Tasman national park is huge and beautiful.

You can walk the beautiful beaches, kayak with the seals and go hiking.

Whatever you choose to do here, it's just going to take your breath away. Abel Tasman Park is rugged, untouched, pristine and the epitome of what a national park should be.

You cannot bring your dog. Sorry, canine lovers. You also cannot light fires of any kind – beach fires or barbecues.

As we were staying in nearby Motueka, we decided to do the half day Kayak tour. You get picked up from your hotel, a guided water taxi and kayak tour with the ever friendly Kiwi guides.





It's a bit like in Australia where you have Beach Street and guess what? It's a street running along the beach! How about 7 mile creek? How long do you think the creek is??!! What about the famous 3 Sisters rocks in Blue Mountains, near Sydney? What do you reckon about how many rocks you will see? Hmm, that's a toughie!
Punakaiki and Pancake Rocks and Blowhole
This is a stop that you must not miss along the road from Motueka to Franz Josef along the No.6 State Highway.

Franz Josef Glacier
What is a glacier?
A glacier is a dynamic environment of frozen snow characterised by freezing temperatures. When snow has fallen and compacted into ice sheets over time, it is called a glacier. Glaciers, like rivers can 'move' or flow. They can retreat and they can grow. Sadly, due to global warming, they are retreating more than they are growing.
The best time to visit the Franz Josef glacier is on a clear, sunny day. The weather can change in a matter of minutes. You can book the night before and suddenly you'll get a call that the helicopter cannot go because of rain or high winds.

Best time to go to Franz Josef Glacier
In terms of the season to go to the glacier, it's open all year round! If you want fewer people you go in the southern hemisphere Winter (June to August inclusive). The best time to go depends on what you want to get out of the experience and how much you'll be paying for accommodation. Peak season is the southern hemisphere Summer (December to March inclusive). There'll be more people to jostle with and you'll have to wake up earlier for those selfies!

The Franz Josef Glacier is a world heritage area.You cannot walk there to the glacier. It is helicopter only. You cannot go on a self guided tour either, you must join a tour group. Experienced guides will meet you on the glacier and explain the formation and ever changing environment of this glacial wonderland.

There is a challenging walk you can do along a riverbed to see the foothills of the glacier. This is called the Franz Josef walk. Like Split Apple Rock, which is a rock, which looks like an apple that has been split, the Kiwis love simplicity. The walk is in Franz Josef and that's what you do, so they call it the Franz Josef walk! Love it!
On the glacier you will be met with blue tinged ice caves, bright blue ice rivers and of course mountains covered in pure white snow. Watch out for the huge crevasses!

As you ascend to the glacier you will see the stunning sub tropical ferns and gradually the landscape changes to grey mountains and then suddenly glaringly bright white mountain slopes.

It really is a once in a lifetime experience. The Franz Josef Glacier is also retreating, so get there while you can!

After a day on the glacier, there's nothing better than soaking in the glacier hot pools. Whilst not as spacious or gorgeous as the Peninsula Hot Springs Melbourne, they're good for a spot of people watching.
Ohau Seal Colony and waterfall
If you didn't get a chance to catch the seals in Kaikoura, you'll definitely see them at Ohau Point. There's also a bonus mini waterfall here along an easy stream walk. Currently closed, so always check ahead.

On your way to Blenheim and the wine country, you'll definitely want to make a quick pit stop. You can't miss the seal colony at Ohau, because you'll see lots of parked cars suddenly on the side of the road. The seals are not shy and they just love being photographed!

After some seal watching, head over the road and see more seals playing in and near the waterfall. Sometimes, they're a bit more shy and can be hiding around the rocks.
Marlborough, Nelson and Blenheim Wine Region

Picturesque wineries and gourmet food go hand in hand in the northern wine region. You can spend days here wandering from one vineyard to the next.


Taste a charcuterie platter sitting or swinging (we mean literally on a swing, not the other type!) in the scenic gardens of the famous Cloudy Bay winery in Marlborough.

Who can say no to a sauvignon blanc with notes of bright, ripe citrus, kaffir lime, passionfruit and white peach? The palate is vibrant and mouthwatering, with concentrated, juicy tropical notes melding with zesty citrus, stone fruits and subtle notes of orchard blossom. Now repeat that description after a glass or two!

The cellar door experience at Rimu Grove is a typical New Zealand affair. It's a small, intimate and friendly place.

You can take a seat and enjoy the view overlooking the vineyard. You're left in peace to sip your pinot gris, pinot noir, chardonnay or riesling. J can attest that the riesling is top notch.

Te Anau

The township of Te Anau has a lot to offer. A lake, of course full of picture perfect viewpoints. Hiking trails, glow worm caves and the home to Middle Earth Fangorn Forest.

Closer to Milford Sound than Queenstown, it also makes a great base for the 4 day Kepler Track. If you plan on doing the Kepler Track you have to plan and book in advance. You cannot just turn up and start walking! Download this excellent PDF guide here.
Milford Sound
The name Milford Sound is very confusing. It's not a musical instrument. It is not really connected to sound. It is most accurately compared to a fjord like landscape. So, if you haven't made it to the Nordic majestic fjord landscapes, this is very similar.
Milford Sound Cruise

The only way to see the Milford Sound is to join a boat cruise. If you've been to Niagara Falls, it's a bit like that but on a smaller scale. The boat will go right up to the waterfall and you will get very wet as you pass underneath. Pray for a clear day as the experience is much better than on a grey, dull day. Also the rainbow effect will be fabulous. You might also want to make sure it has rained. Believe it or not, waterfalls can get dry!

Some tour operators will include a pick up from Te Anau, others you can just buy the boat cruise. We went with Eco Tours and a three level catamaran provided by Jucy. The boat cruise itself starts from $99AUD for adults. Note this departs from the pier in Milford Sound, not Te Anau. It was a good boat experience, but the ride down in the mini bus was slow and uncomfortable. Next time we would drive from Te Anau.

On the way to Milford Sound there is of course more National Geographic photo opportunities. You will stop off at Mirror Lake.


On the way back from Milford Sound is another scenic spot called the Chasm. It's on the Cleddau River and it's an easy 400m return trip from the car park.

If you missed out on seals so far, you will definitely see them here at Milford Sound. The boat goes right up to a seal colony who love to pose for the cameras.

Lake Wanaka and The Wanaka Tree!
The Wanaka tree

Who would have thought that a single tree, yes just one tree, would draw visitors from around the world? The small town of Wanaka can come to a standstill at sunset and sun rise as photographers jostle for a picture of "the Wanaka tree". We shit you not. It's pretty special. How it survives, we have no idea.
Lake Wanaka is a top tourist hot spot in South Island New Zealand. Well, any lake in New Zealand is a top tourist hot spot! However, this tree is so famous it has its own hashtag #thatwanakatree. Careful how you say it, especially after a few drinks!

Fun Things to do in Queenstown
There's no shortage of fun things to do in Queenstown. The adrenaline capital of South Island. You can easily spend your entire 14 day itinarary based in Queenstown and splash some serious cash. You can get to Milford Sound from Queenstown. Many people come to Queenstown just to ski in The Remarkables area during Winter. It's also in a strategic position too for Te Anau and Wanaka. On the shores of beautiful Lake Wakatipu, naturally Queenstown has that Instagram worthy appeal too.
Queenstown Luge

The luge in Queenstown is an absolute must. Not only do you get to go down hill at break neck speed on a non- motorised go kart equivalent vehicle, you also get a cable car and a ski lift ride. 6 luge rides and the cable car cost $69 NZ dollars. As their strap line says, "once is never enough". Don't miss out on the Queenstown luge. You know you want to beat your nearest and dearest on the track! You can also buy photos of your driving prowess afterwards.

When you get out of the cable car there are magnificent views over Queenstown and on a clear day, the peaks of The Remarkables.


Millionaire Boat Cruise
Contrary to the name, this is the cheapest attraction in Queenstown. It doesn't cost a million dollars! This 1 hour 30 minute boat cruise was by far the best bargain of this 14 day trip. So you've already dropped $400 for a helicopter ride up to a glacier, what's another $49? What you see is million dollar houses along the lake shore on a comfortable boat. The captain of the boat is hilarious and provides a very witty commentary on everything about Queenstown.

Queenstown Botanic Gardens

At last something free to do in Queenstown. You could argue that the whole of Queenstown is like a huge garden, it's so pretty. However, the dedicated Queenstown Botanic Gardens is a beauty not to be missed. The best time to go and see the colour is of course in Spring. Spring time in Queenstown is September to November. Sit on the soft lawn and walk around the lovely landscaped gardens. Take a picnic and breathe in the aroma of the rose gardens or be soothed by the water feature. Spend at least an hour here, thinking about all the money you have spent so far!

Hiking around Queenstown

Good news for hikers, there's plenty to see in the hills of Queenstown. Most of the walks require you to drive out from Queenstown. There is a walk called the Moonlight Walk which starts from the top of the gondola (luge cable car) and goes for 14kms! It's not a loop walk so make sure you're not stuck in the dark.

For more info on Queenstown walks, click here.
We hope you have enjoyed our South Island 14 day trip itinerary. It's not a cheap one but it's worth it! For many, South Island, New Zealand will be a once in a lifetime destination. Make the most of it. If you're lucky enough to live close by, like us, you'll be a repeat visitor.
Please leave a comment below if you have been to South Island New Zealand. If you need more information or want to ask us anything, we would love to hear from you.
Bar Hopping Queenstown
There is a very happening nightlife in Queenstown from classic pubs to Irish Bars, upmarket wine bars, and ice bar, several clubs and rooftop bars. Settle in at the end of the day for a drink somewhere and you are sure to have a night to remember.

Related Posts

VILLAGE NEWS!
Subscribe to our newsletter to hear about unique travel destinations, when to go, what to see and other top travel tips!