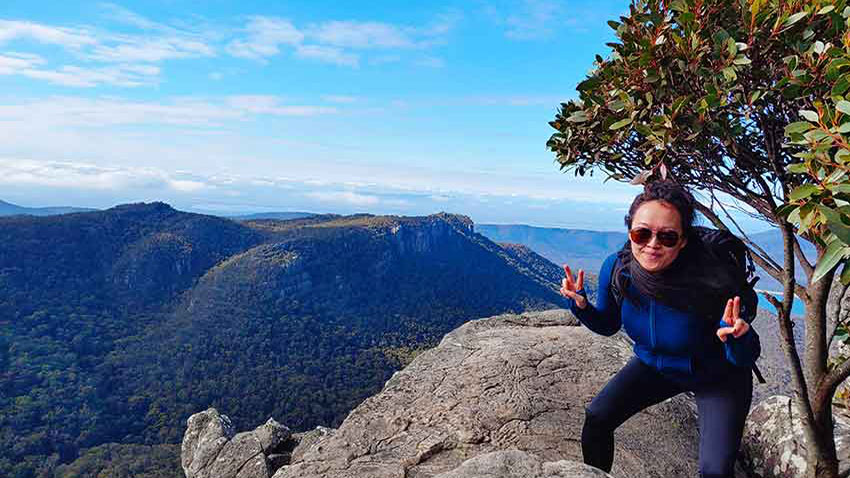 Mount Rosea Walk The Grampians
Official time 2 hours each way
Mount Rosea is 4.6 kms one way. It is medium to hard grade with a lot of rock scrambling and hard to see markers in places. The cardio workout of our dreams and totally worth it! In our opinion, this is the hardest walk of all in the Grampians area. You could do this walk first so every other walk in the Grampians seems easy! The official time is 2 hours each way. We did it in 5 hours and we consider ourselves fit.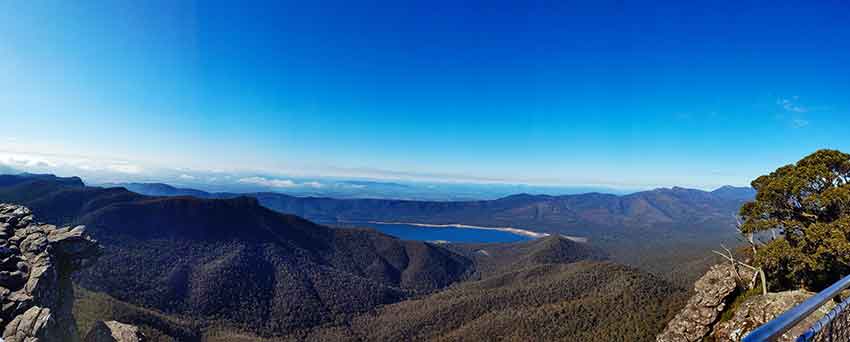 Where are the Grampians?
The Grampians area is a national park area under 3 hours west from Melbourne. It is situated between Stawell and Horsham on the Western Highway and Dunkeld on the Glenelg Highway.
How to get to The Grampians and the Mount Rosea Walk
The best way to travel to The Grampians and the Mount Rosea Walk is by car. A mere 3 hour drive from Melbourne. We don't recommend this walk for a day trip though! Maybe a long weekend, but definitely not doable in a day! Ok, if you're really hard core, you can leave Melbourne at 6am, arrive at Mount Rosea by 9am. The walk will take about 4 to 6 hours return, depending on your fitness level. Back to Melbourne for evening dinner after the 3 hour drive!
Mount Rosea Walk the Grampians What to wear and take
Good walking shoes are recommended as there are a lot of tree roots to trip over and plenty of rocks to scramble over. Definitely not a place for sandals or thongs/ flip flops in the warmer months. Water is essential, even in Winter as dehydration can quickly creep up on you. Layering up is your best option as the weather can quickly change even on a warm day. The base might be warm and still, but, by the time you get to the top you can be sure it's going to be windy and a few degrees cooler.
This walk is challengingly beautiful. Make sure you tell your accommodation or someone you're doing this. People have had to be rescued on this walk.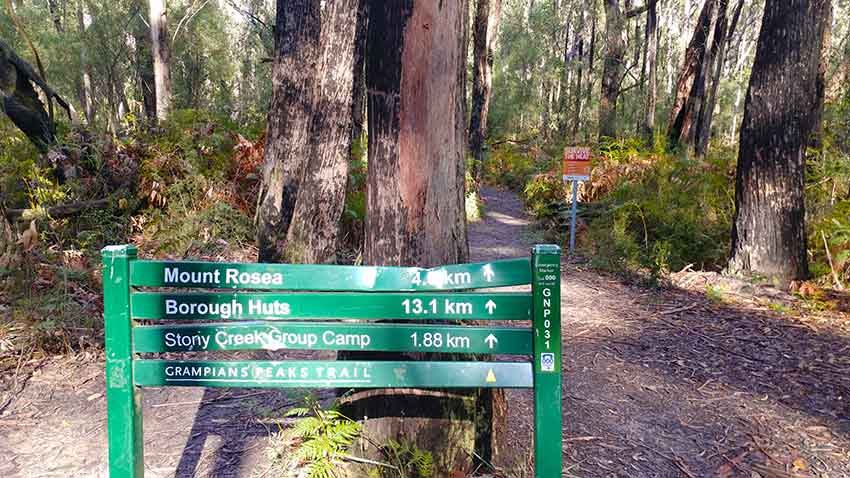 Don't be fooled by the gently sloping first 1.6kms through lush forest and ferns.


This took us 5 hours return and there is plenty of rock scrambling. It was by far the most challenging walk. We wish we had done this walk first, so all the other walks, would have seemed much easier.
After the beautiful messmate forest, you're on a gradual ascent. 40 minutes later the terrain changes to sand! By now you have covered 1.3kms.


Well that doesn't seem so bad. A good start. and the sun is shining. We still haven't seen anyone else. There's about 20 minutes of this type of terrain (see below) and then things start to change. Even though it's fairly flat you still have to look out for these yellow markers. They will be invaluable as all rocks start to look the same!

20 minutes later the going gets tough, but still smiling.


Now the real rock scrambling begins and some of the rocks are like climbing apparatus in the gym! If ever you think hiking isn't a good workout, come and do this walk. Our hearts are racing, our legs are aching and now we have to use our hands too!


At the 1 hour and 40 minutes minute mark we decide to stop for lunch. The lunch stop is a great time to marvel at the absolutely jaw dropping scenery enveloping us.


As you rest, it's good to look out for natural markers. As you're ascending it's easy to think you'll remember your route on the way down, but, those rocks, will all start blending in to each other! Take the time to photograph some natural markers and look at the time stamp.


Rested and rejuvenated, we hear some people coming up behind us! Hurrah, we are not alone! We like to look at their faces and see if they are panting and sweating too. Come on, you know you do that too, when you pass fellow hikers!

At the 2 hour point we almost give up. It's been really hard and the rock scrambling is some of the toughest for a continuous 45 minute period.


We feel the oxygen deprivation and not seeing many people come down is not very uplifting. Finally we see 2 other hikers who tell us we're nearly there about half an hour and the view is worth it. It had better be!




We remember our accommodation manager telling us to look out for the bridge and don't look down, if you're scared of heights. Well it's a bit late now! We are glad to see the bridge because it means we're on the right path.

J is brave and stops to take some scenery shots on the bridge.



Apparently we're so close……

Apparently we're really close!

It's been an epic 2 and a half hours but we make it! We're 1009 metres up and above the cloud line!
Like we said earlier, we wish we had done this walk first because it's hard and it is the 6th day of non- stop hiking for us. It's really windy at the top. For video footage of the views at the summit, go to our Instagram page.

Is it worth it? Hell yeah! Are we tired? Hell yeah! Doing another hike tomorrow? Hell yeah! All we have to do now is find our way back down before it gets dark! See you at the bottom. Stay safe and remember to tell someone when you will be back Safety Tips | Visit Grampians
Related Posts

VILLAGE NEWS!
Subscribe to our newsletter to hear about unique travel destinations, when to go, what to see and other top travel tips!